By Jeff White (jwhite@virginia.edu)
VirginiaSports.com
CHARLOTTESVILLE, Va. — On most lacrosse teams, Payton Cormier would be unrivaled for goal-scoring prowess. He rang up seven goals against Ohio State in February and had six against Duke on March 31. In two other games this season—wins over Michigan and North Carolina—the fifth-year senior has finished with five goals.
Whatever the left-handed Cormier can do, though, his fellow University of Virginia attackman Xander Dickson seemingly can do as well. Also a fifth-year senior, the right-handed Dickson came into the weekend having scored six goals three times this season—against Richmond, Johns Hopkins and Notre Dame—and five goals once, against Harvard.
Saturday at Klöckner Stadium, Dickson reached new heights. He scored seven goals (and added two assists) to lead the third-ranked Cavaliers to a 19-12 victory over No. 13 Syracuse.
Dickson, who's typically more of a finisher than a dodger, had three unassisted goals against the Orange (8-6 overall, 1-4 ACC). Still, he deflected credit for his production and noted that he's regularly on the receiving end of pin-point passes.
"A lot of it is just my teammates," said the 6-foot-1, 160-pound Dickson, whose nickname is The Slim Reaper.
The program record for goals in one game is eight, and it's shared by three players: Butch McCleary (vs. Navy in 1958), Doug Knight (vs. Syracuse in 1996), and Garrett Billings (vs. Stony Brook in 2009)
This was not the first seven-goal game of Dickson's UVA career. He scored that many in 2019 against VMI and also had two assists in that game.
Unlike VMI, however, Syracuse is one of the sport's storied programs, and this was a crucial game for a Virginia team coming off yet another frustrating loss to Duke. Moreover, this was the Cavaliers' annual alumni game, and scores of former players were in the crowd at Klöckner, including members of the 1983 team that captured the ACC championship.
"This is a big win today," UVA head coach Lars Tiffany said.
With two regular-season games left, Dickson leads the Wahoos (9-3, 3-2) with 48 goals. He's played in all 12 games. Cormier, who has 42 goals, missed two games with an injury. Midfielder Thomas McConvey, who grew up playing with Cormier in Canada, is third on the team with 22 goals.
Cormier scored four goals Saturday, no small feat itself, and yet lost ground on Dickson. Their No. 1 priority is the team's success, but each can't help but be aware of how many goals the other is scoring.
"We have always banter going about that in the locker," Dickson said, smiling. "Not much, but a little bit."
Offensive coordinator Sean Kirwan has the privilege of coaching Dickson and Cormier. "They're just tremendous friends," Kirwan said Saturday. "I'm sure there's some busting chops and all of that, but they love playing together. And I think as much as they give each other a hard time, they're just so close and so supportive of one another. So it's awesome to see."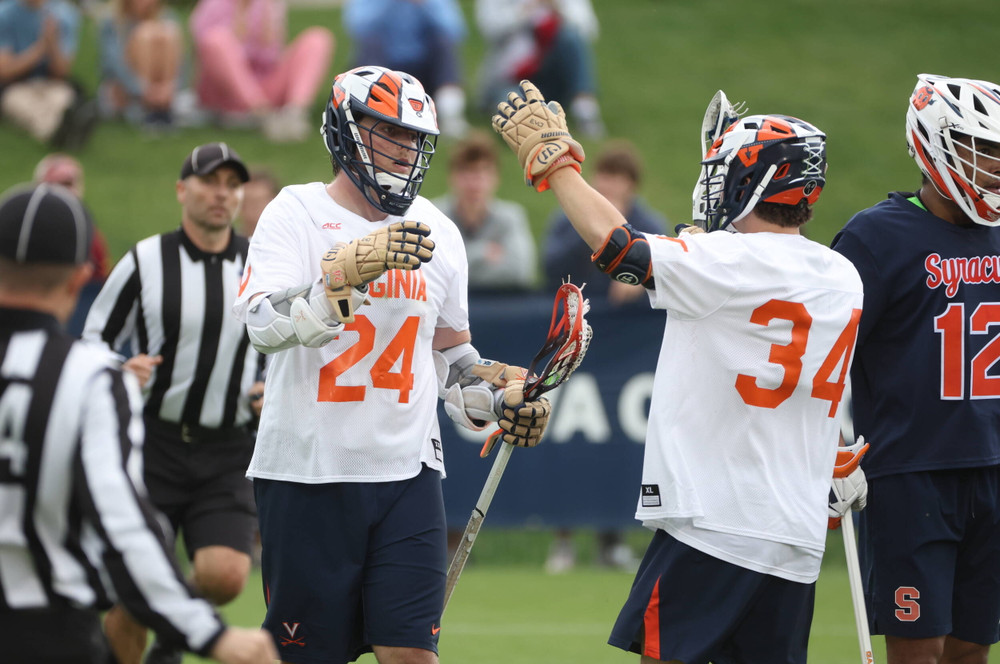 The quarterback of the Cavaliers' offense is redshirt junior Connor Shellenberger, an All-America attackman who leads the team with 38 assists. (No other UVA player has more than 19 this season). Shellenberger is fully capable of putting the ball in the net himself, as he showed in the 2021 NCAA championship game, when he scored four goals in Virginia's win over Maryland, but he's happy to set up teammates like Dickson and Cormier.
"That's just who Connor is," Dickson said. "He's the most humble guy."
Kirwan said: "I think it just allows him to play to his strengths, because Connor's strength is getting everybody involved, and that's why he's such a good teammate and such a good leader. It definitely helps when you have two guys like [Dickson and Cormier] that seem to catch and finish everything. I think it's just all part of it. You need guys that are willing to play off the ball a little bit more, but then at the same time, you watch Xander and then Payton the last couple games put pressure on opponents off the dodge as well, and that multi-faceted work is so huge for us in our offense."
For Dickson to score off the dodge against a goalie as talented as Syracuse's Will Mark shows "a different side of number 10's game," Tiffany said, "that's really exciting to see that coming out in the last few weeks of his career here."
Dickson, a guest on the most recent Wahoo Central Podcast, also has 13 assists and leads the team with 61 points. Shellenberger is next with 53, Cormier has 52, and McConvey has 41.
Shellenberger's presence mean Dickson isn't often asked to play the role of feeder, "but Xander can do that," said Tiffany, who wore a dress shirt and red tie Saturday in tribute to the late Jim "Ace" Adams, who coached the 1983 team. "And now he can win some matchups [by dodging]. He's isolating. So he's not just an inside slippery [finisher]. We're thrilled to have that second presence … Xander is kind of becoming a second quarterback, and that's really making our offense more dangerous."
As a redshirt junior last season, Dickson primarily played in the offensive midfield, and he finished third on the team in goals (31) and fourth in points (39). Kirwan believes several factors have contributed to Dickson's jump in production as a full-time attackman this year.
"Opportunity is definitely one," Kirwan said. "There's no secret to that. He's getting the opportunity to be in that spot, and he seized it. Commitment to his work and his craft is definitely one too, but at the same time, for him I think it's belief. I think he has started to really understand how good he can be. I think the world of him and I've said that to multiple people, anyone that will listen to me. Today was a huge step for him, and I always think he's just scratching the surface of his overall potential."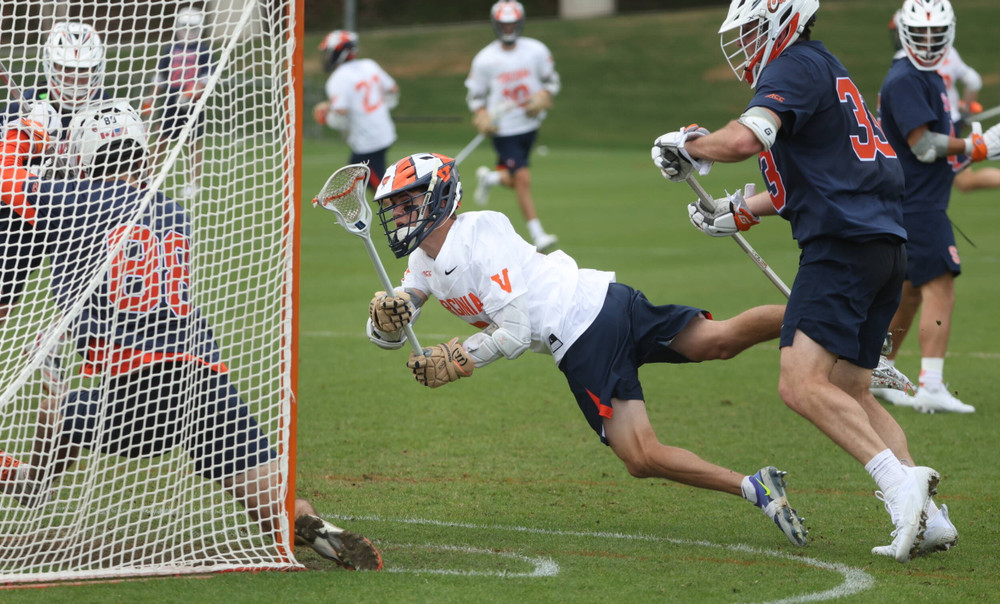 Dickson, who's from Greenwich, Conn., enrolled at UVA in the summer of 2018 and had a small role on the team that won the NCAA championship in Philadelphia the next spring. The Cavaliers were loaded with gifted offensive players early in his career, and that's again the case this season, which is why an attackman as talented as freshman Truitt Sunderland is coming off the bench.
Sunderland scored a spectacular goal Saturday and also had an assist. For the season, he has six goals and seven assists. In another program, he'd probably be starting and putting up big numbers, but he has veterans like Cormier, Dickson and Shellenberger ahead of him on the depth chart at UVA.
As he waits his turn, Sunderland need only look at Dickson for inspiration.
"We have tremendous, tremendous examples of that of guys that have been patient," Kirwan said. "Xander is a poster child for that. So for our guys to see that and then to see the success that comes with being patient and just waiting their turn, is huge."
Virginia scored the first six goals Saturday and was never seriously threatened thereafter. Led by defenseman Cade Saustad, UVA held Syracuse attackman Joey Spallina, a freshman who entered the game with 34 goals and 27 assists, to two assists, the second of which came with 15 seconds left.
In its final non-conference game, UVA plays Lafayette (6-8) on Tuesday night in Easton, Pa. The Cavaliers close the regular season Saturday at 2 p.m. against Notre Dame at Klöckner Stadium. They can expect to be home again two weekends later for their first-round game in the NCAA tournament.
"You're looking for momentum going into the playoffs and going into May," Kirwan said, "and so we've got a couple more regular-season games to clean some things up. Really, we just want to keep this ball rolling and keep that momentum strong."
The Hoos are 0-2 this season against Duke, but they've dominated their other three ACC games. With the postseason approaching, Virginia's sense of urgency continues to grow, Dickson said.
"First off, we have a lot of fifth-years and we know our time's winding down," he said, "so I think we're making the most of it. But second, we always talk about the race to improve—I'm sure you've heard Lars say that—and that's all lacrosse is, especially in May. You can be the best team in February, it doesn't matter. Come May, it's all that matters, so every day is trying to be the best we can in May."
Tiffany said: "What we're trying to do is build this thing, each one of us. I've asked each man, each coach, to define the team that if put together …wouldn't lose. And what can each of us do to help ourselves get that extra little edge, so we can achieve that? We've only got about a month left here to figure that out, and we've come a long way. But can we take those extra couple of steps?"
To receive Jeff White's articles by email, click the appropriate box in this link to subscribe.