By Jeff White (jwhite@virginia.edu)
VirginiaSports.com
CHARLOTTESVILLE, Va. — Its non-conference record remains unblemished. Its ACC record has more flaws, but the University of Virginia baseball team is well-positioned in the race for the Coastal Division title.
With three ACC series to go, No. 13 UVA (34-9, 12-9) is a half-game behind Coastal leader Duke (29-12, 12-8), and that adds another storyline to this weekend's proceedings at Disharoon Park. The Cavaliers are scheduled to host the 20th-ranked Blue Devils at 8 p.m. Friday, 4 p.m. Saturday and 1 p.m. Sunday.
In the series opener, to air on ACC Network, Virginia will look to end the Devils' seven-game winning streak.
"We have three weekends left and this is a big one," UVA head coach Brian O'Connor said, "just because we're neck and neck with each other in the league standings, and you only have nine more opportunities in league games. So we just have to come ready to play each and every ball game and play our good, consistent baseball. If we do that, we'll have opportunities and we'll see what the weekend brings us."
The Wahoos kicked off an 11-game homestand by defeating Liberty 7-4 on Tuesday night and then thumped Towson 13-4 on Wednesday night. With those wins, the Hoos improved to 25-2 at home this season. Even more impressive is Virginia's record against non-ACC opponents: 22-0.
UVA is the only team in Division I without a non-conference loss this season. That streak appeared to be in jeopardy Tuesday night, as Liberty took a 4-0 lead, but Virginia scored one run in the sixth, five runs in the seventh and another in the eighth to secure the win.
There was no such drama Wednesday against Towson (13-29). The Tigers cut their deficit to 7-4 in the fifth, but Virginia extended its lead to 8-4 in the sixth and then blew the game open with five runs in the eighth. In the top of the ninth, UVA closer Jay Woofolk hit the first batter he faced and then walked the second, but Towson's rally went no further.
Woolfolk, a sophomore right-hander, struck out the next three batters to end a game that lasted three hours and 16 minutes.
"I knew I didn't want to be out here any longer [than necessary]," Woolfolk said with a smile. "I think that's the thing that Oak does very well. He teaches us the next-play mentality, so I just had that in the back of my mind. I just gotta move on and get to the next batter."
On a night when Virginia banged out 19 hits, junior catcher Kyle Teel led the barrage. He went 5-for-5 with two doubles, scored three runs and had two RBI.
"Certainly, Kyle Teel was special," O'Connor said. "To have a five-hit night is very, very rare in college baseball. He'd probably tell you he didn't have the best game yesterday"—Teel went 1-for-4 against Liberty—"and he responded today and just was really competitive in every at-bat."
Teel raised his batting average to an ACC-best .424. Sophomore shortstop Griff O'Ferrall went 2-for-5 against Towson to improve his batting average to .413. Sophomore first baseman Ethan Anderson went 3-for-4 with four RBI, and he's hitting .387 this season.
"Collectively, throughout the lineup, a lot of guys did a nice job," O'Connor said.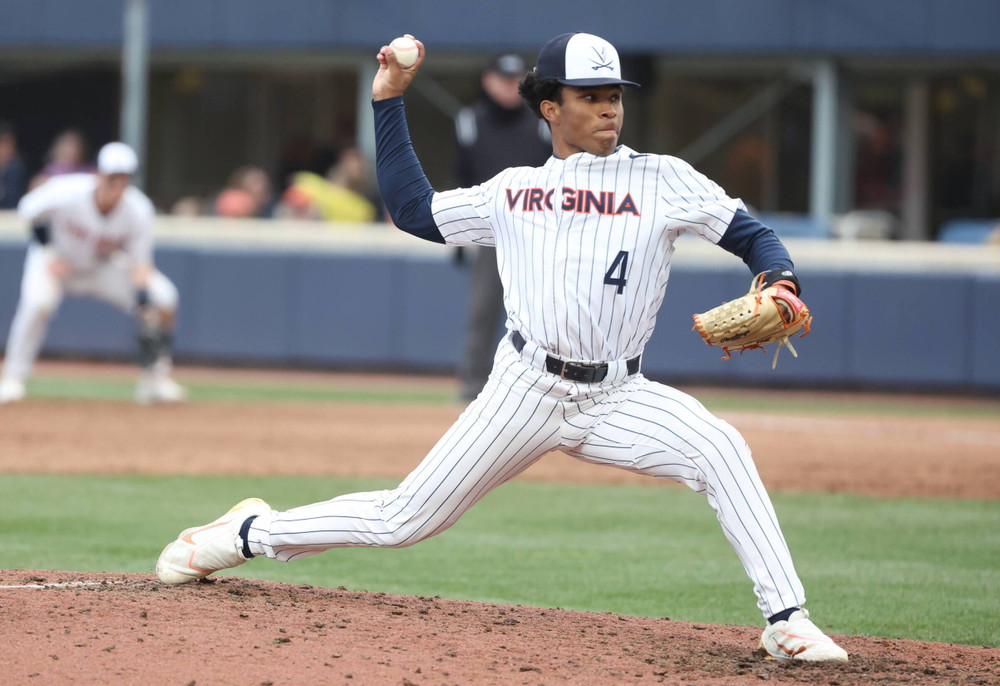 For much of this semester, Woolfolk divided his time between two sports. He's a candidate to start at quarterback for the Cavaliers in the fall, and he was limited participant in the football team's practice this spring.
Since spring ball ended on April 15, however, Woolfolk has been able to focus on baseball, and he impressed Tuesday night, too, retiring the Flames in order in the ninth inning.
"He's such a great athlete," Teel said, "and when I'm catching him it's really easy on me, just because he hits his spots and he's a really great pitcher … and his stuff has just been electric so far."
O'Connor and head football coach Tony Elliott worked closely together to map out a plan for Woolfolk this spring.
"Coach Elliott was so gracious," O'Connor said. "On the nights that [Woolfolk] was on the he to potentially pitch for us, he didn't go to football or didn't throw the football. Certainly what's on that young man's plate is just so rare, and I think he's handled it really well. He was so good last year down the stretch pitching for us, and I expect the same out of him this year."
Playing two sports this spring "was a fun experience to go through," Woolfolk said. "They put a plan together that a lot of people would probably say no to, or didn't think it was going to happen, and I'm just glad that I got to experience both sides. That was my first spring practice [in football]. I didn't do it last year, and it was fun."
After hosting Duke this weekend, Virginia will play two more midweek games (against VCU on Tuesday and JMU on Wednesday) before breaking for final exams.
Playing back-to-back non-conference games "between ACC series, it tests you with your pitching depth," O'Connor said "You gotta have a lot of guys that go out there and do the job … [and] it takes some mental fortitude to be ready to play every day, and these guys have. Every day they work hard, they take advantage of the opportunity, and it was good to see us bounce back in the middle of the week after not a great weekend at Notre Dame. It shows what these kids are made of, and it shows that they put value in every game that they play. They might not win every game, that's baseball, but it's how you respond, and I think they did a great job after a tough weekend."
Now comes Duke, which is in its 11th season under head coach Chris Pollard. The Blue Devils are "playing really hot as of late," O'Connor said, "and that's because they have talent, both on the pitching staff and position player-wise. It appears to me that they're playing very consistent and playing with a purpose, and certainly it's going to take our best to win the series. We'll look forward to Friday night and the opportunity that we have against a great ball club. We're both right at the top of our division, and certainly this puts a lot of emphasis on this weekend."
As excited as the Hoos are about facing Duke, Teel said, they're "attacking it like any other series. We have a saying: Every day is opening day. And that's just what we've been rolling with all year so far and that's just how we're going to attack Duke."
To receive Jeff White's articles by email, click the appropriate box in this link to subscribe.