By Jeff White (jwhite@virginia.edu)
VirginiaSports.com
CHARLOTTESVILLE, Va. — When her record-setting career at the University of Virginia ended, Monica Wright Rogers climbed to the next rung on the basketball ladder and played in the Women's National Basketball Assocation for seven seasons. A dozen years after helping the Minnesota Lynx win the league championship, she's back in the WNBA, this time in a management role.
The former Monica Wright, who married Michael Rogers in 2018, was hired in December as assistant general manager of the Phoenix Mercury, whose roster includes such luminaries as Brittney Griner, Diana Taurasi and Skylar Diggins-Smith. She'd spent the previous 18 months working for the NBA, an opportunity that arose after her second year as an assistant coach at UVA.
Wright Rogers left her alma mater in May 2021 to serve as the Elite Basketball Women's Basketball Lead for the NBA. In that position, she promoted "the NBA's brand internationally through grassroots development directed at young women," Wright Rogers said.
"It was interesting. I did not know it existed before I took the job, and it took me a while to grasp that the NBA actually has a department dedicated to this, because it's very niche. Once I understood that piece, I just owned it and took it and ran. It was a great experience for me, leaving coaching and going into a very corporate world, and it gave me some great fine-tuning for the next level of my career. I knew I wanted to go into sports business and build myself into that C-suite executive, and so I knew that would be an opportunity to add that skill set for the toolbox."
With the Mercury, Wright Rogers reports to general manager Jim Pitman, who's also the executive vice president and chief financial officer for the NBA's Phoenix Suns. Mat Ishbia owns both the Mercury and the Suns, who share a practice facility, the Verizon 5G Performance Center, and an arena, the Footprint Center.
The Mercury has won three WNBA titles, all with Taurasi in the backcourt. A 10-time WNBA All-Star, Taurasi, along with Pitman, has helped the Mercury build a reputation "for being a first-class organization on and off the court," Wright Rogers said. "And then we also have a great president, Vince Kozar. He's on the business side, but he has really taken this team, this franchise, to another level. I think we stay in the top of the league in terms of revenue, and that's been consistent for a long time."
Wright Rogers works with the Mercury's players, front office, coaches and business operations staff, and she oversees operations and administration for the team at the practice facility. She also helps scout and evaluate collegiate and professional players in whom the Mercury might be interested, "ensuring that we're aligned and able to make good decisions in terms of team makeup with all of those things," Wright Rogers said.
Moreover, she's a liaison between the Mercury and the WNBA and the league's players' union, the Women's National Basketball Players Association (WNBPA).
The WNBA has changed since her playing days, said Wright Rogers, whose office is in the Mercury's practice facility, overlooking the court.
"I think it's in a better place and tracking in the right direction," she said. "Obviously, the players are making more money. They have a lot more marketing opportunity and branding opportunity than were available to us when I was there. There's even more opportunity for professional development after retirement. So those are the things I love and I'm very happy and enthusiastic about.
"On the team side, I think that we're definitely making great strides. There's been a lot of talk of expansion, there's been a lot of talk about these franchises being valued at really high levels, and that all to me equals great, positive things."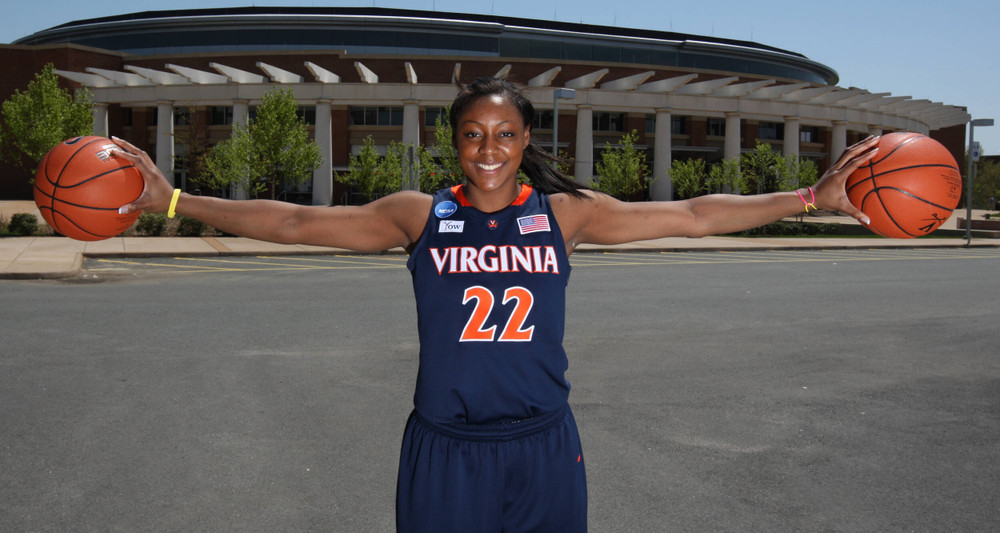 Wright Rogers and her husband, who played basketball at Valparaiso, have a son, McKale, who'll turn 3 in July. McKale was born prematurely in Charlottesville, but "now he's like the biggest one in his class," Wright Rogers said, "so he caught up pretty quick."
The family lived in New York City while Wright Rogers worked for the NBA—Michael Rogers coached and taught at schools in Manhattan and Jersey City, N.J.—and they're getting accustomed to life in the West.
"We've been all over in this little bubble of time," Wright Rogers said, laughing. "We both liked New York City, but then we were like, 'This is a lot.' We both miss Charlottesville a lot, but there was more opportunity in New York City, and then I think we found a perfect balance with Phoenix."
The No. 2 overall pick in the WNBA's 2010 draft, Wright Rogers played for Minnesota for six seasons and for Seattle in 2016. She also played overseas in Poland, Turkey, Australia, South Korea and Iceland.
Near the end of a playing career cut short by injuries, Wright joined the coaching staff at the University of Incarnate Word in San Antonio, Texas, as a volunteer. She loved this side of the sport, and she joined the staff of Liberty University's head women's coach, Carey Green, in June 2018. About a year later, Wright Rogers returned to UVA to become an assistant coach under then-head coach Tina Thompson.
Wright Rogers' two seasons as a UVA assistant were challenging ones. In 2019-20, the Wahoos finished 13-17 overall and 8-10 in ACC play. In 2020-21, with the COVID-19 pandemic ongoing, UVA's season consisted of only five games, all of them losses. The Hoos canceled or postponed six other games before finally halting their season due to health and safety concerns.
Even so, Wright Rogers said, "I really appreciated the opportunity to come back to Charlottesville and be on staff at my alma mater that I love dearly."
She treasured "being able to give back to those student-athletes and being a part of that staff where I have some friends that I'm still in contact with today," Wright Rogers said. "I made friends for life. It was a special time. I had my first kid there. So being back and connected in that Charlottesville community was everything to me, and I appreciate the administration for allowing me the chance to do that."
The position with the NBA "kind of came out of nowhere," Wright Rogers said, "and just happened to really set me up for and prepare me for this position [with the Mercury] and the direction I wanted to go [professionally]. The player development program at the WNBA looks to help former players land jobs and opportunities that fit them, and so that really was a reason why I was a candidate for that."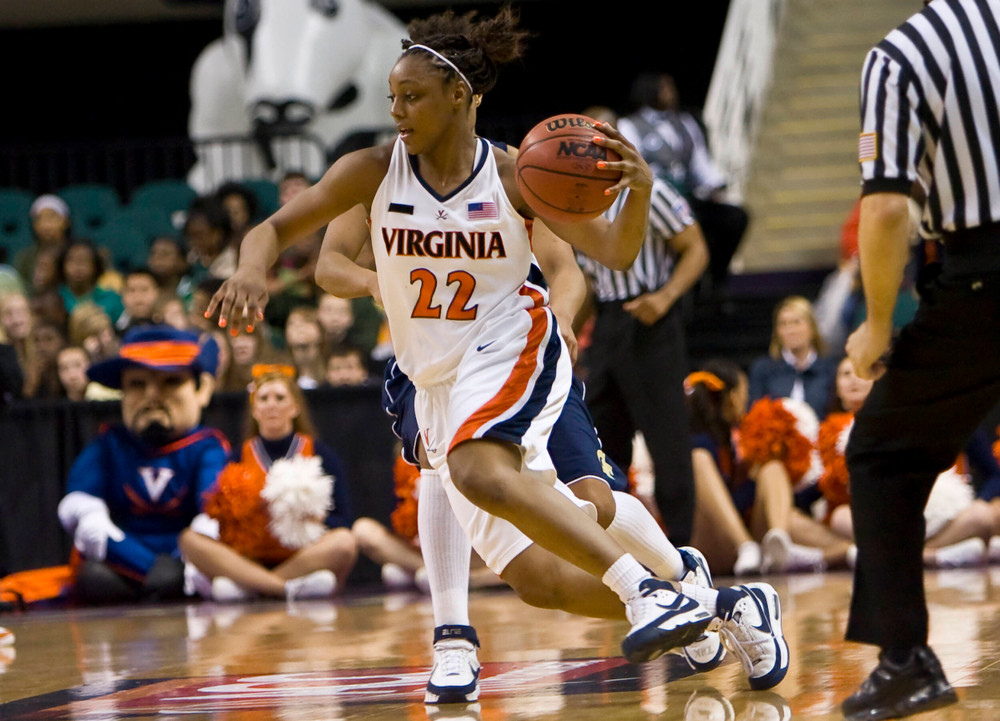 Wright Rogers, whose parents now live in San Antonio, grew up in Woodbridge and starred at Forest Park High School. At UVA, from which she graduated in 2010 with a bachelor's degree in sociology, Wright Rogers had a legendary career for head coach Debbie Ryan.
A three-time All-American, Wright Rogers was ACC Rookie of the Year as a freshman in 2006-07 and ACC Player of the Year as a senior in 2009-10.
In her four seasons with the Cavaliers, Wright Rogers scored 2,540 points. Dawn Staley is second on UVA's all-time list, with 2,135 points. Wright Rogers scored at least 25 points in 28 games, which remains a program record, too, and UVA retired her jersey number (22) in 2012.
When she reflects on her college career, Wright Rogers said, she's struck by how Ryan "loved and cared for her players. That's the main reason why all of us went to UVA, because it was evident that she would do anything for you to succeed. She wanted you to succeed deep in her heart, and it was genuine. She also had a way to give you tough love and to refine you to be a productive and a well-rounded human in society once you left here. So those are the things that really stick out to me, because those are the things that still sit with me today and what I use day to day as an adult, 10, 12 years after I've graduated."
The 2022-23 season was Virginia's first under head coach Amaka Agugua-Hamilton. Injuries hit the team hard, but the Hoos finished 15-15 overall, ending a string of four straight losing seasons, and drew enthusiastic crowds at John Paul Jones Arena.
With a full complement of players, the Cavaliers posted an 11-0 record in non-conference play, and in late December they earned a national ranking for the first time since November 2011.
With help from a group chat she's on with fellow program alumni, Wright Rogers followed the team's progress in 2022-23 and relished the Hoos' resurgence.
"I have not met Coach Mox in person, but we did exchange some text messages, and I am here to support her 100% in anything she needs," Wright Rogers said. "And then I see the work that [the new coaching staff has] already been doing in the community, with the alumni, with their current student-athletes and on the court. I think that those things are evident, and I'm really excited about the future of the program under Coach Mox."
The WNBA season starts this month. The Mercury opens on the road May 19 against the Los Angeles Sparks.
To receive Jeff White's articles by email, click the appropriate box in this link to subscribe.