Hoos Look to Extend Momentum in Durham
By Jeff White (jwhite@virginia.edu)
VirginiaSports.com
CHARLOTTESVILLE, Va. — When the Virginia Cavaliers take the field Wednesday for their first game in the ACC baseball tournament at Durham (N.C.) Bulls Athletic Park, they'll know exactly what they need to do to advance to the semifinal round: defeat North Carolina on Thursday afternoon.
No. 2 seed UVA, No. 7 seed UNC and No. 11 seed Georgia Tech make up Pool B of the 12-team tournament, and they're playing a round-robin to determine which of them will advance to face the Pool C winner in the semifinals Saturday.
The Tar Heels defeated the Yellow Jackets 11-5 on Tuesday in the Pool B opener. The Wahoos meet Georgia Tech at 3 p.m. Wednesday, and a win would bolster their already strong postseason résumé. But the make-or-break game for the Coastal Division champion Cavaliers (44-11) comes Thursday, when they take on North Carolina (34-21) at 3 p.m.
As the highest-seeded team in Pool B, Virginia owns the tiebreaker and will advance to the semifinals if each team finishes 1-1 in pool play. And so even if the Hoos lose to Georgia Tech on Wednesday, a win over the Tar Heels would send them to the semifinals.
UVA arrived in Durham on a nine-game winning streak and is considered a lock to host an NCAA tournament regional next weekend at Disharoon Park. The Hoos' immediate goal is to win the ACC tournament for the first time since 2011.
"It would mean everything," said junior catcher Kyle Teel, who this week was named ACC Player of the Year. "As a team, we play every game to win, and it would be freaking awesome to win an ACC championship."
Since dropping three consecutive ACC series last month, the Cavaliers have regained the form that made them so dominant early in the season.
"We regrouped," head coach Brian O'Connor said Monday at Disharoon Park, "and that speaks to this team, one, how talented they are, but also their ability to understand what takes for this team to win. And so they earned that. We talked about starting to play 'playoff baseball' two weeks ago and [how] a little bit our backs are against the wall. Even though we were still certainly an NCAA tournament team and in a great position, they wanted to accomplish more. They wanted to have the opportunities potentially to play in this ballpark in the NCAA tournament, and I believe that they've earned that opportunity because of what they've done the last two weeks."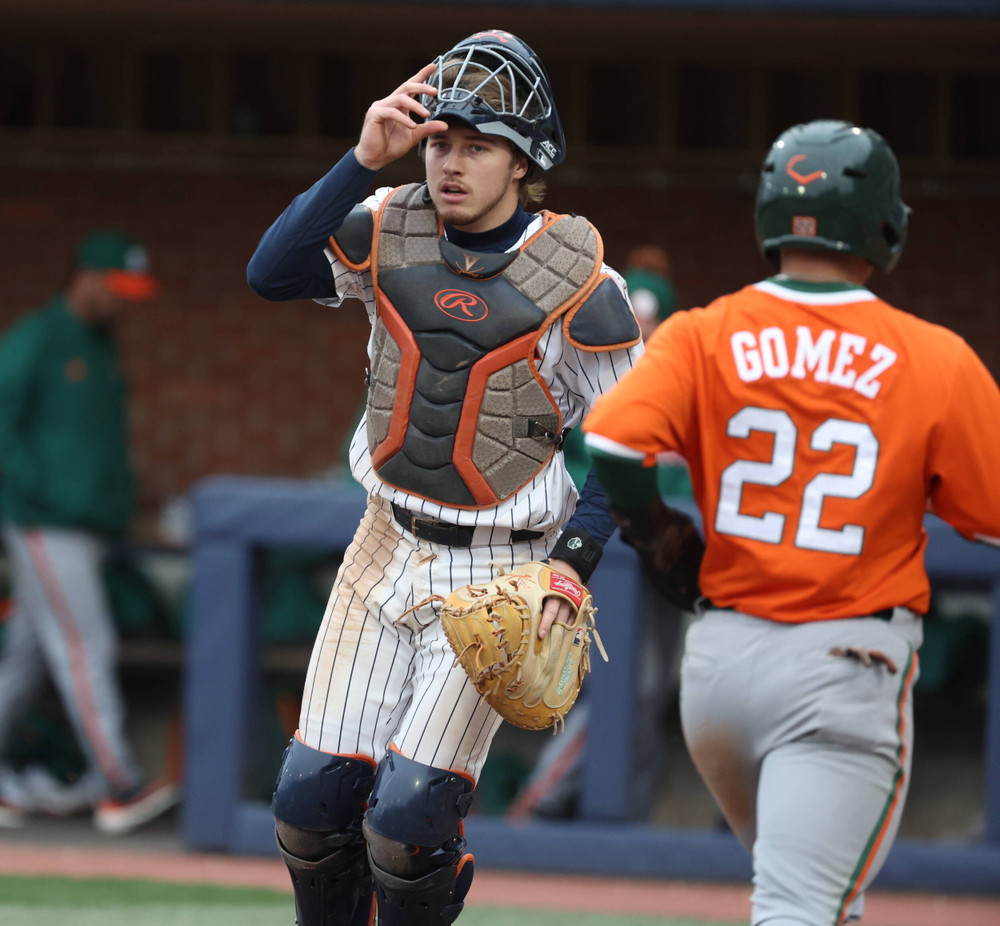 In adopting a "playoff baseball" mentality, the Cavaliers shook up their pitching rotation. Among other moves, freshman right-handed Jack O'Connor started coming out of the bullpen, and he shined in Virginia's final series of the regular season, a sweep of Georgia Tech in Atlanta.
"We basically made everybody available to pitch in every ball game," O'Connor said, "and did whatever we had to do to win the game in front of us even if we fell behind. And so that's how you manage when it becomes ACC tournament-and-beyond time.
"We decided as a group to play the game that way and manage each individual game that same way. When you get to the NCAA tournament, you don't worry about [which pitcher you] need to have left on the mound on Sunday to win the series, things like that. You just try to win the game in front of you and do everything you can to win the game in front of you, and that's served us well and our guys have responded to it."
This is O'Connor's 20th season at UVA, which has advanced to the College World Series five times during his tenure, with an NCAA title in 2015. His current team is most notable for its eye-catching offensive statistics. Teel finished the regular season with the ACC's top batting average (,414), and sophomore shortstop Griff O'Ferrall is batting .404. Junior third baseman Jake Gelof, with 22 home runs, has tied the program's single-season record, and junior center-fielder Ethan O'Donnell is hitting .364, with 11 home runs.
Teel,  O'Ferrall, Gelof and O'Donnell were named to the All-ACC first team this week. Sophomore first baseman Ethan Anderson, who's hitting .372 with nine homers, was a third-team All-ACC selection.
The Cavaliers are averaging 9.1 runs per game, the most of any ACC team, but what "separates this team is they've really come ready to play every day," O'Connor said.
"In the sport of baseball, you're not going to win every game. We have 11 losses, against 44 wins and so you're gonna lose some. But for his team to do what they did in the middle of the week and go undefeated and the success we've had an ACC play, you got to put this up there with some of the best teams that we've had, and that's because we have great leadership. They don't give any game away and they're ready to play every day and that serves you well when it comes to championship time."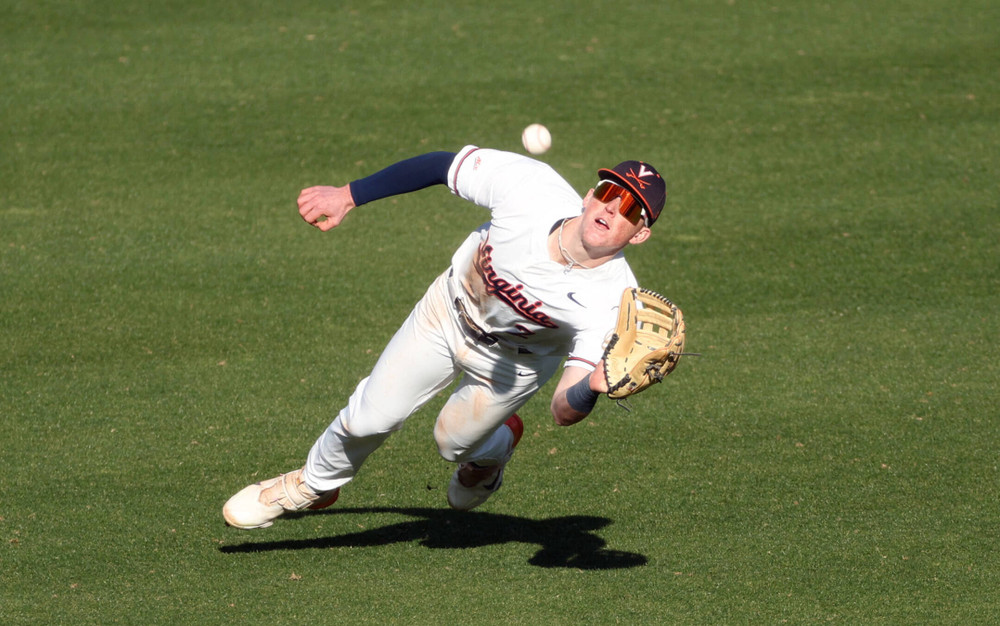 Baseball is "a simple game," Teel said, "and we've been keeping it simple the last couple of weeks and just been executing what we need to do."
With final exams over at UVA, "this is an awesome time of year where we just can focus on this team and have some fun with that," said O'Donnell, a transfer from Northwestern.
Teel, who's from Mahwah, N.J, is the first Cavalier since Sean Doolittle in 2006 to be honored as ACC Player of the Year.
To put up the offensive numbers Teel has "and to do it in the position that he plays behind the plate, is really, really special," O'Connor said.
"He's ready to play every day. The energy he has, and what he's done to win the batting title in the ACC is incredibly impressive. And we're just so proud of him and fortunate that he's in our uniform."
As a freshman in 2021, Teel helped Virginia reach the CWS in Omaha, Neb., for the first time in six years. His batting average dipped in 2022, but neither his coaches nor his teammates ever doubted Teel.
"He's a hitter," Gelof said. "See ball, hit ball. He's awesome at that."
To be named ACC Player of the Year is an honor for which Teel is thankful, but his primary concern on the field "is winning games and having fun," he said, "and whatever comes along with that is awesome. Right now our goal is to go win an ACC tournament, and then after that our goal is to go to Omaha and win the whole thing. So that's what we're striving to do as a team, and there's gonna be a lot of fun things that come along with that."
Winning the Coastal Division for the first time since 2011 was "pretty cool," Gelof said, "but we still have a lot of work to do."
To receive Jeff White's articles by email, click the appropriate box in this link to subscribe.