By Jeff White (jwhite@virginia.edu)
VirginiaSports.com
CHARLOTTESVILLE, Va. — Graduate student Brian Edgington set the bar high in the opening game of the NCAA baseball regional at Disharoon Park, pitching five scoreless innings in which he walked none and allowed no hits in Virginia's 15-1 rout of Army on Friday afternoon.
It was graduate student Nick Parker's turn Saturday night, and he too delivered a gem, allowing only one run in seven innings to help top-seeded UVA edge second-seeded East Carolina 2-1.
Then came junior Connelly Early's start on the biggest stage of his college career. In front of a capacity crowd at the Dish, all Early did Sunday night in Virginia's 8-3 win over ECU was strike out 10 in 6.1 innings.
"The way Connelly Early attacked the mound tonight and ate up that game was just really, really special," UVA head coach Brian O'Connor said.
For the eighth time in O'Connor's 20 seasons, the Cavaliers are headed to a best-of-three NCAA super regional, and Edgington, Parker and Early deserve a healthy share of the credit.
Averaging 9.1 runs per game and carrying a .334 batting average, UVA has what East Carolina head coach Cliff Godwin said he believes is the best offense in the country. The Wahoos' starting pitchers haven't been as dominant, but in the regional their impact was enormous.
"You can't ask for more," O'Connor said. "All three of them pitched deep into the game. They all three got us off to a great start."
That's not all they have in common. Each was elsewhere last season: Edgington at Elon, Parker at Coastal Carolina, and Early at Army. All-ACC center-fielder Ethan O'Donnell, whose three-run home run put the Hoos ahead to stay Sunday night, is a transfer, too. He came to UVA from Northwestern after the 2021-22 academic year.
"We've benefited from the transfer portal," said O'Connor, sitting alongside Early and O'Donnell at Virginia's postgame press conference Sunday night.
"Our approach with that is, nothing replaces the development of the high school player, first and foremost. That's what our program has been built on and will always be built on. That said, in this new age of college athletics, we have a responsibility to the 40 men in our clubhouse to fill some gaps and add in some areas, and that's what we did last summer by adding these two guys and seven or eight others that have really all made an impact … We wouldn't be where we're at without them."
The advent of the transfer portal has changed college sports, "and if you're going to be successful, you have to be good at it," O'Connor said. "And so we just feel fortunate that these two and the others made a decision to come here, and you couldn't ask any more out of them."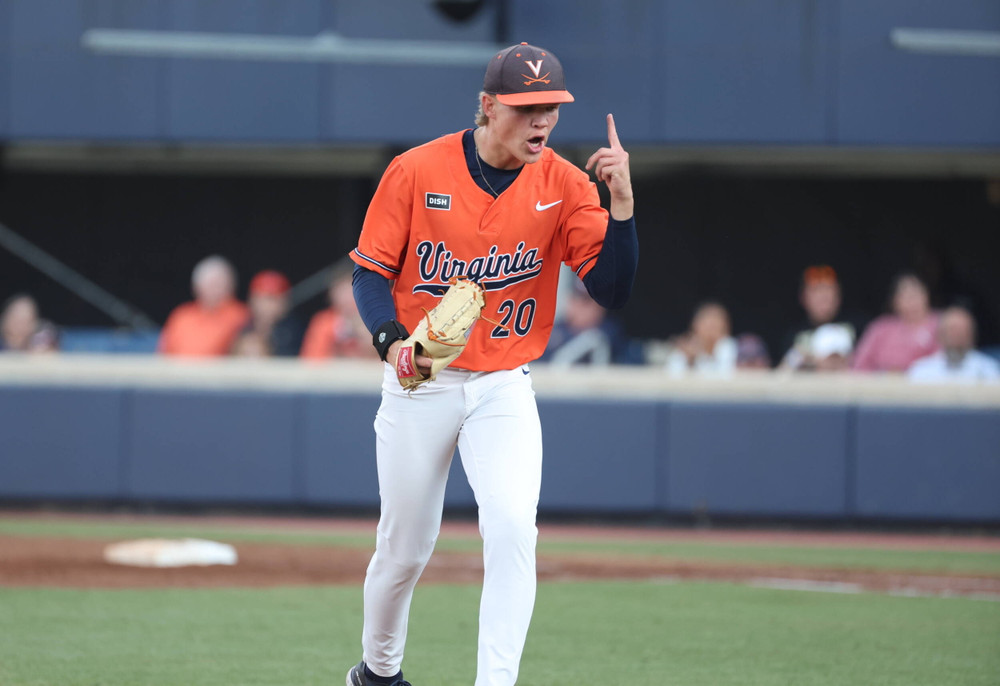 In the NCAA regional in Conway, S.C., top-seeded Coastal Carolina takes on second-seeded Duke on Monday night. That game doesn't start until 6 o'clock, so the Hoos will have to wait a while to learn which opponent they'll face, starting Friday, for a trip to the College World Series in Omaha, Neb.
No matter. The Cavaliers know they'll be playing at Disharoon Park, where they're 35-4 this season. Not since 2015, when they went on to win the NCAA title, have the Hoos hosted a super regional.
"I'm ecstatic about it," O'Connor said. "We've earned this opportunity … I'm excited that there's postseason baseball again here in Charlottesville next weekend."
Rarely has Virginia's home-field advantage been as pronounced as it was in this regional. The Cavaliers' clash with Army on Friday drew 5,487, then the largest crowd ever for a postseason game in Charlottesville. That record fell Saturday night, when a sellout crowd of 5,919 watched the Hoos edge the Pirates, and that was the attendance figure for the Sunday night finale, too.
"The UVA fans were great for us this whole entire weekend," said Early, a graduate of James River High School in the Richmond area. "You can definitely see how well we played just because our fans were there supporting us. In big moments you'd hear them going nuts for us."
The 2022 game at which UVA legend Ryan Zimmerman's number (11) was retired drew a sellout crowd at Disharoon Park, but otherwise "none of us have ever seen the stadium like that," O'Connor said.
"It wasn't like that here in the regular season, although we had some good crowds. This is different. I know the players have said over the last couple of days that they took a moment to kind of take it in, and candidly I did as well. It makes me smile, because I think about how many people have made a decision to commit to this program, whether it's the fan that comes and sits out in the bleachers, or longtime donors of ours that decided to get $5 million to expand our stadium. One of the things I'm so proud about with this program is there's just so many different individuals and groups that over the years have said, 'Yes.' They've said, 'I'm in and want to make this program the best it can be for these guys that wear the uniform to have the best experience they can have.' That's what it's about."
East Carolina, which is considered the best program never to have advanced to the College World Series, finished 47-19. The Pirates had to play twice Sunday—they eliminated No. 3 seed Oklahoma that afternoon—and that took a clear toll on their pitching staff.
ECU, which was designated as the home team Sunday night, led 2-1 after six innings, but in the seventh O'Donnell, who had been hitless in the regional, crushed a three-run homer to left-center field. In the eighth, Virginia designated hitter Anthony Stephan set off more fireworks, hammering a three-run homer off the wall in the center field to make it 7-2.
"If we could have had those two pitches back, I think we win the game," Godwin said, "but that's baseball. It's a game of inches."
In bottom of the eighth, after scoring a run to cut Virginia's lead to 7-3, East Carolina loaded the bases with two outs. Against UVA reliever Angelo Tonas, a transfer from Georgetown, Jacob Starling hit a long fly ball. It settled into the glove of left-fielder Colin Tuft at the warning track, all but ending the Pirates' comeback hopes.
"The difference in the game is they got two three-run homers and we didn't get a big hit with some guys on base," Godwin said.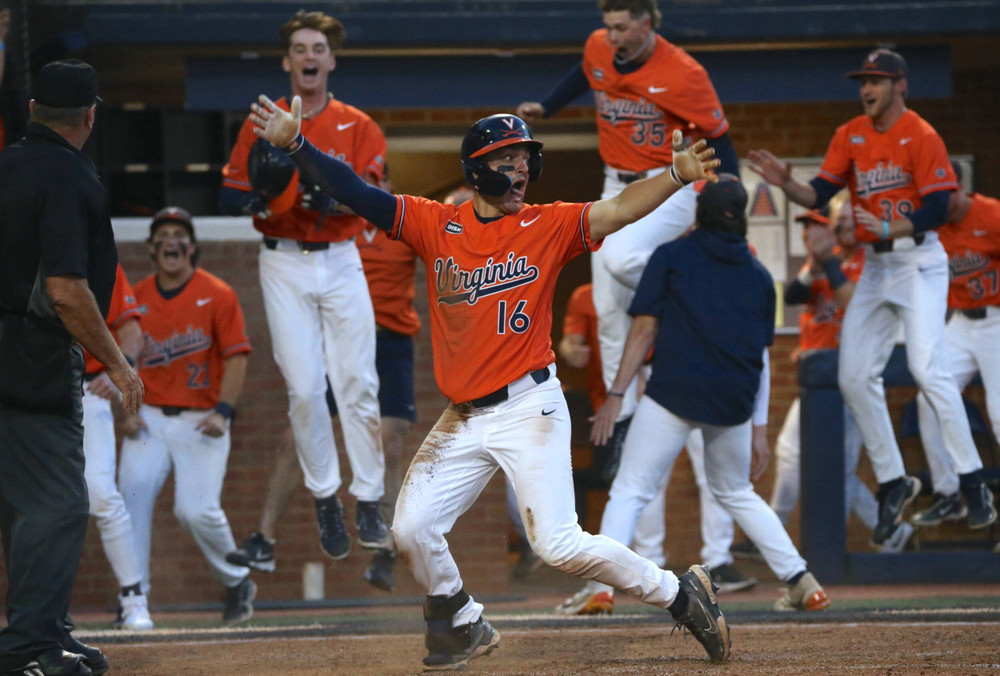 Under O'Connor, Virginia has reached the College World Series five times. He knows, though, that not every season ends in Omaha. He and Godwin are good friends, and O'Connor understands how painful these losses are for the Pirates.
"I have the utmost respect for Coach Godwin and their players," O'Connor said. "The way they play the game is tough. They compete. You've got to be at your best to beat them. They're one of the great baseball programs in college baseball, for sure. Their day will come."
This marks the sixth time during O'Connor's tenure that Virginia has needed only three games to win a regional. The names of the Hoos' heroes changed from game to game at the Dish. In the finale, Stephan, a sophomore, went 2-for-4 with three RBI, and junior catcher Kyle Teel, the ACC Player of the Year, went 4-for-5 with two RBI.
Teel's 101 hits this season are a program record, and his ninth-inning homer Sunday night sparked another chant of "U-V-A! U-V-A!" from the home fans. For the regional, Teel hit .583 with four RBI.
"Look at the weekend he had," O'Connor said.
Teel was one of nine Cavaliers named to the all-tournament team, along with O'Donnell, Stephan, Parker, Early, sophomore first baseman Ethan Anderson, junior third baseman Jake Gelof, sophomore shortstop Griff O'Ferrall and sophomore right-fielder Casey Saucke. Junior left-hander Jake Berry, who closed both of the games against ECU, could have been a 10th.
"This is the hardest-working group of individuals I've ever been around in my life, and today was a testament to that," O'Donnell said. "Who knows who's gonna have a big hit? We have guys who have been phenomenal the entirety of the year, and guys who might not have had as much success as they wanted. Today's a great example. It's one guy, then the next guy steps up and then the next guy."
Now comes an opportunity for the Cavaliers to book a sixth trip to Omaha.
"We're not finished," O'Donnell said. "We're not where we want to be yet."
To receive Jeff White's articles by email, click the appropriate box in this link to subscribe.