By Jeff White (jwhite@virginia.edu)
VirginiaSports.com
NASHVILLE, Tenn. — Their long-awaited return to the field was always going to test the University of Virginia football team, whose 2022 season was cut short by a horrific incident. That the Cavaliers' opponent in their opener was 12th-ranked Tennessee, a team that's expected to contend for the Southeastern Conference title, only added to their challenge.
In front of 69,507 fans, the largest crowd ever to see a football game at Nissan Stadium, Virginia never threatened Tennessee. The final was 49-13, and UVA didn't score a touchdown until the Volunteers had built a 35-3 lead. Worse for the Wahoos, they lost their starting quarterback, Tony Muskett, to a shoulder injury early in the fourth quarter.
Second-year coach Tony Elliott wasn't happy about the outcome, but he said he came into the game "at peace, knowing that the victory had already been won, just this team getting to this point and being here in the face of everything."
The game was the Hoos' first since the Nov. 13 shooting in which three players—wide receivers Lavel Davis Jr. and Devin Chandler and defensive end D'Sean Perry—were killed after returning to Charlottesville from a class field trip. Among those wounded in the shooting was Mike Hollins, who led the team out of the tunnel Saturday and is again a key member of the Cavaliers' rotation at tailback.
"He's a walking miracle," Elliott said of Hollins. "Back in November we had no idea what his life was going look like, much less that he was going to be able to run out with the 4th Side flag today and be able to play and be a significant part of our game plan."
A moment of silence was observed in a pregame ceremony during which flowers were placed on the 1-, 15- and 41-yard lines, and each Volunteer helmet bore a decal commemorating Virginia's fallen players. Davis wore jersey No. 1, Chandler No. 15 and Perry No. 41.
The Cavaliers hadn't played in nearly 300 days. "It's hard to quantify and put into words just everything that they've had to go through just to get to this point," Elliott said, "and I thought the guys showed up and had a really good spirit about them, great energy, and I thought they played extremely hard and they fought and they battled, and that's all you can ask of these guys.
"Obviously, we've got a lot of work to do. I know ultimately we'll be judged by what the scoreboard says, but internally as a program, I couldn't be more proud of a group of young men and an administration and the staff that fought. What we had to endure is unprecedented, and it's hard to quantify and put into words and just really wrap your head around it."
To keep pace with the high-powered Vols, UVA needed strong production from its offense. That didn't happen. At the end of a first half in which the Cavaliers picked up only three first downs, the Volunteers led 21-3. Tennessee (1-0) finished with 499 yards of offense, to 201 for Virginia. The Hoos played from behind for virtually the whole game. The Vols returned 34-year-old Matt Ganyard's opening kickoff 34 yards, and they needed only nine plays to take a 7-0 lead.
After going three-and-out on their first possession, the Hoos snuffed a fourth-down run and took over at the Vols' 29-yard line. The short drive that followed ended with a 28-yard field goal attempt that sophomore kicker Will Bettridge missed. An inability to capitalize on their opportunities became a recurring theme for the Cavaliers in their opener.
Virginia didn't turn the ball over Saturday and committed only two penalties, but "at the end of the day, we didn't play our best football offensively," Elliott said, "and we didn't play complementary football. And so when we had opportunities—when the defense was able to secure short fields for us or special teams secured short fields—we didn't take advantage, and that's where we've got to grow and understand how important momentum is. If you score points, you hit that first field goal or you score points on some of those short fields, you never know what could happen."
Bettridge connected on his second field-attempt, a 30-yarder, to cut Tennessee's lead to 14-3 with 1:42 left in the first half. But the Volunteers responded with a 75-yard touchdown drive, the final yard coming on a sneak by 6-foot-5, 235-pound quarterback Joe Milton III.
Led by tailback Jaylen Wright (115 yards on 12 rushes), Tennessee averaged 5.5 yards per carry. The Vols had only one pass play that gained more than 16 yards, but their dominance up front allowed them to keep the Cavaliers off balance defensively. Milton completed 21 of 30 passes for 201 yards and two touchdowns.
"We've got to own the line of scrimmage," UVA defensive coordinator John Rudzinski said. "When you own the line of scrimmage, you give yourself a chance to make them one-dimensional. So what we'll do is we'll continue to stay to the process, making sure we continue to put our guys through difficult situations."
Virginia's offensive line struggled for much of the game. The Cavaliers averaged only 2.4 yards per carry, and Tennessee sacked Muskett four times. He hurt his non-throwing shoulder on the fourth sack, and true freshman Anthony Colandrea took the rest of the snaps for UVA.
The Vols' defensive linemen won "their one-on-one matchups, which resulted in our quarterback getting hit," Elliott said. "So we'll evaluate it and see where the fundamental breakdown was. And sometimes you're just gonna lose a one-on-one matchup. Sometimes the guy just flat-out beats you."
When Tennessee had the ball, its offensive linemen "covered us up too much and we gave up too much in the run game," Elliott said. "I thought our guys fought hard, but we weren't able to stop the run like we like we're used to … There's nothing more frustrating for a team than when the opposing team is just able to run the football.
Muskett, a transfer from Monmouth, an FCS program for which he was a three-year starter, completed 9 of 17 passes for 94 yards in his UVA debut.
"I thought he handled things well," Kitchings said. "He communicated well on the sideline, and he didn't get big eyes in this environment."
Elliott said after the game that the medical staff wouldn't know the extent of Muskett's injury until more tests were taken. If Muskett isn't available, Colandrea would start, with walk-on Grady Brosterhous in reserve.
"Colandrea is very capable of running this offense," Kitchings said, "and he's shown that all fall camp and even in the spring … He's a feisty little dude. He likes to compete."
An elusive runner, Colandrea gained 17 yards on two carries Saturday, but he's "gotta be smart," Kitchings said. "We can't afford another injury at quarterback."
Virginia put together its best drive late in the third quarter, covering 75 yards in eight plays, the final 17 coming on a run by tailback Perris Jones. A sixth-year senior, Jones opened the drive with an 11-yard carry, and other highlights include Muskett's 15-yard completion to wide receiver Malachi Jones and tailback Kobe Pace's 22-yard run.
"It was super important," Fields of the TD drive. "Getting it in the end zone was a confidence-booster."
The Hoos' momentum was short-lived. Tennessee responded with back-to-back touchdown drives, giving its band occasion to play still more renditions of "Rocky Top."
Fields finished with 63 yards on four receptions, and fellow wideout Malik Washington, a transfer from Northwestern, added 29 yards on four catches. Jones and Pace, a transfer from Clemson, rushed for 39 yards apiece.
Bettridge, a sophomore, closed the scoring with a 40-yard field goal in the final minute.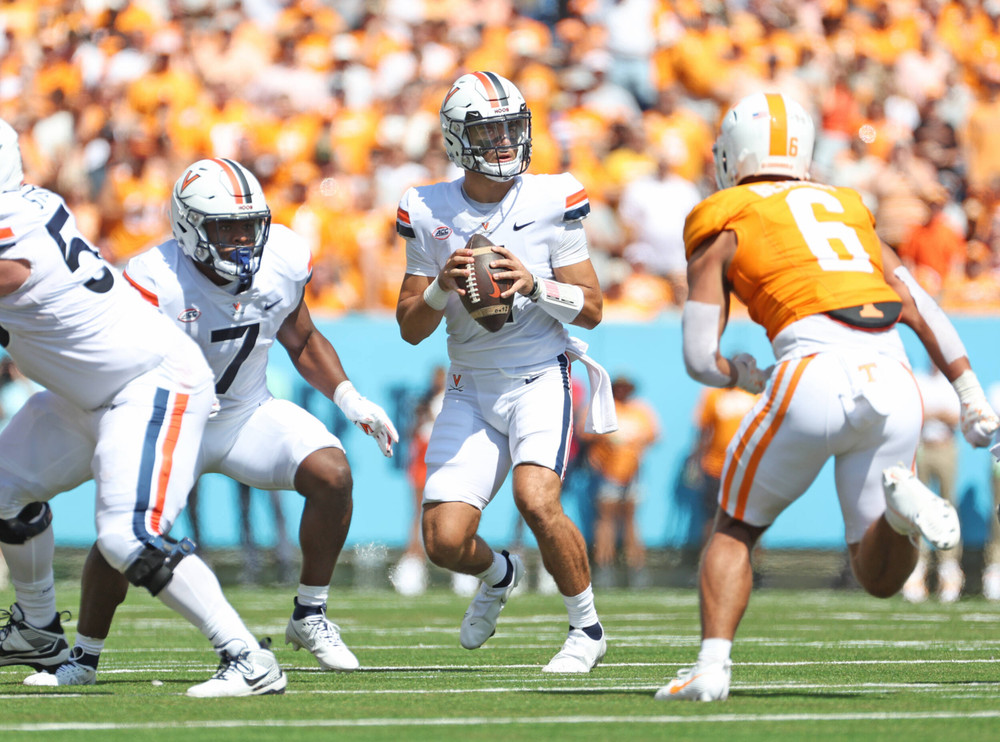 UP NEXT: Virginia's home opener is next Saturday. In a noon game to air on ESPNU, UVA (0-1) takes on James Madison (1-0) at Scott Stadium.
This will be fourth all-time meeting between the programs and the first since 1983, when the Cavaliers defeated the Dukes 21-14 at Scott Stadium. UVA leads the series 2-1.
JMU opened the season with a one-sided win over Bucknell.
MEDICAL REPORT: Virginia played without two starters on defense: safety Anthony Clary and end Chico Bennett Jr. They're recovering from injuries but might be available against JMU.
Muskett wasn't the only Cavalier who got hurt Saturday. Defensive tackle Olasunkonmi Agunloye, who had a sack to his credit, hurt both legs after recovering a fumble at the end of the first quarter.
"My heart goes out to him because of his situation," Elliott said. "I don't know the extent, but I know it's significant."
MIXED BAG: UVA's Daniel Sparks averaged 44.2 yards on his nine punts, with a long of 62 yards. But the Cavaliers' punt coverage broke down several times, and Tennessee's Dee Williams totaled 105 yards on three returns.
"When you boom it out there, guys gotta get down the field," Elliott said, "and I thought we had some opportunities to make some open-field tackles and we didn't. We missed a couple tackles there, and once you miss those, the first or the second tackle, then he's punctured your coverage team and it's very, very hard after that."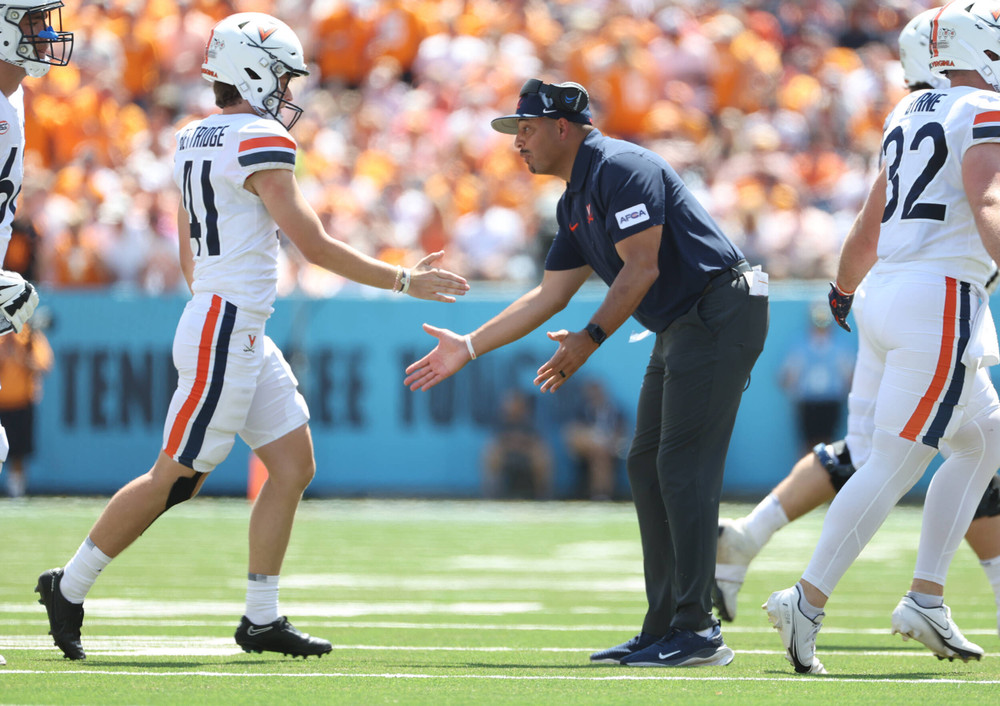 SOUND BITES: The loss was Virginia's first in a season opener since 2016. Among the postgame comments in Nashville:
* Elliott on what his players have been through: "You've got to remember, every day they walk out on that field, they're reminded [of Nov. 13]. Every day they walk off that field, they're reminded. Every day they go to class on Grounds, they're reminded of what happened. And not everybody is done grieving or healing and we're still healing as an institution, as an athletic department, as a program. We got families and individuals that are still grieving and still healing. So that's the victory for us."
* Kitchings on Virginia's inexperienced offensive line: "They got better as the game went on, which is growth, and I take that as a positive. I think the speed of it initially was a shock to us. We got [beaten off the edge] some early, but those kids battled and they fought and they finished, and we were able to get some other guys in there in the end, which is gonna benefit us down the stretch."
* Elliott: "I got to coach better, we got to play better. We got to execute better. We all know that, but it's a great opportunity. As I told them, this is the first week this is a small sample size. We're going to learn from it. and then we're gonna put it behind us and go focus on the next one."
* UVA defensive end Kam Butler: "I thought we all played hard till the very end. So that's good to see. But ultimately, we just got to execute throughout the entirety of the game instead of just one half or one quarter."
* UVA safety Jonas Sanker: "You want to win every game, regardless of the circumstances. But, obviously, taking a loss like this, the most important thing is not being outcome-driven and just not letting one game determine your season."
To receive Jeff White's articles by email, click the appropriate box in this link to subscribe.