By Jeff White (jwhite@virginia.edu)
VirginiaSports.com
CHARLOTTESVILLE, Va. — For Adele Iacobucci, her days of sleeping in are over, at least for the time being. She has an 8 a.m. class every weekday this semester.
That's not ideal for a graduate student whose daily schedule also includes practices or games with the University of Virginia field hockey team, "but I'm definitely getting used to it," Iacobucci said. "If I was in the real world right now, I'd be getting up around this time anyway. So it's good to get my body used to it. I'll have to be doing it next year."
Iacobucci, who's from the Philadelphia suburb of Malvern, Pa., arrived at UVA in the summer of 2019 expecting to spend four years on Grounds. But the COVID-19 pandemic gave her an extra year of eligibility and an opportunity to extend her college career. Even so, Iacobucci said, "I thought I wouldn't necessarily want to stay, just because I was friends with a lot of older girls [who were graduating], and I was kind of like, 'I think once I play my four years, I'll be ready to move on.' "
Her plans changed when she was admitted into the M.S. in Commerce program offered by the McIntire of School of Commerce.
"I thought that there was maybe some untapped potential I wasn't able to necessarily reach during my undergrad time, so I think this year I can really push my limits academically," said Iacobucci, who graduated in May with a bachelor's degree in media studies. "I also knew we had a great team coming back. So it was just a win-win: get to play another year with a great team and also further advance where I wanted to be academically."
A 5-foot-8 midfielder, Iacobucci in her fifth year as a starter for Virginia. The No. 6-ranked Cavaliers are 3-1 this season heading in their Friday night clash with William & Mary (1-1) in Williamsburg. Iacobucci doesn't collect many goals or assists, but her value to the team transcends scoring. She's been named to the National Field Hockey Coaches Association's All-South Region first team in each of the past three seasons.
"She's really fast," UVA head coach Michele Madison said, "and she's a catalyst to the team's energy and tempo. When she turns it on, you can't help but notice No. 13."
When last season ended, the Wahoos' coaching staff wasn't counting on having Iacobucci back for a fifth year. "It was a big surprise," Madison said. "because she's the kind of kid that just wants to get it done and move on with her life and start a career."
A master's from McIntire will give her more career options, Iacobucci said. It's not easy balancing schoolwork and field hockey, she said, "but it's work that I want to be doing. It's real world-applicable. It's finance, it's accounting, it's stuff that I feel like I should have known four years ago. I definitely am super happy with the challenge. There's sacrifices that have to be made when you're in season and you're trying to adjust to a new schedule, but I was aware of that coming in."
Iacobucci, one of the Cavaliers' captains last year, could have held that position again this season. But she declined to take an official leadership role this year, believing her academic obligations would prevent her from meeting her standards as a captain.
"I want to be able to do my best in every aspect," Iacobucci said, "and being captain or leading the team right now, I can't do that to the best of my ability because of how rigorous our graduate program is. Honestly, it helps. I feel like I can go out there and just kind of have fun and use field hockey as an outlet. I try to look at it like I get to do this every day; I don't have to do it. It was just a great blessing that I get to go out and play my sport for another year."
She's made other difficult decisions during her UVA career. Iacobucci passed an opportunity to play for the United States senior national team.
"Field hockey, I love it," she said. "It's brought me so much in life, but it is going to end in a year. And so about two years ago, I kind of pivoted and was like, 'I need to put a little bit more focus on my career, what I want to do.' So I had to give up some other things, and USA Field Hockey was one of those things. In the summer you're either training with USA Field Hockey or you're having an internship, and so I kind of chose that internship route. It was difficult, but I think it was what I needed to do and it's definitely pushing me where I want to go."
Not every player would choose that route, but Iacobucci is different, Madison said. "She's just a special human being. She's self-motivated, self-driven, she walks her own path in the world. I love her character. It's just Adele."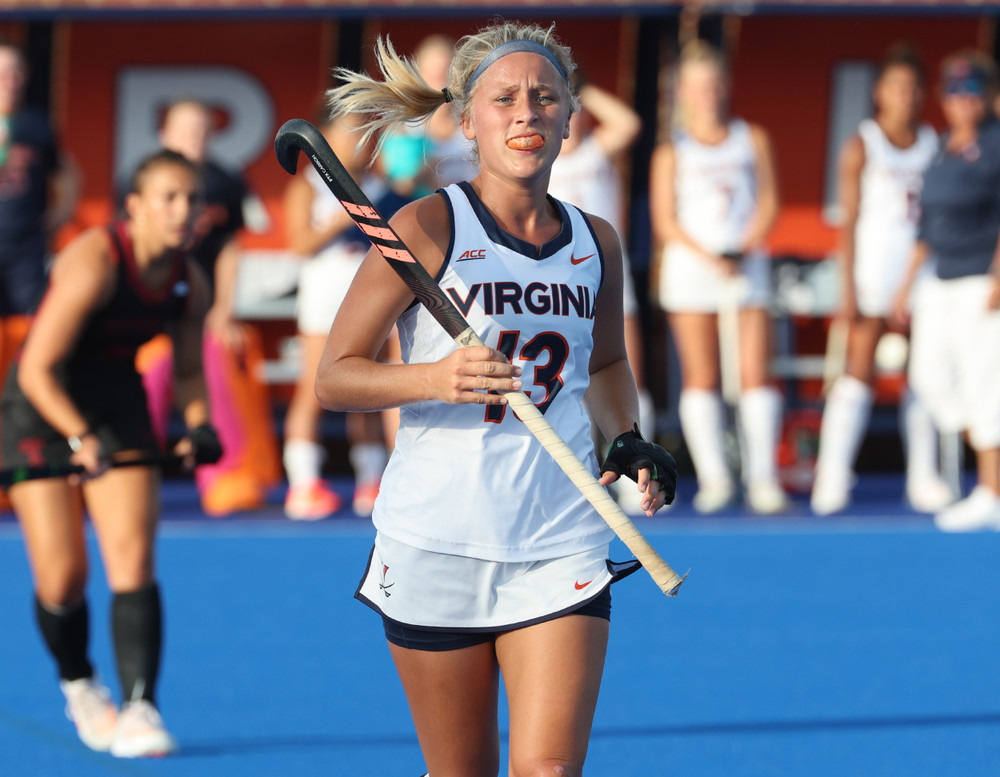 In the spring of 2021, Iacobucci and her teammate and close friend Greer Gill founded the UVA chapter of Morgan's Message. That's an organization formed to honor the memory of Morgan Rodgers, a former Duke women's lacrosse player who committed suicide in July 2019.
The goal of Morgan's Message, as stated on its website, is to "eliminate the stigma surrounding mental health within the student-athlete community and equalize the treatment of physical and mental health in athletics."
Gill is now in the workforce, but Iacobucci remains one of the Morgan's Message leaders on Grounds.
"I wouldn't say I'm necessarily head, but right now I'm working to get our first meeting [of the semester] put together," Iacobucci said. "I'm trying to figure out where we go from here, because Greer did run a lot of it last year. I still talk to her all the time, so she's there to help with any problems or with anything that I need. I'm hoping to really have a strong leadership role in that and then hopefully be able to pass that on, because we  want this to continue on. It's become such a huge thing that we just need someone to carry it on, and I know that there will be."
Morgan's Message serves a vital purpose at UVA and other schools, Iacobucci said. "Everyone goes through their own struggles, and I think sometimes it's easy for student-athletes to push that kind of stuff to the side and ignore. But I think in this community, your mental strength is such a huge part of where we find success, so acknowledging that is so important. And I love like the connections I've made being a part of Morgan's Message. You meet people who are involved in other chapters at different universities. I just think it's such a great environment, with everyone lifting each other up. We all are student-athletes, we all have these similar experiences, so it's just a great community."
Iacobucci, who attended Villa Maria Academy High School in Malvern, has two sisters, Amelia and Annina, and they played field hockey at Connecticut and La Salle, respectively. Iacobucci toured UConn, but once she visited UVA and met the team, her decision was easy.
"I just thought that there were so many well-rounded girls who were so good at field hockey but also cared about school and also had social things going on," Iacobucci recalled. "It was just a very fun, good, smart team and I was like, 'That's what I want to do.' "
The Cavaliers spent last weekend in Philadelphia and came away with two victories: 2-1 over Saint Joseph's and 6-0 over Temple.
"It was a good weekend to get the team together and build some momentum," said Madison, a former Temple head coach.
For Iacobucci, it was a rare chance to get back to the Philadelphia area during the season. She didn't make it to Malvern during the Cavaliers' stay in Philly, but she had dinner with her parents in the city, and "we had a great time just hanging out."
The whole weekend "was rejuvenating," Iacobucci said. "It was a pretty tough first month, with preseason and just getting adjusted to the [McIntire] program, so to see my family and friends, it really was reassuring and made me feel good. I just felt like all the love, so that was definitely needed, and it was great to get two wins."
To receive Jeff White's articles by email, click the appropriate box in this link to subscribe.