CHARLOTTESVILLE, Va. – Virginia (0-3) will be in action for the second-straight Friday night when it hosts NC State (2-1) at Scott Stadium. Kickoff is scheduled for 7:30 p.m. on ESPN and the Virginia Sports Radio Network.
GAME DETAILS
Date: Friday, Sept. 22
Time: 7:30 p.m.
Television: ESPN (Anish Shroff, Andre Ware, Paul Carcaterra)
Radio: Virginia Sports Radio Network, TuneIn App, SiriusXM Channel 81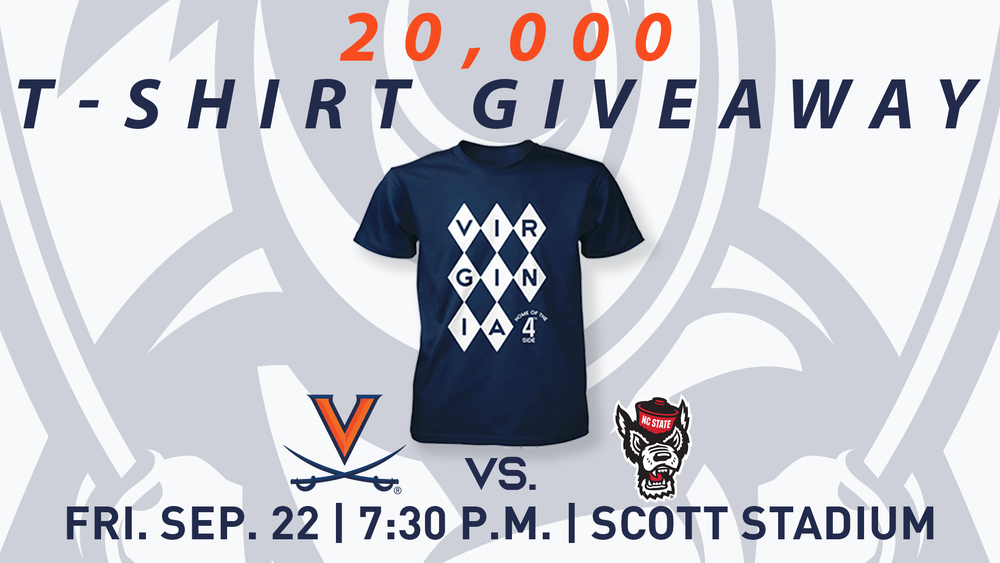 INSIDE FRIDAY'S MATCHUP
Friday night will serve as the ACC opener for both Virginia and NC State. The two schools are among eight yet to play an ACC game over the first three weeks of the season.
The matchup between the Cavaliers and Wolfpack will be the first since 2020 and only the fifth in the last 15 years. The two schools played every season from 1977-2003.
The Wolfpack have won four of the last five meetings against UVA, including a 38-21 win at Scott Stadium in 2020.
Since 1983, Virginia owns a 16-11 mark against NC State including a 9-4 mark at Scott Stadium in that span.
Virginia will play NC State in a night game for only the second time in 60 all-time meetings. NC State edged UVA 31-27 on Sept. 15, 1979, UVA's fourth ever night game.
UVA opens its ACC schedule at home for the first time since 2020. UVA has won its last four ACC openers played at Scott Stadium (2014, 2017, 2018, 2020).
Virginia is 69-59-1 all-time in night games, including a 43-20-1 mark at home. Virginia's last Friday night home game was against Wake Forest in 2021.
TOP STORYLINES
Friday will mark the return of Virginia's all-time leading passer, Brennan Armstrong, who is a graduate transfer on NC State's squad this season. Armstrong holds 15 school records at Virginia established over a five-year career from 2018-22. Former UVA coaches Robert Anae (OC) and Garett Tujague (OL) are also NC State's staff.
Virginia is looking to avoid its first 0-4 start since 1982, the first year of Hall of Fame coach, George Welsh's tenure at Virginia.
UVA has been on the wrong end of double-digit comeback victories at the hands of James Madison and Maryland the past two weeks. JMU erased a 11-point fourth-quarter deficit in week two and last week the Terps overcame an early 14-0 UVA advantage. Opponents are outscoring UVA 47-3 in the fourth quarter.
UVA offensive coordinator Des Kitchings, a former staffer at NC State under Dave Doeren from 2012-19 will square off against his former boss for the first time. Kitchings served as the program's co-offensive coordinator his final season in 2019.
Complete Game Notes Available: https://static.virginiasports.com/custompages/sports/m-footbl/gamenotes/2023/092223-NCSTGameNotes.pdf