By Jeff White (jwhite@virginia.edu)
VirginiaSports.com
CHARLOTTESVILLE, Va. — Taylor Lauterbach arrived at Kansas State University in 2020 intent on graduating in three years, a goal she reached last spring. Her next objective: find a school where she could earn a master's degree while continuing her basketball career.
Amaka Agugua-Hamilton arrived at the University of Virginia in March 2022 intent on reviving its women's basketball program. The Cavaliers laid a solid foundation in 2022-23, and Coach Mox headed into the offseason with several objectives, one of which was to add height to her team's frontcourt.
In a happy turn of events, both parties found what they were looking for. Lauterbach enrolled this summer at UVA, where she's working toward a master's in the School of Education and Human Development, and her presence means that Camryn Taylor and London Clarkson, who each stand 6-foot-2, won't have to play center as often in 2023-24 as they did last season.
For the record, Lauterbach said, she's actually 6-foot-6, but UVA players are measured in shoes, so she's listed at 6-foot-7 on the roster. Whatever the case, she's a towering presence who's filling a position of need for the Wahoos.
"It gives us depth, first of all, at the post position," Agugua-Hamilton said, "but then it also allows some [other Cavaliers] to play the 4, which is their natural position."
No one else in her family is exceptionally tall, Lauterbach said, so she's not sure where she gets her height. "My dad is 6-2 on a good day," she said, "and my mom's pretty short. She's maybe 5-6, I think. So I think I just got switched at birth or I just kind of sprouted out of somewhere."
That deadpan sense of humor is among the qualities that endear Lauterbach to her new teammates and coaches.
"I think one of the best things about her is that she came in right away and enhanced our culture," Agugua-Hamilton said. "So every single person on this team says, 'Taylor made us so much closer and we love Taylor.' You can go from A to Z on this team, and everybody feels the same way. So who she is as a person, her spirit, her soul, has enhanced our program without even putting the basketball into it.
"Taylor, honestly, is just a phenomenal person. She's brilliant. Graduated in three years, and she's going to get her master's here, and she has a very high IQ, especially for somebody that started playing the game late."
The COVID-19 pandemic was ongoing during Lauterbach's first year of K-State, and the NCAA awarded an extra season of eligibility to basketball players who competed in 2020-21. She arrived at UVA with two seasons of eligibility remaining, and that gives her more time to reach her potential as a college player. In her three seasons at Kansas State, Lauterbach appeared in 75 games, with five starts (all in 2022-23).
When Lauterbach was growing up in Appleton, Wis., about 30 miles southwest of Green Bay, karate was her sport of choice for years. But a lot of her friends were into basketball, and they encouraged her to join them, in part because of her height gave her an advantage on the court.
Lauterbach starred at Appleton West High School. She didn't have extensive AAU experience when she enrolled at Kansas State, though, and she's still playing catch-up
"She's raw," Agugua-Hamilton said. "She's a kid that hasn't been really coached that much. We've seen her grow tremendously since day one here, and I just think she's gonna get better and better."
Lauterbach signed with UVA in April after visiting Charlottesville and touring Grounds.
"I think for me, I really was looking for a team with a positive culture and a coaching culture," she said. "Coach Mox and I just really connected right away, and I just think the culture that she is building and she's investing in is really different."
Agugua-Hamilton "hasn't acted one bit different from the first time like I talked to her and I feel like that's really rare," Lauterbach said. "I think our coaching staff as a whole is just very genuine, if I had to use one word. They all are checking up on you, they all want you to succeed, and it truly is like a family. So really with just their whole mentality of that and how they take care of a transfer coming in, it's very different for me in our locker room and our culture, the mindset, and it's been a good experience."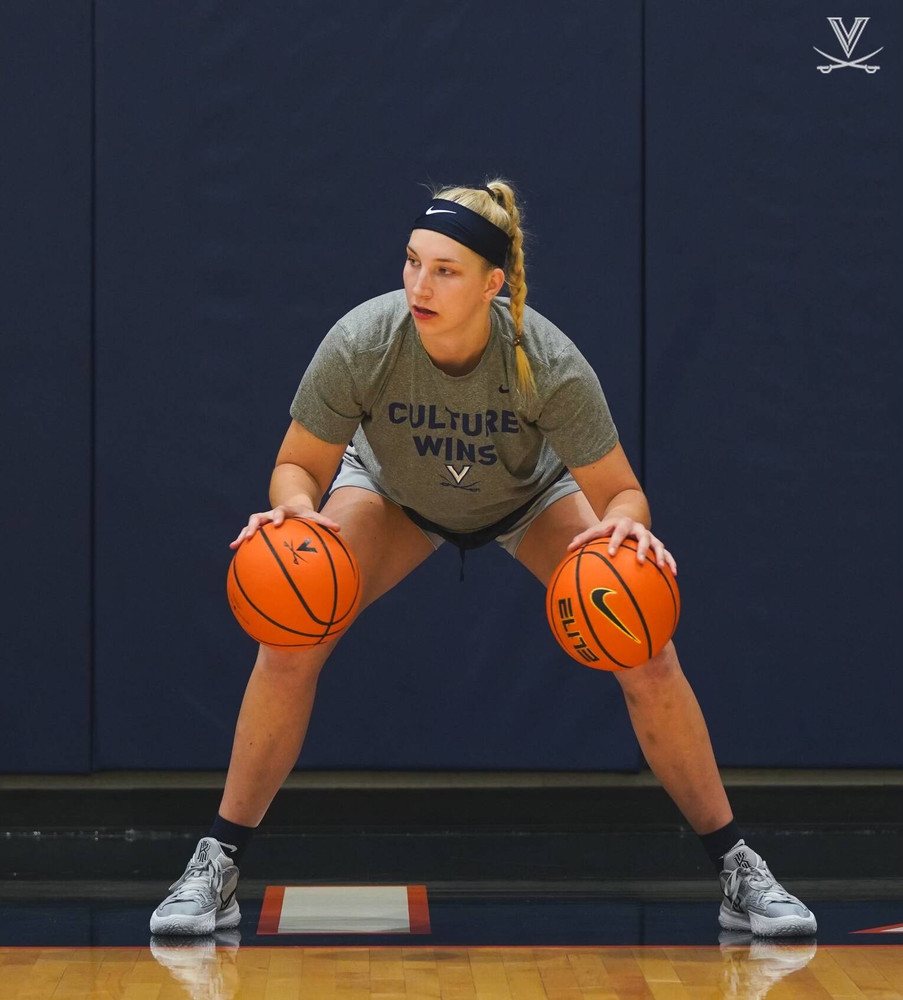 Lauterbach, whose bachelor's degree is in psychology, earned some college credits as a high school student. Even so, she had to carry a heavy course load at K-State in order to graduate in three years.
"I probably had maybe one semester with 15 credits, but the rest I was taking between 18 and 21 credits every semester," Lauterbach said.
She'd like to become a coach after she stops playing. If that doesn't work out, Lauterbach said, "I kind of want to be an administrator or maybe something within the NCAA."
Those decisions can wait. She's focused this fall on polishing her skills. Preseason practice officially begins Wednesday for the Cavaliers, but Lauterbach and her teammates have been working with the coaching staff all semester, individually and in groups.
"I can already see myself getting better in certain aspects," Lauterbach said.
The Cavaliers' coaching staff emphasizes player development, and "that's one thing I was looking for in the portal," Lauterbach said. "I felt like I was lacking that, and I think skill-wise, the development here is crazy."
Aguga-Hamilton has been "pouring a lot of confidence into me, just telling me to take my time and shoot, because I feel like down low I'm more sped up," Lauterbach said. "She's just been working on me to remain calm and trust my shot, trust myself. So that's another reason why Coach Mox is just such a great person to me. She just pours into you."
Lauterbach has a soft touch from the perimeter, and "I'm encouraging her to score," Agugua-Hamilton said. "She's probably one of our better shooters as far as consistency there and then we're just working on her low-post game and being able to utilize her size, especially without putting the ball on the floor."
The coaches know Lauterbach can be overly critical of herself, and they want to change that.
"She doesn't like to make mistakes," Agugua-Hamilton said, "so when she makes a mistake, she's pretty hard on herself. So we just talk about giving yourself some grace. This is a new system, a new role, and everything's gonna fall into place."
Lauterbach is rooming with Taylor, a fifth-year senior who was named to the All-ACC second team last year, and they spend a lot of time with two other teammates: graduate students Sam Brunelle and Clarkson.
Brunelle starred at nearby William Monroe High School, "and I've had my fair share of time in Greene County and Ruckersville," Lauterbach said, smiling. "I was lucky that Sam and I clicked it off right away. She's my best friend here, so I've met a lot of her family already. They've always been so welcoming to me."
Her other teammates have embraced her too, and that's made Lauterbach feel comfortable speaking up at practice and in the locker room.
"I think being a transfer, especially in my position, I'm not afraid to be vocal," she said, "whereas a lot of freshmen, they come in and they don't really know what to expect. So I feel like I have that step up already. This is going to be my fourth year. I know how to work hard. I know how to come in day in, day out. I know what to expect."
To receive Jeff White's articles by email, click the appropriate box in this link to subscribe.