By Jeff White (jwhite@virginia.edu)
VirginiaSports.com
EARLYSVILLE, Va. — The rain fell throughout the morning and came down harder as the meet went on. That didn't faze Gary Martin. He enjoyed himself Saturday at Panorama Farms and can't wait to see what the final meet of the season will bring at the home course of the University of Virginia cross country program.
"I think it'll be a crazy, cool experience," said Martin, a sophomore from Warminster, Pa.
Surveying the scene around him, he added: "Imagine this, but with probably five times as many fans and more runners, more talent. This is an awesome venue to begin with. It's an awesome course. It has really scenic views. So I think it'll be a really good place to host nationals."
Three years ago this month, UVA was named the host school for the 2023 NCAA Men's and Women's Cross Country Championships. That meet will be held Nov. 18 at Panorama Farms. To prepare for NCAAs—and to allow other teams to familiarize themselves with the course—UVA has hosted two major meets at Panorama Farms this month.
The first, the Virginia Invitational, was held Sept. 23. The second, the XC23 Pre-Nationals, was held Saturday. In the latest coaches' polls, the UVA women are ranked seventh and the men 10thnationally, and they'll compete next at the ACC Championships, Oct. 27 in Tallahassee, Fla.
Mother Nature didn't cooperate Saturday, but Virginia's director of track & field and cross country, Vin Lananna, said the dress rehearsal for NCAAs was a success from an organizational standpoint.
"I think the meet has gone quite well," Lananna said, "and I think it's really a tribute to all of the people who came out here and helped us. We had 130 volunteers—some from the community, some from the University of Virginia track & field team. I think all the people who worked so hard and concentrated on this being something special have done a great job. Our trainers and doctors and everybody else who's participated really have done a great job. We have some things we do need to fix before the NCAAs, which we'll do."
As for as his runners, the UVA women placed third in their 6k race, and the UVA men finished third in their 8k. "I think our guys were probably a B if I graded them," Lananna said. "I think our women were a higher grade than that."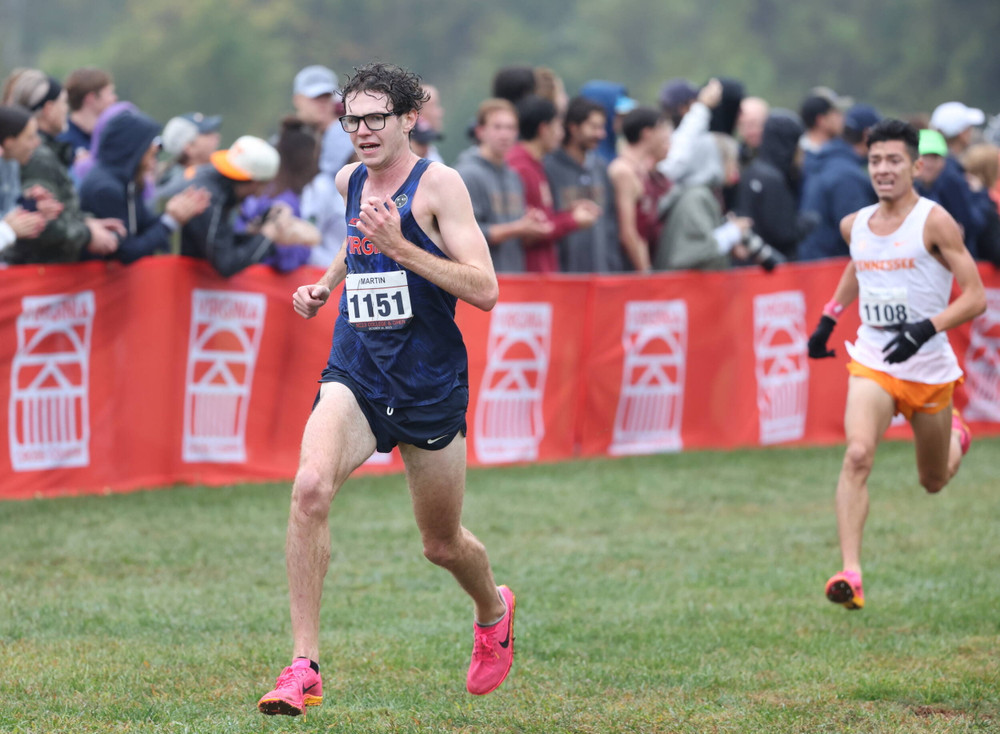 At the ACC meet, the women will run a 5k and the men an 8k. For the NCAA Southeast Regional and the NCAA Championships, the distances will be lengthened to a 6k for the women and a 10k for the men. The Virginia women placed ninth at last year's NCAA meet.
"I think we we've identified some things that we need to work on," Lananna said, "but in particular, I think we're gonna be better over 10k for the guys, and for the women, [Saturday was the] first time they've run 6k. So it's really good, I think, that we closed well, and we'll be in a good position as we move to the rest of the championships."
The men's training this fall, Lananna said, has "been fully directed towards running 10,000 meters. We've done a lot of grinding, and I think we were better this week than we were on the 23rd. We just have to continue with that trajectory."
Arkansas (35 points) won the men's race Saturday, followed by Tennessee (89) and UVA (112). Martin, the first Cavalier to finish in the Sept. 23 meet at Panorama Farms, led the team again Saturday, placing 10th overall. Rounding out UVA's scoring five were Will Anthony (13th), Nate Mountain (22nd), Jack Eliason (32nd) and Jacob Hunter (35th).
"It was a lot harder than the last 8k I ran here," Martin said. "We got out a little faster, and I just kind of went into the zone of hurt earlier on, but it's good experience. You have to get used to running like that, because I know nationals, regionals, ACCs are going be like that, so you've got to just be used to holding on."
The weather didn't bother him. "I love the rain, honestly," Martin said, smiling. "I think it's kind of a natural equalizer, where when it's raining, you go into it with the mindset that anyone can win this, anyone can run well, because it just depends on your mindset and how you approach it. If you're someone who doesn't let it get to you, you're gonna run better."
Martin was a record-setting miler in high school, and 8k (or longer) races are not his specialty. Even so, he's become a force for the Cavaliers in the fall.
"He's first and foremost an incredible competitor," Lananna said Saturday, "and regardless of the distance he's going to rise to the occasion, and certainly today was that."
Martin said he spent part of the summer recovering from an illness, and when cross country season arrived he was "kind of just rounding into shape [for cross country season]. I didn't know where I'd be at, but I knew I was stronger than I've ever been, and I knew I wanted to contribute. I'm a track guy, but that doesn't mean I can't be a cross country guy, and the better I get at cross country, the better I'm going to be at track."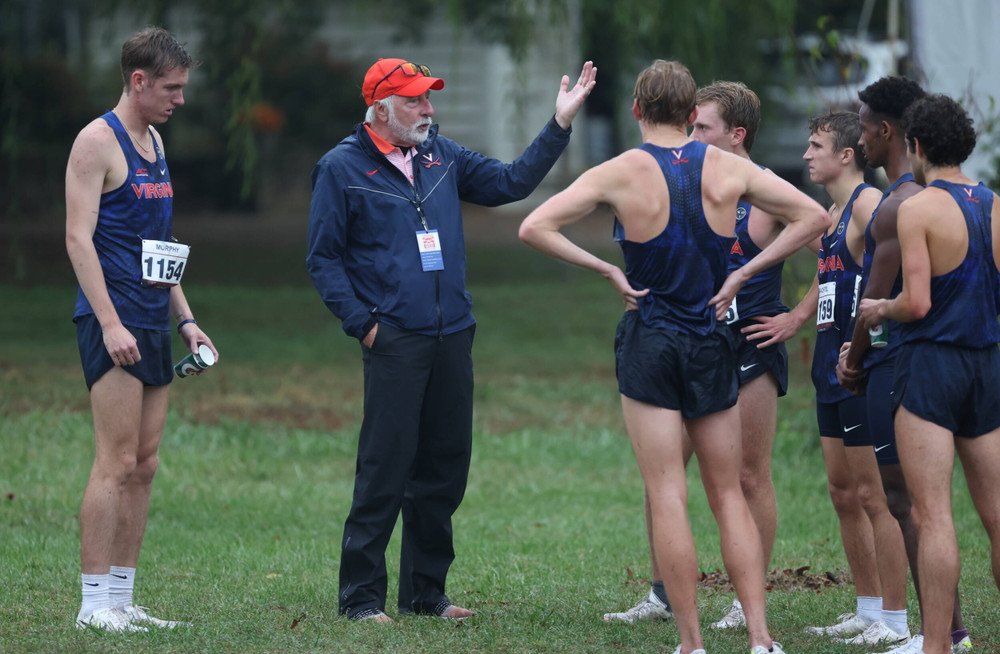 Anthony, a sophomore from New Zealand, said the Cavalier men have reason to be confident as they head into the postseason.
"I think, for the most part, we're in a pretty good position mentally," Anthony said, "and we've had a few good individual performances. Gary has been running really well, Nate's been running really well. I think one potential thing is just getting everyone sort of working and performing at the same time. I know today, same as [at the Virginia Invitational], a couple of people weren't happy with their performances, but it was tough in the conditions, and it's a tough course. So I think it just takes one sort of flick of the switch and we'll be running really well. We've got the makings of a good performance."
Martin agreed. "We have little things we need to sharpen up on, and I think we will, but overall I know we're in good shape. Every race there's someone else who's stepping up, which is a good sign, because we have a lot of guys who are ready to step up when needed."
In the women's race, Margot Appleton once again led the Hoos. Appleton, a junior from Mattapoisett, Mass., placed third overall at last month's Virginia Invitational, and she was the fourth runner to cross the finish line Saturday.
Also scoring for UVA were Anna Workman (11th), Jenny Schilling (13th), Sophie Atkinson (31st) and Caroline Timm (46th).
Appleton, who placed third in the 1500m at the NCAA Outdoor Track & Field Championships in June, wasn't thrilled with her performance Saturday.
"I'd say I'm less happy with how I ran that than a few weeks ago," she said. "I felt like I kind of went out a little conservative, and I think I pushed in the wrong part of the race, and I don't really like where I positioned myself. But it wasn't terrible."
Appleton noted that all "these races are just practice for nationals, getting used to finding each other during races, and I think we'll be well-prepared for nationals. I think we have even more depth than last year, so I think we're in a really good spot."
To receive Jeff White's articles by email, click the appropriate box in this link to subscribe.