By Jeff White (jwhite@virginia.edu)
VirginiaSports.com
CHARLOTTESVILLE, Va. — They're better-rested and healthier than they were heading into their bye week, and that's good news for the Virginia Cavaliers. The second half of the regular season, however, figures to offer few breaks for head coach Tony Elliott's team.
Of the six teams left on the Wahoos' schedule, three are ranked in The Associated Press' latest Top 25, and a fourth, Virginia Tech, is UVA's longtime nemesis.
The first test in this stretch comes Saturday at Chapel Hill, N.C., where UVA (1-5 overall, 0-2 ACC) takes on 10th-ranked North Carolina (6-0, 3-0) in a 6:30 p.m. game to air on The CW. Virginia visits No. 21 Louisville on Nov. 9, hosts No. 16 Duke on Nov. 18 and then closes the regular season against Virginia Tech at Scott Stadium on Nov. 25.
"It's a great opportunity," Elliott said during his weekly news conference Tuesday at John Paul Jones Arena. "It's really why you come to a school like UVA, to be able to play in these type of games. My vision and hope is that we're on the other side, where we are the ranked opponent and having to learn how to manage success, but we have to get there. So right now we have an opportunity."
The Hoos dropped their first five games before breaking through Oct. 7 with a 27-13 win over William & Mary. Three of their losses were by a combined seven points.
"The first half of the season, I feel like we didn't take advantage of some of the opportunities that were there," Elliott said. "We were close, but we're tired of being close. What better opportunity than starting this week and then every week after it?"
When these longtime rivals met at Scott Stadium last season, the Tar Heels edged the Cavaliers 31-28. This UNC team looks considerably stronger than the 2022 version, but if "we can compete, which we're learning how to do consistently, and get the game to the fourth quarter," Elliott said, "then hopefully we can flip it by finishing in the fourth quarter and having some success down the stretch."
Elliott's message to his team before practice Tuesday morning? "This is what you want as a competitor … It's prime time. It's 6:30. It's on the road. Top-10 team. This is what you dream about. When you are a kid, these are the moments that you want to be in. We're not going to make it something bigger than what it is, but be truly understanding of what the opportunity is."
Those words resonated with quarterback Tony Muskett, who transferred to UVA from an FCS school, Monmouth, in January.
"You want to play the best teams in the country and the ACC is really good this year," Muskett said. "Our back half [of the schedule] has a lot of good teams, ranked teams, but this is exciting football. This is why I came here. It's why a lot of guys came here, to play the best of the best, and we're going to get to do that this week and moving forward."
Injuries have hit the Cavaliers' defense hard this season, and that group is still short-handed, with players such as Kam Butler, Lex Long, Olasunkomi Agunloye and, perhaps, Antonio Clary lost for the season. Moreover, cornerback Dre Walker and linebacker Josh Ahern are recovering from injuries and won't play in Chapel Hill, Elliott said. But cornerback Malcolm Greene and defensive end Paul Akere are back at practice, with no restrictions, and Elliott said some "of the bumps and bruises have had another week to heal, so I feel better from a health standpoint going into this one."
On the other side of the ball, Muskett is playing through a shoulder injury that sidelined for him three games last month. He's been rehabbing with the team's athletic trainers, "making sure all the muscles are staying loose but still strong," Muskett said Tuesday. "It feels really good. The bye week was huge for me, and so I'm feeling back close to 100%, so I'm very thankful for them and thankful for the time off."
Virginia opened the season with a one-sided loss to Tennessee, which is ranked No. 17 nationally this week. The Volunteers are formidable, but the Tar Heels might well be better.
"I believe it is the best team that we've seen so far," Elliott said. "They're playing very complementary football, if you watch them. Defensively, they look different than they did last year. You can see similar players. They have a couple of new guys in spots, but they're a lot more cohesive. They're playing with a lot more energy. They have a better understanding of what they're doing, which allows them to generate turnovers."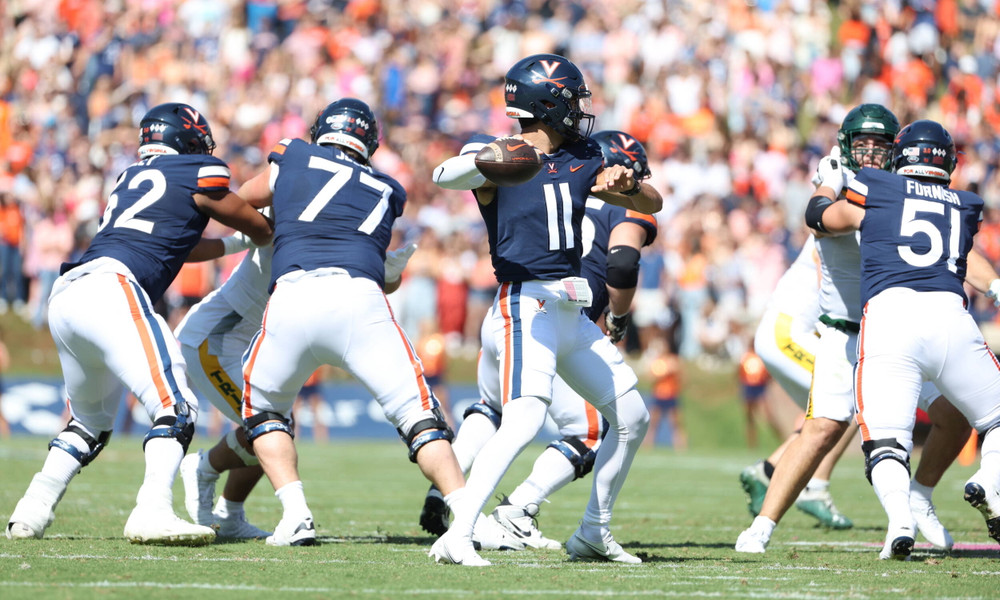 UNC is averaging 501.3 yards per game in total offense, largely because of the young man in the No. 10 jersey.
"Drake Maye is as good a quarterback as I have seen," said Elliott, a former Clemson offensive coordinator, "and I've been fortunate to be around some really good ones. In my opinion, he's the best in the country."
A 6-foot-4, 220-pound redshirt sophomore who's projected to be one of the first picks in the next NFL draft, should he choose to turn pro, Maye has completed 142 of 212 passes (68.9%) for 1,902 yards and 12 touchdowns this season, with four interceptions. He's also rushed for four TDs.
"Nothing seems to rattle him," Elliott said. "It doesn't matter what's going on around him. He's always got his composure about himself. He knows the offense inside and out. He's able to get to his progressions quickly, and if it's not there, he doesn't put the ball in jeopardy much. So if it's not there, he's very confident as a runner."
North Carolina's top runner is sophomore Omarian Hampton, a 6-foot, 220-pound tailback who didn't play against UVA last year. He's averaging 5.9 yards per carry and has rushed for eight touchdowns this season.
"I've never played against him," UVA safety Jonas Sanker said Tuesday, "but I believe he's a really good back, so we're gonna have to bring our A-game and tackle well. Obviously, it's gonna be difficult to chest him up, but you gotta go down a level and get those legs."
The Heels have scored at least 40 points in four of their past five games, and that will increase the pressure on UVA's offense. "We've got to be really smart with the football," Muskett said, "and make sure we don't give them any extra possessions or any extra chances."
The Cavaliers totaled 453 yards against William & Mary, a strong FCS program, and showed off a productive run game led by tailbacks Perris Jones (career-high 134 yards) and Kobe Pace (83 yards). But Virginia allowed four sacks, raising its total for the season to 22.
"Now, all of those are not necessarily on the offensive line," Elliott said. "There were a couple of situations where the quarterback has got to get rid of the ball [instead of taking a sack]."
Still, Elliott said, the numbers show that the Hoos "have not done a great job of protecting the quarterback. Just flat-out calling it like it is."
Ugonna Nnanna, who started Virginia's first five games at offensive tackle, is back at guard, his natural position, and Jimmy Christ has taken his place at right tackle. But Nnanna, a transfer from Houston, had little experience when he arrived at UVA in January, and he's still learning the finer points of offensive line coach Terry Heffernan's system.
"I've seen flashes," Elliott said. "The biggest thing with Ugonna is we're just trying to push him to stay disciplined with [his] technique from start to finish and try not to revert back to anything else that [he] may have been taught, because those things may not be applicable to what we're doing.
"I think he has a ton of upside. That's why he's in there. He has been productive at times. When he puts it all together, he can do some really good things. The biggest thing is just being more consistent."
Christ, a transfer from Penn State, has been slowed by a knee injury this fall, but he's steadily getting stronger, Elliott said. "It's been good to get Jimmy back so that we could push Ugonna inside."
The Cavaliers have gone into every game looking to run the ball, and that won't change Saturday.
"When you can hand the ball off and it's four, six, seven yards," Elliott said, "it allows you to be more aggressive in what you are doing. You dictate the pace of play when you can run the football. Also, for me it sets the mindset of the game: that we're going to run the football when we need to, when we have to, and when we want to."
Virginia's top priority on offense, Elliott said, is to protect its quarterback and not give up sacks. If the Cavaliers can do that while running the ball effectively, "then you stay ahead of the chains," Elliott said.
"Now, instead of it being a third-and-seven that you are trying to convert, it might be a third-and-three. So now in third-and-three you have more options. You can run the ball. You can pass the ball. You can move the pocket. You don't have to drop back and try to throw the ball at the sticks. Whereas when you're not running the ball effectively, then you become a little bit more pass-heavy on first and second down. And if you're not effective there, then you're in long yardage."
To receive Jeff White's articles by email, click the appropriate box in this link to subscribe.