By Jeff White (jwhite@virginia.edu)
VirginiaSports.com
CHAPEL HILL, N.C. — The bus ride from Kenan Stadium to the McCue Center takes three-plus hours, even in the middle of the night, and 3 a.m. was approaching by the time the University of Virginia football team made it home Sunday.
If the Cavaliers were exhausted when they arrived in Charlottesville, that was a small price to pay for the joy they'd experienced a few hours earlier in Chapel Hill.
"It was one of the best feelings I've ever had, honestly," cornerback Coen King, a sixth-year senior, said late Saturday night of the defensive stand that sealed Virginia's 31-27 victory over No. 10 North Carolina at Kenan Stadium.
With 26 seconds left, defensive end Paul Akere, who'd missed the previous two games with a knee injury, forced UNC quarterback Drake Maye into a rushed pass that linebacker James Jackson picked off. That takeaway ignited a celebration that lasted long after the final seconds ticked off the scoreboard clock. The festivities started on the field, continued in the front of the UVA cheering section in the stands, and then hit their peak in the locker room.
Before Saturday, the Wahoos' all-time record in road games against top-10 opponents had been 0-30.
"This is a program win," second-year head coach Tony Elliott told his team in the locker room, "and not only is it a program win, it's a catalyst to where we're going."
Now comes a new challenge for the Cavaliers (2-5 overall, 1-2 ACC). For their upset of UNC (6-1, 3-1) to be more than a one-off, the Hoos must show they can handle success.
An avalanche of congratulatory text messages greeted UVA's players when they looked at their phones after the game. "Hopefully they won't get too caught up in that," Elliott said, "and just understand that this is what [they're] capable of. And so then there's no turning back. Let this be the fuel to the fire that [drives] them to get back on the practice field and say, 'Let's go see what more can we do.' "
Virginia went 1-5 overall during the first half of the regular season, with no wins over FBS opponents. But three of those losses were by a combined seven points, and the Cavaliers came out of their bye week intent on writing a different script in their final six regular-season games.
"They recognize the opportunities that we let slip away," Elliott said. "We don't have room for error, and they've got the mindset to go and attack."
That was apparent from the start Saturday night. After forcing an UNC punt, the Hoos scored on their first possession, a drive highlighted by quarterback Tony Muskett's 22-yard completion to tight end Sackett Wood on fourth-and-2 and tailback Mike Hollins' 11-yard touchdown.
The Tar Heels tied the game on their next drive, but Hollins' second TD, on a 3-yard run, put Virginia back on top late in the first quarter, and Will Bettridge's extra point made it 14-7.
Late in the first half, with the score 14-14, an 11-yard completion from Muskett to wide receiver Malik Washington moved the Cavaliers the UNC 3. On first down, though, offensive guard Ugonna Nnanna was called for holding, and two plays later, on second-and-goal from the 10, UNC intercepted a Muskett pass intended for wideout Malachi Fields.
The Heels, who entered the game as heavy favorites, were looking to start 7-0 for the first time since 1997, when they finished 11-1 after routing Virginia Tech 42-3 in the Gator Bowl. UNC went into the half ahead 17-14 and stretched its lead to 24-14 with 9:35 left in the third quarter.
The Cavaliers refused to capitulate.
"This team is full of fighters," Hollins said. "There's no quit anywhere in the program."
UVA held UNC, which came in averaging 37.5 points per game, to three points in the final 24 minutes and twice rallied to take the lead, the second time on an 11-yard TD pass from Muskett to Washington, who broke four tackles en route to the end zone.
"That's what No. 4 does," Muskett said.
Elliott said: "That was a big-boy play. That's what I told Malik, and that's what you've seen out of this team. They fight. They're not going to back down. Now, we've got to play smarter at times and play more complementary football at times. But one thing that you can't question about this team is their resilience and their willingness to fight. And so that's just a testament to this group of individuals. I think it's a testament to where our football program is. Since November 13th of last year"—when three UVA players were shot and killed on Grounds—"we've had to fight every single day for everything. We've had to fight on the field, we've had to fight in the classroom, and we've had to fight mental health."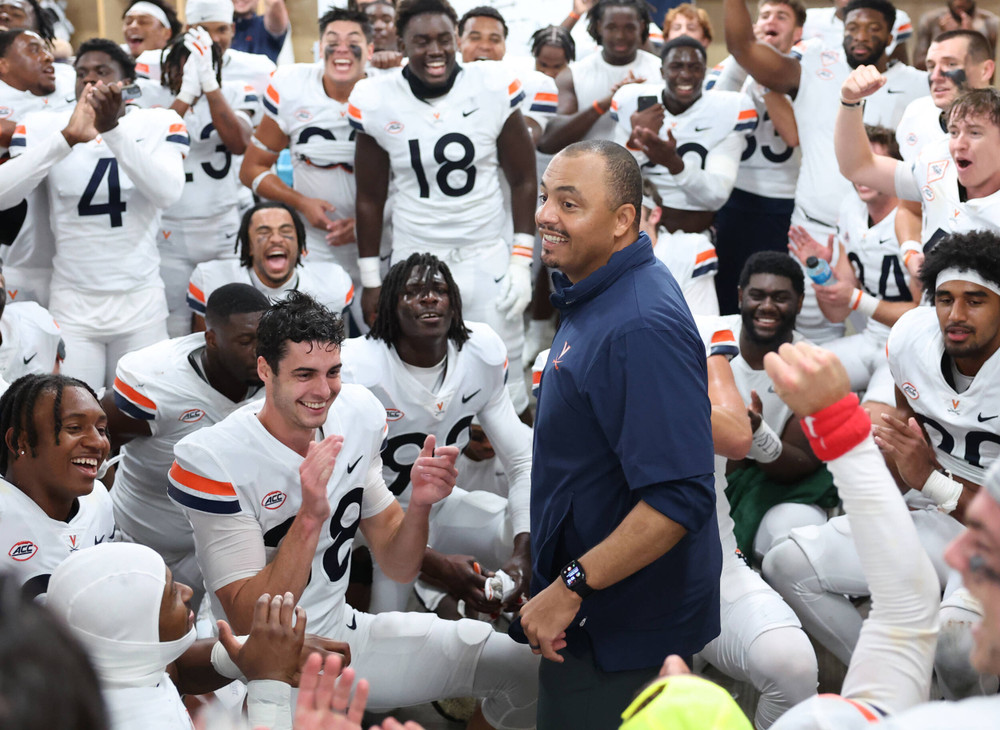 Nothing has come easily for the Cavaliers this year, and so it was again late in the game. Hollins, who'd rushed for three touchdowns, nearly had a fourth, but after taking a handoff from Muskett, he fumbled as he neared the goal line. The ball bounced through the end zone for a touchback with 4:50 remaining and Virginia up 31-27.
Given a reprieve, the Tar Heels drove to the UVA 20. But the Cavaliers' defense held on fourth down, after which their offense used up two minutes, while forcing Carolina to burn all three of its timeouts, on a possession that ended with a Daniel Sparks punt.
After his fumble, Hollins said, he knew he "still had to believe and show my teammates I still believed, and I gotta give all the props to my teammates, honestly. They picked me up from the moment the ball hit the ground. They had my back and they let me know they had my back and let me know just move on to the next play."
Hollins finished with 66 yards rushing and became the first UVA running back since Wayne Taulapapa in 2019 to score three touchdowns in a game. Not since Tiki Barber in 1996 had a Cavalier rushed for three TDs against an opponent ranked in The Associated Press' top 15.
The Cavaliers totaled 436 yards on offense, with 228 coming on the ground. Tailback Perris Jones led Virginia in rushing with 67 yards on 14 carries. Muskett, a graduate transfer from Monmouth, completed 20 of 30 passes for 208 yards and one touchdown, and he rushed 12 times for 66 yards. His favorite target was Washington, a grad transfer from Northwestern transfer who caught 12 passes for 115 yards and a TD. Washington has had at least 100 yards receiving in five games this season.
The Hoos' productivity underscored the strides made in recent weeks by their oft-maligned offensive line. Virginia held the ball for 37 minutes and six seconds, to 22:54 for the Heels.
"Having an O-line that can hold up for that long and just let our playmakers make plays, that's what won us this game tonight," Muskett said.
Virginia's defense, which has been ravaged by injuries this season, did its part too. Maye, an All-America candidate, threw for 347 yards and two touchdowns, but he completed only 24 of 48 passes. Carolina converted only 4 of 13 third-down opportunities and was 0 for 2 on fourth down.
"I'm not going to take anything away from Drake," Elliott said. "I think he's an unbelievable quarterback, but tonight was our night and our guys made enough plays and they did enough up front to disrupt some timing to be able to give us the opportunity to make enough stops to win the game."
UP NEXT: A second straight road game awaits the Cavaliers. Virginia (2-5, 1-2) will meet Miami (5-2, 1-2) at 3:30 p.m. next Saturday at Hard Rock Stadium in Miami Gardens, Fla. The game will air on ACC Network.
Miami defeated visiting Clemson 28-20 in two overtimes late Saturday night.
At Scott Stadium last season, the Hurricanes edged the Cavaliers 14-12 in four overtimes. UVA trails in the series, 12-8, but won at Hard Rock Stadium in 2021.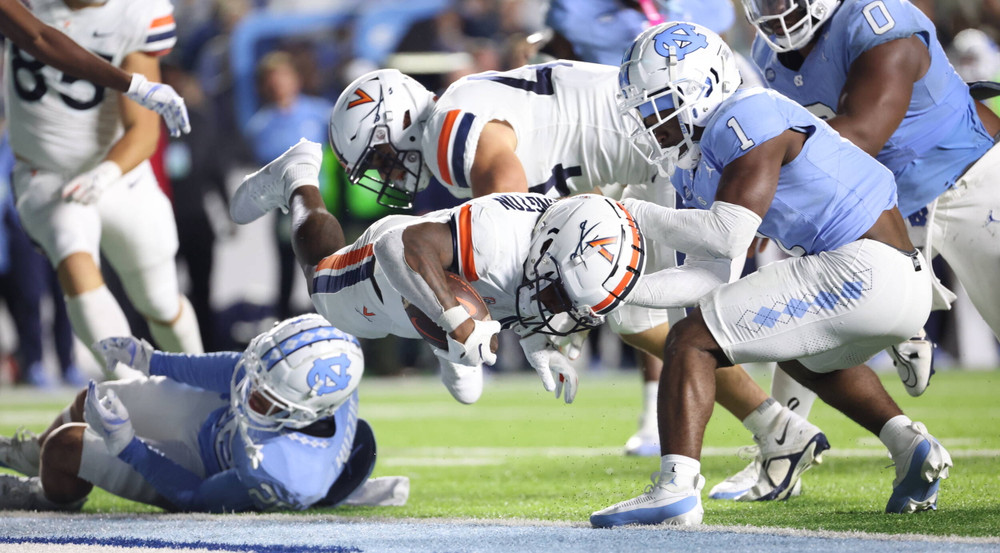 SOUND BITES: The victory was the Cavaliers' first over a top-10 opponent since 2005, when they defeated Florida State at Scott Stadium. Among the postgame comments Saturday night:
* Offensive coordinator Des Kitchings on his group's progress: "It should continue to create confidence in the kids to come back to work, because there's nothing for us to be satisfied with. We gotta go earn some more victories, and we got another tough challenge this week down in Miami."
* Hollins on Virginia's resilience: "We never stopped believing. No one broke focus."
* Elliott: "We wanted to try to get the game to the fourth quarter. And then we grew up tonight, finding a way to finish in the fourth quarter.
* Elliott on the postgame scene in the locker room: "That's what you coach for, an opportunity to see your guys celebrate victory, and more so just a confirmation of all the work that they put in, the belief that they had for 60 minutes, just the hard days that they've been through."
* Elliott on his message to his players: "I told them, 'I don't believe there's another program, based off of what we've been through over the last year, that deserves to win more than we do. However, it's not about what you deserve. It's about what you go out and you earn and what you're willing to take,' and I think these guys got more confirmation on that tonight."
* Muskett on the impact of the win: "I think, obviously, it gives us some confidence. I think confidence was low. We were 0-5, trying to get the first win, and then got our first win, got a lot more confident and now we get this big win on the road here. You have to find that balance between keeping that confidence against getting overconfident and becoming complacent."
* Muskett on the last-minute heroics of Akere and Jackson: "I'm so happy for them, so happy for this whole team … Playmakers make plays in games like this and that's how you win."
* Jackson on the video review of his interception: "I knew I caught it. When I saw they were reviewing it, I was pretty surprised. But there was no doubt in my mind that I caught that."
* Jackson on Maye: "He was great last year, and he's great this year. It's fun to play against guys like that, and it's fun to win against guys like that."
To receive Jeff White's articles by email, click the appropriate box in this link to subscribe.