By Jeff White (jwhite@virginia.edu)
VirginiaSports.com
CHARLOTTESVILLE, Va. — After playing through pain for three seasons—his last one in high school and his first two in college—University of Virginia offensive lineman Noah Josey had had enough.
"I'm tired of this," Josey told himself at the end of last season, and so he opted to have surgery on the two herniated discs in his back last December.
The operation went well, but Josey couldn't participate in the Cavaliers' winter strength and conditioning program. He missed spring practice too, which was less than ideal for a player transitioning to a new position coach, Terry Heffernan, whom UVA had hired in January.
"When I came in this offseason, Noah was identified as one of our leaders, and his big question in our first conversation was, 'How do I lead when I'm not going to be healthy?' " said Heffernan, who coached Stanford's offensive line in 2021 and '22.
"That was an interesting challenge," Josey recalled, "trying to be a leader [from the sideline], because I've been in the other guys' shoes, where somebody is injured and tries to talk, and it's hard to listen to him, just because he's not doing the same thing you guys are doing. He's not going through that day-to-day grind at practice."
Challenging as it might have been, Josey pulled it off, Heffernan said. "He found a great way to stay engaged, to learn and then also build a reputation as a leader without ever taking a rep or lifting with the guys in this offseason. He's a super smart kid, very diligent, hard-working, and then he's completely and totally bought into loving football. I get text messages from him with clips of video and asking great questions all the time. And he bought into the message of the staff and his team."
Josey lives with three of his fellow offensive linemen—Grant Lanham, Charlie Patterson and Jack Witmer—and the whole position group is tight. Josey's role?
"He's a Tennessee boy, so he brings a lot of energy, brings a lot of excitement," center Brian Stevens said. "He's a big jokester. He's great for the group."
Josey, who's listed at 6-foot-5, 315 pounds, wasn't cleared to start lifting weights seriously again until about the middle of March, he said. "It was a long time without being able to lift. Then it was kind of a slow entry back into upper body and then making sure my back's not loaded when I'm doing upper body, and then slowly getting into more lower body as the weeks went on. The strength staff did an amazing job. It was a really good spring. There was a big, big group of injured guys in [the McCue Center weight room] and we all worked out together every day."
When training camp opened in August, he finally had an opportunity to impress Heffernan, and "that was really important to me," Josey said. "I love that guy so much. He's really an awesome coach."
Josey, who's from Brentwood, Tenn., a suburb of Nashville, played in one game as a true freshman in 2021 and thus retained that season of eligibility. He appeared in nine of Virginia's 10 games last year, starting the final four, and has started every game at left guard this season.
McKale Boley has started every game at left tackle, and the chemistry he and Josey have developed has made that the more stable side of the Wahoos' offensive line.
"We've gotten really close this season," Josey said. "You tend to when you're taking so many snaps next to a guy. You spend so many hours of your day, every day at practice, a foot next to him. You tend to get really close to the guy and I think that's helped us tremendously in how we play because we trust each other. I think that's one of the biggest things about O-line: trust."
Heffernan said: "Through the course of the season, they've been able to play next to each other and develop that bond and that communication, and they're both very smart, tough kids. We've kind of shuffled every other spot besides those two."
Stevens, a graduate transfer from Dayton, started the first two games at right guard before moving to center, where he's been a steadying presence on an inexperienced line. Ty Furnish and Ugonna Nnanna have been splitting time at right guard, with Jimmy Christ and Blake Steen at right tackle.
The O-line's struggles early in the season were well-documented, but Heffernan saw signs of progress in practice, and his group had a breakthrough performance last weekend in Chapel Hill, N.C. Virginia rushed for a season-high 228 yards in a 31-27 upset of then-No. 10 North Carolina at Kenan Stadium.
A week earlier, at Scott Stadium, the Cavaliers had rushed for 221 yards in a victory over William & Mary.
"These guys have been working so hard," Heffernan said, "and it's incredibly gratifying to see that work rewarded with that success."
Points can be hard to come by, and "obviously you want to score when and however you can, because it's so hard in its own way," Josey said. "But personally, I love running the ball. I love 14-, 15-play drives, just grinding it out five, six yards at a time. I think those are statement drives in games, I think they're momentum drives, and it really shows you a team's DNA."
The line's next opportunity to open holes for tailbacks Perris Jones, Mike Hollins and Kobe Pace comes Saturday in Miami Gardens, Fla. At 3:30 p.m., in a game to air on ACC Network, Virginia (2-5, 1-2) meet the Miami Hurricanes (5-2, 1-2) at Hard Rock Stadium, home of the NFL's Dolphins.
"Their defensive front is incredibly talented, big, powerful, fast," Heffernan said, "and then schematically, they're very, very committed to stopping the run. There's an extra defender in the box on every single play, so it'll be a massive challenge for us."
To Josey, "the biggest challenge is the physicality of it. They're a very physical D-line. So matching that physicality will be really important for us having success."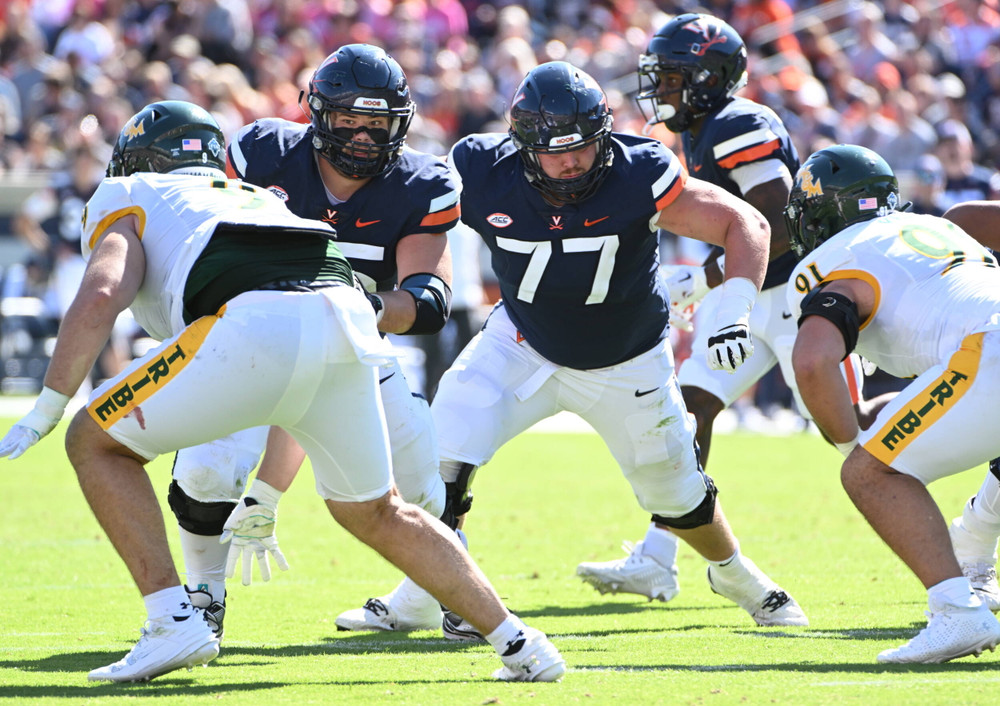 This will be the Hoos' second game in an NFL stadium this season. They opened the season in Nashville at Nissan Stadium, where the Tennessee Titans play their home games. Virginia lost 49-13 to the Tennessee Volunteers, but Josey won't soon forget that day.
"It was special, because I had been going to Titans games since I was a kid," he said. "I'd been in that stadium a bunch, and so to go out on that field was a really cool experience. I probably had a hundred or two hundred people there that I knew."
The one-sided loss stung, and "obviously you want the game to go the other way," Josey said. "But I thought we learned a lot as a team in that game, about stuff that worked well and stuff that didn't work well. I thought was a good learning experience."
The Volunteers dominated both lines of scrimmages, and the Hurricanes are similarly imposing up front.
"You see these guys, they get after it," UVA head coach Tony Elliott said. "They're physical. They're well-coached. They're athletic. They're fast. So it's going to be a challenge regardless of what [happened last weekend], but that's the ACC. You've got to win in the trenches to be able to have a chance to do things on the perimeter."
The offensive line's focus all season, Josey said, has not been "proving people outside of the team wrong, but proving ourselves right. Because we've known since camp that we have a group that can go out and do things that need to get done for this team to be successful. I think last Saturday was more about validation. It was something that we already knew we had. We just needed to put it together."
The line had no illusions about its play early in the season, Josey said. "We're definitely hard on our ourselves when we need to be. There were a lot of things in those early games that weren't up to standard and not to the standard that we need to go to. It's really just about reps, getting as many reps together as we can in all these situations."
None of Virginia's offensive linemen is in his final season of eligibility, and the group has ample room for improvement, Josey said.
"That's something we talk about every once a while: how good this group can be," he said. "We know where we can go, and that's exciting for us, and it's something we work for every day. We're hard on each other. There's a lot of accountability in the room, which is something you need, and it's something I love to see; guys holding each other accountable. None of us believe we're anywhere close to our full potential and we're working every day with Heff to squeeze every ounce we can out of it."
Josey's father, Bryan, played football at Vanderbilt. The Commodores pursued Noah, too, but he wasn't especially interested. "I didn't want to be that close to home," he said.
Still, Josey has fond memories of growing up near Nashville. At Brentwood Academy, a perennial football power, he played on two state-championships teams as a sophomore, "and we should have won [another] one my senior year," he said. "I could speak about Brentwood Academy forever. I have so much love for that place and the people there."
Josey committed to UVA in the fall of 2020, early in his senior year at Brentwood Academy. Education is important on him, and he's majoring in applied statistics, with a concentration in finance and business. Eventually, he hopes to work in investment banking.
"It's kind of my passion," Josey said.
His parents attend most of his games, home and away, and Josey shared an emotional embrace with his mother, Shannon, after Virginia knocked off UNC last weekend.
That he grew so big is no shocker. Bryan Josey played offensive tackle in college, and he was listed at 6-foot-5, 290 pounds on Vanderbilt's 1994 roster. He inherited a lot of his athletic ability from his father, Josey said, but his mother "is also a ballet dancer, so I definitely get some from her as well."
Not that you're likely to see Josey showing off his moves out on the floor.
"I don't have a dancing bone in my body," he said, laughing. "I wish I did."
To receive Jeff White's articles by email, click the appropriate box in this link to subscribe.