By Jeff White (jwhite@virginia.edu)
VirginiaSports.com
CHARLOTTESVILLE, Va. — Members of the University of Virginia football team went to bed Sunday night knowing Monday would be a trying day and yet another test for a program that's faced more than its share of adversity over the past year.
The Cavaliers made it through the first anniversary of the shooting that took the lives of Lavel Davis Jr., Devin Chandler and D'Sean Perry, but "it was hard, I think, for everybody," junior offensive lineman Ty Furnish said Tuesday. "You felt it when you woke up. You felt it coming out [to practice]. You felt it the entire day. It's just this dark cloud over you."
As if that tragedy wouldn't be enough for any team to endure, the Wahoos saw one of their leaders, tailback Perris Jones, suffer a serious injury last Thursday night in Louisville, Ky. Jones, after catching a pass, went down in a violent collision and was taken by ambulance to a nearby hospital.
Jones, a sixth-year senior, underwent successful spinal surgery Friday at the University of Louisville Medical Center, where he remains in the intensive care unit.
During his weekly press conference at John Paul Jones Arena, Virginia head coach Tony Elliott provided an update on Jones. The plan is for Jones to be transferred, after a week in the ICU, to the Frazier Rehabilitation Institute in Louisville, Elliott said. Jones will probably stay there for several weeks of rehab before being cleared to return to Virginia.
"We're optimistic and hopeful, but it's a long road ahead for Perris," Elliott said.
The Cavaliers' coaches were able to speak to Jones on a Zoom call Monday, Elliott said. "It was good to see his face. Man, he was smiling. He was happy, focused on his team, telling the guys to keep fighting."
Ashley Doozan Murray, an assistant athletic trainer at UVA, has been in Louisville with Jones since he was admitted to the hospital. Jones' family did not attend the game Thursday but traveled to Louisville after learning of his injury.
"You can tell it's a family of faith, and their faith is being tested," Elliott said, "but they're passing the test, because they're standing strong and encouraging me [with] just how strong they've been during this time."
The sight of Jones lying motionless on the field at L&N Stadium shook his teammates, but they know such injuries occur periodically in football.
"It could happen on any play to anyone," Furnish said, "and it just makes you realize that you gotta take everything—every rep, every play, every day—with excitement, knowing it could be your last to ever play football. So that's kind of what we thought a lot about [at practice Tuesday]. I feel like we had that kind of energy as a team."
Elliott felt that energy, too. "It wasn't something that had to be pushed or prodded," he said. "It was authentic. It was genuine, and it was fun to watch them practice today."
Spinal injuries are probably the ones football players fear most, Elliott said, and to "see one of your teammates that you're really close [to get hurt is difficult] to endure, and it's tough now because the communication is not necessarily what you want it to be. We've got to give Perris the space to recover before he's able to just fully communicate the way that [his teammates] want to.
"Definitely I know it's weighing on their hearts and on their minds, but I also know what Perris will tell them … His message was just keep fighting."
Amid all these trials, football season has continued for Virginia, which has two games remaining, both at Scott Stadium. UVA hosts Duke on Saturday and Virginia Tech on Nov. 25. At 2-8 overall and 1-5 in ACC play, the Hoos have not had the season they wanted, but they keep competing and have refused to splinter.
"The only way that we've been able to get through what adversity has been placed in front of us is just a foundation of faith and togetherness and leaning on each other to find support," said Elliott, who's in his second year at UVA.
Starting in the morning and continuing through the evening Monday, Nov. 13 remembrances were held on Grounds, some open to the public, others private.
"I thought it was a beautiful day all the way around," Elliott said.
That didn't make it easy for the team. His message to his players Monday morning, Elliott said, was that the tributes to Davis, Chandler and Perry were "part of what we've been called to do. It's going to be a tough day, and we can't tell anybody how to make it through this day, but we're going to do it together, and we really gave guys space just to grieve the way that they wanted to grieve, and each individual is in a different place.
"You saw different reactions from different individuals. For some guys it's still very, very, very real, like it was yesterday, and you see some guys that have kind of been able to move forward a little bit."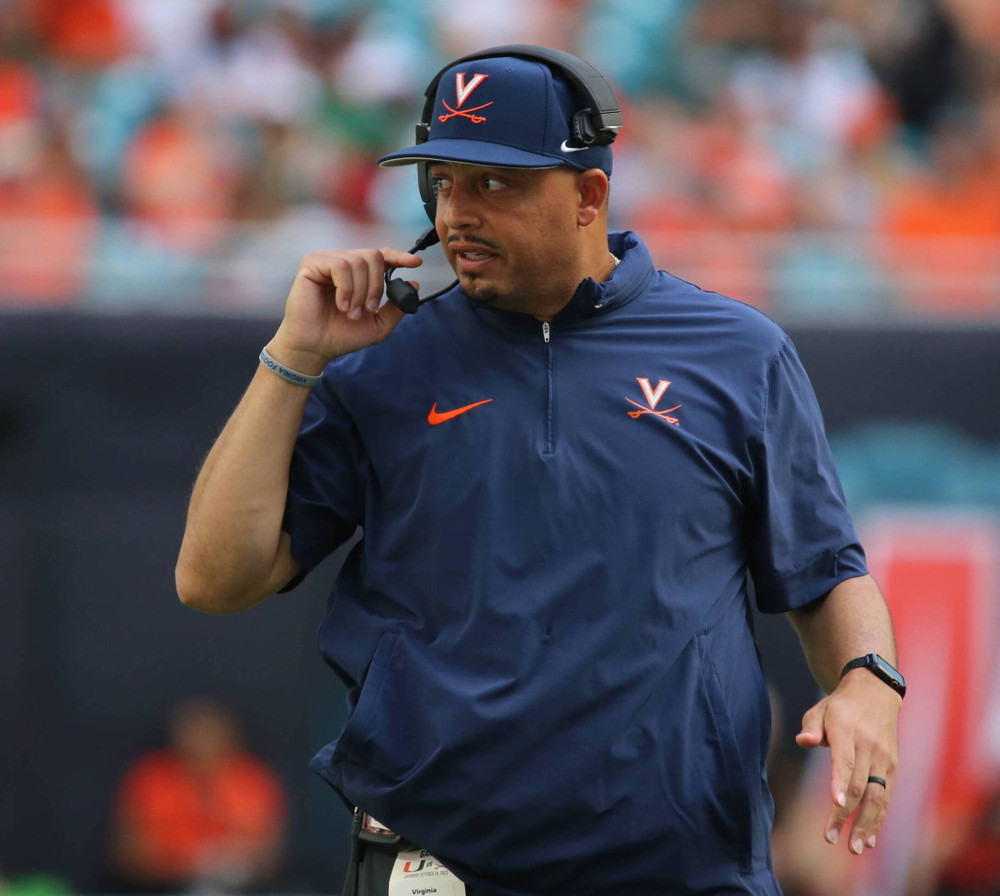 Virginia hosts Duke (6-4, 3-3) at 3 p.m. Saturday in a game to air on The CW. The Cavaliers have won five straight over Duke at Scott Stadium, but they're still looking for their first ACC home win under Elliott.
After practice Tuesday, Elliott reminded his players that, for the Cavaliers to reach their goals as a program, they have to be successful at Scott Stadium.
"We have not done a good job with that," Elliott acknowledged later at JPJ. "First and foremost, that's where it starts. We need to defend Scott Stadium. I think we have kind of figured out the road thing, like how to get yourself ready to play on the road, which is different than playing at home. We've got to figure out how to defend our turf."
Virginia's roster includes four players who joined the program in 2018: Jones, defensive back Coen King, defensive lineman Aaron Faumui and tight end Grant Misch. King also suffered an injury last week and is likely to miss the Cavaliers' final two games.
King dislocated his elbow in the second half of UVA's 31-24 loss to then-No. 11 Louisville. That didn't keep him from playing a supporting role in practice Tuesday.
"He was holding up cards on scout team, encouraging his teammates," Elliott said. "I really hate it for him because he's a guy that's fully invested, and he's been very productive for us as a player, and he's committed. I know he wants it."
Injuries have hammered the Hoos this fall. Quarterback Tony Muskett sprained his ankle in the first quarter against Georgia Tech on Nov. 4. Muskett's ankle is improving, Elliott said, but the transfer from Monmouth isn't expected to play Saturday. That'll mean a second straight start (and fifth of the season) for true freshman Anthony Colandrea, who turned in a strong performance against Louisville.
Colandrea rushed for a team-high 89 yards and completed 20 of 31 passes for 314 yards and one touchdown, with one interception.
"He took care of the ball a lot better during this past week," Elliott said. "We didn't see as many balls put into compromising situations. Even on the interception, he put it there, and we've got to come down with that. Of course, you could say, 'Well, he could throw it a little bit closer to the body,' but still, we get two hands on the ball, we've got to catch that. That's got to be our football.
"But I also thought he was a lot more decisive in pulling the ball down and using his legs. He slid and got down a little bit better this game, so those are things from a maturity standpoint, and just command of the offense."
One of the team's goals heading into the season was to advance to a bowl game, and that won't happen. Still, Furnish said, the Hoos don't lack motivation in the home stretch.
"We all grew up loving this sport, playing it for a reason, playing it for each other," Furnish said, "and that's pretty much what we got to do for these last two games. There's no rolling over. We can't do anything like that. We just gotta play our butts off."
To receive Jeff White's articles by email, click the appropriate box in this link to subscribe.