By Jeff White (jwhite@virginia.edu)
VirginiaSports.com
CHARLOTTESVILLE, Va. — Alana Walker in volleyball, Megan Gordon in women's lacrosse, Ethan O'Donnell in baseball, Malik Washington in football, Jasmine Nocentini in women's swimming, and Jillian Brown in women's basketball. Before they became Wahoos, all of them were Wildcats.
"The Northwestern-to-UVA pipeline is strong," Brown said this week at John Paul Jones Arena.
In this era of the transfer portal, players often change schools. Its excellence in academics and athletics makes Virginia an attractive destination for student-athletes with college experience, and in recent years an impressive group has relocated to Charlottesville from the Big Ten school in Evanston, Ill.
The college careers of Walker, Gordon and O'Donnell have ended, but Washington, Nocentini and Brown are on Grounds this fall, and they're excelling in their respect sports.
Brown, who spent her first two years at Northwestern, didn't know Nocentini when they overlapped there, but she and Washington were friends. Washington, a wide receiver, is having a record-setting season for head coach Tony Elliott's football team.
"He's doing amazing," said Brown, who like Washington wears jersey No. 4.
Virginia's football team has two games remaining. Basketball season is just getting started at UVA, and Brown and her teammates will take a 3-0 record into its Sunday afternoon clash with No. 25 Oklahoma at JPJ.
Brown, a junior guard, has started all three games. She's leading the Cavaliers in rebounding (9.0 per game) and is second in scoring (14.3), behind forward Camryn Taylor (16.7 ppg).
At 5-foot-10, Brown isn't the tallest player on the court, but she grabbed a career-high 13 rebounds in Virginia's season-opening win over Maryland Eastern Shore. She's not likely to reach double figures in that category every time out, but she pulled down seven boards in each of her next two games.
"I'm definitely a good rebounder," Brown said.
Her numbers don't reflect it yet—Brown is 2 for 11 from beyond the arc—but she's also a capable 3-point shooter. That's one of the reasons Brown appealed to the Hoos when she entered the transfer portal.
"We wanted somebody that could shoot the ball," said Amaka Agugua-Hamilton, who's in her second year as Virginia's head coach.
Once Brown started working out at JPJ, Agugua-Hamilton said, the coaching staff "realized that she wasn't just a shooter, that she could handle the ball, she could get downhill, she can get into paint and create. She has a midrange game. So we saw that she had the foundation of [shooting], but we really worked with her just to develop her confidence in other areas, and I think she's flourishing."
Born and raised in Grand Rapids, Mich., Brown grew up in a family known for its athletic prowess. Her mother, Noelle, coached her in AAU ball, with the Michigan Basketball Academy, and Brown starred at East Grand Rapids High School.
Her sister Olivia also plays college basketball. She spent two years at St. Bonaventure before transferring to Valparaiso University in Indiana, where she's a fifth-year senior. Brown chose Northwestern coming out of high school and started 34 games in her two seasons there.
Brown said she loved the school, but from a basketball standpoint Northwestern "just wasn't the best fit for me." And so she entered the portal, hoping to find an opportunity at another school with a stellar academic reputation.
One of Agugua-Hamilton's assistant coaches, Tori Janoska, is the all-time leading scorer at Michigan State, and she called Brown's mother. Brown didn't know anything about UVA and had rarely been to the East Coast, but she remembered watching Janoska play for the Spartans.
"And so I talked to her and then I talked to Coach Mox ," Brown said. "It was kind of random, because Virginia hadn't really been on my radar."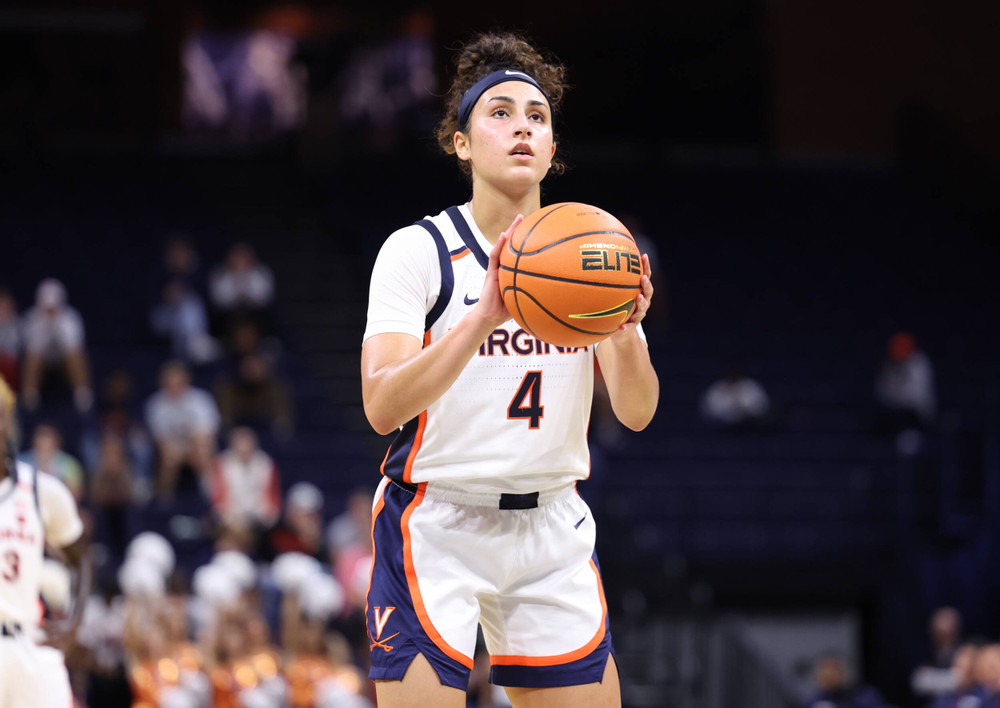 Agugua-Hamilton, better known as Coach Mox, spent six seasons as an assistant coach at Michigan State before getting the head job at Missouri State in 2019. Her Midwest connections notwithstanding, Agugua-Hamilton knew nothing about Brown before Brown entered the portal. But the more Virginia's coaches researched Brown, the more they became convinced that she'd fit well in their program.
"The initial conversation for me is just getting to know them, getting to know their background, families, talking to the parents," Agugua-Hamilton said. "Do they fit our culture? I can watch film and figure out if they fit our basketball style of play and all that. But what kind of kid are you?"
The Cavaliers, Brown said, are a close-knit family "in every aspect. I think a lot of coaches and programs preach culture, and it's like, 'OK, culture, but what does that mean?' For us, Coach Mox, she's gonna be hard on people, but we know it's coming from a place of love. She's gonna be tough, but it's because she wants the best out of us and she knows what we can do."
Brown, who lives with another newcomer, Paris Clark, a transfer from Arizona, is majoring in sociology, with a minor in psychology. Joining a team after two years of college, Brown said, is much different than doing so straight out of high school.
"Freshman year, you don't know what to expect in terms of college at all," she said, "so I had an idea of what to expect when coming here, in terms of the basketball and what it's like to adjust to a new team."
Even so, it takes time to blend in with "a whole new group of people and coaching staff and support staff," Brown said. "It's literally all new people, but it felt so much like home that it was easy to adjust. I was very comfortable with all the people right away. And then in terms of basketball, it's definitely a different style of play."
The Wildcats played at a slower tempo than do the Cavaliers, Brown said. She's enjoying the change of pace.
"It's very nice," she said. "There's more possessions, and it puts a lot less pressure on each shot. You just want to make good plays and play fast."
Grand Rapids is some 725 miles from Charlottesville, but Brown sees reminders of the Midwest around Grounds. Not only is Washington at UVA, but so are two of her former high school classmates: Conally Cooper and Blaise Gourley.
Brown is looking forward to a milder winter than the ones she experienced in Michigan and Illinois. "I hope so," she said. "Obviously, it's gonna be less snow."
She's known on the team as JJ, a nickname her parents gave her when she was a girl. "Just kind of random," said Brown, whose middle name is Noelle.
Her parents have fallen hard for UVA too. "They just loved it here," Brown said, and they've already visited Charlottesville to see her play at JPJ.
The Cavaliers have yet to play a Power Five opponent, but their schedule is about to get more challenging, starting Sunday, when Oklahoma comes to town.
"It's gonna be a good test," Brown said. "I'm excited to see what we can do, because I think we're definitely underrated and we haven't gotten the opportunity to really prove it yet."
To receive Jeff White's articles by email, click the appropriate box in this link to subscribe.