By Jeff White (jwhite@virginia.edu)
VirginiaSports.com
CHARLOTTESVILLE, Va. — In front of a boisterous orange-clad crowd at John Paul Jones Arena, the University of Virginia women's basketball team faced its first significant challenge of the young season.
Many more are yet to come for the Cavaliers, who are in their second year under Amaka Agugua-Hamilton. In the next 10 days alone, UVA will play Tulane (3-1), reigning NCAA champion LSU (4-1) and Missouri (3-1).
And so Agugua-Hamilton, though disappointed with her team's 82-67 loss to No. 25 Oklahoma, was not distraught. She knows the Wahoos (3-1) can play better than they did against the Sooners (5-0), and she believes they learned valuable lessons Sunday afternoon at JPJ.
"It definitely helps us down the road," Agugua-Hamilton said. "It's great to play teams like this early. See where we are, see what we need to work on, prepares us for the rest of non-conference [play] and prepares us for conference. So I'm glad that we got this. We got some good ones coming up too."
The Hoos' first three opponents were Maryland Eastern Shore, Campbell and William & Mary, and they won each of those games by at least 24 points. Virginia encountered more resistance from the Sooners, who came in averaging 91.8 points per game.
"So we just have to get back to the grind, shake some things up, make sure we understand consistency and accountability a little bit more and just execute the game plan, because when we do that we're fine," Agugua-Hamilton said, "and there were times during the game that I thought we really did that, especially in the second half."
Oklahoma went into the break up 17 and pushed its lead to 20 early in the third quarter. The Cavaliers fought back, and by the start of the fourth quarter their deficit was only nine. A three-point play by graduate student London Clarkson cut the Sooners' lead to five with 7:46 to play, and it was a six-point game with 3:50 remaining, but UVA got no closer. The Sooners closed the game on a 15-6 run.
"We're better than what we showed tonight," Agugua-Hamilton said, "but at the same time that's a top-25 team. We're not there yet. We will be, because we've got what it takes. but we're not there yet."
The stat sheet highlighted Virginia's shooting woes. On an afternoon when Oklahoma was 13 for 30 from beyond the arc, the Cavaliers were 1 for 23. The Sooners had already hit five 3-pointers by the time Kaydan Lawson made UVA's first, and only, trey, early in the second quarter.
For the season, Virginia is shooting only 19.8 percent from long range. Of the Cavaliers who have attempted at least five 3-pointers, only freshman Olivia McGhee (35.7) and graduate student Sam Brunelle (33.3) are shooting better than 30 percent.
Agugua-Hamilton expects her team to improve in that area. "I know we haven't really started that well this year," she said, "but we shoot it well in practice and we're just waiting for that to click under the lights."
The Sooners came in averaging seven made 3-pointers per game. That they nearly doubled their average Sunday displeased Agugua-Hamilton.
"If somebody is shooting 43% in our gym, not happy about that," she said. "But the second half was better. I thought one of the biggest keys to the game for us was transition defense in the first half. That got away from us. They scored 23 points in transition in the first half and [got] five 3s out of that. So we made some adjustments and we were able to lock in on that. In the third quarter, they didn't score in transition at all. We were there and forced tough shots … We're definitely capable. We've just got to lock in and have some urgency. A lot of those 3s were wide open, so those were just blown defensive assignments."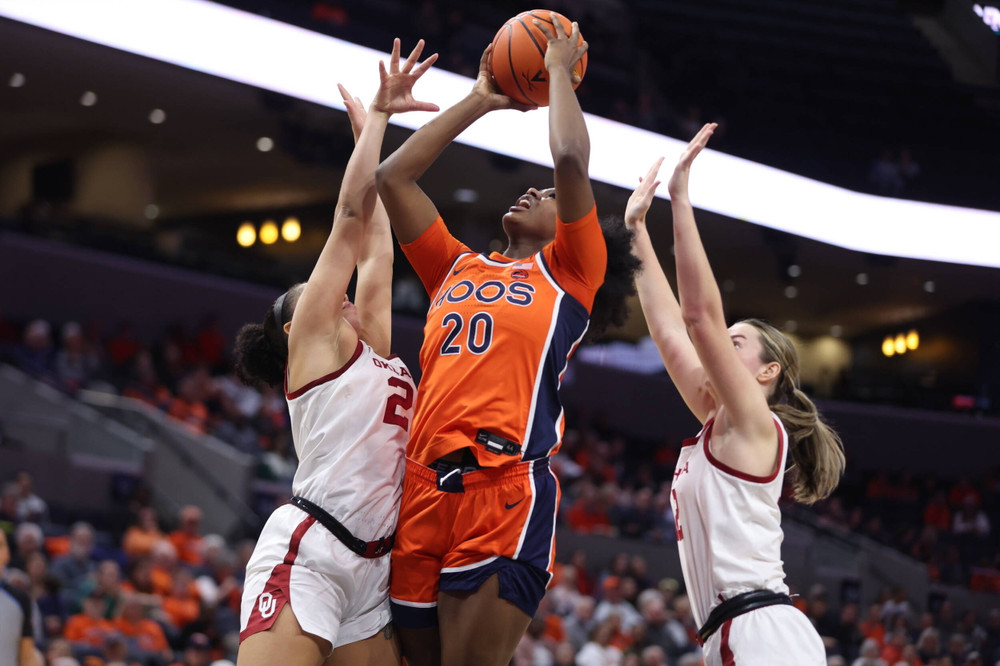 Sunday's game marked the first time this fall UVA has had close to a full complement of players. The Cavaliers started the season with Brunelle, Lawson and guard Paris Clark unavailable because of injuries. Brunelle returned for the William & Mary game last Wednesday, and Lawson and Clark made their 2023-24 debuts Sunday.
"We've got to get used to each other a little bit," Agugua-Hamilton said. "A lot of teams who were healthy, they did that in the summer and preseason, and we're kind of doing that now. I think once we get a little bit more chemistry, especially on the offensive end, we'll be a lot better."
Camryn Taylor, a fifth-year senior, led the Cavaliers with 17 points and pulled down six rebounds. McGhee contributed 14 points and five boards, and Clarkson had 13 points and three steals. Junior guard Jillian Brown went scoreless but grabbed a team-high nine rebounds.
"I think the one thing I'm most proud of about our team is we when we hit adversity, we didn't put our head down," said the 6-foot-2 Taylor, a second-team All-ACC selection in 2022-23. "We kept fighting back. We were down by 20 and came back and [cut the deficit to] five … Obviously, we didn't like coming out with a loss, but I think that just shows that we can do really great things. We've just got to continue to work in practice."
The Hoos will play Tulane and No. 7 LSU this weekend in the Cayman Island Classic.
"We've got great players," Agugua-Hamilton. "We have really good guards. We have really good bigs. We have a really good team. We just have to put it all together, understand each other, understand where our shots are coming from, rebounding coverage, defensive assignments, things like that. It's early in the season. I love this team. I think that we are very capable, and we showed it at times tonight."
The official attendance Sunday was 4,198. Only twice last season did the Cavaliers draw larger crowds at JPJ. Virginia's next home game is Nov. 30, against Missouri in the ACC/SEC Challenge.
"I loved the atmosphere and our fans," Agugua-Hamilton said. "I hope Wahoo Nation just continues to come out and support us, because we need them. I thought that was great. It was great for women's basketball. It was just an electric atmosphere. Everybody in their orange, it was great to see. I know it's come a long way here and I appreciate it and we all appreciate it, and it definitely helped us get over the hump in the second half."
To receive Jeff White's articles by email, click the appropriate box in this link to subscribe.