Virginia Cavaliers Official Athletic Site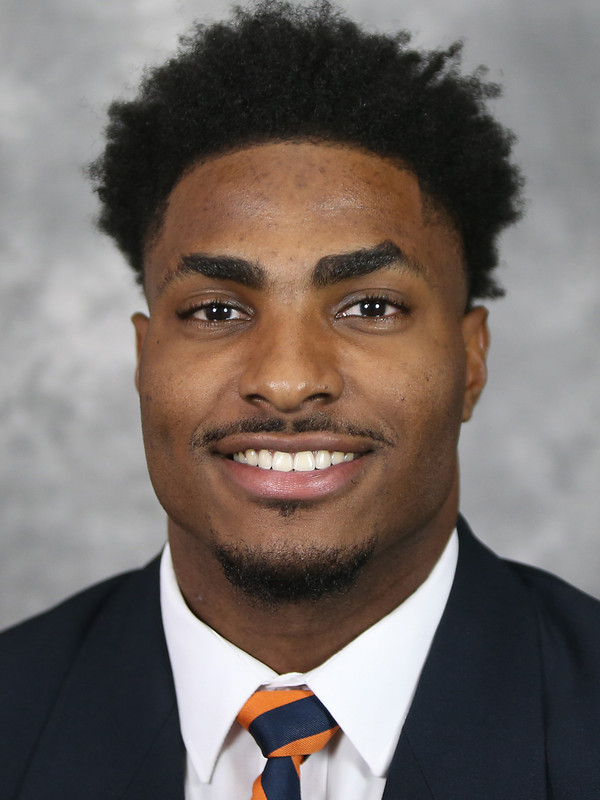 Kobe Pace Audio Pronunciation
PRIOR TO VIRGINIA (CLEMSON UNIVERSITY)
CAREER: Recorded 793 yards and nine touchdowns on 152 carries and caught 23 passes for 192 yards and a touchdown over 426 career snaps in 28 games (six starts) for Clemson from 2020-22 … also recorded 91 yards on four kickoff returns. 2022 (Junior): Recorded 77 yards and three touchdowns on 30 carries and caught six passes for 35 yards in 103 offensive snaps over eight games … rushed five times for 13 yards and caught four passes for 22 yards at Georgia Tech … added 25 rushing yards and a touchdown on six carries vs. Furman … rushed four times for 10 yards with a touchdown vs. Louisiana Tech … gained seven yards on three carries at No. 21 Wake Forest … rushed twice vs. No. 10 NC State … returned from injury vs. Miami (Fla.), rushing five times for seven yards with a touchdown and adding a 10-yard reception … rushed twice for eight yards vs. South Carolina. 2021 (Sophomore): Enjoyed a breakout season with 641 yards and six touchdowns on 104 carries and 131 yards on 12 receptions over only 273 snaps in 11 games (six starts) … also averaged 22.8 yards on four kickoff returns … carried four times for seven yards and caught a six-yard pass vs. No. 5 Georgia … recorded 68 yards and his first career rushing touchdown on seven carries vs. SC State … registered a 17-yard reception on third-and-16 and rushed seven times for 13 yards vs. Georgia Tech … rushed twice for five yards at NC State … rushed 18 times for a career-high 125 yards with a touchdown vs. Boston College, earning ACC Running Back of the Week and sharing offensive player of the game honors … also added 41 receiving yards on two receptions and 44 return yards on two kickoff returns vs. BC, earning a Hornung Award Honor Roll selection after his 210 all-purpose yards represented Clemson's first 200-yard all-purpose performance since Travis Etienne against Boston College a year earlier … recorded 76 yards and a rushing touchdown on 14 carries at Syracuse … rushed seven times for 33 yards and had a 12-yard reception at No. 23 Pitt … carried twice for 14 yards and caught a five-yard pass at Louisville prior to exiting with an injury … earned ACC Running Back of the Week and shared team offensive player of the game honors after rushing for a career-high 191 yards on 24 carries with two touchdowns vs. No. 13 Wake Forest, the most rushing yards by a Clemson player since Travis Etienne's 212 rushing yards against Wofford in 2019 … rushed seven times for 58 yards including a 34-yard touchdown run at South Carolina … gained 51 yards on 12 carries vs. Iowa State. 2020 (Freshman): Rushed 18 times for 75 yards and caught five passes for 26 yards with a receiving touchdown in 50 snaps over nine games … did not get stopped for negative yardage on any of his 18 carries … carried six times for 22 yards in collegiate debut at Wake Forest … caught two passes and added a two-yard rush vs. The Citadel … rushed twice for nine yards vs. No. 7 Miami … gained 21 yards on four carries and another 21 yards on two catches including a receiving touchdown at Georgia Tech … rushed three times for 15 yards vs. Syracuse … gained six yards on two carries and caught a five-yard pass vs. Pitt … ACC Honor Roll selection.
HIGH SCHOOL AND PERSONAL
Played running back and linebacker for Doyle Kelley at Cedartown High School in Cedartown, Ga. … recorded 1,471 yards rushing in 211 carries for a 7.0-yard average and added 25 receptions for 358 yards for 1,829 total yards from scrimmage as a senior, finishing the year with 12 rushing touchdowns, two receiving touchdowns and two on kickoff returns … also completed 3-of-4 passes for 100 yards and two scores … also added 33 tackles, including 6.5 tackles for loss with 4.5 sacks on defense … named Region 5A Player of the Year … as a junior, had 721 yards rushing on 93 attempts for a 7.3-yard average … was also an outstanding linebacker who was voted Two-Way Player of the Year (Ironman Award) in Region 5A … all-state selection by Georgia Coaches Association … named to all-area team as well … all-around athlete who played football, basketball and baseball over his career at Cedartown … born May 18, 2001 … enrolled at Clemson in June 2020 … was a communication major … legally changed his last name from Pryor to Pace in April 2020…major is American Studies.