By Jeff White (jwhite@virginia.edu)
VirginiaSports.com
CHARLOTTESVILLE, Va. — In his 11 years on the coaching staff at Clemson, Tony Elliott worked with numerous talented running backs. Among those players, Travis Etienne stood alone.
"He was the unicorn," Elliott said Tuesday of Etienne, whom the Jacksonville Jaguars selected with the 25th pick in the 2021 NFL draft.
Take Etienne out of the mix, though, and Kobe Pace is "as talented as any of the guys that I've coached," Elliott said, and that's encouraging news for the Virginia Cavaliers.
The 2022 season was Elliott's first as UVA's head coach. It was Pace's third and final season at Clemson. He entered the transfer portal in December and landed at Virginia, where he was reunited with Elliott after enrolling in January.
"It feels good to be back with him," Pace said. "I wouldn't want to be with any other coach in the country besides Coach E. I love everything about Coach E."
The 5-foot-10, 215-pound Pace, who has two seasons of eligibility remaining, will make his UVA debut Saturday in Nashville, Tenn. In a non-conference game to air at noon (ET) on ABC, Virginia opens the season against 12th-ranked Tennessee at Nissan Stadium.
"I'm definitely ready to get back on the field and have fun," Pace said. "I'm just ready to compete."
In three seasons at Clemson, Pace played in 28 games, with six starts. He rushed 152 times for 793 yards and nine touchdowns, and he caught 23 passes for 192 yards and another TD.
"Kobe is a complete back," Elliott said. "He can do everything. Big guy, but has better feet, body balance, and vision than you would anticipate from a big guy. So he's not just a plugger. He can find the holes and he can split out and catch the ball. He is 215 pounds and one of the strongest guys in the weight room."
Pace's fellow newcomers at UVA include cornerback Malcolm Greene, with whom he played at Clemson.
"Oh, my goodness," Greene said when asked about Pace's talent level. "He's definitely a guy that can break it out. He's a bruiser. He's a guy that has a great vision for the holes. I've seen Kobe do some amazing things. I know that he's a guy that many people don't have too much knowledge of, but the people that do, like my former teammates at Clemson, they know. When Kobe Pace gets rolling, it's going to be a long day for whoever is on the other side."
As a sophomore in 2021, Pace was the Tigers' second-leading rusher, with 641 yards on 104 carries. Hindered by injuries, he totaled only 77 yards rushing (on 30 carries) last season.
"Unfortunately for him, he plays a position where there is going to be a lot of contact," Elliott said.
He didn't suffer any major injuries at Clemson, Pace said, but he knows availability is a huge asset for a player "Staying healthy, that's the biggest thing in this game. It's about who can last the longest."
To that end, he's been working with the Cavaliers' athletic trainers and strength and conditioning staff to improve his mobility and flexibility.
Pace missed some time during training camp this month, but he's back to full speed as the opener approaches. "You go through camp, you get bumped up, bruised up," he said. "So that's all it was, just getting my body back right."
Even with Xavier Brown sidelined by an elbow injury, Virginia has numerous options at tailbacks. Look for Pace, Mike Hollins and Perris Jones to get most of the carries Saturday in Nashville.
"I feel good about the rotation," Elliott said. "I think nowadays you're seeing that's the strategy with backs, to do it by committee."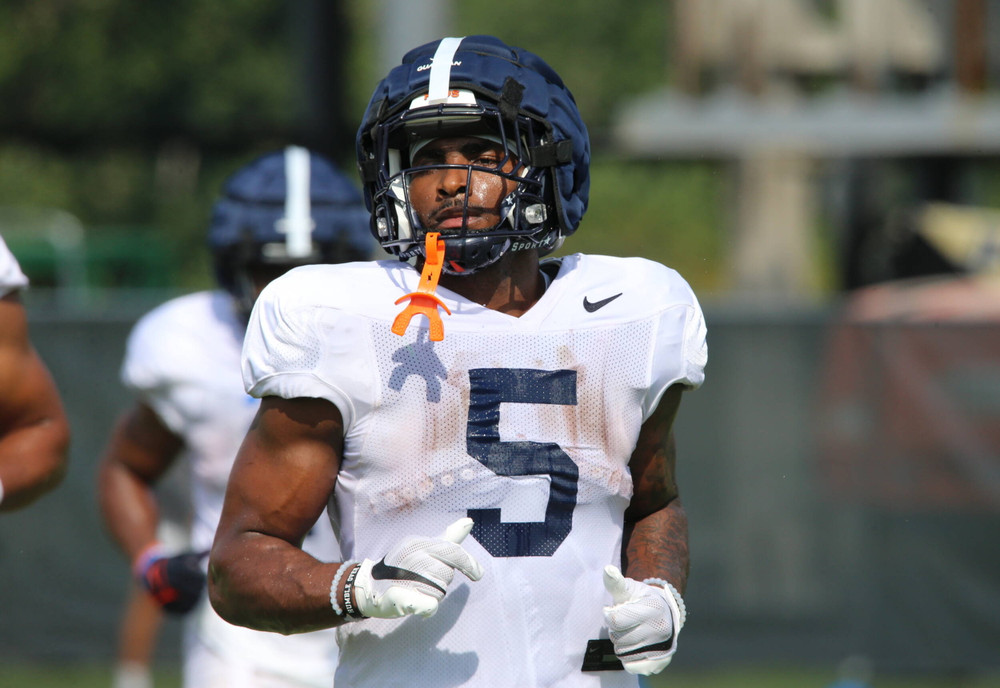 Pace wasn't sure what to expect when he joined the Wahoos, but his fellow running backs have been "very warm and welcoming," he said. "They've treated me just like I was here since the beginning with those guys. So I feel like we've got a good, loyal room, a room that's going to compete and give you everything and push you every day."
He's looking to apply the lessons he learned at Clemson, namely "just to stay calm and control what you can control," said Pace, 22. "Everything is not going to be a home-run play, so it's three to four to five yards every play, and then the big ones will pop eventually."
An American studies major at UVA, Pace is from Cedartown, Ga., about 65 miles northwest of Atlanta. Cedartown's population is about 10,000.
"It's a grind city," Pace said. "All we go is grind there. Everybody knows everybody."
He starred at Cedartown High School, where his predecessors included Nick Chubb, now a standout tailback for the Cleveland Browns.
"For sure, he was a real big deal," Pace said. "To this day still we communicate. We train together every offseason. So it's good to come from that place and just learn from the best."
Growing up, he shared his grandfather's last name and went by Kobe Pryor. He legally changed his name to Pace in April 2020.
"The rest of my family was Pace," he said, "so coming to college I knew I would want to be a Pace. There was a lot I had to go through, but I'm glad that I got it changed."
His final appearance for Clemson came in last year's ACC championship game, a 39-10 victory over North Carolina in Charlotte, N.C. He entered the portal the next week and did not take part in the Tigers' preparation for the Orange Bowl. That game did not go well for Clemson, which lost 31-14 to Tennessee.
Pace, who watched some of the Orange Bowl on TV, hasn't asked any of his former Clemson teammates for the scouting report on the Vols. He's been studying film and prepping with his UVA teammates.
Nissan Stadium, the home of the NFL's Titans, seats 69,143, and tickets for Saturday are sold out. At Clemson, Pace became accustomed to playing in front of huge crowds. His advice to teammates who aren't as experienced in such settings?
"Just be dialed in," Pace said. "Don't worry about the crowd. Just focus on yourself and the guy next to you and just fight for your brothers. That's all I try to preach to the guys."
To receive Jeff White's articles by email, click the appropriate box in this link to subscribe.