Virginia Cavaliers Official Athletic Site
Nate Savino
Potomac Falls
High School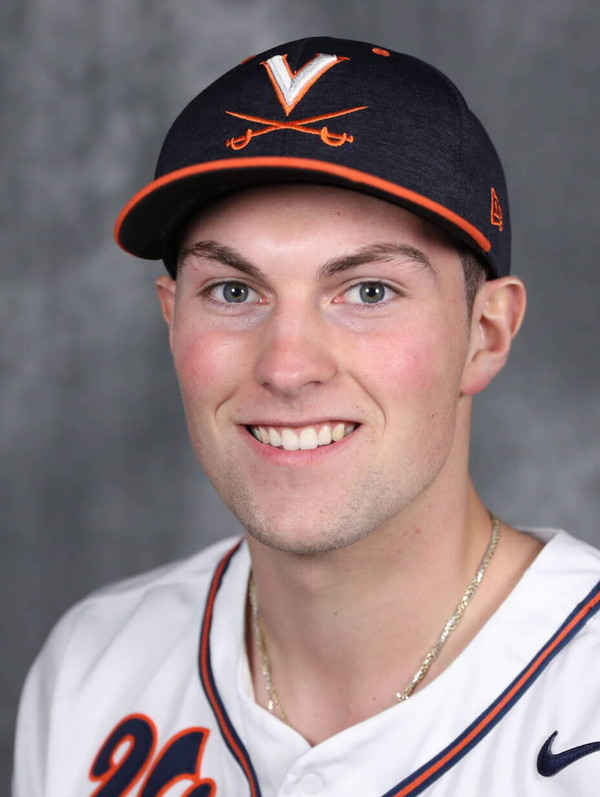 Nate Savino Pronunciation
CAREER
• In four NCAA Tournament appearances (includes two starts), posted a 1.76 ERA over 15.1 innings pitched and totaled eight strikeouts
2022
• Selected in the third round (82nd overall) of the 2022 MLB Draft by the Arizona Diamondbacks
• Made a staff-best, 15 starts and sported a 3.69 ERA, the 11th-lowest in the Atlantic Coast Conference.
• Struck out 79 batters in 78 innings pitched this season, while walking 32.
• Credited with five of the staff's eight quality starts in 2022
• One of 45 players included on the Golden Spikes Award Midseason Watch List after starting the season 4-0 with a 2.06 ERA.
• In his second start of the season, pitched four innings and struck out a career-high 11 batters, including the final eight he faced against Cornell on Feb. 25
• Named the ACC Pitcher of the Week on March 14 after tossing a complete game shutout in the ACC opener against Duke on March 11. He needed just 103 pitches, fanned seven batters and did not allow a runner to reach second base in the contest. It was the first nine-inning complete game shutout by a Cavalier since Derek Casey against Virginia Tech in 2018.
• His final start of the year came in an NCAA Tournament elimination game against Coastal Carolina where he produced his fourth quality start.
• Pitched 6.1 innings and did not allow an earned run while striking out four in NCAA Greenville Regional opener against Coastal Carolina
• Ranked No. 66 on Perfect Game's Top-100 junior list prior to the season
2021
• Made 16 appearances and 10 starts
• Went 3-3 with 3.79 ERA in 54.2 innings pitched. Fanned 34 batters while walking only 16.
• Virginia went 7-3 in games that he started
• As a reliever, sported a 2.03 ERA after he logged 13.1 innings, allowed three earned runs and struck out six batters in six appearances
• Inserted into the weekend rotation beginning with the Clemson series in mid-April, serving as the team's Sunday starter for the final six ACC series
• Pitched nine innings in three NCAA Tournament appearances including a start in the decisive game three of the Super Regionals against Dallas Baptist on June 14. Allowed three earned runs in NCAA postseason and struck out four batters.
• Earned the win in the NCAA Regional elimination game against Jacksonville after pitching 4.1 innings of one-run baseball, his longest relief outing of the year.
• Tossed a scoreless inning of relief against eventual National Champion Mississippi State on June 22
• Pitched a season-high, seven innings and compiled only 65 pitches in a 6-1 series-clinching win at Virginia Tech on May 2. He fanned two and allowed only one run in his second win of the season.
• Struck out a season-best, six batters over six innings in a no-decision against Wake Forest on May 16
• One of four Cavaliers included on the ACC All-Academic Team and was also listed on ACC Academic Honor Roll
2020
• Started three of the four games in which he appeared
• Served as the Sunday starter for the final three series of the season
• Made his collegiate debut in the second game of a doubleheader against Oklahoma on Feb. 15. Worked a perfect eighth inning before allowing two runs in the ninth
• In three starts, allowed two earned runs over 9.1 total innings (1.93 ERA)
• Struck out a season-high four batters in four innings of work against Dartmouth on March 1
• Earned his first collegiate victory in the rubber game of a three-game series against then-No. 7 NC State. Pitched four innings, scattered three hits and allowed an earned run while fanning two.
POTOMAC FALLS HIGH SCHOOL
• 2019 Virginia Gatorade Player of the Year
• A member of the USA Baseball 18U National Team
• Pitched in the 2019 Under Armour All-American Game at Wrigley Field in Chicago and the 2019 Perfect Game All-American Classic at Petco Park in San Diego.
• In three seasons at Potomac Falls, went 13-4 with a 1.25 ERA and 220 strikeouts to 45 walks in 112.1 innings
• Rated as the No. 4 prospect in the nation by Perfect Game and Baseball America
• Named the Conference Player of the Year and Region Player of the Year as a junior
• Graduated high school in December of 2019 and enrolled at UVA in January of 2020
PERSONAL
• An American Studies major
• Son of Ron and Julie Savino
• Has two siblings, RJ and Hayley
• Recipient of the 2022-2023 James E. Rutrough, Jr. Endowed Scholarship for Baseball