UVA Baseball Hall of Fame | UVA Baseball on Twitter | Jeff White on Twitter | 4TheHoos Initiative
By Jeff White (jwhite@virginia.edu)
Virginiasports.com
CHARLOTTESVILLE –– For about five months, virtually all communication between Nate Savino and Drew Dickinson took place on Zoom calls. So when University of Virginia baseball players returned to Disharoon Park in mid-August, Dickinson was stunned by the extent of Savino's physical transformation.
"He comes walking back in the door the first day, back in August, and you're like, 'Whoa!' " Dickinson, the Cavaliers' pitching coach, said Thursday. "His body had totally changed and matured."
Savino, a 6-3 left-hander from Sterling, near Dulles International Airport in Northern Virginia, weighed 220 pounds when he enrolled at UVA in January. He's slimmed down to 195.
"At 220 I felt slower physically, but now I feel light on my feet," said Savino, who trained at Power Train gym in Ashburn.
On March 12, on their way to Pittsburgh, the Wahoos stopped for lunch in Hagerstown, Maryland. They were still there when head coach Brian O'Connor learned his team's weekend series with Pitt had been canceled because of concerns about COVID-19. By the time the Hoos made it back to Charlottesville, college sports had been shut down for the remainder of the 2019-20 school year.
A couple of days later, UVA players dispersed, with most heading back to their hometowns. Dickinson and O'Connor conferred and decided that, with summer leagues unlikely to proceed as scheduled, the Cavaliers' pitchers should rest their arms for a few months while focusing on strength and conditioning.
Savino took full advantage of the extra time to train.
"He's very, very physically fit," O'Connor said. "He looks like he worked extremely hard during COVID on his body, and he looks really, really good."
Savino committed to UVA in the fall of his sophomore year at Potomac Falls High School. The next summer, he and his family, after talking with his local pitching coach, John Pinkman, began exploring the possibility of early enrollment at Virginia.
O'Connor, who took over as the Cavaliers' head coach in July 2003, had never had a freshman join the program midyear, for several reasons.
"There's a lot of layers to it," O'Connor said. "One, you've got to be in an academic position to be able to do it, and to be in an academic position to do it at the University of Virginia is quite impressive. And then most young people don't want to give up their senior year, but Nate was emphatic about doing it. He felt like he wanted a new challenge, and not only did he have the academic aptitude to be able to do it, he clearly possessed the physical part that would allow somebody to make an impact right away.
"Initially it was something that he and his parents had talked to me about and showed interest in doing. After that, it obviously became a joint group effort."
"Coming in, I was nervous, of course, but I settled in real quick. All the guys were really welcoming and they showed me the ropes. Looking back at it, I'm really happy I did it, because now I have that experience and connection with the team." -- UVA pitcher Nate Savino on his first college season
Savino, the state's Gatorade Player of the Year in 2019, was ranked No. 4 in the nation's Class of 2020 by Baseball America. He played on USA Baseball's 18U national team and in the summer of 2019 was among the rising stars invited to participate in Major League Baseball's Prospect Development Pipeline program.
"So, he was in a situation where he was surrounded by really, really high-level players at a high-level event," O'Connor said. "He's had some experiences with USA Baseball and this MLB PDP program that I think really accelerated his ability to handle difficult situations. And then his maturity is pretty good, so he was able to adjust and adapt pretty quickly to college life."
The Cavaliers were 14-4 last season when competition stopped. As a freshman, Savino made four appearances, with three starts, and became Virginia's Sunday starter. In his final appearance, he earned the victory as UVA clinched a series win over ACC rival NC State at Disharoon Park.
Savino finished with a 1-0 record and 3.38 earned-run average.
"I thought it went really, really well," O'Connor said of Savino's first college season. "He pitched out of the bullpen the first weekend, against Oklahoma, because we were still trying to build him up. He wasn't here in the fall, and all the things that happen in the fall are just so incredibly important. He didn't have any of those, so we just felt like initially that he'd have to get his feet wet and we'd have to bring him along [slowly], which we did. He continued to quickly adjust to this level of baseball, and then it led to starting on the opening weekend [of ACC play], where I thought he did great.
"He was on a progressive pitch count to build him up as we moved along, just because of the late start that he had. I really feel like he would have had a fantastic first year here, because he was progressively getting better every time he went out there."
Savino said he found college batters to be "a different breed. Everyone's good. Everyone's playing crazy hard. You can't miss spots. You can't make those little mistakes. In high school you can make a mistake and nothing really will happen. In college you make a mistake and that's a hit, or you're behind in the count and have to battle back. It's tough, but that's how it is. I feel like I'm learning a lot from it, and that's great."
For Dickinson, Savino's arrival midyear meant there was "no time for me to quote-unquote learn about him and what he does and his routines and all these things. He's thrown right into the fire. But the first time you saw him pitch, you saw the raw ability, and you're like, 'OK, I get it.' "
Savino had been dealing with a minor shoulder injury before he joined the program, Dickinson said, and "my focus that first season, quite honestly, with just the way he came in, was to keep him healthy, first and foremost. Not necessarily babying him, we didn't want to do that, but we wanted to take care of that arm. We knew he was going to help us, so we wanted to make sure he was healthy enough to do so."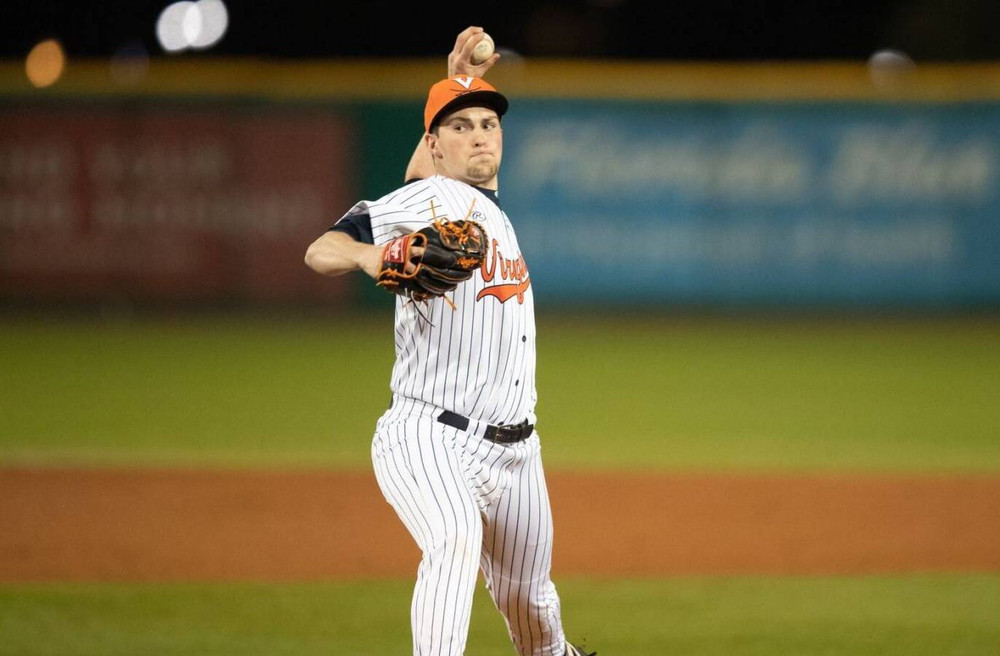 The Cavaliers' pitchers resumed throwing again in late June, Dickinson said, and steadily built up their workloads. Savino isn't the only one who returned to Charlottesville in excellent shape.
"I was so impressed," Dickinson said. "Everybody's body looked better, which is really, really a testament to them," because access to many gyms has been limited during the pandemic.
The extended break gave Savino time to get stronger and get fully heathy, Dickinson said, "and it was probably the best thing to happen for him was something like this. He's been great all fall."
Nearly all of UVA's pitchers from last season are back, including Savino, Andrew Abbott, Griff McGarry, Mike Vasil, Stephen Schoch, Kyle Whitten, Zach Messinger, Paul Kosanovich and Blake Bales.
"I think it's going to be a real strength for us," said O'Connor, whose record at UVA is 714-292-2, with four College World Series appearances (2009, 2011, 2014, 2014) and one NCAA title (2015).
"That said, you can never have enough pitching," O'Connor added. "Never in my career have I ever said, 'Wow, we have too much pitching.' But I feel good about it. I think we've got some real good veteran leadership, some real good veteran arms. You've got a guy like Abbott that's a proven guy that's back. You've got McGarry, who I think is better, Vasil's better, and then you've got Savino, who has all the talent in the world. He doesn't quite have the experience those other guys do, but is every bit as talented. It's pretty exciting."
Savino said he loves working with Dickinson, who joined O'Connor's last year after eight seasons as Illinois' pitching coach. "He's a great dude, and he's also a great pitching coach, which makes it awesome," Savino said.
Fall practice has given Dickinson an opportunity to instruct Savino in a way he couldn't last season.
"That first year I was like, 'I can't really make changes. We're in the season. I've never seen this kid. I've never worked with him. We're just going to go pitch and we're going to make in-game adjustments,' " Dickinson said. "But now I'm getting to actually have legit time with him and with his pre-practice routines, so we can make small changes here and there to help improve what he does, both physically and from a productive standpoint on the mound."
With Savino, O'Connor said, there's "a lot of continued development that needs to happen, game savvy kind of stuff that great, great pitchers have, that's only learned through experience."
If not for the pandemic, Savino "would have thrown quite a few innings and really developed last year, and he'd be in a better place right now," O'Connor said. "So what we're trying to do this fall is make up for the time that was lost last spring."
Savino, who turns 19 in January, is living with McGarry, Abbott and outfielder Marc LeBreux this school year. His transition to college life, Savino said, has gone better than he expected.
"I've had a great experience. It's lots of fun," Savino said. "Coming in, I was nervous, of course, but I settled in real quick. All the guys were really welcoming and they showed me the ropes. Looking back at it, I'm really happy I did it, because now I have that experience and connection with the team. I feel like this upcoming season that will help immensely and help me play better."
To receive Jeff White's articles by email, click here and subscribe.