Virginia Cavaliers Official Athletic Site
Stevie Bracey
Lovett School
High School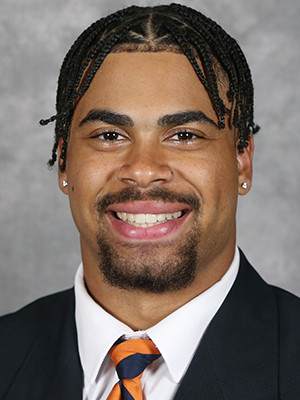 HONORS
2022 – One of three recipients of the team's Defensive Impact Player of the Year Award at program's annual awards banquet.
AT VIRGINIA
2023 – Led the Cavalier defense with a career-high 10 tackles, including seven solo efforts against Tennessee…2022 – Appeared in seven games as a true freshman … made his collegiate debut on Sept. 10 at Illinois … totaled six tackles on the season, five game against Miami on Oct. 29 … named to 2022-23 ACC Honor Roll.
HIGH SCHOOL AND PERSONAL
Played linebacker, tight end and long snapper at The Lovett School for head coach Michael Muschamp … three-star rated linebacker according to Rivals and 247 Sports … No. 95 linebacker in the nation and No. 79 prospect in the state of Georgia according to 247 Sports … earned all-region honors his junior season … AJC all-state honorable mention … 2020 Atlanta/South Fulton All-Metro Team selection … 2020 first team all-region … Helped the Lions to an 8-4 record and second round of state AA playoffs as a senior … Credited with 90 tackles and two interceptions and as a tight end had 13 catches for 174 yards and two scores as a senior … also played basketball for the Lovett School … his grandfather, Steve Bracey, played three seasons in the NBA with the Atlanta Hawks (1972-74) and the Golden State Warriors (1974-75)…major is undecided in the College of Arts and Sciences.