Virginia Finishes as Top Collegiate Crew at Head of the Charles
Story Links
Oct. 19, 2014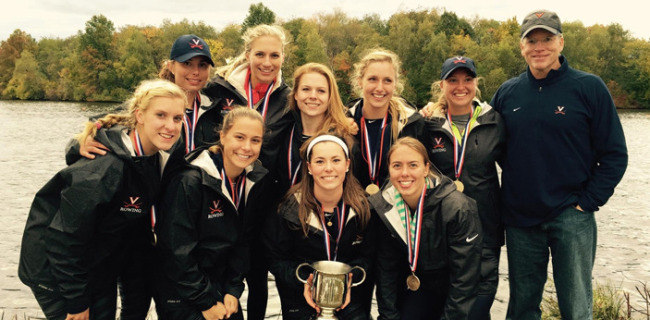 Results | Facebook | Twitter | Instagram
BOSTON-The Virginia rowing Varsity Eight finished as the top collegiate boat in the Championship Eights at the 50th Head of the Charles Sunday (Oct. 19). It is the fourth consecutive year the Cavaliers have earned the honor.
UVa's top boat finished in a time of 16:18.60, third overall behind Cambridge Boat Club (15:44.79) and USRowing (16:04.64), crews made up of national team members with Olympic and World Championship experience. Virginia placed ahead Oxford (16:28.19), Michigan (16:36.92) and Brown (16:38.24). Yale, Radcliffe and Wisconsin rounded out the top 10.
In the Championship Fours, Virginia placed fourth overall and had the second-best collegiate time in 18:31.52. USRowing had the top-two entries in 17:29.17 and 18:01.14, while Syracuse was third in 18:29.98. Brown was fifth in 18:49.71, followed by Yale and Navy.
On Saturday, nine Cavalier alums placed second in the Women's Alumni Eight race behind Michigan, who had UVa assistant coach Brett Gorman in its three seat.
Up next, the Cavaliers travel to Princeton, N.J., Oct. 26 for the Princeton Chase.
Virginia Lineups
Varsity Eight: Coxswain Colette Lucas-Conwell, Stroke: Shawna Sims, 7: Georgia Ratcliff, 6: Hannah Osborne, 5: Lizzy Youngling, 4: Hemingway Benton, 3: Erin Briggs, 2: Sam Casto, Bow: Mackenzi Sherman
Varsity Four: Coxswain Julia Roithmayr, Stroke: Eliza Spilsbury, 3: Hannah Solis-Cohen, 2: Tessa Dikkers,Bow: Jo Gurman
Alumni Eight: Coxswain Sarah Jordan, Stroke: Keziah Beall, 7: Melanie Kok, 6: Kelsie Chaudoin, 5: Kristine O'Brien, 4: Meghan O'Leary, 3: Libby McCann, 2: Molly Baker, Bow: Chrissie Monaghan