Virginia Men Sign Six to National Letters of Intent
Story Links
Dec. 8, 2015
CHARLOTTESVILLE, Va.—Virginia director of track and field/cross country Bryan Fetzer announced Tuesday (Dec. 8) that six student-athletes, Lachlan Cook, AJ Ernst, Randall Neish, Frederick Owsley, Jordan Scott and Noah Toney, have signed National Letters of Intent to join the UVA men's track and field and cross country team in Fall 2016.
"It is all about the right fit," Fetzer said. "We could not be more excited about this group. We continue to add the pieces needed for us to contend for championships while continuing to maintain the integrity of what the university stands for as a whole."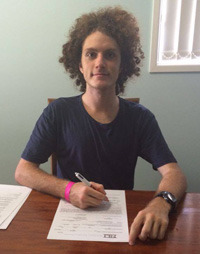 Lachlan Cook • Middle Distance/Cross Country • Brisbane, Australia
• 2014 runner-up at World Schools Cross Country Championships
• 2013 Australian All-Schools Champion in 1,500m and 3,000m
• Seven-time Queensland Champion (4x 800m, 3x 1,500m)
"Lachlan is one of Australia's top junior cross country runners and has track marks that are very impressive for an athlete his age. He is an athlete we are very excited to add to the roster and feel that he can contribute to the team immediately." – men's head cross country coach Pete Watson
"I chose UVA due to the abundance of opportunities that the University is able to offer me not only in present time but also set me up for future endeavors. Making the decision to join was quite easy as it is a very well respected university that has a strong history in cross country and track. The team is making continual improvements each season under the guidance of a well-renowned coach that has had success wherever he has been.
"UVA's facilities are world class and provide all athletes with the foundations they need to succeed. Along with this I know UVA shares the same vision as me, wanting to win a national championship in the coming years. Outside of sports, I believe I will be given the best opportunity to succeed in life. Academics are a major part of college life and something that I am also looking to strive for the best in. Overall, UVA offers the whole package to set me up for my future." – Cook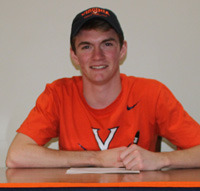 AJ Ernst • Middle Distance/Cross Country • Marblehead, Mass.
• Massachusetts state champion – outdoor mile
• Boston Globe All-Scholastic cross country team
"AJ Ernst is one of the top high school milers in the country. He ran the second-fastest 1,500m in the country as a junior last year and I expect him to continue the trend of having national-class milers here at UVA." – Watson
"I chose UVA because of the combination of both great athletics and academics. UVA offers the chance to compete and train at the highest level for track and cross-country under Coach Watson, while still offering a top-notch education. In addition to this, the Grounds are beautiful and it doesn't snow as much as it does in New England." – Ernst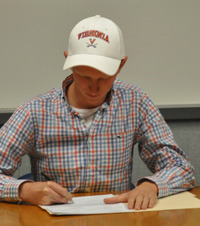 Randall Neish • Middle Distance/Cross Country • Glastonbury, Conn.
• Two-time Connecticut state champion – outdoor 1,600m
• Connecticut state champion – indoor 1,000m
"Randall Neish is a well-rounded athlete and will compliment our mid-distance program well. He has very good range from the 800m up to 5,000m in cross country." – Watson
"When looking for schools, I wanted a great athletic as well as a great academic school and UVA fit the bill perfectly. That was enough to get me to go on an official (visit) and after that, I was sold. The facilities at UVA were enough to separate it from all the other schools I was looking at. Also I felt like the coaches there had my best interests in mind and would do everything they could to help me succeed both athletically and academically. Most of all what sold me on UVA was the people. The team is a great group of guys. They are the kind of people who I can see myself spending the next few years with and really enjoying my time with them." – Neish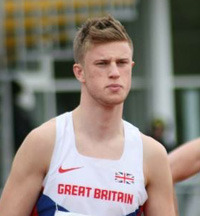 Frederick Owsley • Sprints • Bristol, Great Britain
• Finalist in 200m at European Under-20 Championships
• British Under-20 National Championship – 400m
"Great Britain has been a perfect complement to our regional recruiting efforts. Freddie is another that is fairly new to the sport. He is super talented and will fill a huge need for our men's team." – Fetzer
"I feel a change in environment, whether that's educational, social, cultural or in sports, will help me develop as a person and help me find my role in society. This is why I looked to America. The University of Virginia's academic and sporting reputation are attractive qualities, as are its amazing facilities and the town of Charlottesville itself. I felt really welcome when I visited. A change in culture will bring its challenges but I hope they will bring out the best in me. Particularly I see Virginia as a place that will stretch my athletic ability, and see where it can take me." – Owsley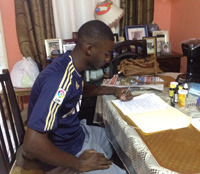 Jordan Scott • Jumps • Portmore, Jamaica
• Finalist in triple jump at 2014 Youth Olympic Games for Jamaica
• Carifta Games silver medalist in triple jump
• Two-time Class 1 finalist in triple jump
"Jordan Scott will be a great addition to our men's track and field program. He possesses a great combination of athletic talent which he and his coach have worked hard to refine, but he will graduate from one of the premier academic institutions, not just in Jamaica but, in the entire Caribbean. Jordan has tremendous family support and will set a great example to those who look up to him." – Jumps coach Mario Wilson
"Coming from one of the smartest schools in the Caribbean, my aim was to find a school that was great with academics as well as sports as Campion did not necessarily offer this balance. UVA heads the list of schools with the balance between sports and academics therefore they were automatically at the top of my list. The warmth felt from Coach Wilson was also a deciding factor as he was able to provide me with necessary information about the institution upon my request. The facilities and services offered to us as student-athletes are exceptional as well as the members of the team and the coaching staff were very welcoming which made me feel at home right away." – Scott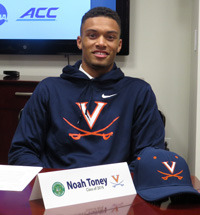 Noah Toney • Sprints • West Orange, N.J.
• Finalist in 400m at USATF World Youth Trials
• 2014 Greater Middlesex Conference All-Star Team
"Noah really had some breakthroughs last summer. We have a great young 400/800 group which Noah will fit in perfectly with in terms of ability, personality and attitude." – Fetzer
"I chose UVA because I was looking for a balance between a challenging academic environment and a first-rate athletic environment. I was also looking for a strong sense of community. When I had my visits at UVA, everyone seemed to be content with their decision to go to UVA. Everyone was wearing the university gear and apparel, and I really felt the sense of community. A large athletic environment was also important to me. I could really see myself living at UVA for the net four years of my life." – Toney