By Jeff White (jwhite@virginia.edu)
CHARLOTTESVILLE — At his lowest point — and there were many dark days last fall — University of Virginia linebacker Malcolm Cook considered giving up football and moving on with his life. In emotional conversations with his mother, Joyce Lewis, Cook would voice his frustrations.
"I used to tell her, `I don't think it's meant for me to play the game any more. Every time I get healthy again something happens,' " said Cook, who missed the 2016 season after being diagnosed with a heart disease last summer.
"Freshman year my right knee, sophomore year my left knee, junior year my shoulder, and last year the heart. I was like, `I just think this is a sign, Mom, for me to give it up.'"
Lewis urged her son to persevere, and Cook followed her advice. For that, he's grateful. On Dec. 14, 2016, after successfully completing a grueling stress test, Cook was cleared to play again for the Cavaliers.
"It was a blessing," recalled Cook, who'll be a fifth-year senior in the fall. "I hurried up and called my mom and told her I was good to go, I can run, I can play. She was the happiest person in the world, because she just wanted to see me get out there again."
Not long after he received the good news from his medical team, Cook saw head coach Bronco Mendenhall at the McCue Center.
Mendenhall said he remembers seeing Cook "coming down the hall with a giant smile, and I already knew what that meant. There are smiles where you're glad to see someone, and then there are smiles that reflect elation. His smile was beyond that."
Spring practice begins Tuesday morning for the Wahoos, and Cook may well get choked up when he comes out of the McCue Center locker room. He hasn't forgotten the January morning when he rejoined the team for the winter conditioning program.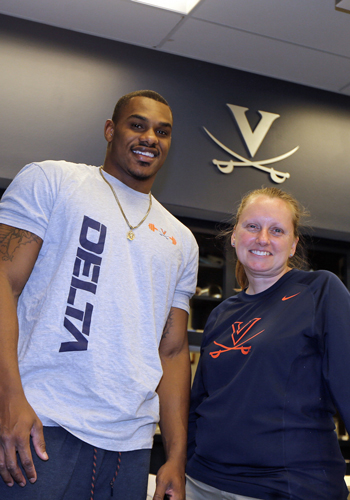 Cook with
Kelli Pugh
, UVA's associate athletic trainer for football.
"I kind of shed some tears," Cook said, "because at one time there was a possibility I wasn't ever going to touch the field again."
A native of Richmond, Cook attended Armstrong High School for three years before transferring to Fork Union Military Academy, from which he graduated in 2013.
Expectations were high for Cook when he arrived in Charlottesville, but he's played in only six games since enrolling at UVA. (Because of his injury history, Cook would be an excellent candidate to receive a sixth year of eligibility should he want to return to Virginia in 2018.)
He hurt his right knee in 2013 and redshirted that season. In 2014, an injury to his left knee limited Cook to three games. In 2015, he suffered a season-ending shoulder injury in the Cavaliers' third game, a win over William & Mary at Scott Stadium.
Still, with a new coaching staff in place — Mendenhall came to UVA from BYU in December 2015 — last season held the promise of a fresh start for Cook. He impressed in spring practice and in training camp last year and was slated to start at outside linebacker in the season opener against Richmond.
On Aug. 26, however, the 6-1, 225-pound Cook reported to the training room in distress. In a post-practice workout that morning, he'd fallen twice, Cook recalled. He initially thought he was cramping up, but the severe pain in his chest persisted, and he went to see Kelli Pugh, UVA's associate athletic trainer for football.
"It felt like somebody was driving a knife through your chest," Cook said. "I'd never felt that in my life. It was unbearable."
Cook has had problems with acid reflux, but this was different. "He was miserable, just writhing in pain," Pugh recalled, "and I've seen Malcolm through a lot of injuries. He's had two knee surgeries, he's had a shoulder surgery. Malcolm has a really high pain threshold, and he was the most uncomfortable I have ever seen him."
From the McCue Center, Cook went directly to the emergency room at the UVA hospital. There, he was given blood tests and an electrocardiogram (EKG) and an echocardiogram. They revealed a problem that was eventually diagnosed as myocarditis, a disease marked by inflammation of and damage to the heart muscle.
"Similar to what you see in a heart attack," Pugh said.
According to the Myocarditis Foundation, the disease usually attacks otherwise healthy people, and as many as 20 percent of all cases of sudden death in young adults may be due to myocarditis. Causes of the disease include viral infections, autoimmune diseases and environmental toxins.
How Cook contracted the disease is not clear, but the diagnosis devastated him.
"That was definitely the worst, when they told me it was something with the heart," Cook said.
"We were all pretty scared," Pugh said.
Cook remained in the hospital for four days while doctors, including Dr. Robert Battle, the football team's cardiologist, monitored his heart and "some of his different lab markers," Pugh said.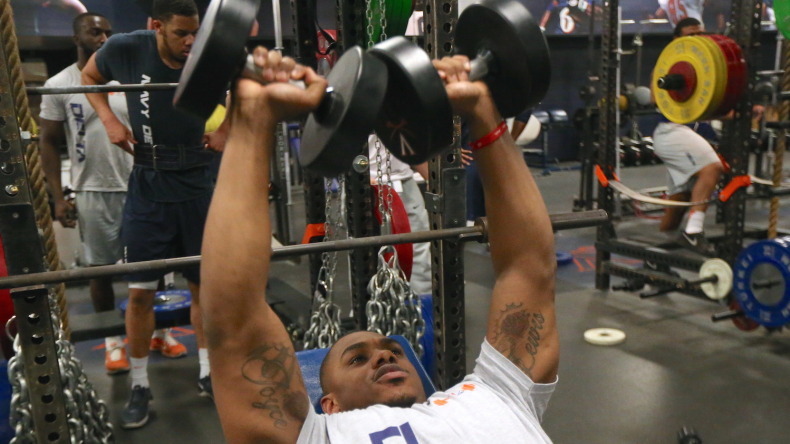 Once cleared last fall, Cook returned to a routine of lifting light weights and jogging.
Battle prescribed six months of rest, with no exercise, and that dashed Cook's hopes of playing in 2016. The doctors were unsure, in fact, if Cook would ever play again.
"It really depended on how well his body was able to heal itself," Pugh said. "So at that point we were thankful that we had found it and that it was a small area of damage and that he'd gotten care as quickly as he had, to try to limit things as much as we could. But when he was released from the hospital, there was definitely the potential that he was not going to play football any longer."
When student-athletes enroll at UVA, Pugh said, they're put through cardiac screening, which includes an EKG and an echocardiogram.
"So we had data previously on Malcolm that showed that his heart was healthy and this was a new development for him," she said.
To keep Cook involved with the team, the Cavaliers' coaching staff created a new position for him last fall. Cook stayed by Mendenhall's side during practices and games and helped signal in plays to the defense.
"He might be the only guy in the country that can signal from the sideline and then go out and play," Mendenhall said last week with a smile.
As difficult as it was for Cook to have to watch from the sideline last fall, "I think he understood the seriousness of [the disease]," Pugh said, "and I think Coach Mendenhall did such a great job of keeping him engaged that even when he was on the field and not exercising, he was still so involved that it was OK, once he accepted that he wasn't going to play that season."
Through the hours they spent together, Mendenhall and Cook formed an uncommon bond. It strengthened as Cook, an anthropology major, became more interested in reading, one of Mendenhall's passions.
"That relationship and that time was really special, and I won't ever forget it," said Mendenhall, who's also Virginia's defensive coordinator, "and it doesn't mean the upcoming season and our relationship can't even be more impactful and more gratifying. But it's been one of the highlights of my coaching career, just being with him on a daily basis and seeing his growth and development."
By the end of September, Cook's prognosis had become more encouraging. "He was healing and things were looking better," Pugh said, and his prospects for playing again improved.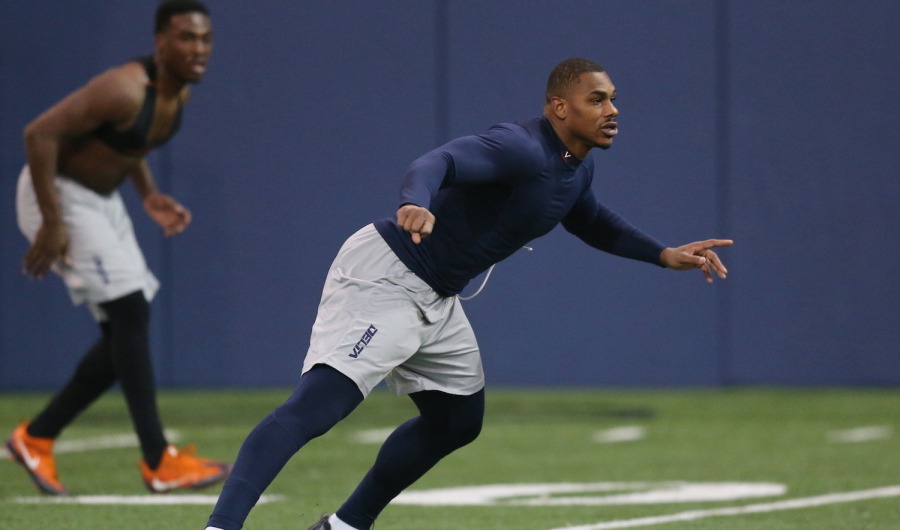 When UVA opens spring practice on March 28, it will be the first time Cook is at full-speed at practice since last August.
Later in the fall, Cook was allowed to start lifting light weights and jogging. "It was nice that we were able to get him moving a little earlier than we expected," Pugh said.
Throughout the fall, Battle monitored Cook's progress. "And then in December, Malcolm had another round of really extensive cardiac tests that showed the condition has resolved, his heart has healed itself, and his heart responded normally under stress," Pugh said.
Going forward, Cook will have "annual follow-ups with the cardiologist, which is the same thing we would do for an athlete with high blood pressure," Pugh said. "But other than that we don't take any special considerations for him, because he's been cleared and that's done and we don't have to worry about that any more."
Once the doctors cleared him, Cook faced another challenge: getting in shape after months of relative inactivity. He'd lost much of his strength, and climbing a flight of stairs left him gasping for air, "like I'd just run a marathon," Cook said.
"I used to tell my mom, I feel like an old '69 Nova trying to get going again in 2016. It's just hard. And it was hard trying to rev it back up. Every day I was sore."
He's back to full strength now, though, and eager to apply the knowledge gained during his season as Mendenhall's assistant.
"I can't wait to get back out there. I can't wait to help the guys," Cook said. "I feel like I've got a lot to offer, because I've been around Coach Mendenhall and I know the system.
He smiled. "I'm Coach Mendenhall 2.0 on the field."
Mendenhall would not wish upon anyone what Cook had to endure. One day Cook was preparing for a college football game, and the next he was worrying about being able to live a normal, healthy life.
"That's a wild swing of events," Mendenhall said. "But it opened the door for this opportunity that he just grasped, of a relationship and mentoring and knowledge that helped him, I think, come out the other side in a place that I don't think he could have been without this experience."