Virginia Bowl Guide | Florida Bowl Guide | UVA Football on Twitter | Orange Bowl Site | Video Highlights | Subscribe to UVA Insider Articles | Jeff White on Twitter
By Jeff White (jwhite@virginia.edu)
VirginiaSports.com
 
CHARLOTTESVILLE –– He holds a bachelor's degree from the University of Virginia and a master's from the University of Florida. He played football at each school and has friends in both programs.
 
All of which gives Jake McGee an unusual, and occasionally uncomfortable, perspective on the Orange Bowl, which matches No. 24 UVA (9-4) against No. 9 Florida (10-2) on Monday night at Hard Rock Stadium in Miami Gardens, Fla.
 
The schools' athletic teams rarely meet, but when they do in basketball or an Olympic sport, "I sort of align with Virginia," McGee said Thursday night. "The football is just awkward for me in general. I have a lot of love for both teams. It's one of those things where I'd love for them never to play each other."
 
He's spending the weekend with his brother, Bo, who lives in Jupiter, Fla., about 75 miles north of Miami Gardens. McGee plans to attend the Orange Bowl, and he's been asked often for which team he'll be pulling Monday night. 
 
"I go back and forth," McGee said, "so I don't step on any toes. It depends who asks me."
 
The wise move might be to "stick a bright orange T-shirt on and stay neutral," McGee said, laughing.
McGee, who's from the Richmond area, grew up cheering for the Cavaliers. His paternal grandfather, Robert McGee, who died in 2010, played baseball at Virginia and graduated from the University in 1960 with a bachelor's degree in aeronautical engineering.
 
At Collegiate School, Jake McGee starred at quarterback, but he moved to tight end at UVA, where he redshirted in 2010. 
 
After playing primarily on special teams in 2011, he a leading role on offense the next two seasons, totaling 71 receptions for 769 yards and seven touchdowns. As a Wahoo, McGee became known for clutch catches that showed off his sure hands and athleticism.
 
"I don't know how he does it," teammate Luke Bowanko said in September 2012 when asked about a spectacular 44-yard reception McGee had in a win over Penn State at Scott Stadium.
 
After graduating from Virginia in 2014, McGee transferred to Florida, whose offense he felt would be a better fit for him. In the Gators' 2014 opener, he suffered a broken leg that ended his season. But the NCAA granted his request for a sixth year, and in 2015 he caught 41 passes for 381 yards and four TDs, earning second-team All-SEC honors.
 
Had McGee stayed healthy, he might well have been productive at the next level, too. But injuries derailed his NFL career. He spent time on the practice squads of the Chargers and the Steelers before tearing his Achilles' tendon in May 2018.
 
"That was sort of my make-or-break year," McGee recalled. "I was doing really well, and that's when the Achilles' happened. After that I was on [injured reserve for the 2018] season."
 
He weighed 205 pounds when he enrolled at UVA in the summer of 2010. Three years later, he was close to 250 pounds, "I don't think [the extra weight was] something my body could handle the whole time," McGee said. "But I've always tried to make the most of each day. If you're going to get hurt, there's really nothing you can do about it.
 
"Would I have loved to stay healthy and see what could have been, and do I think it would have gone a little differently? Probably. But everybody wishes things could go a little differently. I try not to regret anything. I've just made the most of it and had the best time I could at all different levels."
 
He ended up opting to retire as a player. "It was just one of those things where I [decided], 'I think that's enough for my body. My body's done,' " McGee said.
 
He wasn't done with football. As part of the NFL Players Association's externship program, McGee had spent two months in early 2017 with Fanatics, Inc., an online retailer of athletic merchandise, and he spent a month last spring as an extern in the Ohio State football program.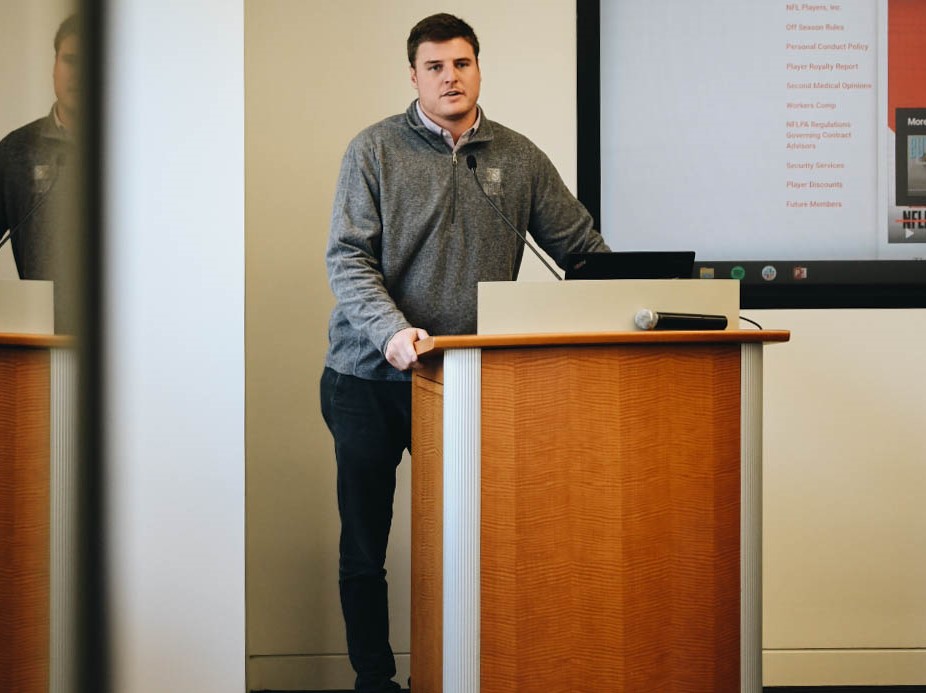 Those experiences helped him land a fellowship with the NFLPA, which is based in Washington, D.C. It began in September and ends in June. McGee works in the Player Affairs department. (Another former UVA player, Cam Johnson, also is working with the NFLPA.)
 
"As everyone knows, football has an expiration date, and they tell you when it is," McGee said. "You don't usually get to decide. So it's something where you want to be as prepared as possible when it does come. For me, I think doing those two externships while I was playing allowed me to build the relationships with the guys that were picking the people for this fellowship. In the grand scheme of things, it's what allowed me to be selected and doing this now."
 
What will come next for McGee, 28, is uncertain, but he appreciates "the opportunity to sort of get my feet wet and not have to make any quick decisions."
 
The injury he suffered at Florida was less than ideal. Still, his extended stay in Gainesville allowed him to earn a master's degree in sports management.
 
"I couldn't have been happier that I was able to finish in time [and didn't have to go back to school] once I was done playing," McGee said. "I could just go sort of full steam ahead."
 
He lives in the D.C. area with another former UVA tight end, Colter Phillips.
 
"The same way he showed me the ropes at Virginia, now he's letting me stay with him," McGee said. "It's a nine-month program, so I'm there until I see where I head after that or what comes available. The [NFLPA] events sort of start in January. So I'll be headed out to the [NFLPA-sponsored] Collegiate Bowl in Los Angeles, and then I'll be doing stuff at the Super Bowl, and then there's a couple other NFL Players Association events in March and June that I'll be part of as well."
 
Former Cavaliers playing in the NFL include Anthony Harris, Morgan Moses and Eli Harold, all of whom McGee talks to periodically. He remains in regular contact with many other former UVA teammates, including Bowanko, Paul Freedman, Michael Rocco, E.J. Scott and Billy Skrobacz (who's back on Grounds as a student in the Darden School of Business).
 
"It was a close group," McGee said. "A lot of us were able to watch that Virginia Tech game in the stadium this year, so that was awesome. To see that streak end was a nice treat for all of us."
 
On Nov. 29, the Wahoos rallied for a 39-30 win over the Hokies at Scott Stadium. The win was UVA's first in the series since 2003.
 
"It was as good a feeling as I've had with any game that I had nothing to do with," McGee said. "It was fun being up there. It was fun seeing a bunch of guys. A lot of us weren't able to get it done [against Virginia Tech], but you still put a lot of time and energy into the program. So to see where it's at now and see some of the changes that were made and a foundation that looks to be very strong, is exciting. It's sort of like a proud big brother moment to see the guys coming behind you be successful and have a really bright future."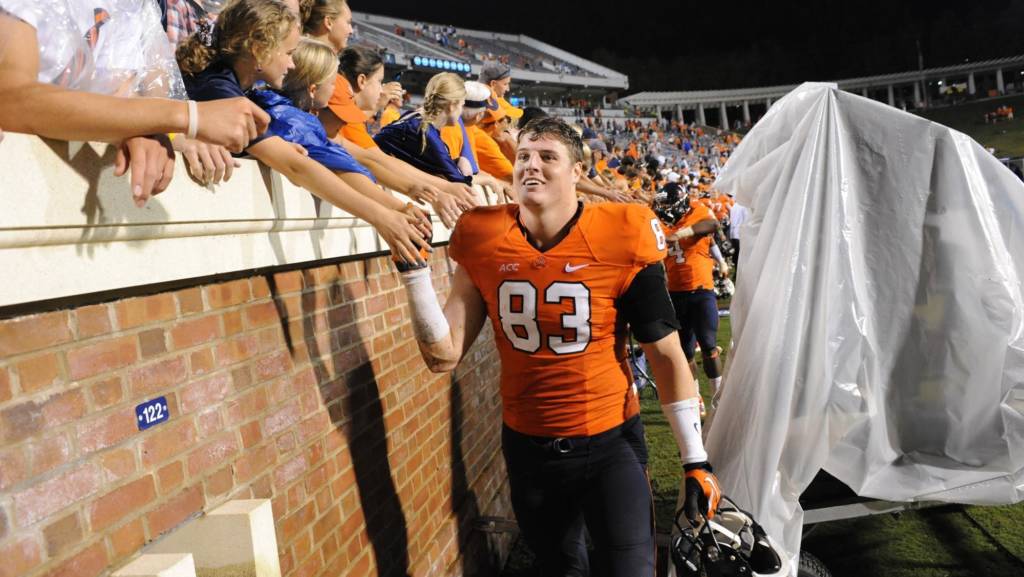 Jake McGee at Scott Stadium
 
The Cavaliers are in their fourth season under head coach Bronco Mendenhall, most of whose assistants also worked with him at Brigham Young University. McGee needed no introduction to wide receivers coach Marques Hagans, a holdover from the staff of Mike London, Mendenhall's predecessor.
 
Hagans and his wife, Lauren, give former players "the heartbeat of the program and fill us in on what's going on," McGee said, "I'm so proud of what he's done and the family atmosphere they've built in Charlottesville."
 
For UVA, the win over Virginia Tech clinched the program's first Coastal Division title. That sent the Hoos to the ACC championship game, where they 62-17 to No. 3 Clemson in Charlotte, N.C.
 
"They got on a big stage in Charlotte," McGee said. "Hopefully they grow from it and in this one they're really ready to go and play a good football game."