4TheHoos Initiative | Jeff White on Twitter | UVA Football on Twitter
By Jeff White (jwhite@virginia.edu)
VirginiaSports.com
CHARLOTTESVILLE –– The University of Virginia football roster includes nine players from Georgia, and they were quick to circle two dates in particular when the ACC released its 2020 schedule in late January.
Virginia was slated to play twice in Atlanta––against Georgia on Sept. 7 and Georgia Tech on Oct. 17. For the Cavaliers' Peach State contingent, those games would have been opportunities to play in front of family and friends, but the COVID-19 pandemic forced the ACC to alter its plans.
UVA's new 2020 schedule, released late last month, includes no games in Georgia. UVA will play six games in the Commonwealth––at least five of them at Scott Stadium––and five on the road. The Wahoos are scheduled to travel to Clemson, Florida State, Miami, Virginia Tech and Wake Forest.
This will be the first time since 1981 that UVA and Georgia Tech do not meet in football.
"I figured the Georgia game probably wasn't going to happen, just being realistic," inside linebacker Rob Snyder said, "but I was caught off-guard that Georgia Tech wasn't on there."
Snyder, a 6-2, 235-pound graduate student, is from the Atlanta suburb of Lawrenceville, and he was looking forward to the trips to Georgia this season. The schedule is out of his control, however, and he sees positives in the revised version.
"We have away games against Clemson, Florida State, Miami and Virginia Tech," Snyder said. "What more could you ask for? Those are all awesome places to play, though realistically I don't know how many fans will be there. It might just be us versus them, but they're still cool places to play at, and then we have great opportunities at home as well.
"It's going to be fun. I'm kind of sad we don't get a rematch against Notre Dame, but other than that I like the schedule."
Snyder starred at Collins Hill High School, and five of his former teammates now play for opponents on UVA's 2020 schedule: Peyton Woulard and Miles Fox at Wake Forest, brothers Tomon and Tomari Fox at UNC, and Emmanuel Belmar at Virginia Tech.
"It'll be nice to play all of them," Snyder said.
His immediate concern, though, is getting healthy enough to suit up again. Snyder limped through the first four games of the 2019 season, after which an MRI revealed a broken bone in his right foot, as well as ligament damage in his right ankle
Season-ending surgery followed. Dr. Joseph Park, an orthopedic surgeon at UVA, reattached the ligaments and inserted two screws in his foot, Snyder said. The ligament surgery "went perfectly," Snyder said, but navicular bones can be problematic, and the foot wasn't healing properly. So Dr. Park operated on Snyder's foot again in March.
"I had a bone graft from my hip put into the fracture to help it heal, and I got bigger screws put in my foot," Snyder said.
His rehabilitation is going well this time, and Snyder recently started running and pushing sleds. "I'm out of the underwater treadmill, which is nice, and I'm all on land," he said.
Snyder hopes to be cleared for full participation early next month. "It's kind of hard to tell if I'll be there for the first game or not," he said, "because we don't know when the first game is going to be. I might miss the first game, I might not."
This is not the first adversity Snyder has faced during his UVA career. He redshirted as a true freshman in 2016 but earned a jersey number (52) and impressed the coaching staff. He was on his way to earning a spot in the rotation at inside linebacker when, in June 2017, he tore a pectoral muscle while bench-pressing in the McCue Center weight room.
That injury also required surgery and pushed back Snyder's debut as a Cavalier until 2018. In the No. 22 jersey, he started seven games that season and helped UVA finish with eight victories for the first time since 2011, only to have another setback last year.
Through it all, though, Snyder has shown the mental fortitude required to overcome such obstacles, said Shane Hunter, his position coach in the Cavaliers' 3-4 defense.
"Any time you experience something major like that, it's going to be hard," Hunter said, "and the great thing about Rob is, he's so mentally strong. It frustrates him and he's upset about it, but at the same time he says, 'Hey, this is what it is. I've just got to go to work. I've got to do what I can to get back to where I need to be. I'm going to attack it.' He's done a really good job with that. I've been super impressed with him."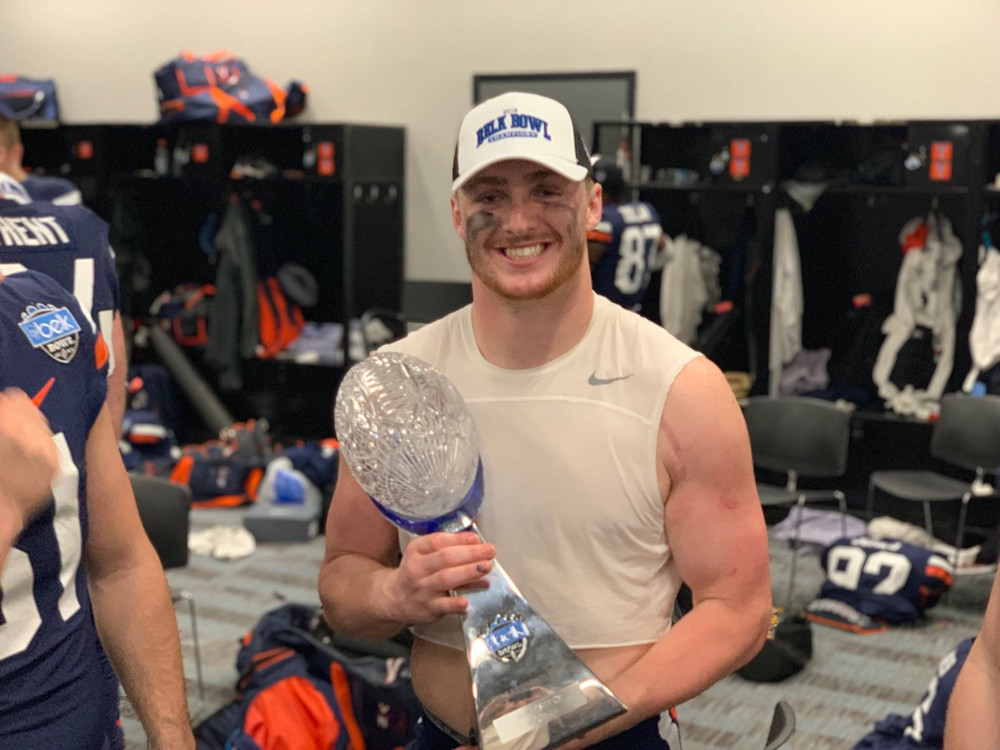 Jordan Mack, who signed a free-agent with the Carolina Panthers, is gone, but the Hoos return a talented core at inside linebacker, including Snyder, senior Zane Zandier, sophomores Nick Jackson and T.C. Harrison, and redshirt freshmen Josh Ahern and Hunter Stewart (who can also play on the outside).
"The group is really strong," Hunter said, "and they get along really well together and they push each other and they challenge each other. I'm super impressed with how far everyone's come, even in the time we had away from each other. They came back stronger, they came back bigger, all of them, and they're running well and making their times. It's been impressive to see how they came together, even though they were separated, to get better in this weird time."
In 2018, when he rotated with Mack and Zandier at inside linebacker, Snyder twice recorded 11 tackles in a game, and he finished the season with 53 stops.
"When he's in the game I trust Rob completely," Hunter said. "He knows exactly what to do. He fits really, really well, and he's a great tackler. He knows how to play the game, and he has a great feel for it.
"Every year we do our tackling studies to see where we're at and who's missing tackles, and he's one of our best tacklers. The big thing for him is just getting healthy and staying healthy, so that way we can have him out on the field as much as possible."
In May, Snyder earned a bachelor's degree in foreign affairs. He's now enrolled in a master's program (Social Foundations) in the Curry School of Education and Human Development. When the school year starts, he'll be living with center Olusegun Oluwatimi and defensive lineman Richard Burney. He's rooming this summer with offensive tackle Bobby Haskins, who's also recovering from surgery.
"We keep each other in high spirits," Snyder said. "He's a good roommate to have."
UVA switched to online classes in mid-March, and Snyder spent the next three-plus months at home in Lawrenceville. He had access to a gym where he worked out with Virginia center Tyler Fannin, who's from Hoschton, Georgia, which is also the hometown of Virginia offensive tackle Jonathan Leech.
Other Cavaliers from the Atlanta area include Jackson, Harrison (who like Snyder graduated from Collins Hill High) and safety Joey Blount.
"There's a lot of good football down there," Snyder said.
The Cavaliers won the ACC's Coastal Division for the first time in 2019, capping the regular season with a thrilling victory over Virginia Tech at Scott Stadium, and Snyder admits it was difficult being sidelined for most of that breakthrough season. But his teammates helped him stay positive as he endured another lengthy rehab.
"We've just got such a great group of guys," Snyder said. "All my teammates are like my brothers, honestly. I know that's kind of cheesy, but we're really close. I hung out with them all the time, and that kept my spirits high. And I just tried to find any way to stay with the team. Sometimes when you get hurt you become isolated."
From a team that finished 9-5 after falling to Florida in last year's Orange Bowl, UVA lost such mainstays as Mack, Eli Hanback, Bryce Hall, Bryce Perkins, Joe Reed, Hasise Dubois and Tanner Cowley. But the Hoos have added several graduate transfers of note this year and return most of their defensive two-deep.
Snyder knows many prognosticators expect the Cavaliers to drop back into the Coastal pack this season. Head coach Bronco Mendenhall has shared those predictions with his players, who, not surprisingly, have a much different outlook.
"Yes, we have to prove ourselves," Snyder said, "but at the same time I know we believe in ourselves."