2020 Football Schedule | Ticket Information | 4TheHoos Initiative | Jeff White on Twitter | UVA Football on Twitter
By Jeff White (jwhite@virginia.edu)
VirginiaSports.com
CHARLOTTESVILLE –– At 6-foot-10, offensive tackle Ryan Swoboda is the tallest football player at the University of Virginia, but that's not the only reason he stood out this offseason. Just ask Shawn Griswold, UVA's director of football development and performance, who worked on Grounds with the team from late January to the middle of March.
"He had the best winter of anybody," Griswold said.
The workout gear each Cavalier wears reflects his level in Griswold's strength and conditioning program. Based on testing similar to that used at the NFL scouting combine, players can earn promotions from white to gray to orange to blue and, finally, to black.
Like linebacker Noah Taylor and defensive back De'Vante Cross did in 2019, Swoboda jumped from gray to blue this offseason, skipping orange entirely.
"He's on a mission," said Garett Tujague, the Cavaliers' offensive line coach. "I'm so proud of that kid."
At Virginia, Swoboda's story has been one of perseverance and determination. A graduate of Windermere Prep outside Orlando, Florida, he suffered life-threatening heat stroke as a true freshman at UVA, where his temperature reached 109 degrees during a workout in July 2017.
Swoboda was hospitalized for about three weeks at the UVA Medical Center and later made four trips to the Korey Stringer Institute in Storrs, Connecticut: three for testing and one for training. (The institute is named for the Pro Bowl offensive lineman who died of exertional heat stroke during the Minnesota Vikings' training camp in 2001.)
Not until July 30, 2018, was Swoboda cleared to play again.
"He spent that whole year just trying to survive basically and get healthy," Griswold said.
Not surprisingly, Swoboda's progress on the field has been gradual. He lost about 40 pounds during his ordeal, and he's needed time to build the strength required to succeed at the FBS level.
As a redshirt freshman in 2018, Swoboda played in every game for the Wahoos. He was moved to tight end for three games, one of which he started, but spent most of the season at tackle, his natural position.
In 2019, when Virginia won the ACC's Coastal Division for the first time, high-ankle sprains limited Swoboda to 10 games, including three starts. He struggled with consistency, as did the line as a whole, but late in the season Swoboda's role grew in an offense led by quarterback Bryce Perkins.
"A lot of it was because he was healthy," Tujague said.
Against Florida in the Orange Bowl, Swoboda "had an amazing block out on the edge for a touchdown to Joe [Reed] when Bryce spun the ball out to Joe in that wacky formation," Tujague said. "Those are signs. You see him going against a [Florida defensive end] that at the time on paper was a first-round draft pick, and he's doing OK, but he's just not strong enough. And so it was fun to watch him this offseason."
"He's on a mission. I'm so proud of that kid." -- UVA offensive line coach Garett Tujague on Ryan Swoboda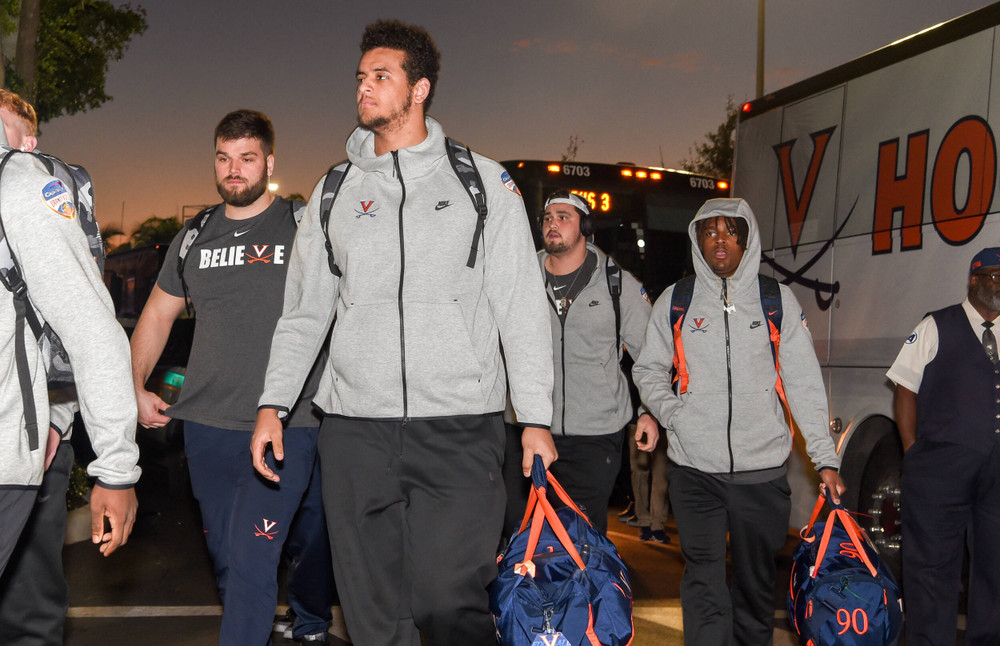 Even before his first-year setback, Swoboda was considered a long-term project, but his potential was undeniable. Tujague remembers seeing Swoboda shine in another sport.
"We were recruiting him," Tujague said, "and I went down and watched him play in a basketball game, and I was like, 'Holy cow, this kid's athletic. He can drop-step and dunk. He's got second move, third move, and he's 6-9, 6-10, and he's 270 pounds.' "
Swoboda, who was listed at 300 pounds last season, now weighs about 325.
"It's a total testament to him and Coach Griz and our strength program," Tujague said. "That's not a genetic thing. The only way that happens is if the kid buys in 100 percent to everything that he's being asked to do. He's getting the right amount of sleep, he's eating the right foods. He completely bought in, and I was so proud of him.
"Again, if you watch film of him from last year, you see he's struggling with junior and senior defensive ends, not speed-wise, but strength-wise. So now to have that be balanced out is big."
Swoboda said his offseason consisted of three phases: one in Charlottesville, one in North Carolina, and one in Florida.
"Last season didn't go as well as I wanted it to go, but I did learn a lot," Swoboda said, "so when we got to winter workouts, I knew I had to get my body to a better place physically. So I worked really hard with Griz in January, February and March, and I got to blue."
After the COVID-19 pandemic forced UVA to switch to online classes in March, Swoboda spent some time with his mother in Orlando, then drove to North Carolina to stay with his father, a former college football player, in the Fayetteville area.
"I'm thinking this whole thing is going to be over in probably two or three weeks. I had no idea," Swoboda said. "It was nice, though, because I had a couple of classes that met online, and other than that I had all the time in the world, because you can't really go anywhere. So I worked out with my dad. We worked out six days a week at an old, abandoned golf course. That went on for probably about a month and a half or two months."
Back in Orlando, Swoboda continued working out daily. "There's only so much video games you can play," he said, laughing. "I had a gym in Florida. I had all the time in the world, and it was really, really nice to have that."
In North Carolina, Swoboda didn't have access to free weights. But Griswold had sent each player a workout kit that included elastic bands and a jump rope, "and we had two foldable chairs," Swoboda said, on which he did dips and pushups.
"You can get pretty creative with two chairs," Swoboda said.
He's also gotten creative with his hair, which hasn't been cut in months. From top to bottom, he can pass for a 7-footer these days.
"I'm going for a bit of a Doctor J look," Swoboda said, laughing.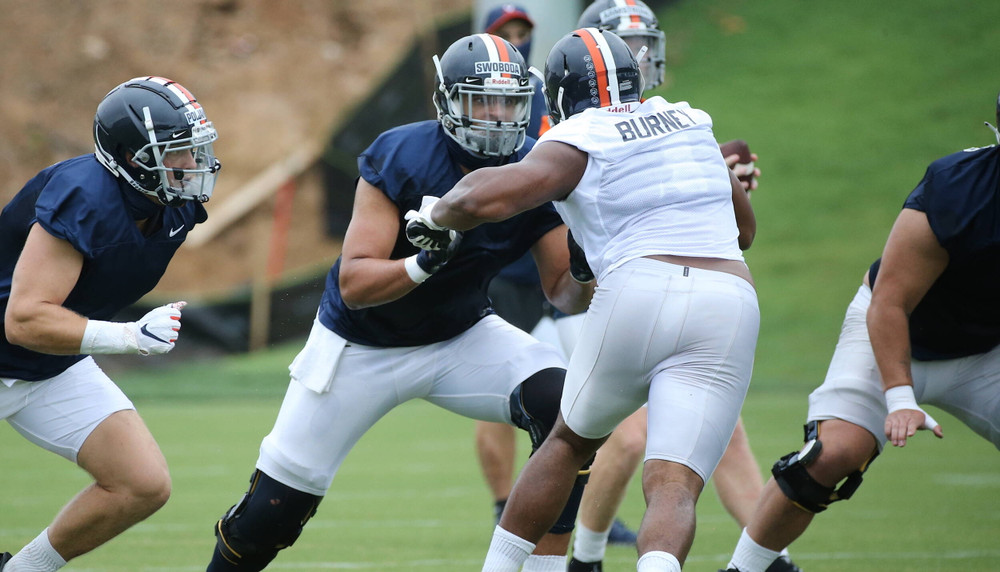 The Cavaliers, who had to cancel spring practice, opened training camp this week, and Swoboda has been working with the first team at right tackle. Against pass-rushers such as Charles Snowden, Noah Taylor, Richard Burney and Mandy Alonso, Swoboda is "winning some and he's losing some," Tujague said, "but when you have that culture of a really good group up front on both sides, you're able to get better. It's been fun to watch Ryan's development."
Swoboda has impressed Burney, a sixth-year senior, this summer.
"One, he's a lot bigger," Burney said. "I feel like he's gotten stronger and more athletic, and he uses his hands a lot better. You could tell he put in work when he was at home."
Swoboda still takes an ingestible core sensor that allows Virginia's athletic trainers to monitor his core temperature. Since getting cleared to play again, though, he's had no more heat-related problems.
He's on track to graduate next spring with a bachelor's degree in American studies, but in football eligibility he's only midway through his college career.
"In terms of my development and where I want to be potential-wise, I've still got a lot of time with that, and that's exciting," Swoboda said.
Tujague agreed. "When I first recruited Ryan, I had really high hopes for him, and then he had the [heat stroke]. But the first day I saw him in the hospital I said, 'The goal hasn't changed. It's still the same.' It made him smile, and so far he's on track."
Swoboda, turns 22 next month, is rooming this summer with Dillon Reinkensmeyer. All of the offensive linemen who played extensively last season for UVA––Swoboda, Reinkensmeyer, Chris Glaser, Ryan Nelson, Olusegun Oluwatimi and Bobby Haskins––are back, and Alex Gellerstedt has joined them.
Gellerstedt, who transferred to UVA last year after graduating from Penn State, sat out the 2019 season while recovering from an injury. But he's healthy again and competing for a starting spot at tackle.
The offensive line's inexperience showed early last season, but the group steadily improved as the year went on.
"We were told to fix it," Swoboda said, "and we worked towards getting to the standard of play we know we can do. Now, everybody's returning, and we're just dripping with confidence in everything we do. There's so much trust."
With the pandemic ongoing, it's unclear if the Hoos will play as scheduled this fall. For now, the team is focused on controlling what it can control, Swoboda said.
"I think I've done that with my personal problems, and right now we're all doing that, and it's working pretty well for us in our bubble."
He takes nothing for granted. Training camp can be a grind, but it beats the alternative.
"It sucked my first year, not being able to practice," Swoboda said. "You're off to the side in street clothes, and you just walk laps, you go to rehab, and you get to watch other people play football. So, yeah, it is a big reminder when you're out there and it's 95 degrees and humid and you just ran straight 12 straight plays in a team period and you kind of think, 'Oh, man, this was hard.' But I'd definitely rather be playing football than doing anything else, and I know everybody on the team feels the same way."