2020 Football Schedule | Ticket Information | 4TheHoos Initiative | Jeff White on Twitter | UVA Football on Twitter
By Jeff White (jwhite@virginia.edu)
VirginiaSports.com
CHARLOTTESVILLE –– On this, his 20th birthday, Coen King has much to celebrate. He's in good health, he's working toward his degree at the University of Virginia, and his profile in head coach Bronco Mendenhall's football program continues to rise.
A graduate of Eastern View High School in Culpeper, King received an early present Sunday night when the Cavaliers' leadership group chose him to be one of the first 28 players to select jersey numbers for the coming season.
"It was a surprise to me," said King, a 6-0, 190-pound safety who arrived at UVA in 2018 as a walk-on.
Defensive coordinator Nick Howell, who's also Virginia's secondary coach, reacted differently. "I wasn't surprised, because he's been doing good stuff," Howell said. "He's a great kid."
King wore No. 49 as a redshirt freshman in 2019, when he was among the second group of players to choose jerseys. He went with No. 9 this year, though not because there's any backstory to his new number, King said. He wore No. 5 at Eastern View.
In all, six defensive backs chose numbers Sunday night: King, Joey Blount, Nick Grant, De'Vante Cross, Darrius Bratton and Brenton Nelson. All except King have starting experience at UVA, and they pushed for his inclusion in the first group.
"Coen is very down to earth, but he's a menace in the weight room," Blount said, "and since returning from our extended spring break he has been making plays every day and has been more confident than ever."
UVA's task unit leaders are veteran players who determine the order in which jersey numbers are selected each summer.
"I think it really embodies what this program is about," senior linebacker Charles Snowden said. "Like Coach Mendenhall says, if it came from the coaches, they only see what [the players] allow them to see. Your teammates know who you are, what you're about, what you do, and how you carry yourself all the time, not just at the McCue Center.
"It's direct feedback. You can directly see how your teammates view you, and you can see your ascent on the team, or if you go later than you did the year before, kind of your fall … I think it makes dudes in this program appreciate what they have and work that much harder to get what they want."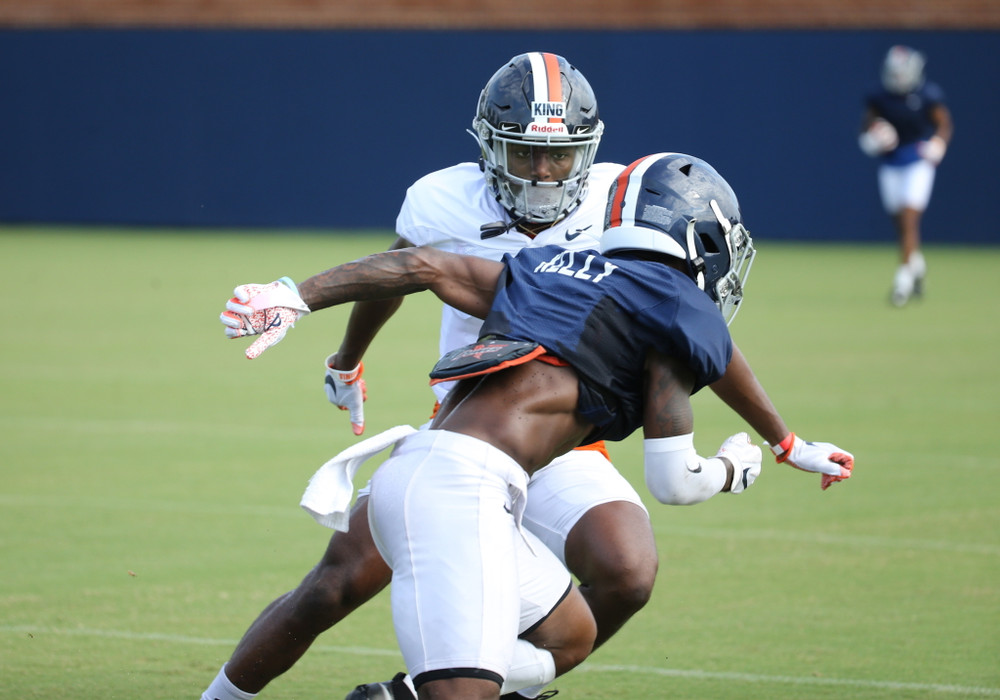 Of the players who picked their numbers Sunday night, six were walk-ons when they joined Mendenhall's program: King, Brenton Nelson, punter Nash Griffin, running back Perris Jones, wide receiver Hayden Mitchell and center Olusegun Oluwatimi. Three of the other five have since earned scholarships, and King hopes to one day add his name to that list.
For now, though, "I'm more focused on the day-to-day stuff, and I think that's helped me more than focusing on the big goal," King said. "I think this program was perfect for me, because you can really earn anything you want here, honestly. The coaches admire will over skill, and hard work is more important than how you were recruited."
Howell said: "I would view it as a company. If you're a scholarship guy, it's like you got signed with a bonus. If you're a walk-on guy, you got hired but you didn't get the bonus. And then it just goes from there. It makes it a competitive environment, and really the guys that produce are the ones that are really going to have the chance to play."
King, whose father ran track at George Mason University, followed an unconventional path to UVA. His high school football résumé consisted of nine games, all in his senior year at Eastern View.
He'd planned to play football as a ninth-grader but suffered a serious concussion that year and gave up the sport, King said. After recovering, he focused on track & field and basketball until his senior year, when his friends persuaded him to try football again.
In that one season, King started at defensive back and led the Cyclones in tackles and interceptions. His play piqued the interest of UVA assistant coach Kelly Poppinga, whose recruiting areas include Culpeper. Poppinga was aware of King's prowess in track & field and saw enough from him on the football field to offer him a roster spot as a recruited walk-on at UVA.
"I didn't start talking to any schools until about December [2017], and those were D-III, and a few D-II," King recalled, "but then it started heating up a little bit, because William & Mary talked to me and then JMU did. UVA didn't talk to me until February [2018]. It was just a no-brainer for me, because of the academics here, and it was the highest-tier school that I talked to."
Culpeper is only 45 miles from Charlottesville, but King didn't grow up following the Wahoos. "It's crazy, because I'm so close," he said, "but the first UVA game I ever went to was a week into my senior year of football."
On Sept. 2, 2017, King and some friends saw Virginia defeat William & Mary 28-10 at Scott Stadium. Eleven months later, he was in training camp with the Cavaliers, matched up against talented wideouts.
King was by far the least experienced member of UVA's secondary, and "going up against Olamide [Zaccheaus] and Joe Reed at my first practice, it was a big shocker," he said. "My first year was just a huge learning experience. It carried over into second year, and it took me a while to get the hang of stuff, but I think it's all coming together."
"I think this program was perfect for me, because you can really earn anything you want here, honestly. The coaches admire will over skill, and hard work is more important than how you were recruited." -- redshirt sophomore safety Coen King
In 2018, King played in one game, on special teams against North Carolina, and was able to retain that year of eligibility. As a redshirt freshman in 2019, when the Cavaliers won the ACC's Coastal Division for the first time, he appeared in eight games, all on special teams. By season's end, King was starting on three units: kickoff, punt and punt return.
In training camp this summer, he's been part of the rotation at safety.
"Last fall he had some injuries kind of hamper him," Howell said. "He was on this trajectory of development where we thought there would be something there [in the secondary], and then some injuries kind of slowed him down, so it was kind of like we never really got to see.
"This year, one of the main things we talked about, with him coming back, was remaining healthy, so we could see really what he could do and so he could fully develop and get into this development process. The mental part of it hasn't been super hard for him. It's more been just getting the repetitions through staying healthy."
King, who plans to major in government in the Woodrow Wilson Department of Politics, is rooming this summer with tight end Grant Misch. In Shawn Griswold's strength and conditioning program, King is at the third-highest level, orange, and he's close to reaching blue. (Black is the highest level.)
King, who has high-jumped 6 feet, 4 inches, has long-jumped 23-11, though "it was technically a scratch," he said, shaking his head.
"Dude's a stud!" said Griswold, UVA's director of football development and performance.
In March, after the COVID-19 pandemic forced the Cavaliers' players and coaches off Grounds, every position group began meeting regularly on Zoom calls. Howell asked each defensive back for his 2020 goals, and King told him he wanted to play on more than special teams.
"I told him I wanted to start this year," King recalled.
What King's role will be in the secondary, Howell said, is "hard to say at this point. We need to play some football. I'm in full support of each of the guys' goals and driving the competition and getting the best players out there. It's too early to tell what's going to happen, but he's doing a good job. I'm just trying to help him put himself in a position to succeed."
BY THE NUMBERS: Of the 28 players who chose jerseys Sunday night, nine changed their numbers from last season. In addition to King, who switched from 49 to 9, Bratton changed from 32 to 8, Jones from 37 to 10, linebacker Zane Zandier from 33 to 0, punter Nash Griffin from 81 to 2, wide receiver Hayden Mitchell from 83 to 18, quarterback Brennan Armstrong from 10 to 5, linebacker Noah Taylor from 14 to 7, and linebacker Nick Jackson from 42 to 6.
Griffin is following the lead of Joe Reed, who wore No. 81 early in his UVA career before switching to No. 2.
Taylor had hoped to wear No. 7 as a true freshman in 2018, but "that's not how it went down at all," he said. Defensive back Chris Moore, picking before Taylor, selected No. 7 in 2018 and again last season. Taylor wore No. 42 in 2018 and No. 14 in 2019.
"Still a good number, but not the number I wanted," Taylor said. "This year, for my teammates to select me high when we were picking numbers, it was really an honor that guys think of me in that way."
Snowden said he sees the jersey selection process as "a real honest, straightforward system … Coach Mendenhall said [Sunday] night, 'Every year dudes get their feelings hurt, and that's OK. Sometimes you need to get your feelings hurt.' Like Noah. He got his feelings hurt, and look at him now."