2020 Football Schedule | Fact Book | Ticket Information | 4TheHoos Initiative | Jeff White on Twitter | UVA Football on Twitter  | Subscribe to Jeff White's Articles
By Jeff White (jwhite@virginia.edu)
VirginiaSports.com
CHARLOTTESVILLE –– He had his routine down. On days that the University of Virginia football team practiced, Brian Delaney would arrive at the McCue Center before sunrise and be in the video office by 5:30 a.m.
There, he would study tape of NFL kickers, including the New Orleans Saints' Wil Lutz, "just to have that picture in my mind before practice and have what I want to focus on during the day ingrained in my mind," Delaney said.
The COVID-19 pandemic disrupted his schedule. Since returning to Grounds early last month, UVA players have had no access to offices in the McCue Center. The video staff sends Delaney clips that he watches on his iPad or laptop in the George Welsh Indoor Practice Facility before the Cavaliers take the field, "but it is a hard adjustment," he said, "just because I had a good routine going in in the morning. I'm just getting used to all the little changes we have going on."
Delaney, a graduate of Westfield High School in Northern Virginia, was part of a recruiting class that's been instrumental in the Cavaliers' ascension under head coach Bronco Mendenhall. UVA was coming off a 2-10 season when Delaney and his classmates joined the program in 2017, but those struggles are well in the past.
In 2017, the Wahoos advanced to a bowl game for the first time in six years. In 2018, they finished 8-5 after blanking South Carolina in the Belk Bowl. In 2019, when they posted a 9-5 record, the Hoos ended a long losing streak against Virginia Tech, won the Coastal Division for the first time, and made their first appearance in the ACC championship game.
"It's been an honor to just be a part of it, and the unbroken growth, I feel like it's been on the individual level too," Delaney said.
In 2017, he was one of 17 true freshmen to play for the Cavaliers. The others included Charles Snowden, Zane Zandier, Terrell Jana, Darrius Bratton, Chris Glaser, Joey Blount, Mandy Alonso and Matt Gahm, all of whom are now key players for UVA.
"Just watching the [physical] transformation of guys like Zane and Charles and Terrell, the growth from each guy has been really good to see," said Delaney, a foreign affairs major who's on track to graduate in December.
No. 26 has done his part. After handling kickoffs as a true freshman in 2017, Delaney took over on field goals and extra points in Virginia's sixth game in 2018, a 16-13 victory over No. 16 Miami at Scott Stadium. He's yet to relinquish any of those jobs.
In 2018, Delaney made 12 of 16 field goals and all 25 of his extra-point attempts. In 2019, he was 20 of 24 yards on field goals and 50 of 52 on PATs.
"His development as a place-kicker has been huge for our program and our team the last two years," said Drew Meyer, the Cavaliers' special teams analyst. "Brian is relentless in his preparation, and mentally he's tough to break."
Delaney's most memorable kick came last season. It ranks among the most important field goals in program history. With 1:23 to play, Delaney connected from 48 yards––his career long is 49––to give UVA a 33-30 lead over Virginia Tech at Scott Stadium. The Hoos went on to win 39-30: their first victory in the series since 2003.
"I just remember feeling prepared for it," Delaney said Monday. "All week in practice we knew it was going to be a close game, so I was just feeling ready for it and having trust in myself and the operation that it was going to be good."
Others regularly bring up that field goal to Delaney, and he appreciates its historical significance. Still, he said, "it's also one of those things where it's in the past and it's a game that we're not playing anymore. It doesn't really do any good to dwell on it."
"His development as a place-kicker has been huge for our program and our team the last two years. Brian is relentless in his preparation, and mentally he's tough to break." -- Drew Meyer, UVA's special teams analyst
Like most kickers, Delaney has known dejection as well as jubilation. In November 2018, his 32-yard field goal with one second remaining forced overtime against Georgia Tech in Atlanta. In OT, however, he missed a 35-yard attempt that would have extended the game, and UVA lost 30-27.
"I hate to bring up negative things," said Ricky Brumfield, Virginia's special teams coordinator, "but I think sometimes it takes a fall for a kid to pick himself back up and make himself even stronger than before. After the one he missed at Georgia Tech, he went to [Mendenhall] and he was like, 'Coach, I'm never missing that again.'
"When it comes down to crunch time, I have all the faith in the world in Brian. I know the work he's put in, and I know that if for some reason he misses, he did everything he could [to prepare]. He works his butt off, and I think him missing that kick [against Georgia Tech] just made him that much more determined."
A short memory is essential for a kicker, Delaney said, not only after misses, but after makes.
"The way the last kick went doesn't matter," he said. "It's a new rep every time. So I'm just kind of blocking everything out but the current rep and just focusing on what I need to do on that rep. Even if I'm coming off a long field goal make, on the next kick or the kickoff right after, it's a completely new rep, and the kick before it doesn't make any difference."
For Delaney's first three years in the program, Mendenhall's graduate assistants included Meyer, who worked on the field with the Cavaliers' specialists.
"First and foremost, Brian's just an amazing kid," said Meyer, a former All-Big Ten punter at Wisconsin. "He's just been an absolute joy and pleasure to work with. He's slightly stubborn in a competitive way, which is good. It can be frustrating sometimes, but that's a good thing. He's a guy that loves to work, and he always wants to do more reps and extra reps on the side.
"In practice, sometimes you've got to worry about the specialists. Are they going to stay focused? Are they locked into what's going on? Brian is not one of those guys. His biggest asset, in my opinion, is that he doesn't get fazed by anything really, whether it's a bad snap or bad hold. Thankfully, our guys have a good job, and he hasn't had to deal with too much of that, but he's all about trusting the guys and saying, 'Hey, as long as the ball's there, if the laces are back, if it's a bad hold, it doesn't matter. I need to make the kick, and that's the expectation.' "
Brumfield, who's heading into his third season on Mendenhall's staff, said he's seen tremendous growth from Delaney.
"When I first got here, there were a lot of bad mishits," Brumfield said. "He always had a good, strong leg, and he always had some good balls, but his mishits were bad mishits, and now it's to the point where his misses are small misses. And so the better a field-goal kicker, the smaller his misses, and right now his misses are small misses. He's doing a really good job right now in camp."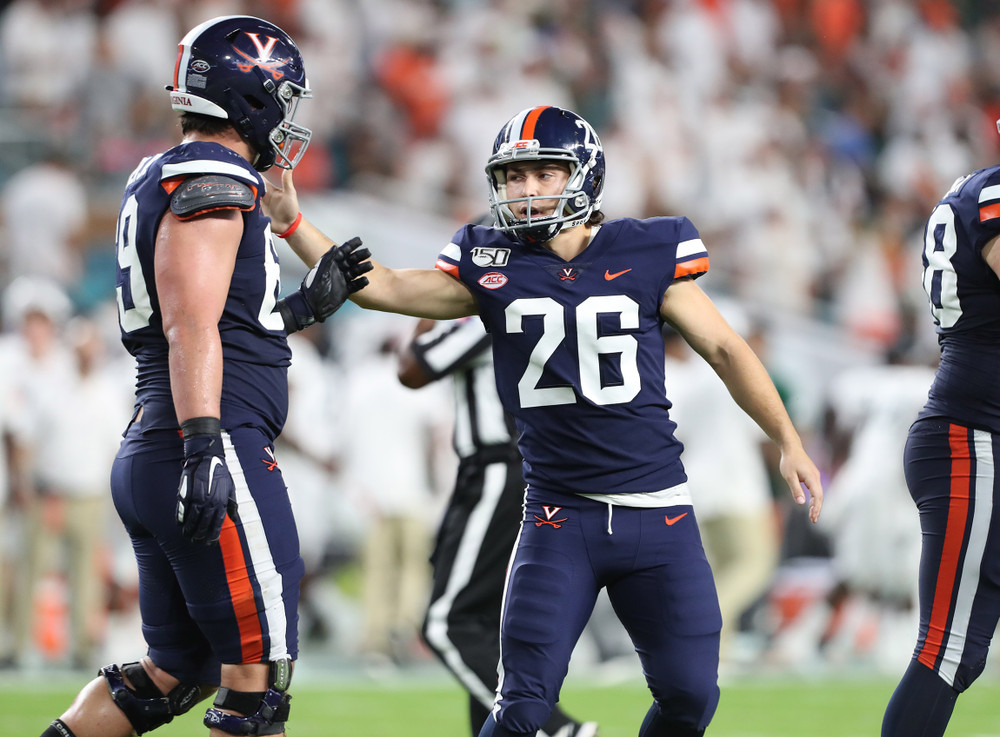 Delaney was an All-America punter at Westfield High, which won the 6A state title at Scott Stadium in 2015, and he's hoping to expand his role at Virginia this season. Nash Griffin, the Cavaliers' starting punter in 2019, is back this year, but he's facing competition from Delaney in training camp.
"We always say playing is more fun than watching," Delaney said, smiling.
Meyer said: "That's what I meant when I was talking about the competitive stubbornness. Brian wants to do all three, and he's wanted to punt ever since he got here. For our team and our program, we've needed him in other areas, and he's stepped up, but he always still has wanted to punt, and that's what I love about him. He's driven and he's focused. It helps to make Nash better, too, both of those guys competing at a high level. And it's been fun this camp. Brian's hit some really good balls, and that's forced Nash to respond. Both of those guys know that at the end of the day they're competing for a job against each other, but they're supportive of each other."
The evolution of UVA's kicking game has been dramatic during Mendenhall's tenure in Charlottesville. In 2016, his first season, the Hoos were 5 for 10 on field goals, with a long of 36 yards. In 2017, they were 8 for 12, with a long of 38 yards. Delaney kicked a 46-yarder in 2018 and a 49-yarder last season.
The Cavaliers' specialists like to call themselves Team Kick, and their numbers have grown over the course of Delaney's college career. "We've got three long-snappers, five people that can hit field goals, three people that can hit punts," he said.
The long-snappers are sophomores Lee Dudley and Tucker Finkelston and senior Danny Carracciolo, a graduate transfer from Bryant University. Delaney, junior A.J. Mejia, redshirt sophomore Hunter Pearson and redshirt freshmen Justin Duenkel and Brendan Farrell can kick, and Griffin, Delaney and Farrell can punt. Griffin and Mejia are the holders.
"We have a bunch of guys we have trust in," said Delaney, who's rooming with quarterback Brennan Armstrong this summer.
Unless an 11th game is added to the Cavaliers' schedule, they will open the season Sept. 19 against Virginia Tech in Blacksburg. They opened on Aug. 31 last year, and the coaching staff has taken a measured approach during this extended preseason.
"Normally we would have done a lot more kicks up to this point and then started to wind it back," said Delaney, who worked out on his own in Northern Virginia for several months after UVA switched to online classes in March.
"We're more building up to it more this year, but I'm happy with the progression. I'm starting to definitely hit a cleaner ball, and being back with a snapper and a holder is a nice change-up. So I'd say these past couple weeks there's been nice growth."