UVA Game Notes | ACC Weekly Release | UVA Football on Twitter | Jeff White on Twitter | 4TheHoos Initiative | Fans First Ticket Program
By Jeff White (jwhite@virginia.edu)
VirginiaSports.com
CHARLOTTESVILLE –– In good times and bad, UVA football coach Bronco Mendenhall exudes a sense of calm and perspective, and that was the case again Monday as he patiently fielded questions on a Zoom call with reporters.
Since beating Duke in their season opener, the Cavaliers have dropped three straight games, and their next two opponents are No. 11 Miami and No. 14 North Carolina. Coming off a season in which they advanced to the ACC championship game for the first time, the Wahoos finds themselves in a place they didn't expect or want to be. Mendenhall isn't panicking, though, and neither are his players.
"They know they're capable of more," Mendenhall said. "They've experienced more, but they also understand what they need to improve, and they believe that the way to progress in terms of outcome is totally within their control, through their assignments and through their execution."
Breakdowns in every phase of the game have hurt the Hoos. Eliminating those errors will require "extreme ownership from each player," senior linebacker Charles Snowden said Monday. "It's easy to make excuses and say somebody needs to do this and point fingers and stuff like that. That doesn't get you anywhere. Guys really want to win on this team, and guys are determined to fix it. So I think each guy has the mental toughness, the fortitude to look themselves in the mirror and say, 'I messed up here and next week I won't make that mistake,' and once that ownership and looking within occurs, then those mistakes will start to go down."
Mendenhall said his players are "resilient and they're tough. They've been through an amazing journey here already, and [for] these guys that have been here the longest, it hasn't been easy. There hasn't been anything that's been easy. We have had continued success and we've had continued growth. The bottom line is they know that's possible. They know it's likely. They're just trying to expedite with this team how fast it happens. They don't know how fast it will happen, nor do I, but they believe it can happen, [and] that's a huge part of it."
The Cavaliers' captains include Snowden, who was asked Monday about the team's mood. "Guys are just accepting the facts, taking responsibility and acknowledging that we haven't played to the standard which we normally would like to play at," Snowden said. "And it's all within our control. It's not really like, 'Woe is me.' It's like, 'All right, get your hard hat, let's get ready to work and get back to playing Virginia football.' "
For UVA, the next opportunity to do so comes Saturday night at Hard Rock Stadium in Miami Gardens, Florida. In a game to air on ACC Network, the Hoos (1-3, 1-3) meet the Hurricanes (4-1, 4-1) at 8 o'clock.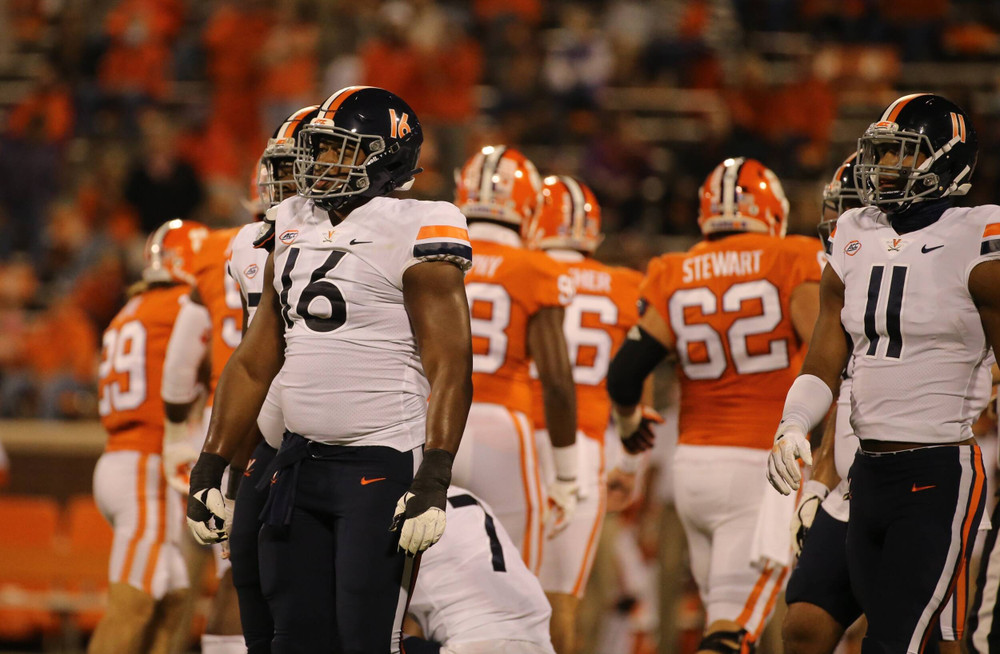 Virginia went into its most recent game, a 40-23 loss at Wake Forest, missing one starter, redshirt sophomore quarterback Brennan Armstrong. Before the night was over, the Cavaliers had lost three more: senior safeties Joey Blount and Brenton Nelson and senior cornerback De'Vante Cross.
How many, if any, of those four will be available this weekend remains uncertain. With Armstrong out, the Hoos used three quarterbacks against Wake––redshirt juniors Lindell Stone and Keytaon Thompson and true freshman Ira Armstead––and totaled 420 yards, 218 of which came on the ground.
"I thought we did a very strong job of rotating the different players we had within drives and within the game, to use the skill sets that they have to help move the football and keep the opponent off balance," Mendenhall said. "I loved the run game results. I loved the time-of-possession results. I loved the different kind of approaches that we used. And so, yes, it was chaotic, but it was by design."
Injuries depleted the Cavaliers' secondary in 2019, and seeing Blount, Nelson and Cross sidelined Saturday evoked memories of that attrition.
"It's tough, but we can't let that affect us," Snowden said. "I have confidence in every guy that steps out there, whether they've been out there or not. I've seen what guys can do in practice, but the front seven has to step up and play better when we see that, because we know we have less experienced guys back there.
"Last season [the defensive backs were] kind of beaten down by the end of the season, but we still won the division with those guys, and so I have faith that no matter who's out there, guys will get it done."
Among those pressed into action against Wake were redshirt freshman cornerback Fentrell Cypress II and sophomore safety Antonio Clary. Cypress made two tackles. Clary had four tackles, including one for loss, and broke up a pass.
"I thought Fentrell and Antonio did a really nice job," Mendenhall said. "They're at the front end of their growth, front end of their development, and front end of their experience, but it didn't seem too big for them. Their assignments were sound, their demeanor looked good. They were confident. And so it wasn't moving too fast [for them]. They looked prepared and they played like it, so I was encouraged by that."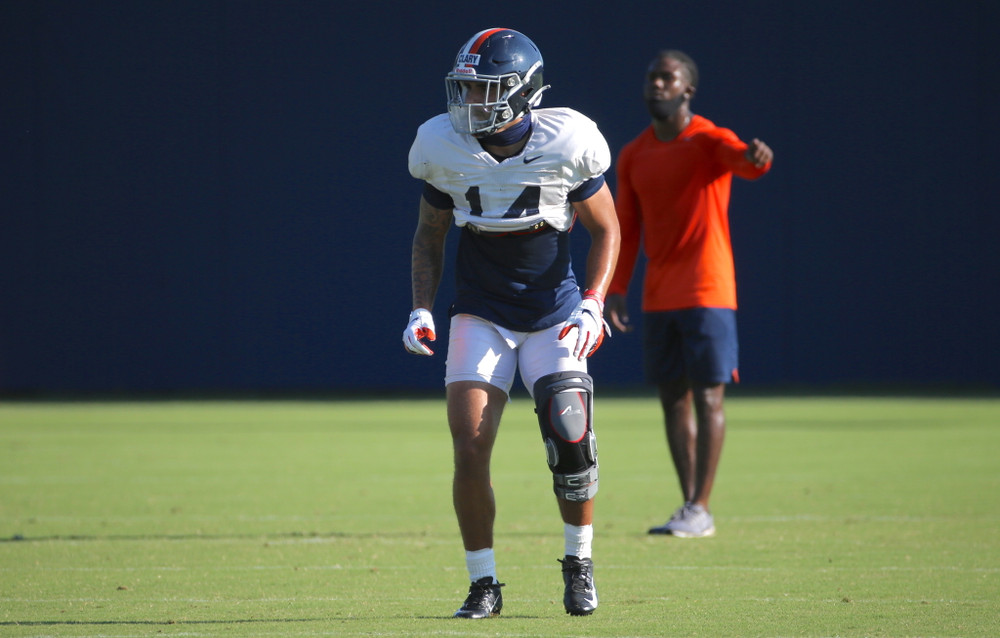 The Demon Deacons averaged 4.1 yards per carry against UVA, thanks in large part to Kenneth Walker III's 75-yard touchdown run in the fourth quarter. Overall, Mendenhall said, he's been pleased with the Cavaliers' run defense this season. "Our inconsistency right now is in our secondary, and that's our topic and our focus right now."
Another concern is a familiar one. The Hoos have been outscored 48-3 in the first quarter this season.
"I don't know what it is, honestly," Snowden said. "I don't think guys are going out with the wrong mindset. If I knew that answer, we wouldn't be getting off to the slow starts."
Turnovers also have been an issue. Virginia has lost three fumbles and thrown nine interceptions this season, mistakes on which opponents have capitalized.
The Cavaliers' execution must "be cleaned up," Mendenhall said, "and we're expediting that as fast as possible. And [the players are] resolute. They're driven. They're focused. And they're pretty encouraged, to be honest. They believe that it's totally possible to have the same kind of results that they've had before, and they just they would like that to happen now."
In 2016, their first season under Mendenhall, the Cavaliers posted a 2-10 record. They improved to 6-7 in 2017, to 8-5 in 2018, and to 9-5 in 2019. But Snowden doesn't believe a program's progress can be measured solely by wins and losses.
"I think that growth is not linear," he said. "So you're not going to grow on a perfect 45-degree angle. There's going to be peaks and valleys and plateaus. That does not mean growth isn't happening. I think it's easy to kind of look at the record and say 1-3, well, that's obviously not trending in the right direction. But I would say internally within the program, [with] the attitude of the guys and the culture, that growth is still occurring."
To receive Jeff White's articles by email, click here and subscribe.