UVA Statistics | ACC Weekly Release | UVA Football on Twitter | Jeff White on Twitter | 4TheHoos Initiative | Fans First Ticket Program
By Jeff White (jwhite@virginia.edu)
VirginiaSports.com
CHARLOTTESVILLE ––University of Virginia running back Shane Simpson caught a swing pass and sprinted toward the end zone on what would be a 71-yard touchdown reception last Saturday at Scott Stadium. Offensive guard Chris Glaser took off after Simpson, and center Olusegun Oluwatimi followed suit a few moments later.
A touchdown calls for "a party in the end zone," UVA offensive line coach Garett Tujague said, "and everybody wants to be at the party."
Glaser built an early lead and then slowed, perhaps not realizing Oluwatimi was trying to catch him. "Olu takes off, and Chris starts to throttle down, and you see Olu pass Chris on the way to the end zone," Tujague said, laughing. "There were still about 25 yards to go, and Chris made a valiant effort, but he came up short."
Glaser said: "Olu is my guy, my best friend on the O-line. Anything we play together, it's competitive, whether that be poker, golf, spades or Call of Duty."
The foot race may have gone to Oluwatimi, but Glaser got some payback a few days later when, at the end of practice, several linemen attempted to catch punts, with their teammates in full voice nearby. Oluwatimi dropped the punt that came his way, and Glaser fielded his cleanly.
"I'll stick to making sure I have good snaps and blocking people," said Oluwatimi, a 6-3, 310-pound redshirt junior from Upper Marlboro, Maryland.
No. 55's rise to prominence is one of the best stories in head coach Bronco Mendenhall's program. Coming out of DeMatha Catholic High School, Oluwatimi passed on an opportunity to join the Cavaliers as a preferred walk-on and instead accepted an appointment to the U.S. Air Force Academy.
After a year at Air Force, where he redshirted in 2017, Oluwatimi transferred to UVA. He arrived as a walk-on, but the coaching staff expected Oluwatimi to eventually be put on scholarship, Mendenhall said this week.
"I would say he's exceeded expectations, though," Mendenhall said. "We thought that would happen, we just didn't expect that to happen that fast and for him to be that consistent this long."
"He's been remarkably consistent, and we're lucky that he's here." -- UVA head coach Bronco Mendenhall on center Olusegun Oluwatimi
Oluwatimi was awarded a scholarship last year, and he started 13 games for the Hoos, who won the ACC's Coastal Division for the first time.
"It's really just been a great thing for Olu," Mendenhall said, "in terms of being able to have a role that was needed and for us just having consistency at a position with very, very few miscues in terms of bad snaps or things you even notice from the center. That's usually when you notice centers, if they're not doing something well, and he's been remarkably consistent, and we're lucky that he's here."
Tujague said: "There's no question that it's been a great fit for both parties."
Under NCAA rules, Oluwatimi had to sit out the 2018 season, but impressed that fall as the center on the scout team, also known as the Mad Hatters.
"Really, after watching him practice and run the Mad Hatters, where he's at right now is what the expectation is," Tujague said. "I think his best football is still in front of him, but I knew, probably after the first couple weeks, this kid's got an opportunity to be special."
Oluwatimi said: "I've been blessed. Leaving Air Force, a lot of people didn't believe, I guess, that I could make something happen at the University of Virginia, and I just believed in myself, and people I love believed in me.
"Then I get here, and it's a great family. I couldn't have made a better decision. And honestly, I don't regret going to Air Force. I learned a lot there. Met some great people, grew as a person, and prepared for my life journey. But coming here, it's just been a blessing from top to bottom."
Which is not to say it's been easy.
"[Offensive coordinator Robert] Anae stays hard on me," said Oluwatimi, an economics major who's on track to earn his bachelor's degree in May. "Coach Tujague, he stays hard on me, and Coach Mendenhall, he stays hard on everybody. But at the same time they love you. Also, I'm playing and succeeding in school. I couldn't ask for anything better, honestly."
Oluwatimi has started every game this season, and "he's done an amazing job as far as making calls on blocking schemes," Tujague said.
"He is 100-percent accurate with his calls. He sees things really well. In the beginning last year early on, I'd say, 'I saw this [from the defense],' and now we're seeing the same things. He's so calm and cool. Sometimes I get [annoyed] that he's not juiced enough, but it works for him, because I have other guys who are loose cannons, if you will, and he kind of reels them in. But he also has the ability to pull the trigger and get them going. He has a really good relationship with the guys."
Virginia (2-4, 2-4) was scheduled to host ACC rival Louisville (2-5, 1-5) tonight, but COVID-19 issues in the Cardinals' program forced the game to be postponed. It's been rescheduled for Saturday, Nov. 14, at 3:30 p.m. at Scott Stadium. ACC Network will air the game.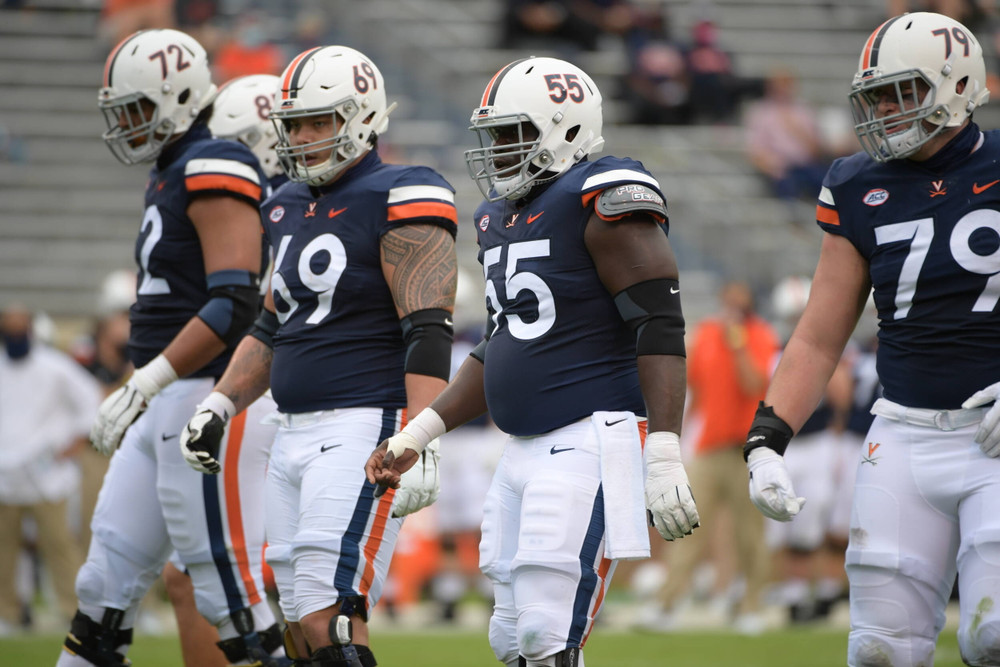 A year ago, in Louisville, the Cavaliers led the Cards 14-7 at halftime but ended up losing 28-21. The Hoos haven't forgotten that defeat, and last weekend Tujague texted his offensive linemen with an assignment.
"He said, 'You guys go watch the Louisville game from last year and just tell me what you thought,' " Oluwatimi recalled. "Then when we met on Monday, he was basically hinting that [the Cards] just were more hungry than us. They definitely wanted to beat us. They had a bad taste in their mouth from the previous year, when they came here and we beat them [at Scott Stadium]. So he was saying that we can't let that happen again.
"We thought we were the better team last year, but obviously they won, so they were the better team. We let an opportunity slip away, and this year we're just trying to go in and play hungry, play together, play complementary football, and then let the chips fall where they may."
The Cavaliers are coming off a 44-41 win over then-No. 15 North Carolina, their fourth straight victory in the series. Highlights for Virginia included a fourth-quarter drive that lasted nine minutes and two seconds and ended with Brian Delaney's 35-yard drive. The Hoos attempted only one pass on the possession, and it was an incompletion.
For an offensive line that struggled early last season, in part because of its collective inexperience, the drive was further evidence of the group's progress.
"In the O-line room, we're prideful guys," said Oluwatimi, who lives with teammates Richard Burney and Rob Snyder. "We want the coaches to ask more and more of us each week, whether that's running the ball, protecting for [quarterback Brennan Armstrong] to take shots down the field, or whatever. We want coaches to ask more and put the pressure on us to help lead the team to victory. So we're definitely happy with how we're playing. We're hungry to get more rushing yards, to get more rushing attempts, to take shots down the field. We're just trying to keep doing well so Coach Anae has the confidence to call those plays."
To receive Jeff White's articles by email, click here and subscribe.