By Jeff White (jwhite@virginia.edu)
VirginiaSports.com
CHARLOTTESVILLE –– Elliott Brown and Charles Snowden arrived at the University of Virginia together in the summer of 2017 and immediately forged a lasting friendship.
They were something of a matched set. Each was from the Washington, D.C., area, and had primarily played wide receiver in high school. They were tall and lean––Snowden at 6-7, 202 pounds, Brown at 6-5, 209—and better known for their prowess in basketball than football at that point. They also played the same position in the Cavaliers' 3-4 defense: outside linebacker.
As true freshmen in 2017, Snowden and Brown appeared in 10 games apiece, and they appeared to be on similar tracks in head coach Bronco Mendenhall's program. In the seasons that followed, however, Snowden's profile rose, and Brown stayed in the background.
In 2018, Snowden and Chris Peace were the Wahoos' starting outside linebackers. In 2019, Snowden, Noah Taylor and Gahm played most of the snaps at that position, and that was the case again this season––until Nov. 21. That's when Snowden suffered a season-ending injury against Abilene Christian at Scott Stadium.
Brown was devastated for his friend, even though he knew Snowden's injury would mean more playing time for him.
"You want those opportunities, but you don't want them to come like that, especially with somebody you came in with and you love that's your brother," said Brown, who lived with Snowden for their first three years at UVA.
With Snowden out and Taylor, a junior, also unavailable for Virginia's next game, Brown made the first start of his college career last Saturday at Scott Stadium. He acquitted himself well in UVA's home finale, a 43-32 victory over ACC foe Boston College. After reviewing videotape of the game, Kelly Poppinga, who coaches the Cavaliers' outside linebackers, credited Brown with two assisted tackles and six quarterback pressures.
Throughout the game, another teammate passed messages back and forth between Brown and Snowden, who followed the action from a spot outside the entrance to the home locker room.
"I was so proud of him," Snowden said. "Elliott is one of the most talented players we have, and to finally see him be able to showcase that was really exciting. Me, Gahm and Noah have been getting the majority of the playing time, but Elliott comes in every day and works and watches the film, which is tough. He knows that odds on he won't play much, but he comes in, never complains, always brings joy. Everyone on the team loves him, and to see that hard work pay off on Senior Day, that was really exciting."
Mendenhall praised Brown's performance, too. "He did a nice job," Mendenhall said. "He was fast, he was athletic, he did affect the quarterback."
Poppinga said Brown, who wears jersey No. 43, made "very, very few assignment mistakes [against BC], if any. There were details things here and there that he could have done a little better, but I thought he set the edge really well."
Brown moves as well as or better than Snowden and Taylor, Poppinga said, and has all the skills needed to excel at his position.
"He doesn't have the experience that they have, obviously," Poppinga said, "but I think what [the BC game] showed me and showed the rest of our team and the coaching staff is he's more than capable and, honestly, probably should have been playing more.
"And that's my fault as a coach. But it's hard when you've got three other really good players. Elliott was kind of like the fourth guy, and it's hard for me as a coach to play four guys, and that's why we were always trying to find him a role in a third-down package or things like that. But I was really pleased with how he played. I thought he played hard, I thought he played with great effort."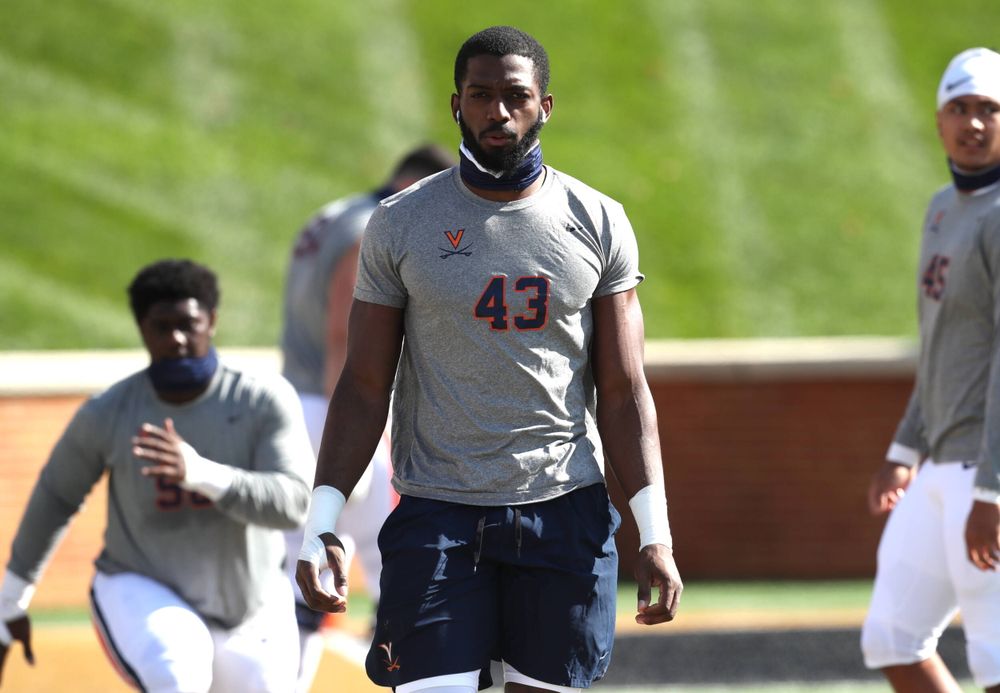 UVA (5-4 overall, 4-4 ACC) closes the regular season at 8 p.m. Saturday against Virginia Tech (4-6, 4-5) in Blacksburg. ACC Network will air the longtime rivals' annual battle for the Commonwealth Cup, which Virginia reclaimed last season with a 39-30 victory at Scott Stadium.
The Cavaliers haven't left Lane Stadium with a victory since Nov. 28, 1998, when Brown was about 10 months old. But they've won four straight this fall since losing 19-14 to the Miami Hurricanes, who are now ranked No. 9 nationally, and the Hokies have dropped four games in a row.
"I think we're just trying to keep momentum rolling," Brown said. "Every week we start off as if it's a race. We have to win Monday, Tuesday, Wednesday, Thursday, Friday leading up to the game. I don't think confidence is an issue this week. I feel like everybody's ready to go, ready to hit."
Taylor is available for this game, but Brown will remain in the rotation at outside linebacker. "He's going to have a big role, and I'm excited to see how he does," Poppinga said.
The experience Brown has gained recently––against Abilene Christian and, especially, Boston College––should help him against the Hokies.
"It's huge," Poppinga said. "Being able to get him in the game against a really good opponent and having him perform the way he performed is, I think, just getting him ready for the situation."
Poppinga went into the Abilene Christian game planning to play Brown extensively. After Snowden got hurt early in the first quarter, Brown's workload grew.
"I think he ended up getting nearly 40 snaps in that game, and he got 60 snaps in the BC game," Poppinga said "You can practice as much as you want, but those reps in the game, there's nothing even close to that. So for him to get those snaps, they're just so invaluable, and it's made him that much better a player and got him that much more prepared for this Saturday night."
Brown has played in every game this season, usually in passing situations. But that's not the same, he knows, as being as every-down player.
"Coming in from the sideline, the speed of the game is here"—Brown raised his hand—"and you're coming from here"—he lowered his hand—"so you've got to rise to it. But kind of being on the same playing level as their offensive line or their tight ends already, I feel like it benefited me [against BC], because I was able to read them more. You actually get more of a feel for the game playing snap after snap after snap after snap."
Even in a supporting role, though, Brown stayed positive, Poppinga said. "He's come to work. He's never complained. He's never been uncoachable or not listened. There's been frustrations, which all players get, but I think he kind of saw the writing on the wall, that there were some good players in this [position] room and he was going to have to really stick out if he wanted to take playing time from them."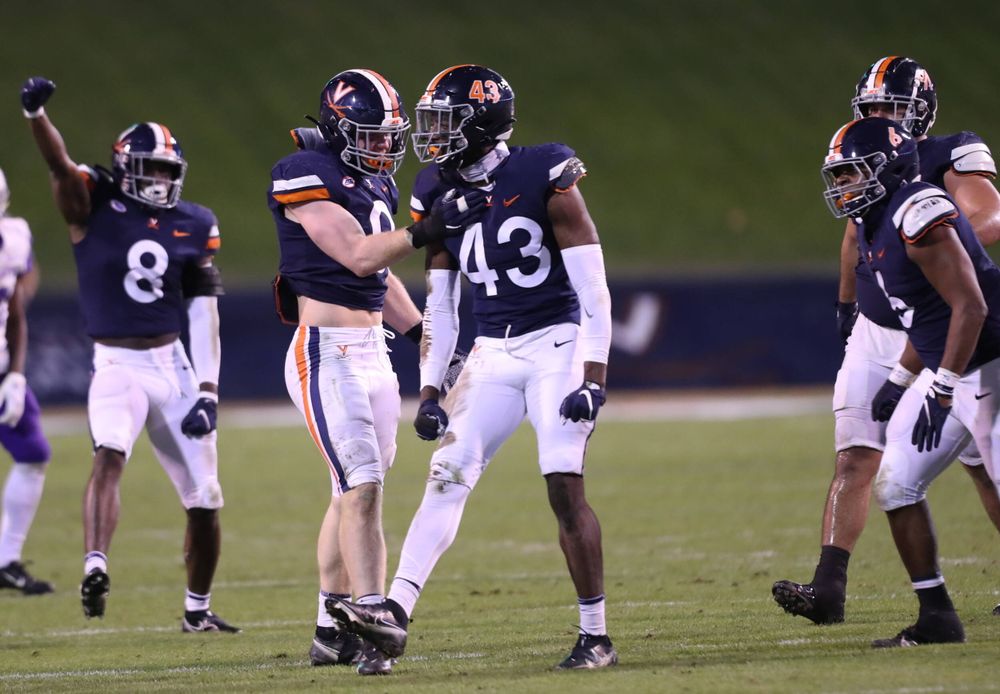 Before spending a postgraduate year at Taft, a boarding school in Connecticut, Brown attended Charles H. Flowers High in Prince George's County, Maryland. (Snowden is from Silver Spring, Maryland, about 15 miles away.)
Hoops was Brown's sport of choice when he was growing up. At one point he played for the same AAU basketball team as De'Vante Cross, now a starting defensive back for Virginia, and Brown faced Snowden on the court once.
"It was an AAU game at Catholic University, and my team beat his, obviously," Snowden said, laughing. "But that was fun. And then to get here and be roommates and close friends, it's been really cool."
Even now, Brown said, he's crazy about basketball. "Football gives you a different feeling, though. I kind of fell in love with the process and the camaraderie of having 10 guys on the field with you going hard at the same time."
He was still a novice when he arrived in Charlottesville. Brown played flag football as a boy. But not until his senior year at Flowers, whose coaches persuaded him to join the football team as a wide receiver, did he wear shoulder pads in a game.
He didn't tackle anybody that season, and "not even at Taft, really," Brown said. "I played wide receiver there."
Late in the 2016 season, the Taft coaching staff started using Brown as a stand-up defensive end in passing situations, but he focused on rushing the quarterback, not stopping ball-carriers.
"The first guy I actually tackled solo was [former UVA star] Olamide Zaccheaus during fall camp my first year," Brown said, laughing.
Coming off his promising freshman season, Brown appeared in all 13 games for the Cavaliers in 2018, usually in a package employed in passing situations. "I had made a little bit of noise my second year, and I'd basically been building my way to get on the field," Brown recalled. But his hopes for a breakout junior season were dashed when he fell ill during the summer of 2019 and lost about 20 pounds.
"A guy like me, I don't have 20 pounds of fat laying around me," Brown said.
By the time he was cleared to practice, Brown had fallen well behind Taylor, Snowden and Gahm in the rotation at outside linebacker. "That kind of set my momentum back, and my mind was kind of messed up," said Brown, who appeared in only seven games last season.
He's been in a much better place physically and mentally this year. After UVA shifted to online classes in mid-March because of the COVID-19 pandemic, Brown returned home to Odenton, Maryland, and worked out on his own there, often using a rusted weight set in the backyard of his uncle's house in Pasadena, Maryland.
When the Cavaliers reconvened in Charlottesville in early July, Brown weighed about 230 pounds, and he's kept most of that weight on. But he still has room to grow.
"I still think that's probably one of the biggest things Elliott can work on if he does decide to stay with us next year, just his strength and his size," Poppinga said. "But the athleticism is exceptional. I think he's getting better at being physical and setting the edge, which I thought he did a great job of that in the Boston College game. I honestly think the sky's the limit for this guy."
With the pandemic ongoing, the NCAA ruled that student-athletes who compete in 2020-21 will not lose that year of eligibility. A foreign affairs major who's on track to graduate this month, Brown says he's interested in playing for the Hoos again next year. Snowden hopes that works out for his friend.
"I think he would be able to come in and be one of the leaders on the defense and be one of the best players, if not the best," Snowden said.
To receive Jeff White's articles by email, click here and subscribe.