By Jeff White (jwhite@virginia.edu)
VirginiaSports.com
CHARLOTTESVILLE –– After the 2019 season ended, the University of Virginia football program became active in the transfer market, adding seven players who'd begun their college careers at other schools.
Three of them––D'Angelo Amos, Adeeb Atariwa and Ronnie Walker Jr.––grew up in this state. Of the high school seniors who signed with the Cavaliers during the 2019-20 academic year, however, none were Virginians.
Head coach Bronco Mendenhall's latest recruiting class has a different makeup. This one has a sizable in-state presence. Of the 24 players who signed with UVA on Wednesday, when the early period opened, nine are from this state. A 10th recruit, offensive lineman Logan Taylor, is from Nova Scotia but attended Episcopal High, a boarding school in Alexandria.
For Mendenhall, this is the most in-state recruits he's signed in a class since coming to Charlottesville in December 2015.
"It's been a point of emphasis since I arrived, even though the numbers haven't always reflected it," Mendenhall told media members on a Zoom call Wednesday afternoon.
"We start every single year, and have since I've been the coach, [by looking] in-state. It has taken time to gain traction. It's taken time to build relationships. It's taken time to build credibility. It's taken time to establish momentum. But each year it becomes better. Each year it becomes more productive, and this year the number alone certainly reflects that. But that's not always the case. Sometimes there are more in-state prospects of quality at the Power 5 level, and sometimes there are less. But what we are finding is that with the consistency of the program, the consistency of the direction … the needle is moving, the tipping point is arriving, and the swing is starting. And this class, I think, is a reflection of that bigger-picture narrative that I just gave."
The class includes two players from the Charlottesville area: Monticello High senior Malachi Fields and Covenant senior Jonas Sanker.
"There's been some instances since I've been the coach where there's been some good players [in the area], but their grades weren't quite what were needed to be at UVA," Mendenhall said.
That wasn't an issue with Sanker, whose father, George, a UVA alumnus, is the headmaster at Covenant, or with Fields. Mendenhall's middle child, Breaker, played football at Western Albemarle High, and so the Cavaliers' coach had some familiarity with Fields, whom Monticello used at a variety of  positions, including quarterback.
"So I was going to watch [Breaker] play, and then I saw this other guy and I was like, 'Whoa! Who is that?' " Mendenhall said. "Then I get a video of him doing like a half-gainer, just standing still and out of nowhere. And so I became intrigued with not only how he played, [but] the number of positions he could play with his sheer athleticism and size. If I'm choosing a sleeper pick from maybe the outside world's evaluation to my evaluation, this is the one."
Fields, who's listed at 6-4, 205 pounds, is projected to play wide receiver for the Cavaliers. The 6-0, 185-pound Sanker, who played running back, quarterback and safety for Covenant, is expected to line up in the secondary at UVA.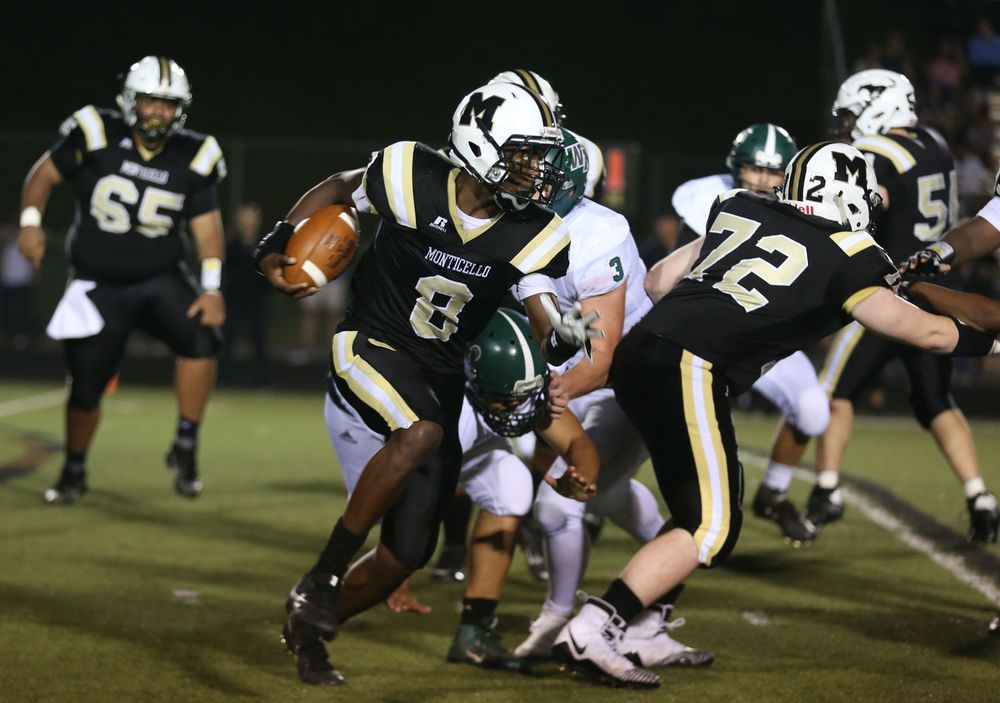 With the COVID-19 pandemic ongoing, neither Fields nor Sanker (or eight other members of the recruiting class) were able play this fall. Of the two, Sanker faces a bigger transition to the college. In 2018 and '19, he led Covenant to state titles in eight-man football.
"That's kind of unprecedented, to think of [going from] eight-man to Power 5," Mendenhall said. Sanker trained with several UVA players in the offseason, however, and they recommended him to Mendenhall and the coaching staff.
"Some of the best endorsements come from word of mouth in this whole recruiting process," Mendenhall said.
Sanker was committed to Boston College at the time, but "it didn't take long [for UVA to offer him a scholarship] after reviewing the film, putting the word-of-mouth references in place, and then knowing that we didn't look deep enough, we didn't look early enough, and we didn't look strong enough," Mendenhall said. "And then we tried to fix it. Luckily, we were able to rebuild the relationship, and I really, really like the potential and the possibilities of both our Charlottesville players."
The pandemic forced the Cavaliers to get creative in recruiting. Coaches weren't allowed to go out on the road to evaluate and talk to players, and UVA's targets couldn't meet with the staff on Grounds. Even so, the Wahoos landed a class that both 247 Sports and Rivals.com ranking among the top 25 nationally.
"I really am thankful for this particular class," Mendenhall said. "It's unprecedented in terms of the pandemic, the restrictions and the unique nature of their recruiting. So much of our communication has been virtual, has been online, has been through Zoom, but the volume of communication has probably exceeded that of any regular year of recruiting. And so there's advantages through that, just in terms of accessibility, that we were able to leverage.
"The class shows growth, it shows progress, it shows momentum, it shows direction, it shows continued improvement … So [it's] a really positive day for the University of Virginia's football program, for these young people, for their families, and for their futures."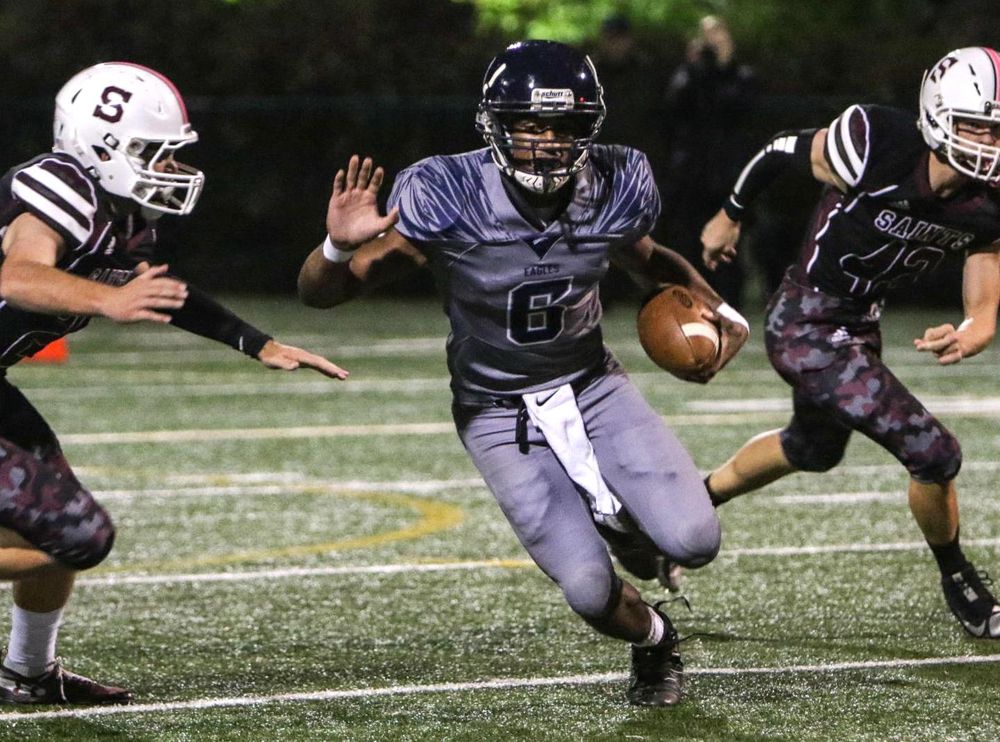 Six of the signees will enroll at UVA next month: Taylor, defensive back Javin Burke, running back Amaad Foston, outside linebacker James Jackson and quarterback Jacob Rodriguez. That'll be by far the most midyear enrollees during Mendenhall's tenure at Virginia.
Rodriguez is one of two quarterbacks in the class, along with Jay Woolfolk, a senior at Benedictine College Prep in the Richmond area. Woolfolk, whose father, Pete, was a basketball standout at the University of Richmond, is a talented pitcher who also plans to play baseball at UVA.
Brennan Armstrong, who started at quarterback for the Cavaliers this season, will be back in 2021, as will at least one of his backups, Ira Armstead, a true freshman this year. Add Rodriguez and Woolfolk to that position group, Mendenhall said, "and that starts to look really, really good. Because now you're having Brennan, who's athletic and tough and physical and [in] control, and you have Ira who's super-fast and athletic and tough and he can throw and is a huge big-play threat. And then you have Jacob and then you have Jay as the up-and-comers. They're both great athletes."
The Cavaliers finished the season with a 5-5 record after losing to Virginia Tech in Blacksburg last weekend. UVA received significant contributions from transfers this fall, among them Atariwa, Tony Poljan, Keytaon Thompson, Ra'Shaun Henry and Shane Simpson, and Mendenhall is looking to go that route again in 2021.
"As a buffer, I like to hold some spots for transfers," Mendenhall said. "We know the transfer portal and the one-time transfer rule is going to happen and be in effect here. We all know that will happen. And so I've left some room––not a lot, but some room––to address what I see within our team through spring and the offseason, to then say, 'OK, we better add this player, that player or this player through the portal, just to give us the experience we need.' And that timing, it could be earlier than normal, but it also could be a little bit later, based on what I think our team needs."
To receive Jeff White's articles by email, click here and subscribe.