By Jeff White (jwhite@virginia.edu)
VirginiaSports.com
CHARLOTTESVILLE –– In September 2012, Rijo Walker got his first taste of the Lone Star State. The occasion was UVA's football game against 17th-ranked TCU, which won 27-7 on a blistering late-summer afternoon in Fort Worth, Texas.
"I remember it was hot as hell," Walker, who played defensive back for the Cavaliers, said recently. "It was 106 degrees when we were getting on the plane after the game, I remember."
Little did he know then that he'd one day call Texas home. Since August 2016, Walker has been the team operations coordinator for the College Football Playoff, which is based in the Dallas suburb of Irving.
Working with colleagues like Bill Hancock, Andrea Williams and Dave Marmion, Walker said, is rewarding, educational and enjoyable.
"We're a small office of 20 people, and the people who have been in the industry have done great things," said Walker, who has two degrees from UVA. "They're all great people, and so I've just been able to learn so much as a young professional that will set me on a great trajectory, I believe, on how to be a professional. So that's been awesome.
"But my favorite thing, working in team operations, is when I get to see those players get off that airplane and get their phones when they arrive [for the CFP national championship game]. We see that jubilation and see the confetti after the game and kind of see how it all comes together. That's my favorite part, that student-athlete experience."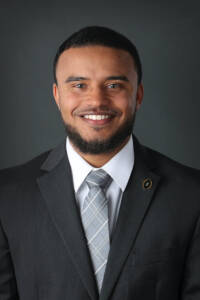 Walker, who turned 29 this month, is not the only transplanted Wahoo in Irving. UVA alumna Allison Doughty is the CFP's director of events and hospitality services. Kiana Hairston, who was a sprinter on Virginia's track & field team, is a former CFP intern, and the organization's class of interns for 2021-22 includes former UVA linebacker Jordan Mack. Moreover, former UVA quarterback Shawn Moore worked at the CFP from 2014 to 15.
"So we've had some Wahoos in and out," Walker said.
A graduate of Bethel High School in Hampton, where his football teammates included future UVA point guard Jontel Evans, Walker arrived on Grounds in the summer of 2010. He finished work on a bachelor's degree in sociology in December 2013, a semester early.
Walker, one of the team's captains in 2013, played cornerback and safety and on special teams during his UVA career. His first season, 2010, was Mike London's first as the Cavaliers' head coach.
The Hoos finished 4-8 that year and then improved to 8-5 in 2011, a season that ended with their appearance in the Chick-fil-A Bowl. Virginia's record dipped to 4-8 in 2012 and to 2-10 in 2013, Walker's final college season.
"It's no secret we didn't win that many games in my four years there," Walker said. "My fourth year we only won two games, but we beat BYU in a torrential downpour [at Scott Stadium].
"We always had good teams. We just didn't always know how to win and come through and pull it out [in key moments]. But that year of the Chick-fil-A Bowl, I saw how far a team can go when you have strong leadership out of the fourth-years and fifth-years and coaches who were hungry, coaches who wanted it. Everything was in accord, and we all believed in one thing."
Even if he didn't win as many games as he would have liked, "I wouldn't choose another school to go to," said Walker, whose family has roots in Central Virginia. "I had opportunities to go to other schools, but I think back on it, and I wouldn't be where I am right now without the University of Virginia."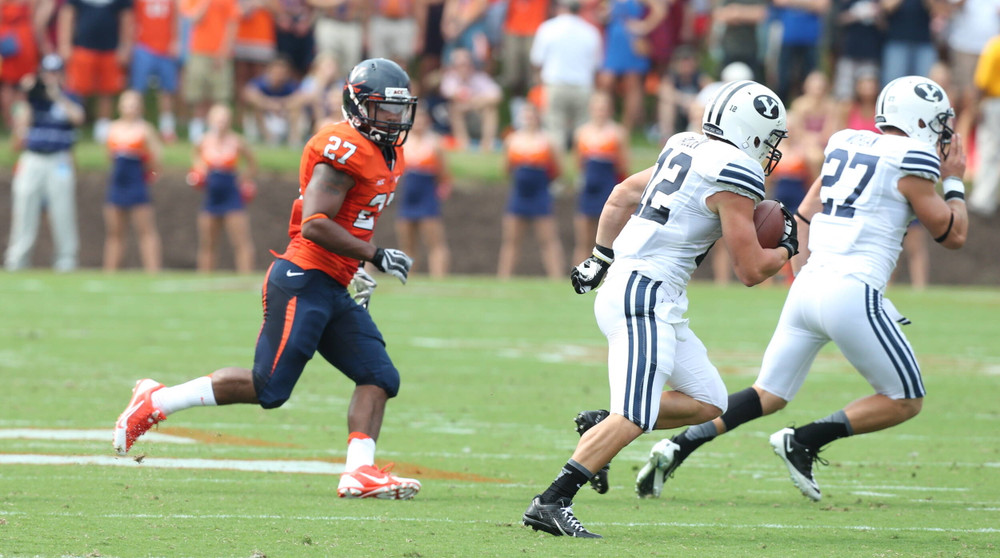 Walker has two younger brothers, one of whom, Ricky, starred in football at Virginia Tech and now plays in the Canadian Football League. That makes for some lively debate when the brothers get together.
"People ask this question a lot, and at the end of the day all I can say is it's a healthy rivalry within the house," said Walker, who was at Scott Stadium in November 2019 when UVA defeated Virginia Tech for the first time in 16 years.
"We both know we were able to play ACC football, get an education, all that kind of good stuff, at two of the premier universities in the state."
The Hoos went 0-4 against the Hokies during his college career, Walker said, so "there wasn't a lot of trash talk" on his part. "[Ricky] would take his jabs sometime, and I'd say, 'Yeah, OK, I hear you. That's fine,' " Walker said. "But I always say UVA has a better campus, it's closer to home, has a better education, and [all] the national championships."
He laughed. "I had talking points I could rest on."
After earning his bachelor's degree, Walker took some graduate courses at UVA in the spring of 2014 in what was then called the Curry School of Education and Human Development. For the 2014 football season, he moved to Virginia State, where he served as a graduate assistant under head coach Latrell Scott.
In December 2014, Scott, a former UVA assistant coach, took the head job at Norfolk State. Walker could have gone with Scott, but Norfolk State didn't offer a graduate program that interested him. So in the spring of 2015 he returned home to Hampton and worked as a substitute teacher while applying to graduate programs.
When the Curry School accepted him, Walker returned to Charlottesville in June 2015 to pursue a master's degree in athletic administration. He rejoined the football program, this time as one of the Cavaliers' off-the-field graduate assistants.
In December 2015, Bronco Mendenhall took over as Virginia's head coach, and Walker's role in the program changed. He became an intern in the Hoos' recruiting operation, under the supervision of director of player personnel Justin Anderson.
Walker worked alongside Kyle King, Blaire Hodges and his former teammate Henry Coley that spring, he said, "and it was awesome."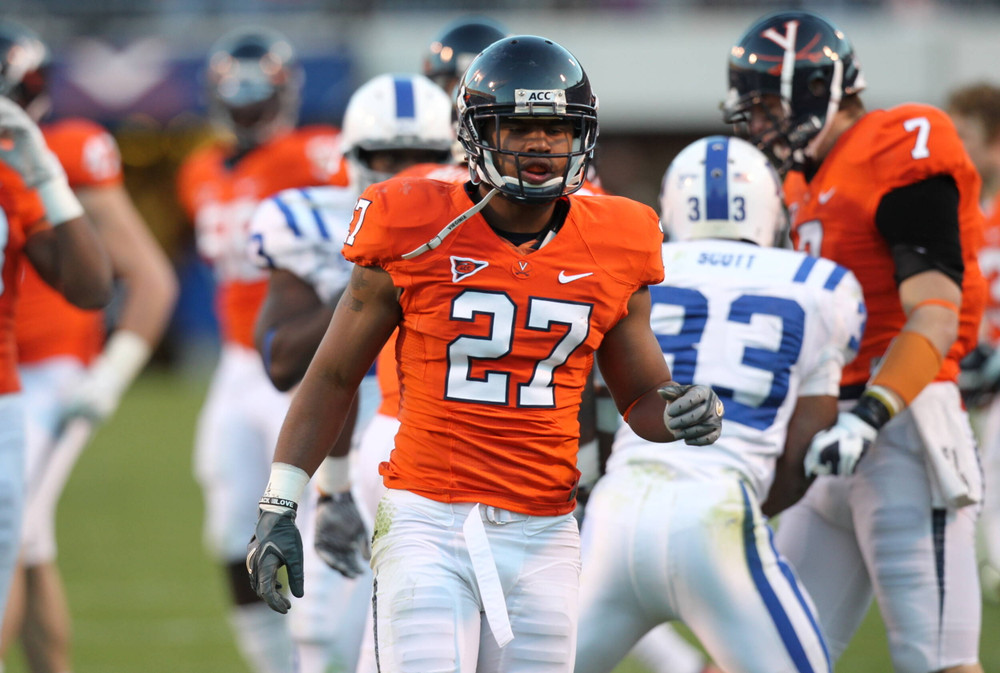 After earning his master's degree in May 2016, Walker started looking for full-time work. He interviewed for two operations: one in operations at William & Mary on then-head coach Jimmye Laycock's staff and the other with the College Football Playoff.
W&M offered Walker the job and, unsure what would happen with the CFP, he accepted. About two weeks after he started in Williamsburg, however, the CFP telephoned with a job offer, and Walker, after what he called a "tough conversation" with Laycock, headed to Texas.
He's happy there. Walker and his girlfriend live in Frisco, about 30 miles north of Dallas, in a house they own. After working remotely during much of the COVID-19 pandemic, CFP staffers recently returned to the office, and "everything is going well," Walker said.
For the first few months after the pandemic hit in 2020, it was unclear if there would be a college football season. But last summer, when Power 5 conferences started committing to playing in the fall, "that's when [the CFP] really started saying, 'OK, let's make this thing happen,' " Walker recalled.
A season unlike any other followed, but the CFP championship game went off as scheduled. In January, Alabama hammered Ohio State 52-24 before about 14,500 fans at Hard Rock Stadium in Miami Gardens, Fla.
"Not being able to do our full thing in Miami and have all the fans there and all the events in such a great city and great region of the country, it was unfortunate," Walker said. "But the host committee down there was incredible, and despite everything we were able to pull it off. All things considered, Miami was the perfect place to have a game during a pandemic, honestly, with the outdoor venue and warm weather."
For CFP staffers, the focus throughout the year is on preparing for the national championship game. (The next one will be held in Indianapolis on Jan. 10, 2022.)
"Each of the semifinals and the other bowls have their own staffs that plan the logistics [of those games] and carry them out," Walker said. "But we just do that national championship game, and for team operations we plan all year as if we're a [director of football operations] at a school. We're setting up the hotel blocks, the practice sites, all that kind of good stuff.
"As you can imagine, if you're playing in the Rose Bowl in California on New Year's Day and then you have to fly to, let's say, Miami or Tampa Bay a week later, you don't have time to plan that trip. So we do it for the teams, and once they win [their semifinals], we hand them over the playbook of everything, and they just step in and do it the way they want it done."
Walker works with the administrators from one of the teams in the championship game, and his supervisor, Danielle Bartelstein, works with the other team.
Away from the office, Walker remains close with many of his former UVA teammates, including Coley, Khalek Shepherd, Kevin Parks and Darius Jennings. He also stays in contact with London, who's now the head coach at W&M, which, coincidentally, opens the season Sept. 4 against Virginia at Scott Stadium.
"We keep in touch for big things," Walker said. "If something happens at William & Mary, I'll shoot him a text saying congrats, that kind of thing, or he'll reach out to me for a birthday or vice versa."
He still has connections at UVA, too, including Anderson, director of player development Pat Hickman and wide receivers coach Marques Hagans, who like Walker is from Hampton.
Hagans, who was on London's staff when Walker played at Virginia, and his wife, Lauren, have two children, Christopher and Jackson. "Seeing what he and Lauren do with their boys is just incredible," Walker said. "That's something I would love to do as a father and with my children one day."
There's no question which college team is Walker's favorite. The two UVA helmets prominently displayed in his office make that clear. When it comes to the NFL, Walker pulls for the Steelers.
Never mind that he lives in an area where he's surrounded by hundreds of thousands of Cowboys fans. Walker hasn't been converted and doesn't expect to be.
"I was born in Pittsburgh," he said, smiling, "so I'm a Pittsburgh guy."
To receive Jeff White's articles by email, click here and subscribe.