By Jeff White (jwhite@virginia.edu)
VirginiaSports.com
CHARLOTTESVILLE –– At the end of every practice, University of Virginia football players gather in front of head coach Bronco Mendenhall, who selects one of them, usually somebody who distinguished himself on the field that day, to break down the team. The players huddle, shout "Coastal champs!" in unison, and then head off to meet with their position coaches.
The honor of breaking down the team on Saturday went to linebacker Elliott Brown. Two days later, after the Cavaliers' third practice of fall camp, Mendenhall chose Brown again.
"When Coach sees somebody flashing and working hard and doing his assignments and being more physical, he acknowledges him," linebackers coach Kelly Poppinga said. "I think stuff like that is going to give Elliott more and more confidence."
With the COVID-19 pandemic ongoing, the NCAA ruled that student-athletes who competed in 2020-21 would be given another year of eligibility. Brown, who graduated in December 2020, midway through his fourth year at UVA, said it "was a pretty easy decision for me, just knowing that if I put my head down and worked, I could make anything happen that I wanted to."
Brown's commitment has been apparent since the end of last season.
"I think he sees really this is his last opportunity to make a mark on the program and set himself up for the future, and I think he's really taken advantage of it," Poppinga said. "It really started in the offseason. From his offseason in the weight room, to conditioning, you could see he's taken that really seriously, and he's bigger and stronger than he's ever been. He's one of the strongest guys on our team now."
Brown, who stands 6-foot-5, played more basketball than football growing up in the D.C. area, and he weighed only 209 pounds when he arrived at UVA in the summer of 2017. He weighed 237 on Monday and hopes to get up 245 by the start of the season.
"He's done a really nice job," said Shawn Griswold, the Cavaliers' director of football development and performance. "He benched 410 the other day, which is a lot for a dude that's as long as he is."
In the Wahoos' strength and conditioning program, Brown has reached the second-highest level, blue, and he's not far from black, a group that consists of cornerback Nick Grant and defensive lineman Mandy Alonso this summer.
"He's up there," Griswold said. It hasn't always been easy for Brown to retain weight and keep this strength up, but this has been a breakthrough year for him.
"It was just maturing physically and mentally," Brown said. "Around my third year I got sick and lost around 20 pounds, and I don't have a lot of fat on me. That was a lot of muscle, so I had to get that back, and then just learning how to eat right was a big thing for me."
Virginia has two returning starters at linebacker: Nick Jackson and Noah Taylor. Since camp opened last week, Brown also has been working extensively with the first-team defense.
"He's been great up to this point," Poppinga said. "He knows all the linebacker positions, and I'm excited to see the versatility he can bring. He's bigger, stronger, faster than he's ever been. Now we've just got to get it translated on the field."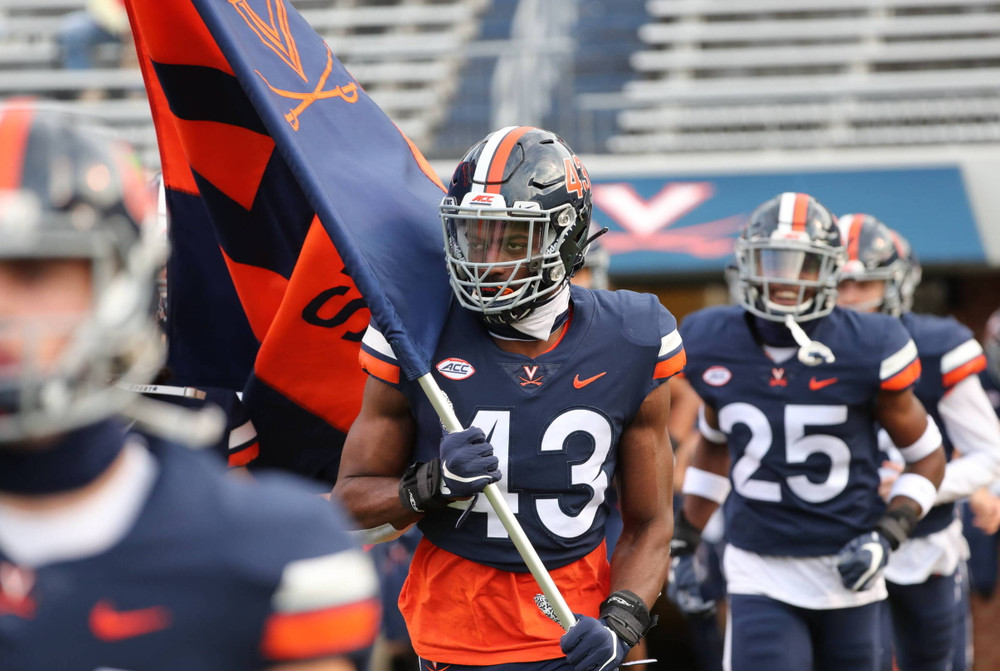 As a true freshman, Brown played in 10 games, and he appeared in all 13 in 2018. But 2019 was something of a lost season for him, in part because of the summer illness that knocked him back. He appeared in only seven games as a junior and fell behind Taylor, Charles Snowden and Matt Gahm in the rotation at outside linebacker.
Brown bounced back in 2020 and was thrust into a prominent role when Snowden suffered a season-ending injury late in the year. In Virginia's home finale, a 43-32 win over Boston College, Brown made the first start of his college career, and Poppinga credited him with two assisted tackles and six quarterback pressures.
With Gahm and Snowden leaving, Brown knew he'd have an opportunity for significant playing time this year, and he increased his work rate during offseason workouts and spring practice.
"I think it was different for me," Brown said. "It felt different, and I had to be different."
Players who earn starting jobs in Mendenhall's program stand out with their passion and commitment, "and I had to match that speed," Brown said, "just get my mind right and really invest more than I did running with the [second- and third-team defenses]."
Brown played flag football as a boy, but he didn't join the team at Charles H. Flowers High in Springdale, Md., until his senior year. He played wide receiver at Flowers and also at Taft, the boarding school in Connecticut where Brown spent a postgraduate year in 2016-17.
Late in his one season at Taft, Brown's coaches experimented with him at stand-up defensive end in passing situations, and that attracted the notice of UVA's staff, which slotted him at outside linebacker the next summer. Brown had much to learn about the position and the sport, though, and that slowed his progress.
His arrival at Virginia coincided with that of Snowden, and they became close friends immediately. Like Brown, the 6-foot-7 Snowden was also a football novice, but it didn't take long for him to carve out a major role for himself in the Cavaliers' defense.
Brown, for various reasons, lagged behind, but that's not an unusual dynamic in college football.
"Some of it is what the big man upstairs gave you," Griswold said. "Some of it's opportunity. Some of it's your desire, your commitment, and a lot of it is consistency. How hard do you train? You don't get strong by not lifting. You have to do that. You don't get better at change of direction unless you do it. That's why we have practice, too. You don't get better at football unless you practice football."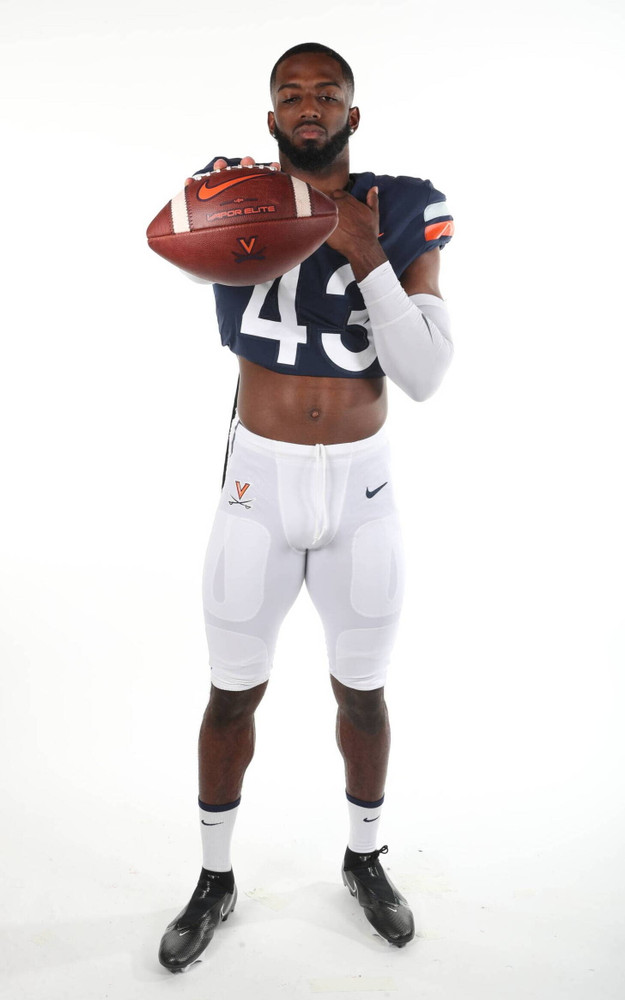 Brown, whose bachelor's degree is in foreign affairs, is in a master's program in the School of Education and Human Development. He's part of a sizable group of players who were listed as seniors in 2020 but chose to return to UVA for one final season. Among the Cavaliers' other "super seniors" are Alonso, Grant, safeties De'Vante Cross and Joey Blount, offensive lineman Chris Glaser and wide receiver Ra'Shaun Henry.
"I think we've all got big aspirations," Brown said. "So we kind of came to the same conclusion, that we need to be here, we need to win, and we need to do things here in order to get to the next level."
To a man, Griswold said, "they've done a really good job. There hasn't been that I'm-just-going-to-hang-around-the-program thing."
In its 2019 regular-season finale, UVA defeated Virginia Tech at Scott Stadium to secure the Commonwealth Cup for the first time in 16 years. The victory also clinched the program's first Coastal Division title and sent them to the ACC championship game.
In 2020, when the ACC put divisional play on hold during the pandemic, the Hoos finished 5-5 after losing to the Hokies in Blacksburg. UVA's veterans, Griswold said, are on "a mission to defend the Coastal from 2019 and take back the Cup, and then the individual goals come with all the team goals."
The Cavaliers carried a four-game winning streak into their 2020 finale, only to lose 33-15 at Lane Stadium.
"It was a big downer," Brown said. "I just think we're all focused on getting back to that point so we can set things straight and get the Cup back."
Brown said he talks daily with Snowden, who's in camp with the NFL's Chicago Bears.
"That's my boy," Brown said. "He's real encouraging. He's always been one of my biggest fans, even when we were in competition. My family and his family are close, so even now and then I'll send him clips of film and he'll comment. I just try to stay connected with him."
Snowden became known as a playmaker during his four years as a Cavalier. Brown would like to leave a similar legacy.
Brown's strength as a linebacker, Poppinga said, is "his versatility, just being able to use his athleticism and his speed, but now being able to use his power, too. So basically being able to line up as an outside backer but also line up as an inside backer, and just that versatility of going from [position to position]. Not many guys on our team can do that."
To receive Jeff White's articles by email, click here and subscribe.