By Jeff White (jwhite@virginia.edu)
VirginiaSports.com
CHARLOTTESVILLE –– After earning a bachelor's degree in economics at James Madison University, Adeeb Atariwa continued to push himself academically. That's the way he was raised, and football was only one of the reasons he chose to attend graduate school at the University of Virginia.
UVA head coach Bronco Mendenhall smiled when asked about Atariwa's passion for learning.
"It's my ideal," Mendenhall said.
Among Mendenhall's core beliefs is a conviction that players can and should distinguish themselves in football and other pursuits simultaneously. He calls the concept AND, and Atariwa embodies it. Not only is he one of the Cavaliers' starting defensive linemen, he's on track to earn a master's degree in systems engineering in December.
"It's been a great fit for everybody," Mendenhall said. "Adeeb has just been a delight to work with."
Atariwa's mother, Christine, is a diagnostic medical sonographer, and his brother, Yazeed, has an MBA from the University of Toledo, where he played football.
"I have a little bit different interests than them," Atariwa said, "but I really wanted to challenge myself, and I knew that engineering would be a challenge. I also really just believe in myself. I thought I could do it, and I'm almost done, so it's going well."
A graduate of Dominion High School in Sterling, Atariwa spent four years at JMU, where he redshirted in 2016, which was Mendenhall's first season at Virginia. When Atariwa transferred to UVA, he expected to spend only one semester on Grounds, so he did not immediately begin pursuing a master's in systems engineering. Atariwa's options expanded, however, when the NCAA ruled that student-athletes who competed in 2020-21 would be granted another year of eligibility.
"When he got that year back and he knew that he had a couple more semesters, he started looking around and saying, 'What's possible?' " said academic advisor Jazyln Eddings, who has worked closely with Atariwa.
"And so Adeeb actually found this program and just came to me with all the resources. He was like, 'This is what I want to do, this is how I apply, here's the person in contact that would be my advisor, how can we figure this out?' So he was definitely very independent and a self-starter in that. He applied to the program, and we worked with the program advisor a lot, just to make sure there weren't conflicts with football or if Adeeb needed to take more classes in the spring while they were out of season to schedule this fall appropriately."
Robert Riggs, an assistant professor in UVA's School of Engineering and Applied Science, advises Atariwa, the only football player currently working on a graduate degree in engineering.
"So far it's been great," said Riggs, who taught Atariwa in an online course this summer. "I don't know how he balances it, to be honest with you, because even in the offseason, it's not really an offseason for athletes."
Atariwa said: "It's not easy at all. Last semester, when I was really, I guess I would say, in the middle of my course requirements, I basically just got up, went to practice, and from then on, until I went to sleep, was studying. But it's something that I got used to. I had to sacrifice weekends and things like that, but I think it's definitely worth it."
The website for UVA's Engineering Systems and Environment department describes systems engineering as a field that "exposes students to a wide range of topics within the field, including the economic, environmental, managerial, technical and political aspects of large-scale systems design and implementation."
Riggs said systems engineering "in general is very interdisciplinary. We have lots of different sub-fields. I think the one common theme is you focus on design and integration of some sort of complex systems. Since Adeeb's background was more in an econ sort of area, we have a large focus on finance in general. But our students in systems really go into a lot of different areas. I think the big calling card in systems engineering is we're not really limited by the application or the area. We have students that go across the board into technology, manufacturing, finance, econ."
A strong background in math is required, Riggs said, as well as a command of "at least some of the basics of programming. Also, in general, I think systems engineers are usually pretty good at working with people. A lot of times we have the technical side and the management side, and the systems engineer understands both, and so they kind of serve in the middle to make sure everything is transcribing correctly between the two different end points."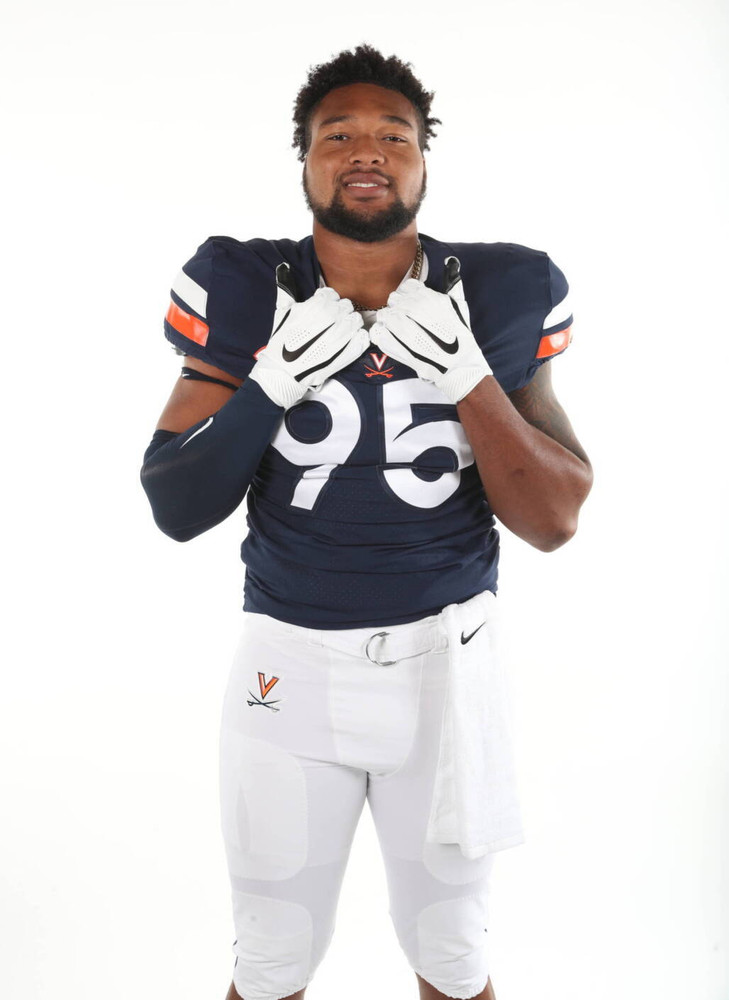 His creative mind sparked his interest in this discipline, said Atariwa, whose concentration at JMU was quantitative economics.
"I like to learn how things operate, and in systems engineering you really go kind of deep into that," he said. "I also really like programming, and there's been a big emphasis on that as well in the program. I picked up some skills when I was at James Madison for programming, and it's helped me here, and I've expanded them a lot since being in the program."
He's had Mendenhall's full support. When they talked in the spring about the challenges of balancing football and engineering, Atariwa said, Mendenhall encouraged him to persevere.
"It's more than just football [with Mendenhall]," Atariwa said.
Atariwa, who also excelled in wrestling at Dominion High, winning a state championship, has been a welcome addition to the Cavaliers' defensive line.
At JMU, one of the nation's top FCS programs, he started eight games as a in 2018 and 15 as a redshirt junior in 2019. The Dukes employed a four-man defensive line, and the Wahoos prefer a three-man front.
Even so, Atariwa's transition to FBS went smoothly last year, when started six of the Hoos' 10 games.
"There really weren't that many growing pains, because of his willingness," Mendenhall said. "He was so hungry and eager to contribute, and prepared. He'd been prepared at a really high level by his staff at JMU, but his mindset is what allowed him to come in and contribute the way he has, and he'll just be better with more experience."
Virginia opens the season Sept. 4 against William & Mary at Scott Stadium. Asked after a recent practice about Atariwa, defensive line coach Clint Sintim said, "I am so pleased with where he's at now as opposed to where he was last year. Last year he came from a smaller program, and he had to learn a huge playbook [and compete against] bigger bodies.
"He's changed his body. He has a foundation of a playbook, and he's playing about as well as anybody on the D-line right now. So I expect him to have a good year. I'm really proud of that kid."
Atariwa is the first engineering student he's coached, Sintim said, but "Adeeb is so unique in his interests and his approach to everything, it makes sense. It kind of fits his personality. I think what makes Adeeb so successful, not just in football but where he's at in his life, is he works at everything. If he's not good at something, he'll study it and he'll work at it, and I'm sure, without knowing the details of it, he does the same in engineering."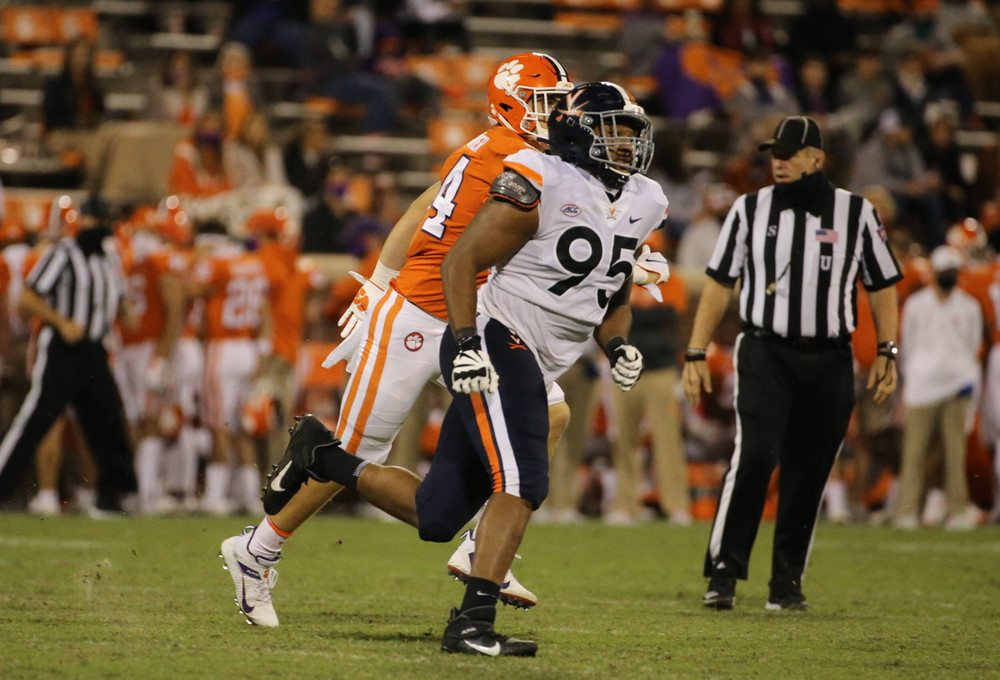 The pandemic colored almost every part of Atariwa's experience at UVA in 2020-21. All of his classes were online, and the Cavaliers played most of their games in near-empty stadiums.
"I'll be honest, it was kind of weird," Atariwa said, "and it's not UVA's fault. It was because of the situation that we're in, being in a pandemic. So I was taking online classes, and I kind of liked that, because there was less time wasted physically traveling to class. It wasn't as fun not being able to go out with teammates when COVID was really rampant back then, but we've grown a lot closer. I feel like I know the team and feel like they're my family now. We've definitely grown close throughout the year, especially in the summer."
In UVA's strength and conditioning program, which director of football development and performance Shawn Griswold oversees, the 6-foot-3 Atariwa has reached the third-highest level, orange. After playing at close to 280 pounds last season, he's slimmed down to around 273. He lost fat, Atariwa said, and added muscle.
"Since being here I've used my time in the weight room with Coach Griz and all the other strength coaches, as well as my position coach, to become a better athlete," Atariwa said. "My numbers have gone up as far as my lifting, and I've leaned out, with better body composition. I'm just a better athlete. I feel better. I'm playing better."
Atariwa, who was born in the Bronx, N.Y., lived there for about eight years before moving with his family to Northern Virginia. At Dominion High, he played with Tommy Christ, now a two-way lineman at UVA. The Cavaliers didn't recruit Atariwa when he was in high school, but he's delighted to have eventually ended up in Charlottesville.
"It's been an amazing experience," said Atariwa, who recently adopted a rescue dog, a pit bull named Dory. "I've definitely enjoyed it. I've made some great friends, some lifelong friends, some great teammates, met some great coaches. I have great coaches currently, so it all worked out perfectly in my opinion. It's kind of weird to think about it that way with the pandemic, but it really did work out for the best for me."
"Less drama, more work" is one of Mendenhall's phrases, and "that is so Adeeb," Eddings said. "Transitioning to UVA can be hard. Even if you've completed another degree a different institution, it's still challenging to make that transition, and Adeeb really hit the ground running. We kind of knew from the first few weeks that he wasn't going to have any issues here and he was going to thrive, because he puts forth 400-percent effort in all ways."
His head coach couldn't ask for much more from Atariwa.
"That guy, he's amazing," Mendenhall said.
To receive Jeff White's articles by email, click here and subscribe.