By Jeff White (jwhite@virginia.edu)
VirginiaSports.com
CHARLOTTESVILLE –– He wore blue and orange as a Florida Gator, and he'll wear blue and orange as a Virginia Cavalier.
"A little bit darker blue," Jacob Finn noted when asked about his new football uniform.
UVA opens the season Saturday night at Scott Stadium. The Wahoos would love not to have to punt against William & Mary, but if the need arises, the 6-foot-4, 205-pound Finn will be summoned.
He brought impressive credentials to head coach Bronco Mendenhall's program at Virginia. In 2020, Finn averaged 46.3 yards per punt for a Florida team that finished 8-4.
"He's a great addition to our team and our specialists," Virginia special teams coordinator Ricky Brumfield said.
"It worked out really well for us," said Drew Meyer, UVA's special teams analyst, a non-coaching position. "He's a very smart, very intelligent young man. He's done a really good job of coming in and picking everything up and learning the culture and just plugging in right away."
In his five years at Florida, where he redshirted during the 2016 season, Finn earned bachelor's and master's degrees in finance. When the NCAA announced last year that student-athletes who competed in 2020-21, amid the COVID-19 pandemic, would receive another year of eligibility, that "started to open my eyes a little bit," Finn recalled this week. "I'm a pretty opportunistic person by nature, and Virginia seemed to be a great spot. They had a punting need for this year."
Nash Griffin, who punted for the Cavaliers in 2019 and 2020, moved on after last season, as did his backup, Brian Delaney. Virginia went through spring practice with only one punter, Brendan Farrell.
"Brendan has done a tremendous job, and he worked his tail off this offseason," Meyer said. "But Jacob had entered the [transfer] portal, and anytime a guy that averages over 46 yards enters the portal, your ears kind of perk up, especially when your first- and second-string guys have graduated."
Finn said the situation at UVA was ideal for a transfer.
"You don't want to be competing against an incumbent," he said, "especially at a school like this. Everything here is earned, and you don't want to be competing against a guy who maybe is a two- or three-year starter. I completely trust my own abilities, but you don't want to be working an uphill battle. I trust myself in a level playing field any day of the week, no doubt."
UVA, Finn said, has "always been on my radar academically. It's a very tough school to get into, and I think Florida academically is trying to emulate what we have here. There's a lot of parallels between the two schools, definitely."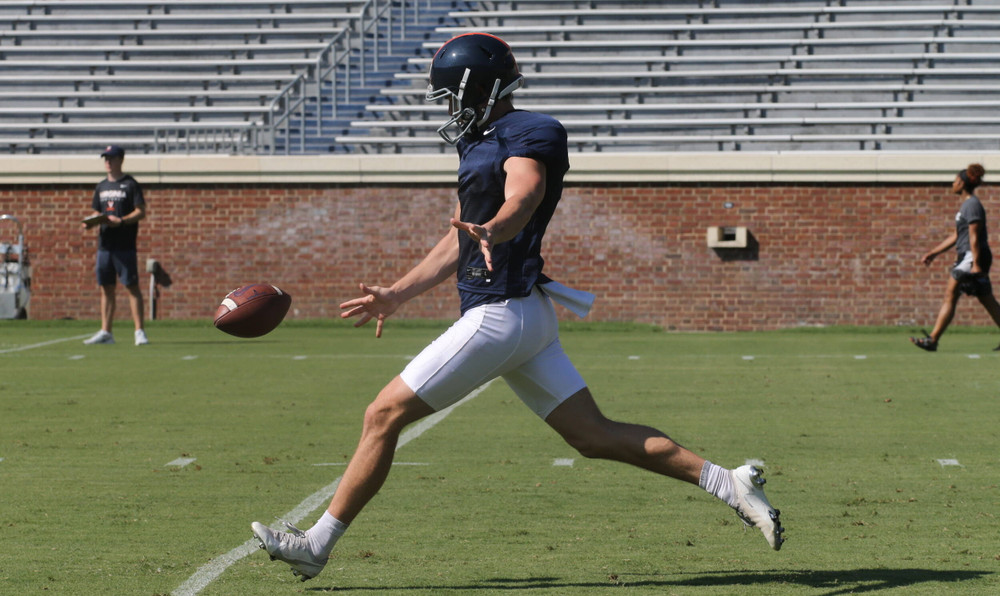 Before he entered the transfer portal early this year, Finn said, he identified schools that interested him. In his final five games for the Gators in 2020­––against Kentucky, Tennessee, LSU, Alabama and, in the Cotton Bowl, Oklahoma––he'd averaged 48.2 yards per punt, and another strong season would further boost his NFL stock.
"I knew I still I had more gas in the tank," Finn said, "and I didn't want to end this journey early."
He laughed. "Six years is definitely not early, but I think there's more left in the tank, and this seemed to be the perfect spot."
Virginia didn't have any scholarships left, so Finn is paying his own way this semester. He announced in May that he was transferring to UVA, but didn't arrive on Grounds until early July. He was working in Florida, "just trying to scrape together some cash," Finn said.
One of his jobs involved painting houses. "It was hot," Finn said, "but it was solid extra cash for my last semester in college."
Few starters on Power 5 football teams are walk-ons, but that didn't faze Finn, who's pursuing a master's in educational psychology in the School of Education and Human Development.
"I think this opportunity, it's definitely a one-plus-one-equals-three situation," he said. "Virginia has got a great academic reputation, and it's obviously a budding, up-and-coming football program. It also kinds of leads me to another level of academics, and it'll hopefully allow me to network and work my way to New York City post-football, whether that's after an NFL stint or after college."
When training camp opened last month, the competition between Finn and Farrell began in earnest. Farrell continues to improve, Meyer said, but Finn ended up winning the starting job.
"He's everything that we were hoping for, and he's even exceeded expectations a little bit, too," said Meyer, who was an All-Big Ten punter at Wisconsin.
In recent years, Lester Coleman and Griffin occasionally boomed punts with hang times of five seconds or longer. "Jacob has one almost every day," Meyer said, "and as I'm watching the film back and churning up the numbers, I'm shaking my head sometimes when he's hitting some of these balls that we [rarely have] seen here in the last few years."
Meyer said UVA and Florida differ slightly in their philosophies regarding punts, "but for the most part it's kind of a plug-and-play position, as long as you can catch the ball from the snapper and get it off quickly, which Jacob does a really good job of. "
Finn described his battle with Farrell as "cordial" and said he appreciated the lack of animosity. "There's competition at every position in the specialists: long-snapper, punter and kicker," Finn said. "There was competition across the board, and I think the team really embraced me, and I'm thankful for that.
"I came in and tried to be humble. Obviously, there's some camaraderie already, because we played each other in the Orange Bowl, so there's always jokes about that. But if you come in and you do your job, anybody will be thankful that you're part of the team."
In 2019, after defeating Virginia Tech to clinch the Coastal Division title, UVA lost to Clemson in the ACC championship game. The Hoos closed the season against the Gators at the Orange Bowl in Miami Gardens, Fla.
Finn didn't kick in that game, which Florida won 36-28, and it never occurred to him then that he might be a Wahoo one day. But he came away dazzled by UVA's quarterback.
"We couldn't stop him to save our lives," Finn said of Bryce Perkins, who completed 28 of 40 passes for 323 yards and four touchdowns in his final game as a Cavalier.
Finn was born and raised in Jacksonville, Fla., where he started at quarterback, kicker and punter at the Paxon School for Advanced Studies, a magnet school. (UVA safety Anthony Clary attended another Jacksonville high school, Sandalwood.)
"He's just a pleasure to be around every day," Meyer said of Finn, "and he's done a really job of coming in and getting to work, and the guys realize that and they've recognized that."
Non-specialists will come up to him at practice, Meyer said, and rave about No. 16. "They say, 'Hey, man, Finn's really booming that ball.' At the start they didn't even know his name, but they'd say, 'This guy is really hitting some good punts.' When you work with special teams, it's always fun to hear that there's a new guy coming in and that they're getting some recognition, because that doesn't typically happen."
After five years as a Gator, Finn is about to make his debut as a Cavalier. He's excited, but he's keeping the occasion in perspective.
"I think it's just important to get relative with it," Finn said. "On one hand, yeah, I'm kicking for a different school, but at the same time kicking the ball high and far and with great direction, it translates pretty well. That's the great thing about punting. You can punt on any continent, and it's pretty much the same. It's like track. A 10-second 100 is a 10-second 100 in any country."
To receive Jeff White's articles by email, click here and subscribe.