By Jeff White (jwhite@virginia.edu)
VirginiaSports.com
CHARLOTTESVILLE –– The long bus ride back to the McCue Center from Chapel Hill, N.C., gave University of Virginia head coach Bronco Mendenhall ample time to review videotape of his team's 59-39 loss to Coastal Division rival North Carolina.
The No. 21 Tar Heels piled up 699 yards Saturday night at Kenan Stadium. It was a rough night for a defense that had allowed only 14 points in the Cavaliers' first two games, one-sided victories over William & Mary and Illinois at Scott Stadium, and Mendenhall didn't mince words afterward.
"I didn't see really anything [defensively] that was positive today," he said, "from run fits to execution to tackling to mindset."
Monday afternoon, on his weekly Zoom, Mendenhall offered a more detailed analysis of the defense's play against UNC.
"I think the effort was most likely at the highest level of any of the three games we've played, for the longest [time], so effort overall was a step forward," Mendenhall said. "The competitive spirit, I think, was [good]. Execution was very inconsistent and poor at best, and lack of assignments, and just basically being where we needed to be frequently or infrequently, led to just lots and lots and lots of yards, plays, points, etc. We can certainly do a better job preparing our players to give them their best chance as well."
The Wahoos don't have time to waste feeling sorry for themselves. Their next challenge comes Friday against another formidable ACC opponent. At 7 p.m., in a game ESPN2 will televise, UVA (2-1, 0-1) meets Wake Forest (3-0, 1-0) at Scott Stadium.
Middle linebacker Nick Jackson said after the UNC loss that he was happy about the short week. "I'm glad we get to go out faster and come back," he said.
So is his head coach. "This might be counterintuitive," Mendenhall said Monday, "[but] I see it as an advantage: urgency, urgency, urgency. When you have a week like that and you have weaknesses exposed or you don't play to your potential or you're disappointed after some hard setback, man, I like kind of being under the gun to go, and so sincerely I believe that could be helpful."
Offensive tackle Ryan Nelson said he and his teammates "are all ready to come back and get ready to go again. I think we all looked at each other in the locker room like, 'This can't happen again. We were a better team than this.' I'm excited to see how these guys respond."
Wake is coming off a 35-14 rout of Florida State. Mendenhall is 0-2 against the Demon Deacons as UVA's head coach, and they have his full respect.
Mendenhall said his Wake counterpart, Dave Clawson, is "one of the best coaches in college football. They have a really complementary style, meaning the defense fits with the special teams, which fits with the offense, and so it's a style really no one else in college football is running, at least at the Power Five level, so it's difficult to prepare for."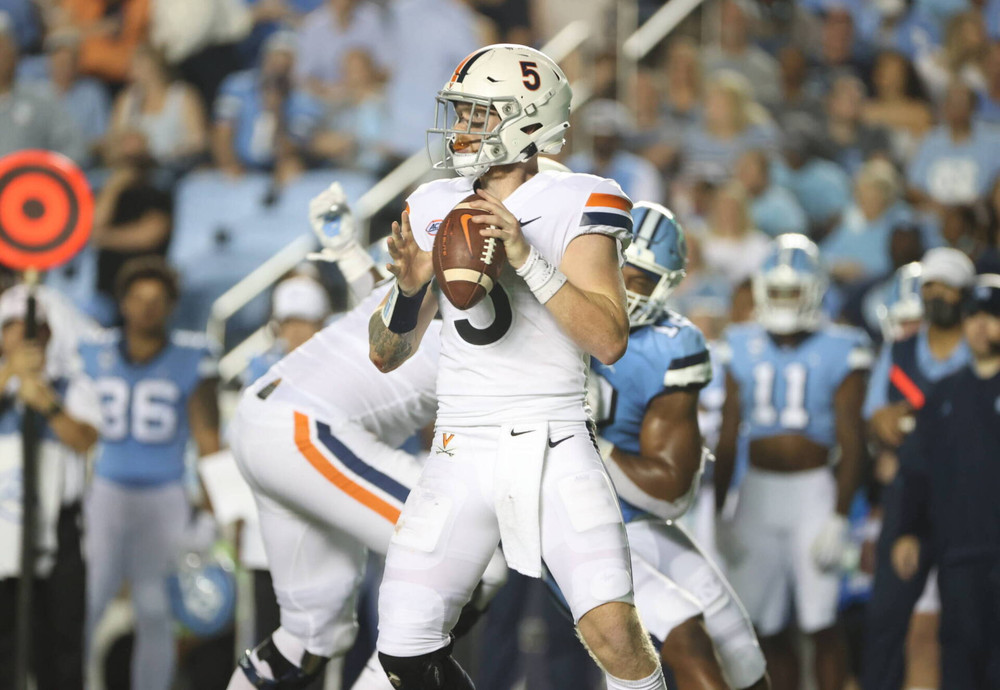 The Cavaliers lead the series 34-16, but they've lost four straight to the Deacons.  When these teams met last season in Winston-Salem, N.C., Wake pulled away for a 40-23 victory. Brennan Armstrong missed that game with a concussion, however, and the Hoos are a different team with him at quarterback.
Through three games this season, the 6-foot-2 left-hander has completed 87 of 121 passes (71.9 percent) for 1,298 yards and 11 touchdowns, with two interceptions. Against UNC, Armstrong passed for a program-record 554 yards (and four TDs).
"He's playing exceptional football," Mendenhall said. "I wouldn't trade him for any quarterback in our league. He's really, really skilled. His accuracy, his poise, his decision-making and production, he's doing a really, really nice job. There's really not an area he hasn't improved [in]."
Armstrong operates behind a veteran line that includes Nelson, a fifth-year senior from California. Like Mendenhall, Nelson marveled at Armstrong's production this season.
"He's putting up Madden numbers right now," Nelson said Monday. "It's ridiculous. The kid's confident. He's taking a leadership role incredibly well and he's doing everything he can to pull the team together. When we were down early on [against UNC], he went by and dapped up everyone and told the offensive line, 'Let's go, let's get ready,' and we rallied to it. He' a great kid, great player, great leader, great person."
Nelson redshirted in 2017, when the Hoos' starting quarterback was Kurt Benkert. Armstrong and Bryce Perkins joined the program in January 2018. Armstrong backed up Perkins for two seasons and then moved into a leading role last year.
"I've watched Brennan grow up," Nelson said, "and because I've been here the entire time with him, I guess for me it's not really surprising, because I've watched him do it in practice, I've watched him shred the defense, I watched him do this or do that, I've watched him play well in games.
"For me, it's to be expected by this kid by now. He's a stud, and people need to see it."
After falling behind 24-7 in Chapel Hill, Virginia stormed back behind Armstrong and took a 28-24 lead into halftime. It proved short-lived, largely because of breakdowns by Cavalier defenders in the second half.
"We were resilient and fought back after kind of an overwhelming start and resettled at halftime and really believed we'd come out and battle right until the very end," Mendenhall said. "We just did not execute well enough, especially defensively, and then we turned the ball over, and those kind of things in that type of game allowed them to pull away."
The Tar Heels are considerably more talented on offense than either W&M or Illinois, "and I think they were more physical and prepared to be more physical consistently than we had expected," Mendenhall said. "So I give them credit. They out-played us offensively, they out-prepared us, and they out-executed us really from beginning to end."
For his defensive players, Mendenhall said, "focus really wasn't an issue. If anything [they were guilty of] just playing outside of their technique and outside of their scheme and outside of their assignments … Because they were motivated at a really high level, they were going outside of what was really necessary and expected, and a lot of times that was the cause of the problem."
For part of his tenure as head coach at BYU, from which he came to UVA after the 2015 season, Mendenhall also served as his team's defensive coordinator. Without that added responsibility at Virginia, he said, his "biggest task is to prioritize and truly identify, take all the emotion out of it and step back and objectively say what actually happened, where, what common themes … Then I just target one thing at a time, and I put them in sequence, because there's not enough time to do it all."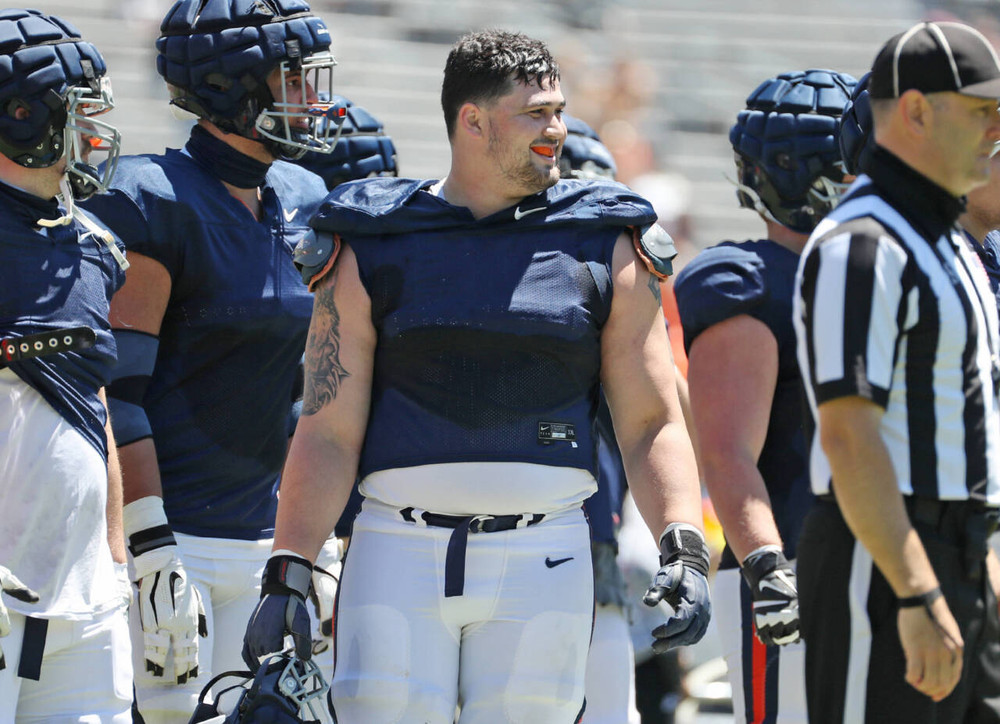 UVA played without two defensive starters in Chapel Hill––end Adeeb Atariwa and safety Nick Grant––and both might be available against Wake. Another starting safety, Joey Blount, hurt his collarbone Saturday night, but Mendenhall said he'll "back at full speed" for the Wake game. There was also good news about wide receiver Dontayvion Wicks, who posted career highs in catches (seven) and receiving yards (183) against UNC.
"He's great," Mendenhall said when asked about the health of Wicks, who was banged up Saturday night.
The status of running back Wayne Taulapapa, though, remains unclear, Mendenhall said. Taulapapa, who scored UVA's first touchdown against Carolina, later left the game with a concussion and didn't return.
Cornerback Josh Hayes, a graduate transfer from FCS power North Dakota State, is expected to make his UVA debut Friday night. Hayes, who missed the Cavaliers' first two games, returned to practice last week and was awarded a jersey number (11) on Thursday.
Hayes was injured for most of training camp last month, which made it hard for UVA's defensive coaches to evaluate him. But he'd impressed them with his play at NDSU, and "we are planning on him playing [against Wake]," Mendenhall said. "How much and where, this week will tell a lot because we've only had one week of practice with him coming back from injury."
The Cavaliers' offense wasn't perfect against UNC, but there was much more good than bad from that group. Virginia totaled 27 first downs and 574 yards at Kenan Stadium. Even so, Nelson said, when reviewing its performance the offense "looked at the things we missed. We had two times in the red zone where we didn't score, we had dumb penalties, we had turnovers.
"We did well, we scored points, but we want to do more. If we do everything we can, and we put up all the points we can and hit all our pillars, it's a different game."
Nelson, who lives with linebacker Hunter Stewart and safety Chayce Chalmers, said UVA's offense and defense are "always gonna be there for each other. We're gonna pick each other up. They pick us up when we're down, and we pick them up when they're down. It's the way life works."
That the Hoos' offense sparkled Saturday night was encouraging, Nelson said, but "a loss is still a loss to me … We're a team. If one of us succeeds, we all succeed. If one of us fails, we all fail. And that's the way life works. You don't just leave behind one group or another."
To receive Jeff White's articles by email, click here and subscribe.