By Jeff White (jwhite@virginia.edu)
VirginiaSports.com
CHARLOTTESVILLE –– The game was already scheduled when Bronco Mendenhall left Brigham Young University, where he'd been head football coach for 11 seasons, to take the same position at the University of Virginia in December 2015.
Mendenhall made clear from the start that he had no desire to coach the Cavaliers in LaVell Edwards Stadium in Provo, Utah, but the Cougars didn't want to give up a compelling home game. And so the schedule remained unchanged, and Virginia (6-2) will take on No. 25 BYU (6-2) late Saturday night in Provo.
He's no longer as uncomfortable with this match-up, Mendenhall said Monday. That's largely because he doesn't have connections with many of BYU's current players, "and that makes it easier," he said. "Not easy, but easier."
Also, Mendenhall has been gone from BYU for nearly six years, and that "adds perspective," he said. "It also sometimes has your heart grow fonder, but also at times it allows separation. Sometimes it just takes time."
Mendenhall opened his virtual press conference Monday with a statement, which is unusual for him during the season. He knew he'd be fielding questions about his ties to BYU and chose to be proactive.
"It's an amazing experience to now be able to return," Mendenhall said, "but it's been six years, and I'm the coach of the University of Virginia and so thankful to be here and to continue to learn and grow and progress. I'll always be thankful for the opportunities I was given, for the institution––I'm talking about BYU––and for the unique set of values that align with my faith and the development of young people."
That chapter of his life, however, closed after the 2015 season, and new one opened.
"My wife and I, my kids, we love Charlottesville," Mendenhall said. "We love this institution. We love everything about this journey we're on and all the hard work that it's taken to restore and build and return a program to what it once was and hopefully continue to add value in that way."
His latest team was 2-2 after losing Sept. 24 to Wake Forest at Scott Stadium. Since then, however, UVA has won four straight games. The Wahoos improved to 4-2 in ACC play––they trail only Pitt (6-1, 3-0) in the Coastal Division––with a 48-40 win over Georgia Tech on Saturday night at Scott Stadium.
"Really proud of my team and how hard they battled and fought and scratched and clawed in another Coastal Division game," Mendenhall said.
Virginia has won 21 of its past 24 games at Scott Stadium. The Hoos have been less successful on road, but they won at Miami on Sept. 30 and at Louisville on Oct. 9. For his program to continue to grow, Mendenhall said, it's important "to be able travel and play well, regardless of where you go."
Mendenhall, of course, isn't the only person at the McCue with ties to BYU. Seven of his UVA assistants were on his staff in Provo as well: Robert Anae, Mark Atuaia, Garett Tujague, Jason Beck, Kelly Poppinga, Shane Hunter and Nick Howell.
Virginia's director of player development, Patrick Hickman, and director of player personnel, Justin Anderson, also worked for Mendenhall at BYU, and director of analytics Matt Edwards was one of Mendenhall's graduate assistants there. Like several of UVA's assistant coaches, Edwards also played at BYU, and he's a grandson of the late LaVell Edwards.
In Provo, they'll all see longtime friends and colleagues. Ultimately, though, this game "is just about two teams trying to play well and to have great seasons," Mendenhall said. To focus on the other storylines, he said, "takes away from the [football] part, and that really is paramount."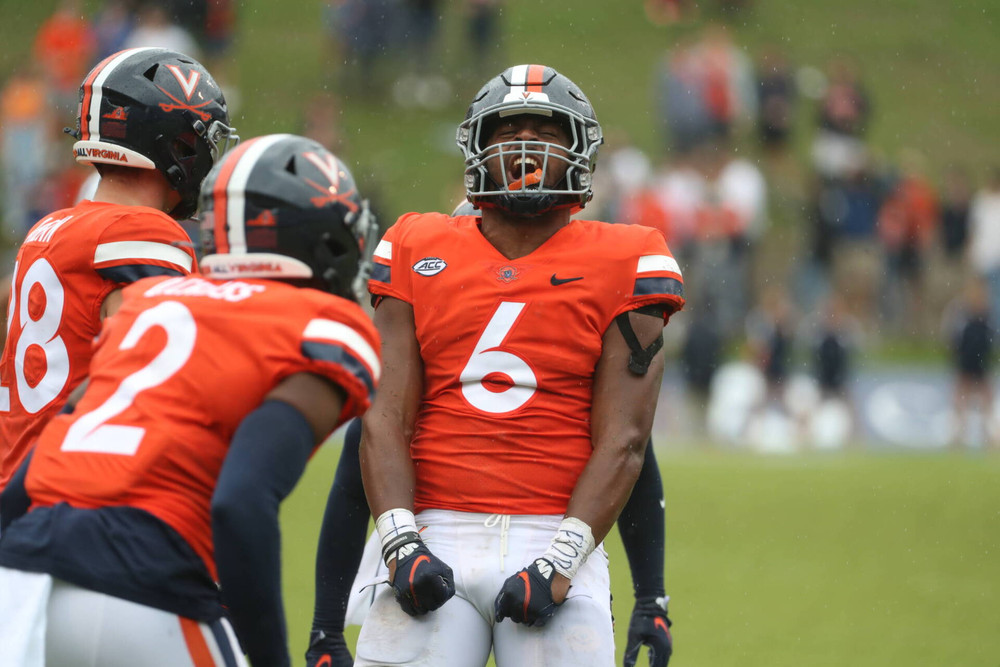 The Hoos practice in the morning, and Mendenhall said he tries to be in by bed by 9:30 p.m. during the week. Inside linebacker Nick Jackson shoots for 10 p.m. The game in Provo is scheduled to start at 10:15 p.m. Eastern, "so I'm going to have to work my sleep schedule a little bit this week," Mendenhall said, smiling.
Still, he's not planning to significantly alter his team's routine ahead of its road trip. "The more you make of it, the more it is something," Mendenhall said.
Jackson, for one, is looking forward to a long Saturday. "I'm going to sleep a whole lot, and watch a bunch of college football, then watch some film and prepare for the game," he said.
"I kind of like it. We get to watch a lot of college football when we have a night game. So I get to watch all the 12 o'clock games and see those guys play, and then we get to play. You get to play the game you love, so I'm excited for it."
It's likely to be around 1:30 a.m. Eastern by the time the game ends Sunday, but that doesn't concern Jackson. "I think everybody can stay up a little bit later," he said. "We got that in us."
Virginia is coming off a game whose ending was more dramatic than necessary. With 3:50 to play, quarterback Brennan Armstrong's fourth touchdown pass (and Brendan Farrell's PAT) pushed UVA's lead to 48-27. But the Yellow Jackets answered with a touchdown and then recovered back-to-back onside kicks in the final 80 seconds.
"I'm responsible for all of that," Mendenhall said, "everything that happens on the field, and Georgia Tech did a really nice job of executing. The way they aligned, our alignment didn't match. We got out-leveraged. We have assignments that are really clear, and a little bit of miscommunication happened by the same two players back-to-back, and that's all coaching, which is me."
The Cavaliers haven't spent a lot of practice time on fielding onside kicks, Mendenhall said, "and that showed. So I need to put more emphasis on it. When I do, our players will respond. That's on me, it's not on them, and it's correctable, so we'll get the personnel in the right place. We'll get our leverage and alignment right. We'll get our communication right."
Virginia's offense has had no such issues of late. The Cavaliers put up 48 points in a shutout win over Duke on Sept. 16. A week later, they matched that total and gained 636 yards against Georgia Tech.
For the season, Armstrong has thrown for 3,220 yards and 23 touchdowns. He's completed 64.2 percent of his passes. Five of his targets have at least 25 receptions apiece: wide receivers Billy Kemp (56), Dontayvion Wicks (38) and Ra'Shaun Henry (25), football player Keytaon Thompson (42) and tight end Jelani Woods (26).
"They got playmakers everywhere," Jackson said of the Cavaliers' offense. "They're just always making plays, every single day, and as a defender, you just want to play hard for those guys, because you know they're gonna put up 40, 50 points a game."
Wicks has been named ACC Receiver of the Week in each of the past two weeks. Against the Yellow Jackets, he caught six passes for 168 yards and two touchdowns. Thompson rushed seven times for 65 yards and caught nine passes for 89 yards.
"He's a magician," Jackson said of Thompson, who's been playing with a cast on his broken left hand.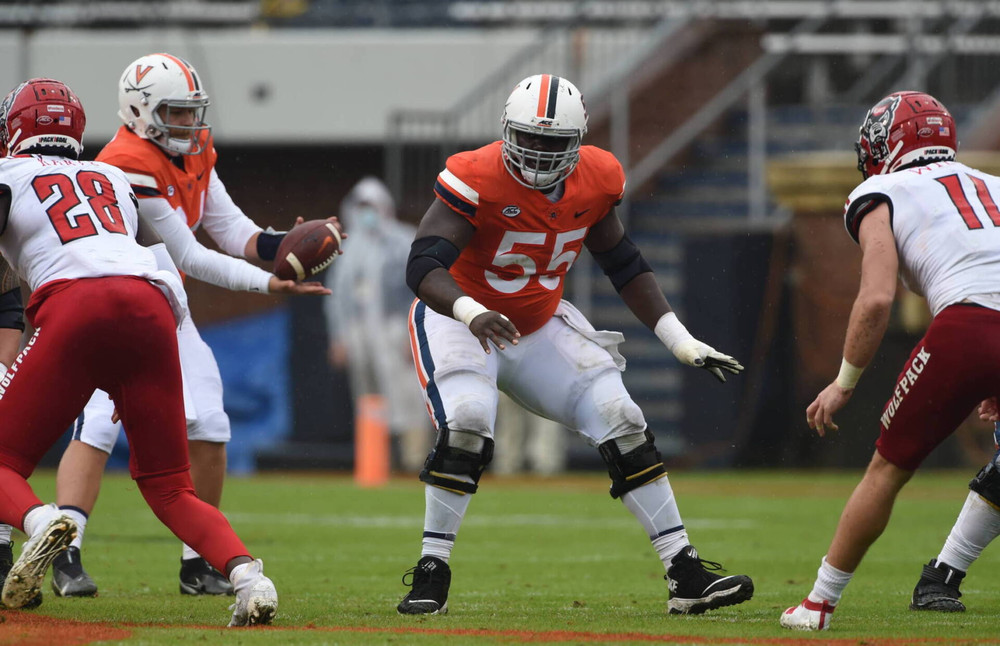 At the heart of the offense is a veteran line that includes Olusegun Oluwatimi. A three-year starter at center, Oluwatini is not surprised by the Cavaliers' explosiveness with the ball.
"I expected this productivity," Oluwatimi said Monday.
The Cavaliers' defense, which switched to a 3-3-5 scheme this year, hasn't been as productive or as consistent. Still, Jackson said, "I definitely think we're gaining momentum each week … and we're playing harder, faster, and actually more assignment-sound."
In the latest Associated Press poll, UVA did not crack the top 25 but was among the other teams receiving votes. Asked if he thought the Cavaliers were being overlooked nationally, Jackson shook his head.
"We're not really worried about the media," he said, "we're not really worried about the national attention, we're going to worry about us, and if we keep winning, then that's going to speak for itself."
The next opportunity for Virginia to do so comes Saturday night in a college town some 2,100 miles from Charlottesville. The Cavaliers are 1-1 all-time in Provo. They beat BYU in 1990 and lost to Mendenhall's Cougars in 2014.
"BYU is a very good team, and we have a lot of respect for them, they have really good players, but at the same time, it's about us," Jackson said. "It's about us going there and trying to get the win."
For many of the Cavaliers' coaches, especially Mendenhall, this game will have special meaning. That's not lost on Mendenhall's players.
"He built a legacy there," Jackson said. "He built a great program there. We're thankful that we got him. I'm thankful that he's our coach, and I'm thankful that he's coaching us now, and he's not on the other side, because I wouldn't want to play for anyone else. But at the same time, we want to go out there and we want to compete and we want to play hard, just like it was any other away game."
To receive Jeff White's articles by email, click here and subscribe.