By Jeff White (jwhite@virginia.edu)
VirginiaSports.com
CHARLOTTESVILLE –– As a boy growing up in the small town of Shelby, Ohio, Brennan Armstrong held one college football rivalry above all the rest, and it wasn't the annual game between Virginia and Virginia Tech. His horizons have expanded since he enrolled at UVA in January 2018.
"Ohio State-Michigan used to be my rivalry," Armstrong said Monday. "Now, this is mine. This is who I am. When I'm gone, this is a rivalry I'll be always watching now, not just Ohio State-Michigan like when I was growing up. So, yeah, it's grown on me. I know how big of a deal it is, and I take it as a big deal now. So I'm really excited for this week."
He's experienced highs and lows in the annual clash for the Commonwealth Cup. In 2018, when Armstrong was a true freshman backing up Bryce Perkins, the Cavaliers gave up a late lead and lost 34-31 in overtime to the Hokies in Blacksburg.
A year later, at Scott Stadium, UVA prevailed 39-30 to break a 15-game losing streak in the series. In 2020, Armstrong's first season as a starter, the Wahoos took a four-game winning streak into Lane Stadium. They left with a 33-15 defeat.
Joey Blount, a safety who's in his fifth year at Virginia, has experienced a wide range of emotions in this rivalry, too. How the game goes Saturday is "just really going to depend on how we attack this week," Blount said Monday. "I played in the game when we were prepared and we won the game, and I've also been on the team where we haven't been the best prepared and lost the game. So [it's about] really figuring out what we need to do and holding everyone to the highest expectation."
After last year's loss to the Hokies, Armstrong said, came "a gruesome offseason … We knew we had to do more. We knew we had to get better. It's just a feeling around the whole place, the facilities, the players, the coaches, when you win that game."
The next opportunity for the Hoos to recapture that feeling comes Saturday at Scott Stadium, where they've won 21 of their past 25 games. In the regular-season finale for both teams, UVA (6-5 overall, 4-3 ACC) meets Coastal Division rival Virginia Tech (5-6, 3-4) at 3:45 p.m. The game will air on ACC Network.
For the Hokies, this will be their second game under interim head coach J.C. Price, a former assistant who took over when Justin Fuente was dismissed last Tuesday. Tech needs a win Saturday to become bowl-eligible.
Virginia is in its sixth season under Bronco Mendenhall. In 2017, the Cavaliers advanced to a bowl, the Military, for the first time in six years. Appearances in the Belk Bowl and the Orange Bowl followed in 2018 and '19, respectively. The Hoos could have made a fourth straight bowl appearance in 2020, but after the game in Blacksburg they opted to end a season played under strict COVID-19 protocols.
This year, the Cavaliers became bowl-eligible on Oct. 23, when they defeated Georgia Tech at Scott Stadium, and their season won't end Saturday. Still, Armstrong and Blount said, there's a significant difference between finishing 8-5 and finishing 6-7 or 7-6.
Armstrong noted that "8-5 sounds a lot better than the other two … Two wins, you feel a lot better. You kind of forget about all the other losses."
For the Cavaliers, Blount said, the outcome of Saturday's game figures to "decide the way the season's going to go. So, we're 6-5 right now. We could lose the last two and end in a decline. We could win one, lose one and be mediocre. Win out? 8-5."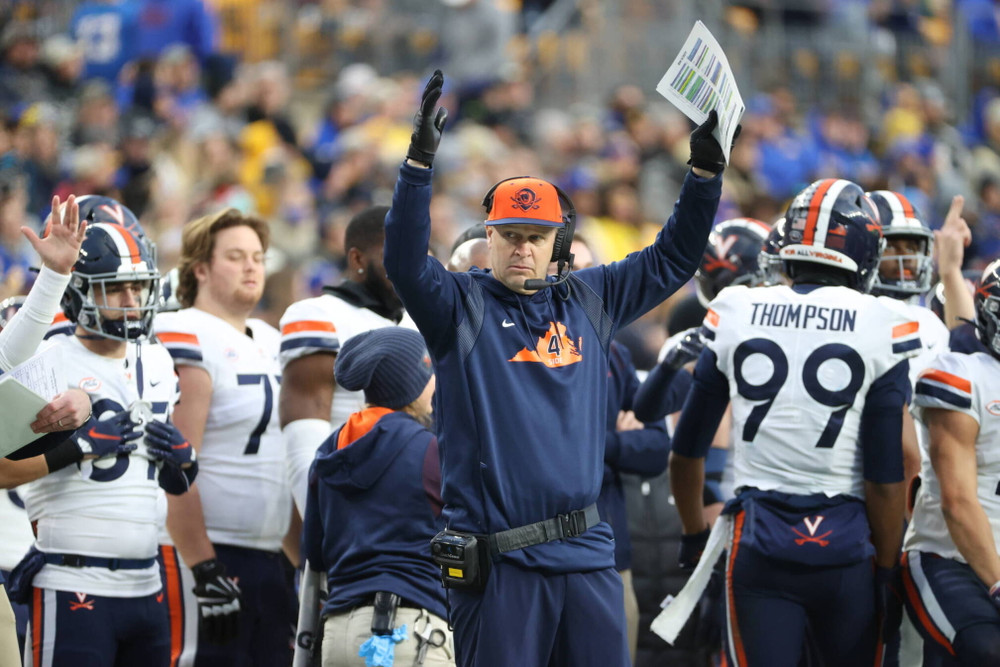 The Hoos are coming off a brutal stretch in which they faced (and lost to) three straight ranked opponents: BYU on Oct. 30, Notre Dame on Nov. 13 and Pittsburgh on Saturday. Two of those games were on the road. In the latest Associated Press rankings, Notre Dame is No. 5, BYU is No. 13, and Pitt is No. 20, and their combined record is 28-5.
Armstrong, who ranks No. 2 nationally in passing yards per game (404.4), suffered a rib injury in the second half of the BYU game and didn't play against Notre Dame. He returned against Pitt and passed for 487 yards and three touchdowns in UVA's 48-38 defeat.
He "woke up sore everywhere" Sunday, and for good reason, Armstrong said with a smile. Until Saturday at Heinz Field, he hadn't been hit in three weeks. But he felt good Monday, Armstrong said, and "I'm excited to get back to work this week."
Had the Hoos defeated Pitt, they'd still be in the hunt for the Coastal Division title. Virginia won the Coastal for the first time in 2019, and making it back to the ACC championship this season was one of the program's primary goals.
"I really, really, really, really, really wanted that Coastal championship," Blount said, but he knows that "as a grown man you've got to move on from things like that and move forward to the next opportunity."
Blount is one of UVA's "super seniors," the players who took advantage of the extra year of eligibility the NCAA granted student-athletes who competed during the pandemic in 2020-21.
"I'll be forever indebted [to them]," Mendenhall said, "and I'm just so thankful and grateful that they've trusted me and our program and they've enjoyed it enough to want to come back, to give their hearts to this institution and our team and to each other, and I feel really fortunate and thankful to each of them."
Many of the players who'll be honored during the pregame Senior Day ceremony Saturday could return in 2022. Other Cavaliers, though, including Blount, defensive lineman Mandy Alonso, offensive lineman Chris Glaser, wide receiver Ra'Shaun Henry, linebacker Elliott Brown and defensive back Nick Grant, will be out of eligibility after this season.
Armstrong said he's "just ready to go out there and play my best, so I can send them out on a high note, and just send our team off into the bowl game and next year on a high note. This game means a lot for the offseason."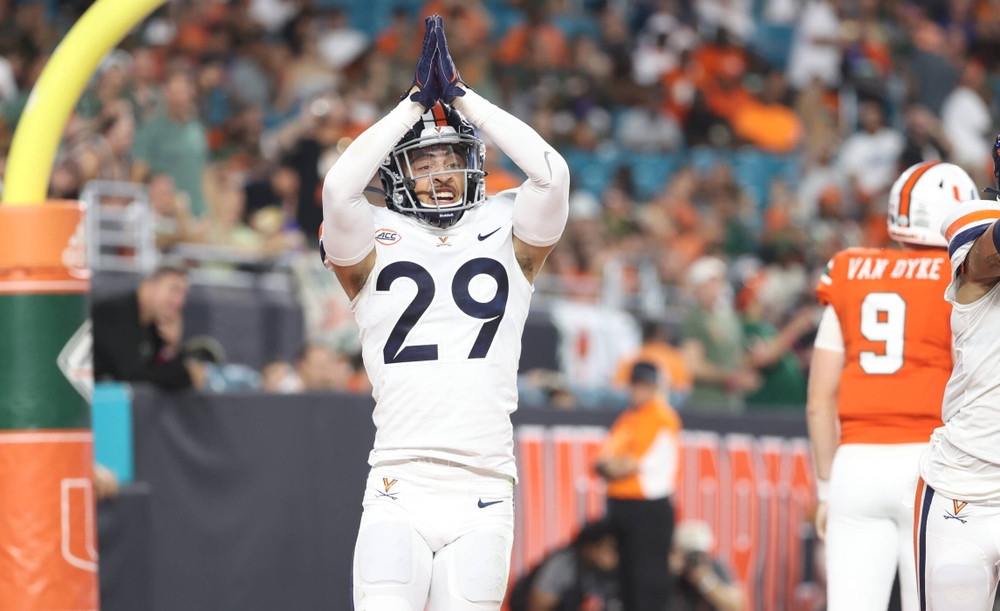 As a first-year starter in 2020, Armstrong put up solid numbers in his nine appearances, completing 157 of 268 passes (58.6 percent) for 2,117 yards and 18 touchdowns, with 11 interceptions.
Against the Hokies, though, he completed only 25 of 46 attempts for 259 yards and two TDs, and he was intercepted twice. That performance, however disappointing it might have been for him at the time, helped him learn "what it takes to win games, I think," Armstrong said Monday.
"They dropped eight [players into coverage] a lot during that game, and we've seen a lot of that in the season now. We've seen a lot of defenses. So learning how to play with drop-eight is a big thing that I thought I took away from that game. I'm ready for whatever they throw at us and pretty much think the offense is ready for it. I'm pretty excited to play these guys. Last year was kind of bad for us against them, so I want to go out with a convincing win against them this year."
Armstrong has thrown 30 touchdown passes this fall, a single-season record at UVA. He's completed 65.3 percent of his passes.
"There's just so much I've gotten better at and been improving on," Armstrong said. "Most of the stuff the defense has thrown at me I feel like I've seen and dealt with pretty easily. The confidence from last year to this year is increased, decision-making, plays being made, big plays being made. It's all been an increase, and it's been a fun offense to play in."
Most of the Cavaliers' starters played key roles for them in 2020, too, but this is "a different team," Armstrong said. "There's a lot of different things that are going on now. It sucks to have that loss [to Tech last year] and the way it was, but I don't look back on it. I'm ready for this year. I'm ready to go into Scott and try to win."
Like Armstrong, Blount is from out of state. He grew up in the Atlanta area, though he had some appreciation for the UVA-Tech rivalry. His father, Tony, was an All-ACC defensive back for the Hoos and was 2-1-1 against the Hokies.
Still, the younger Blount said, as his career has progressed the rivalry "has just become more and more important to me. Coming in as a first-year, I don't really know much about it since I'm from Georgia, really don't understand the rivalry. But being a part of the program now for five years and seeing the growth of where we started off and what we've done so far in this five-year matchup that I've been a part of, it's just really become part of my journey here at UVA. And I want to make sure that I leave a good legacy behind."
Blount, who'll have a large cheering section at the game Saturday, said he's been reviewing how UVA prepared for the Hokies in 2019. He wants the Hoos to be "doing whatever we can do as a team to make sure we're prepared in the same fashion we were for 2019. So I'm going to make sure we leave it all out on the field. And we have this term about wringing the towel out. It's really hard to get all the water out, but you can get damn near close, and trying to do that is what I want to do in this last week."
To receive Jeff White's articles by email, click here and subscribe.