By Jeff White (jwhite@virginia.edu)
VirginiaSports.com
CHARLOTTESVILLE –– Even with a challenging final stretch still to come, the University of Virginia football team appeared well-positioned, after beating Georgia Tech at Scott Stadium, to make this a special season.
The victory over the Yellow Jackets moved UVA to 6-2 overall and 4-2 in the Coastal Division, with games remaining against BYU, Notre Dame, Pittsburgh and Virginia Tech.
The Cavaliers had entered the season with three main goals—to take back the Commonwealth Cup from Virginia Tech, to capture the Coastal Division title, and to win the ACC championship––and all three were still in reach.
Five weeks later, they've all slipped away.
UVA closed the regular season Saturday with its fourth straight defeat, and this one stung head coach Bronco Mendenhall and his program more than any of the previous three losses. Given an opportunity to beat the Hokies for the second time in three seasons, the Wahoos stumbled, losing 29-24 at Scott Stadium.
On their final possession, the Hoos drove to the Tech 11-yard line, where they had a first down with two minutes remaining. The Cavaliers' next two plays, however, netted only 2 yards, and on third down offensive coordinator Robert Anae called for a trick play: a lateral pass from quarterback Brennan Armstrong to tackle Bobby Haskins, who was an eligible receiver.
Haskins caught the ball around the 17-yard line. The Hokies weren't fooled, and they tackled him for a 5-yard loss.
"They played it really well," Mendenhall said. "You have to be disciplined to play the play well, and they were, and they made a nice play."
Armstrong said: 'It's one of those plays where in those games if you make that play, and that works, it's incredible," he said.
On fourth-and-13 from the 14, Armstrong tried to hit wide receiver Ra'Shaun Henry, but the Hokies broke up the pass in the end zone with 30 seconds remaining, starting a celebration that ended with their fans storming the field once time expired.
The Cavaliers, meanwhile, were left to rue the mistakes that plagued them in every phase of the game. Virginia turned the ball over twice, committed a costly roughing-the-punter penalty that extended a Tech drive, and gave up 464 yards to a team that came in ranked last in the ACC in total offense.
The turnovers, Mendenhall said, were probably "the biggest difference, but we battled back and we had a chance with four plays at the end of the game to win it. And a lot of times that's what happens in a close game or a rivalry game, and the team that makes the plays is the winner."
In a game in which Armstrong passed for 405 yards, the most ever by a quarterback in a series that dates back to 1895, Virginia finished with 474 yards. On the second play of the game, Armstrong completed a 27-yard pass to wideout Dontayvion Wicks. That gave Armstrong the school record for single-season total offense, and he completed 29 more passes before he was through Saturday.
That wasn't enough against a Tech team playing its second game under interim head coach J.C. Price. The Cavaliers led 21-17 at intermission, but their offense had only a 34-yard field goal by Brendan Farrell to show for their second-half efforts.
The offense "clearly wasn't the same as the first half, where it was pretty much moving the ball at will," Mendenhall said. "To have three points in the second half, it's not enough to win.'
Armstrong, who also rushed for two touchdowns Saturday, hurt his ankle midway through the third quarter, and true freshman Jay Woolfolk capably filled in for five plays. Armstrong returned late in the quarter, but he was no longer as much of a threat to run, and that allowed the Hokies to tighten up their coverage.
"I feel like in the first half I was able to get out make some plays, shake and bake a little bit and start putting pressure on them down the field when I extended the play," Armstrong said. "I thought that was what I did well in the first half, and we moved the ball pretty well … [The injury] kind of hindered it a little bit."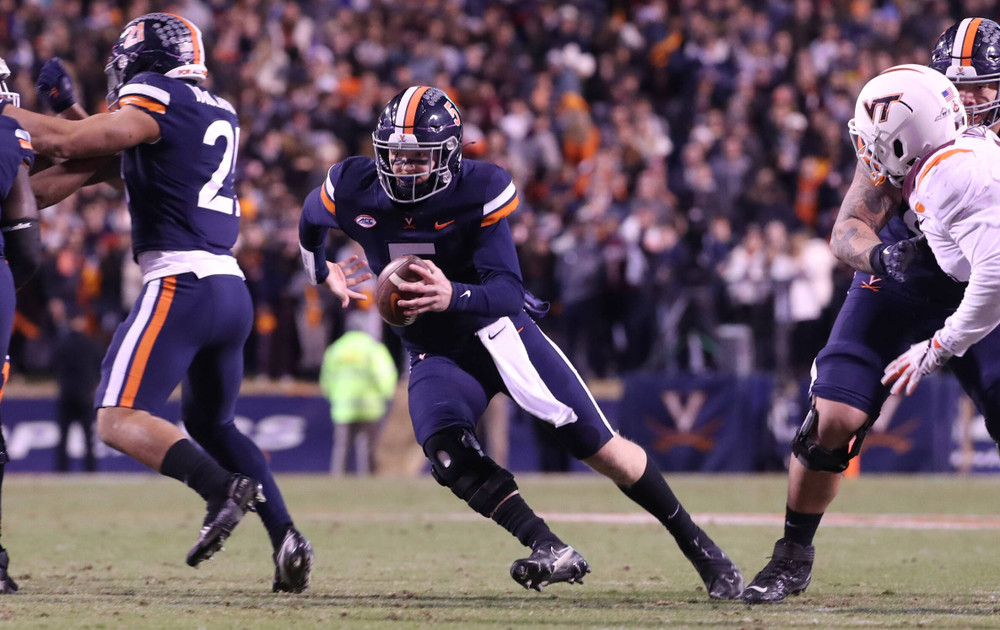 The Cavaliers have much to ponder as they wait to learn to which bowl game they'll be invited. Led by Armstrong, the offense was a formidable unit for most of the regular season. Rarely, however, did the offense, defense and special teams shine in the same game, and complementary football was an objective that eluded the Hoos.
The first significant sign of trouble appeared on Sept. 18, when Virginia gave up 699 yards in a 59-39 loss to North Carolina in Chapel Hill. Their offensive productivity often allowed the Cavaliers to overcome their repeated breakdowns on defense, but not against the better teams on their schedule. Virginia gave up 734 yards in a 66-49 loss at BYU and 509 yards in a 48-38 loss to Pitt.
Against Virginia Tech (6-6, 4-4), the Cavaliers allowed three plays of at least 50 yards: a 61-yard touchdown pass from quarterback Braxton Burmeister to wideout Tayvion Robinson, a 71-yard run by Burmeister, and a 50-yard run by tailback Raheem Blackshear.
"It's assignments," Mendenhall said. "You've got to more consistent to play assignment-sound football when it comes to these kinds of games, and when you're not [doing so] against a good team with a lot on the line, then big plays occur. We were inconsistent."
Led by Blackshear (169) and Burmeister (115), the Hokies rushed for 320 yards, and their running game allowed them to dominate time of possession in the fourth quarter, when they had the ball for 10 minutes and 42 seconds.
Still, for all of its problems Saturday, UVA's defense came up with could have been a game-changing takeaway. Safety Nick Grant tackled Tech quarterback Connor Blumrick, forcing a fumble that defensive lineman Olasunkonmi Agunloye recovered with 3:05 remaining.
"I think we were all extremely confident," said linebacker Elliott Brown, who had two of UVA's four sacks. "We have extreme faith in our offense, extreme faith in Brennan, extreme faith in this team, and that's basically our job, to get the offense more opportunities. So when we did that, the whole defensive sideline, the crowd, we were all excited."
So was Mendenhall. "Any time the ball's in Brennan's hands, all the way to the very last play today, I felt that we had a great chance to win the game," he said.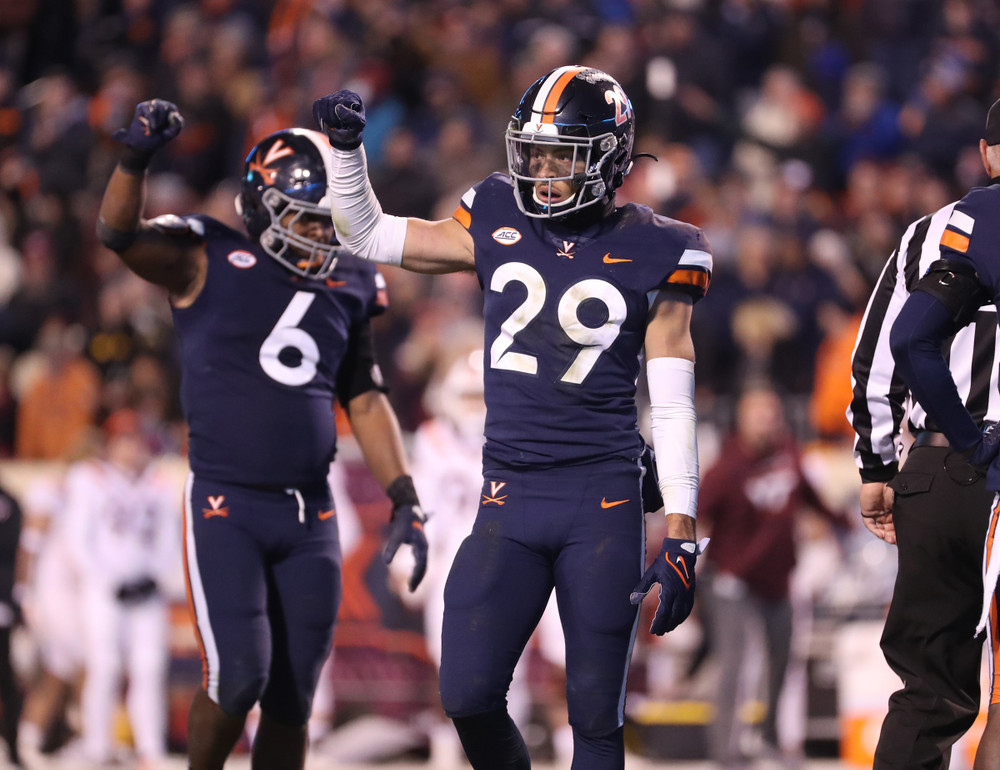 Had the Cavaliers executed better late in the first half, they might not have been in such a desperate situation.
Leading 21-14, Virginia looked poised to gain significant separation from the Hokies. With Tech facing third-and-8 from its 27, true freshman linebacker West Weeks sacked Burmeister for a 14-yard loss. On the next play, however, Weeks was called for roughing punter Peter Moore, resulting in an automatic first down for the Hokies.
"We were trying to block the punt, but the clear instructions are and were, whatever you do stay off the punter," Mendenhall said, "and we didn't, and so it cost us three points."
Tech capitalized on the mistake, coming away with a 32-yard field goal on the final play on the half. To that point, Armstrong and Co. had been all but unstoppable, but instead of possibly leading by 10 or 14 points, the Cavaliers went into the break up only four.
This is Mendenhall's sixth season with the Hoos, who are bowl-eligible for the fifth straight year. He acknowledged Saturday night that his team will need some time to move on from the loss to the Hokies, but he's confident the Cavaliers will be ready for their bowl game.
"Bowl games matter, and playing them every year matters, and winning them matters," Mendenhall said. "That'll be the next thing."
Once the Cavaliers resume practicing, Armstrong said, he believes they'll "be excited to play at a new venue against a different team. We've got to get this last one. We have to at this point. We've got to end the season on a good note."
To receive Jeff White's articles by email, click here and subscribe.