By Jeff White (jwhite@virginia.edu)
VirginiaSports.com
CHARLOTTESVILLE –– Record-breaking quarterback Brennan Armstrong went public with his decision last week, giving UVA football fans reason to rejoice.
Keytaon Thompson passed on an announcement, but he'll be back for the Cavaliers in the fall, too, and that's another offseason victory for new head coach Tony Elliott.
Thompson, who came to UVA as a quarterback in the summer of 2020 after graduating from Mississippi State, changed positions that fall, becoming a hybrid running back-wide receiver. Former Virginia head coach Bronco Mendenhall listed Thompson's position simply as "football player" on the depth chart, and No. 99 had an exceptional season in 2021.
A native of New Orleans, Thompson caught a team-high 78 passes for 990 yards and one touchdown, and carried 39 times for 247 yards and four TDs, despite playing most of the season with a broken left hand.
Thompson earned a master's degree in higher education from the School of Education and Human Development last month and could have left to pursue a professional career. Instead, he opted for one more season at UVA.
"I felt like I could have made an NFL roster," Thompson said Wednesday. "But with the position change and stuff like that, I just felt like I had a lot more to give, a lot more room to grow as a football player and as a receiver, and I just really want to hone in on those things and really sharpen those skills and develop my body before taking that next step."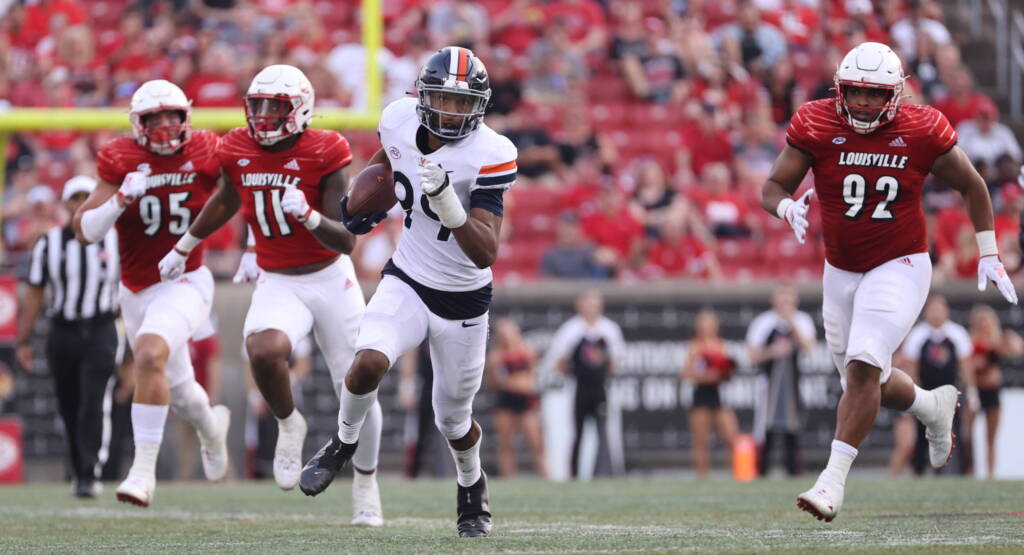 Outside the program, at least, there was uncertainty about Thompson's plans for this year. But he never requested feedback from the NFL on his draft stock, he said, and didn't feel the need to post anything on social media about his intentions.
His relationship with Armstrong made the prospect of returning for another year more attractive to Thompson.
"I'm ecstatic that he's going to be back for us," Thompson said. "He's a big-time player, and I'm happy to play with him. He's a fierce leader, fierce competitor. So that was really good. That probably also factored into my decision a little bit as well."
In three-and-a-half years at Mississippi State, Thompson earned a bachelor's degree in kinesiology, with a concentration in sports administration. He arrived at UVA with two seasons of eligibility remaining and, like all NCAA student-athletes who competed in 2020-21, received another year because of the COVID-19 pandemic.
He could not have predicted how his UVA career has unfolded.
"I had no clue I would be here three seasons," Thompson said, laughing. "I had no clue I would be going through a position change and stuff like that. I had no clue Mendenhall would retire."
The football program has a new head strength and conditioning coach, Adam Smotherman, and the team had its first workout of 2022 on Wednesday morning. The 6-foot-4 Thompson, who'll continue to take graduate classes, headed into the new year with a couple of primary goals.
First, he said, "I'm trying to get better body composition. I lost some weight over the break running and stuff, so I'm trying to gain some weight back and really develop my body. I'm also trying to become a complete wide receiver and really, really become a dominant route-runner."
Thompson had a promising season in 2020, when he scored six touchdowns (three rushing and three receiving) in nine games, but he was still adjusting to a new role. His breakthrough came in 2021, when he was named to the All-ACC second team.
"It felt totally different, to be honest, from the first year to the second year," Thompson said. "I was a lot more confident, knowing my abilities, and I had a lot more skills, to be honest with you. I had a much better skill set to go out there and be prepared. I think that just gave me confidence, and I'm looking to build upon that."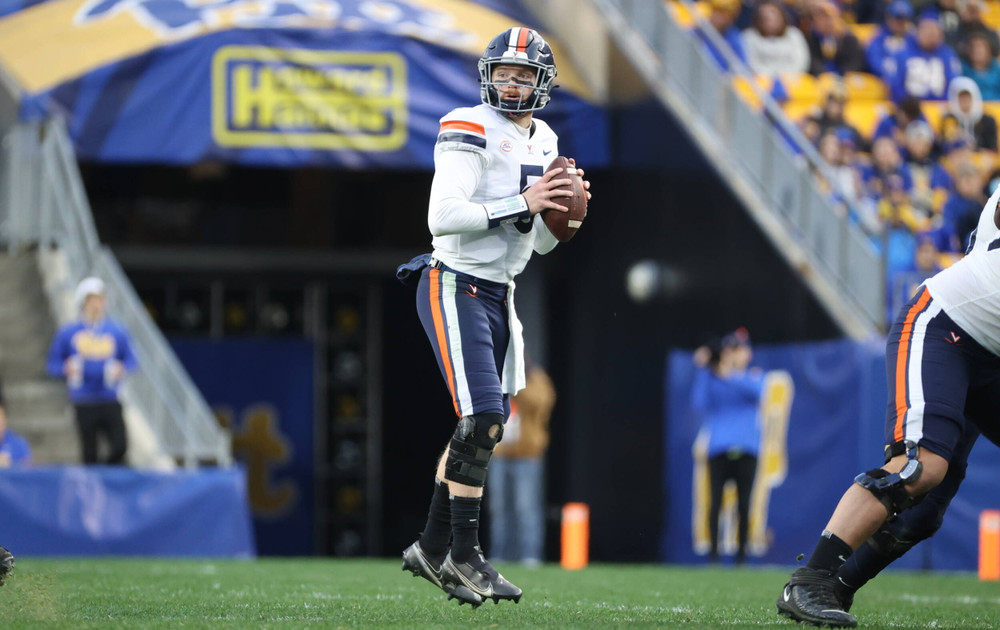 BUILDING BLOCK: With Armstrong at quarterback, the Cavaliers ranked first in total offense (515.8 yards per game) among ACC teams in 2021. He missed one game with an injury but still set single-season school records for passing yards (4,449), total offense (4,700 yards) and passing touchdowns (31).
Armstrong's 427.3 yards of total offense per game ranked second nationally, and his 4,449 passing yards ranked fourth. He figures to the enter the 2022 season as a Heisman Trophy candidate.
"I think it's huge," Elliott said of Armstrong's return. "It just shows his commitment and belief in the University of Virginia, the football program, his trust in myself as the chosen leader. It shows that he has an objective, that there's something that he wants to get accomplished, whether it's on the field, personally from a developmental standpoint, or from a team standpoint. It just sends a message that he's got some things that are important to him. And he values this place so much that he believes he can accomplish those things here, with one more year."
Most of the Cavaliers' yards came through the air in 2021 when Armstrong's targets included Thompson, wideouts Dontayvion Wicks, Billy Kemp, Ra'Shaun Henry and Malachi Fields, and tight end Jelani Woods.
Henry is out of eligibility, and Woods opted to pursue a pro career. (He's been invited to the NFL Scouting Combine in early March.) But with Armstrong, Thompson, Wicks, Kemp, Fields and wideout Lavel Davis, who missed last season with an injury, all back, Virginia should have elite passing game again this fall. Still, look for the Hoos to run the ball more under Elliott and new offensive coordinator Des Kitchings. In 2021, UVA ranked last among ACC teams in rushing offense (123.2 yard per game.)
"Gotta be balanced," said Elliot, who played wide receiver at Clemson. "Obviously, you may lean one way or another a little bit, depending upon personnel, but I think that running the football sets the mentality offensively. It also helps your defense create the mentality of being able to stop the run, because you're working against it every day in practice.
"To me, even though I'm a wideout and I love to catch the ball, there's no better feeling than seeing the big boys up front, just controlling the line of scrimmage. You're controlling the game, you're dictating the pace of the game. And, usually, there's not many off days running the ball. Throwing the ball, you can be a little bit off. You have a chance to be a little bit more consistent when you can run the ball effectively, if you've got the personnel and the scheme to do it."
UVA's top returning running back is Mike Hollins, who carried 49 times for 213 yards and two touchdowns in 2021. The Hoos must replace their top six offensive linemen from 2021.
PERPETUAL MOTION: Elliott moved into the head football coach's office in the McCue Center around the start of the new year. Two weeks later, its walls were still mostly bare, and few personal touches were visible.
He's had more pressing concerns since being named Mendenhall's successor at UVA.
"It's been a whirlwind," Elliott said. "The days, they're long, but they go by so fast. It's just that there's constantly something to be done. It's different than being in an assistant's seat. As an assistant or coordinator, your day is pretty much structured. When you sit in the head coach's seat, you have an idea of what you want to get accomplished, and then you're just kind of reacting to whatever walks through your door."
Mendenhall, who was in his sixth year at UVA, announced on Dec. 2 that he would step down after his team's bowl game later that month. His decision, which was unexpected, started a coaching search that ended with Elliott's hiring on Dec. 10. Not long after that, Elliott and Mendenhall began meeting on weekday mornings.
"The first two weeks were more observation and just trying to evaluate and learn as much as I could about what Bronco had established, what the processes are for the University, for the football program, for the athletic department," Elliott said.
In the evenings, he concentrated initially on putting together his new staff. Since late last month, Elliott said, he's been "focusing on recruiting, starting to do some program installation with the staff members that are already in place. So it's been something new every single day."
Mendenhall's final game as UVA's coach was supposed to take place on Dec. 29 against SMU at the inaugural Wasabi Fenway Bowl in Boston. Three days before the game, however, the Cavaliers withdrew because of COVID-19 issues in the program, and the bowl was canceled.
"It accelerated things a little bit," Elliott said. "I had my mind set on how the transition was going to go, the timing of everything. I was anticipating a very happy ending for Bronco and his staff being a part of that."
Elliott came to UVA after 11 seasons as an assistant on head coach Dabo Swinney's staff at Clemson, which won two national titles during that span. Elliott was the Tigers' co-offensive coordinator for seven seasons before handling the job himself in 2021, when he was also assistant head coach.
Over the years, he heard others in his profession talk about the challenges that await a first-time head coach, so he knew his workload would increase. Even so, "it's a shock. It's a shock to the system, and a lot of it is you're stepping outside of your comfort area," Elliott said.
"As an assistant, it's ball. It's [about coaching] ball, supporting academics, dealing with young people, and you're primarily with a position group and a smaller number of individuals. When you step into this role, now you're responsible for an entire program. So you have to you have to set the vision for everybody, and so you're not just focusing on the student-athlete, you're focusing on your staff, too.
"So there's staff development, there's chemistry building amongst the staff, making sure that we're on all on the same page. Then it's also dealing with the players and then making sure that every part of the program that interacts with these young men is on the same page. It's always something, and then everybody wants a piece of your time. So the time management is probably the biggest thing. Even though you have pretty good time management as an assistant, you're not prepared for this seat."
One of Elliott's first hires at UVA was Smotherman. They'd worked together at Clemson, and Smotherman jumped at the opportunity to join Elliott in Charlottesville.
"He's a strong man of faith, he's a competitor, he's a winner," Smotherman said on a recent Wahoo Central podcast. "Phenomenal family man. Loves his players, loves his staff, and he brings that love to everything that he does. One of the foundational pieces of his vision is to build this program is to love and serve and care."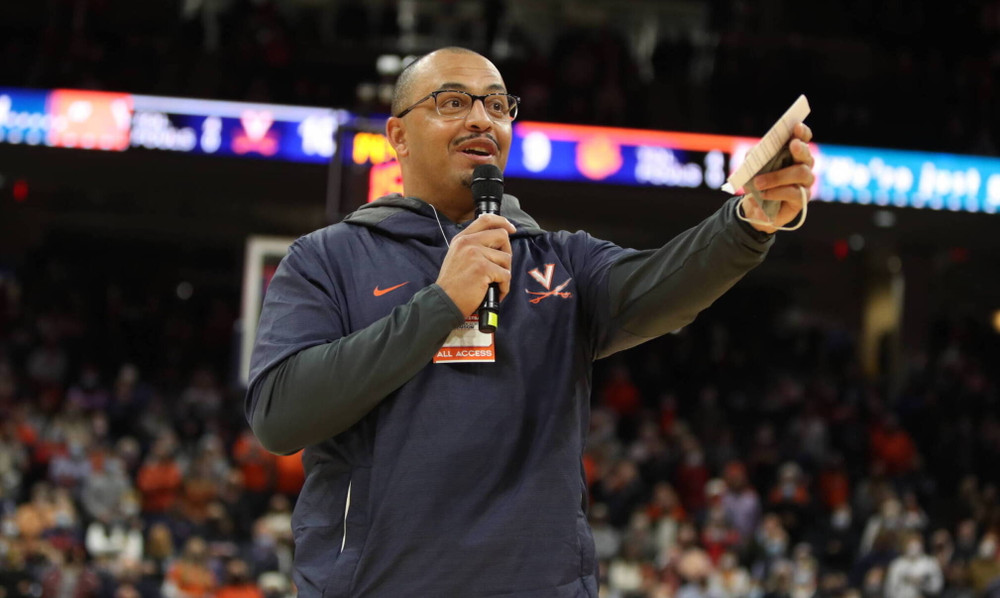 SHARED VISION: Elliott retained three assistant coaches from Mendenhall's staff: Marques Hagans, Garett Tujague and Clint Sintim. Newcomers at the McCue Center include Kitchings, who coached the Atlanta Falcons' running backs in 2021, defensive coordinator John Rudzinski, who held that position at Air Force for the past four seasons, and assistants Curome Cox (Air Force), Keith Gaither (Army), Kevin Downing (Navy), Taylor Lamb (Gardner-Webb) and Chris Slade, who had a successful tenure as head coach at Pace Academy in Atlanta.
Hagans, Slade and Sintim are former UVA greats. The other assistants may not be as familiar with Charlottesville, but they fit the profile Elliott believes is necessary for success at UVA.
"For me, as I evaluate the University of Virginia academically, the rigors, the prestige, what it takes to be successful academically here, you're recruiting a certain profile or type of young man," Elliott said. "And so I was strategic in, one, identifying first and foremost good men that are going to help develop these young men on and off the field. And then I wanted guys who have experience having to recruit a different style of player that fit their institution in particular. That was important to me, and then guys that I know will get after it in recruiting, doing it the right way, not cutting any corners. They understand the challenges that face them, but are not overwhelmed by those challenges and are willing to go compete."
POSITION CHANGES: There may be more moves as the semester goes on, but two of the players who enrolled at UVA as freshmen last year have switched sides of the ball.
Javin Burke, who came to Virginia as a defensive back, has moved to wide receiver, and Hugh Laughlin has switched from the defensive line to the offensive line.
To receive Jeff White's articles by email, click here and subscribe.