CHARLOTTESVILLE, Va. – Virginia first year shortstop Griff O'Ferrall was named a First Team Freshman All-American by the National Collegiate Baseball Writers of America (NCBWA) on Monday (June 13). O'Ferrall becomes the first Cavalier since Joe McCarthy in 2013 to land on the NCBWA Freshman All-America Team.
O'Ferrall was one of 10 position players on the first team and one of two shortstops to be recognized as freshman All-Americans. A total of five position players from the ACC were listed on the first team.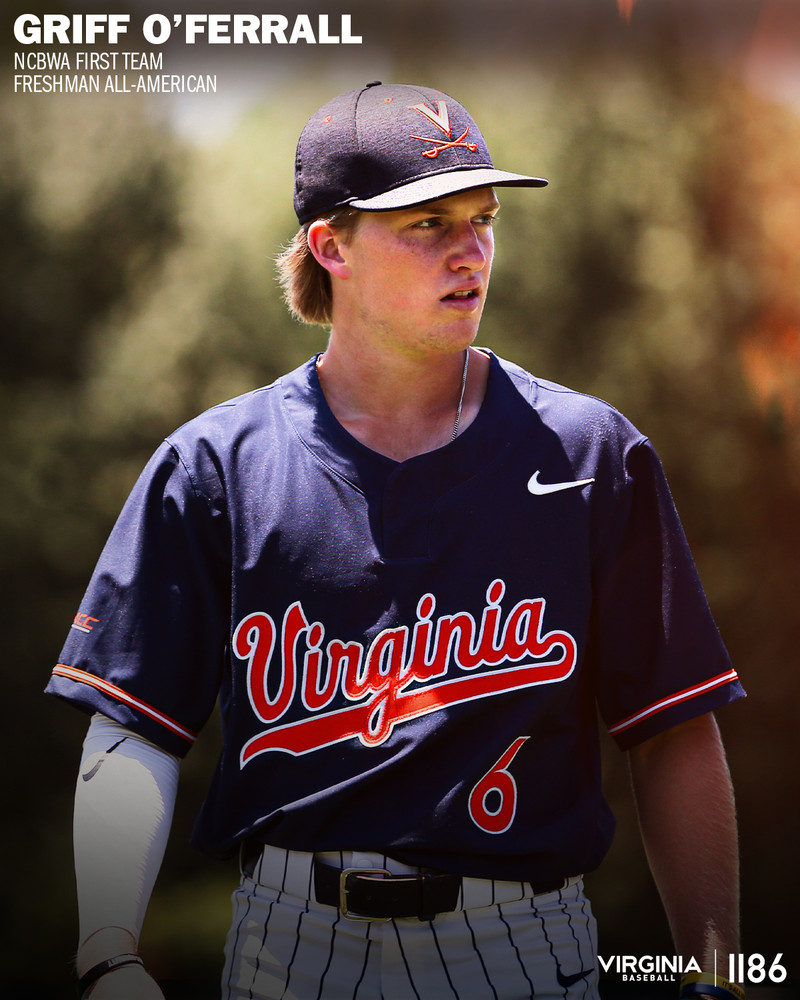 O'Ferrall started and led off all 58 games this season as a true freshman for the Cavaliers. He posted a .308 average 56 runs scored, two home runs and 39 RBI. He also swiped a team-best 17 bases, tied for the third most by a Cavalier freshman since 2004. O'Ferrall was recognized on the ACC All-Freshman team earlier this year and was one of six freshman to be included on the Brooks Wallace Award (Most Outstanding College Shortstop) midway through the year.
CBWA 2022 Freshman All-America Team
First Team
Pos.     Name, School
C          Ryan Campos, Arizona State
1B        Nick Kurtz, Wake Forest
2B        Travis Bazzana, Oregon State
3B        Carson DeMartini, Virginia Tech
SS        Griff O'Ferrall, Virginia         
OF        Keaton Anthony, Iowa
OF        Vance Honeycutt, North Carolina
OF        Treyson Hughes, Mercer        .
DH       Tommy White, NC State
UT       Noah Sullivan, USC Upstate
Pos.     Name, School  
SP        Chase Burns, Tennessee
SP        Drew Beam, Tennessee
SP        Drue Hackenberg, Virginia Tech
SP        Blake Morgan, Old Dominion
RP        Alonzo Tredwell, UCLA
RP        Brady Tygart, Arkansas
RP        Landon Kruer, Navy
Second Team
Pos.     Name, School
C          Walker Janek, Sam Houston State
1B        Donovan Cash, Kennesaw State
2B        Logan Beard, Louisville
3B        Josh Pyne, Indiana
SS        Cody Schrier, UCLA
OF        Carter Mathison, Indiana
OF        Kennedy Jones, UNCG
OF        Harrison Povey, FGCU
DH       Hunter Hines, Mississippi State
UT       Braden Montgomery, Stanford
Pos.     Name School
SP        Ryan Feczko, Davidson
SP        Garrett Horn, Liberty
SP        Ryan Gallagher, UCSB
SP        Carter Holton, Vanderbilt
RP        Ryan Brown, Oregon State
RP        Peyton Consigli, Canisius
RP        Conner Whittaker, Florida State