By Jeff White (jwhite@virginia.edu)
VirginiaSports.com
CHARLOTTESVILLE — The University of Virginia football team has grown since the end of spring practice, and not only because of the players' noticeable gains in strength and conditioning coach Adam Smotherman's offseason program.
The Cavaliers went through their first spring under head coach Tony Elliott with about 55 scholarship players—30 fewer than an FBS team is typically allowed. Virginia held its first preseason practice Wednesday night, and the addition of six transfers and 14 scholarship true freshmen has given Elliott and his assistant coaches more options from which to choose.
"Being able to replenish the roster has been huge for us," Elliott told reporters inside the George Welsh Indoor Practice Facility.
Four newcomers enrolled at UVA in January: quarterback Davis Lane Jr. and linebacker Stevie Bracey, who are true freshmen; wide receiver/return specialist Devin Chandler, a transfer from Wisconsin; and defensive end Jack Camper, a graduate transfer from Michigan State.
The second wave includes several true freshmen who will be expected to contribute in the fall, but the new transfers are likely to have a more immediate impact. This group comprises running back Cody Brown (Miami-Florida), offensive lineman John Paul Flores (Dartmouth), defensive ends Paul Akere (Columbia) and Kam Butler (Miami-Ohio), defensive tackle Devontae Davis (South Carolina), and punter Daniel Sparks (Minnesota).
Among ACC teams, Virginia ranked 11th in scoring defense and 13th in total defense last season. The Wahoos have a new defensive coordinator in John Rudzinski, who previously held that position at Air Force, and the addition of Akere, Butler, Camper and Davis should help on multiple fronts.
"First and foremost, they're great young men, and they've played a lot of football," Elliott said. "So they're not new to college football. And they came here with an intent. They know that their time is limited, and they've got objectives. And so they're very focused, very driven young men. So that already creates a sense of urgency. And then what you're seeing is the competition elevates the play of everybody else."
Akere was named to the All-Ivy League second team last season, and Butler is a three-time All-Mid-American Conference selection. Davis hasn't collected as many accolades, but at 6-foot-4, 306 pounds he's a massive presence on the line.
"He's a big body that when he walks in, everybody knows he's there," Elliott said. "So I think [the defensive line] got better by addition, just because all the guys that came in had experience, and that creates competition."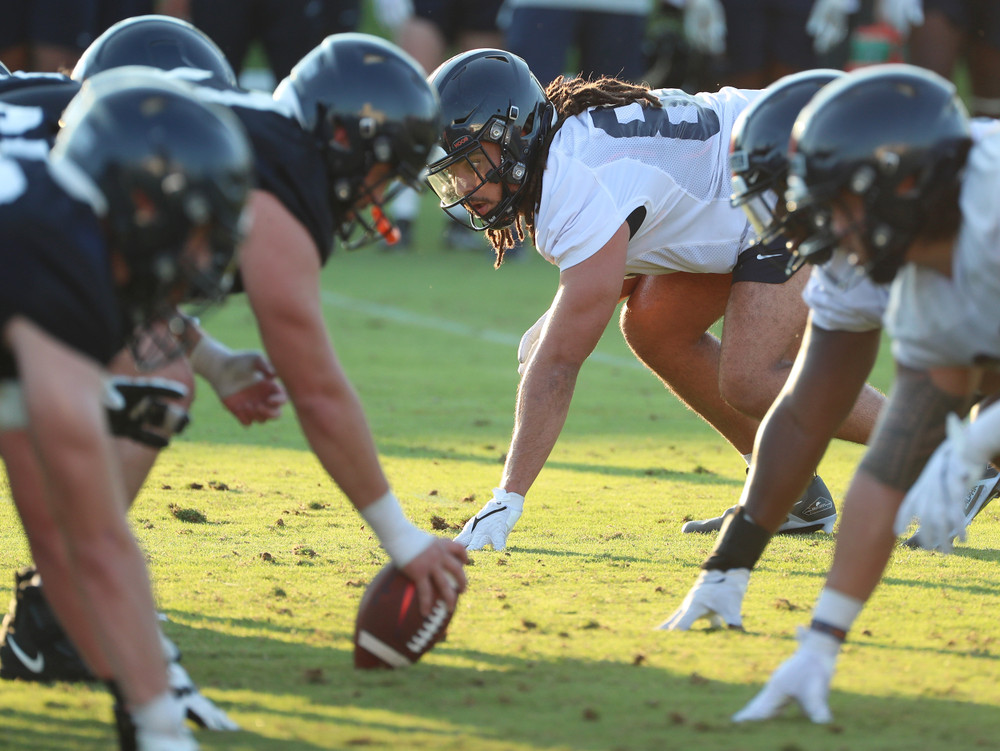 The Cavaliers' returning players on the D-line include senior Aaron Faumui and junior Ben Smiley III. On a defense that was disappointed with its 2021 performance, Smiley said, the transfers' presence has been felt already.
"They really came in and made a big impact depth-wise," Smiley said. "Those guys are older guys, so they've been around a lot of football, and with me still being a kind of a younger guy, they're teaching me a lot about the fundamentals and basically how they play the game of football."
Faumui echoed Smiley's comments.
"D, Kam and Paul, they're great players, and it adds depth," Faumui said. "So if somebody goes down, we have no trouble putting in the next guy."
That graduate transfers possess valuable experience has been apparent from the start, Faumui said. "Just off their work ethic. D's coming from a big school. Paul and Kam are coming from smaller [programs], but they're good players; they were just at a smaller school. I just feel like coming here, it's better for them so they can have more exposure for their skills."
Butler recorded 14 tackles for loss last season, including eight sacks, and forced three fumbles. The Hoos need to upgrade their pass rush, and "Kam could be that guy, a game-changer," said Chris Slade, who coaches the defensive ends.
On the other side of the ball, Flores is a welcome addition to a line that lost all of its starters from last season. He was a two-year starter at Dartmouth and in 2021 made the All-Ivy second team. He can play any position up front.
"J.P. adds some depth and some competition," Elliott said, "and gives us some more flexibility at center."
In Brennan Armstrong, UVA has one of the nation's elite quarterbacks, and its corps of receivers is highly regarded, too. Under offensive coordinator Robert Anae, the Cavaliers weren't especially productive running the ball, however, and his successor, Des Kitchings, wants a more balanced attack this year.
Brown figures to help Virginia achieve that goal. He rushed 34 times for 139 yards and three touchdowns as a Miami freshman in 2021.
"He didn't come in here trying to stick out," UVA's new running backs coach, Keith Gaither, said last week. "He came in here to be part of our program, part of our unit, part of our team, and he hasn't tried to be an individual. I'm pleased, because that doesn't happen a lot."
On special teams, Sparks is a strong candidate to succeed Jacob Finn as the Cavaliers' starting punter. Finn, who spent one season at UVA after graduating from Florida, averaged 44.2 yards per punt in 2021.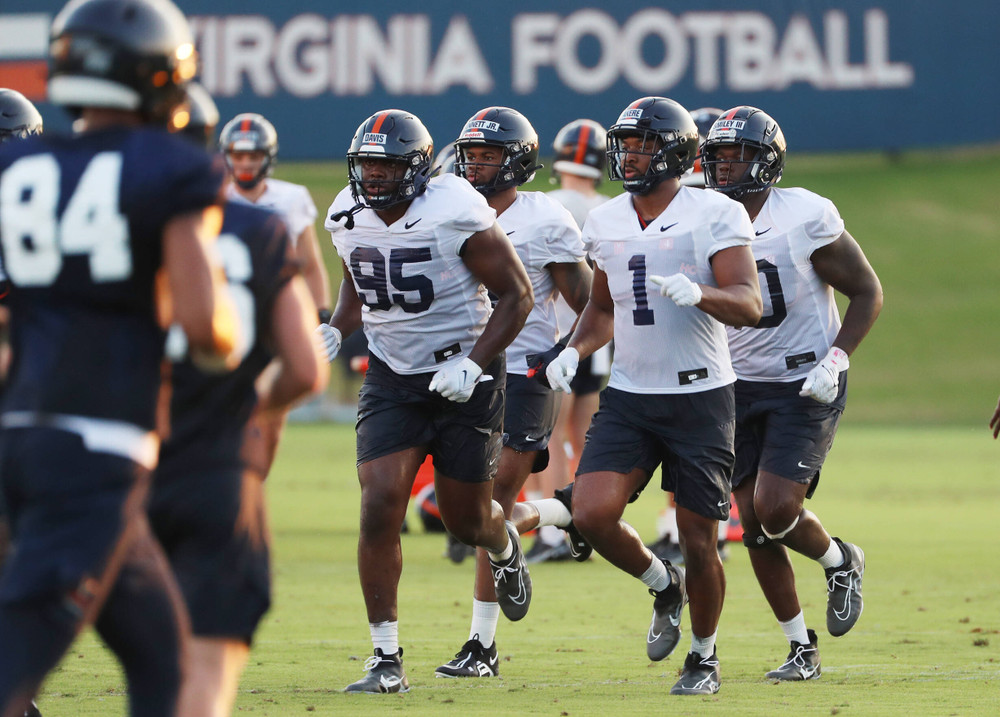 Virginia opens the season Sept. 3 against Richmond at Scott Stadium. The Hoos have much to accomplish before that game, and Elliott hopes to see a little improvement from the team at every practice.
"For me, I just want to see guys come out and compete, get a baseline," Elliott said. after practice Wednesday. "Let them see the standard that they set for today, and then challenge them tomorrow: 'Are you satisfied with the standard that we set, or are we ready to elevate to a new standard that each day just trying to get one percent better?' "
After an offseason under Smotherman's direction, "I think overall just we look like a better football team [physically]," Elliott said. "Now we've got to become a team. We've got to work. We've got to get to the to the right level of mental toughness. Today's just day one. It's a starting place, but I'm glad to have everybody and have a full roster."
Elliott knows the Cavaliers' biggest question mark is their offensive line. "We've got a lot of young guys, but some of them are going to have to step up," he said. "So I think the biggest thing is to make sure we don't overwhelm them, so that they have confidence."
To solidify both lines, Elliott said, "first we had to go back to the basics. I just think across the board at every position, we just had to get back to the fundamentals. I think a player's true confidence comes from his confidence in his fundamentals … And then as the fundamentals continue to improve, then we can focus on the schematic."
The Cavaliers won't don full pads in practice until Tuesday. Elliott didn't reach any conclusions Wednesday night, and he didn't expect to.
For the coaches, this was their first opportunity to work on the field with the entire team, Elliott noted, "and I wanted to kind of evaluate and see what chemistry that [the players] have organically created without trying to jump in there right away. I wanted to see where they were. I wanted to see what condition they were in, could they push, see how they were going to respond to the increased intensity when the coaches were out there."
To receive Jeff White's articles by email, click the appropriate box in this link to subscribe.