By Jeff White (jwhite@virginia.edu)
VirginiaSports.com
CHARLOTTESVILLE — For Tony Elliott, season-openers are nothing new. He's coached in more than a dozen of them, and he knows it can be difficult to predict how a football team will play in its first game. But Elliott has always been an assistant on opening day, and that's about to change.
Elliott's debut as a head coach comes Saturday at Scott Stadium, where he'll lead the Virginia Cavaliers against the Richmond Spiders in a 12:30 p.m. game.
Will the Wahoos, who finished 6-6 in 2021, their sixth season under Bronco Mendenhall, look sharp against UR? Will they look sloppy? Stay tuned.
"How my team is going to play, I have a vision," Elliott told reporters Tuesday at his weekly press conference at John Paul Jones Arena. "Now, I'm hoping that that vision comes to life. But the things that are going to be important for me are just the program, philosophical, transferable aspects of what we've been working on, just the little things, playing hard, playing with toughness.
"I want to see them get lined up. I want to see them get on and off the field. I want to see how they handle adversity."
Virginia's new coordinators—Des Kitchings (offense), John Rudzinski (defense) and Keith Gaither (special teams)—will handle most of the X's and O's, Elliott said.
"The biggest thing I challenged our guys is to own the plan, the current plan, based off of what we've seen in the past, what we expect," Elliott said, "but in a season-opener everybody has got to be ready to adjust, and the only way we're going to be able to adjust effectively is if we know the plan going in so we're not caught off guard with what we see. We can recognize what we see, which gives us confidence, if we see something, that we can fix it on the sideline."
UVA's returning players include Brennan Armstrong, one of the nation's top quarterbacks, and that's a source of comfort for Elliott.
"He's been in that situation," Elliott said. "He knows how to manage the play clock. He knows the system. He can get people lined up … That's the thing about college football: You don't have any preseason games, so the first time you get to see some of these guys, it's in a situation where the real bullets are flying."
Armstrong's presence "definitely gives you confidence from that standpoint," Elliott said. "Still, at the same time, too, the offense is a little bit new to him. He's done a great job of commanding it thus far, but once you get into a live situation and things start moving fast, it may take him a second or two to kind of get settled in, but he'll get settled in before everybody else, which will allow everybody else to make that transition."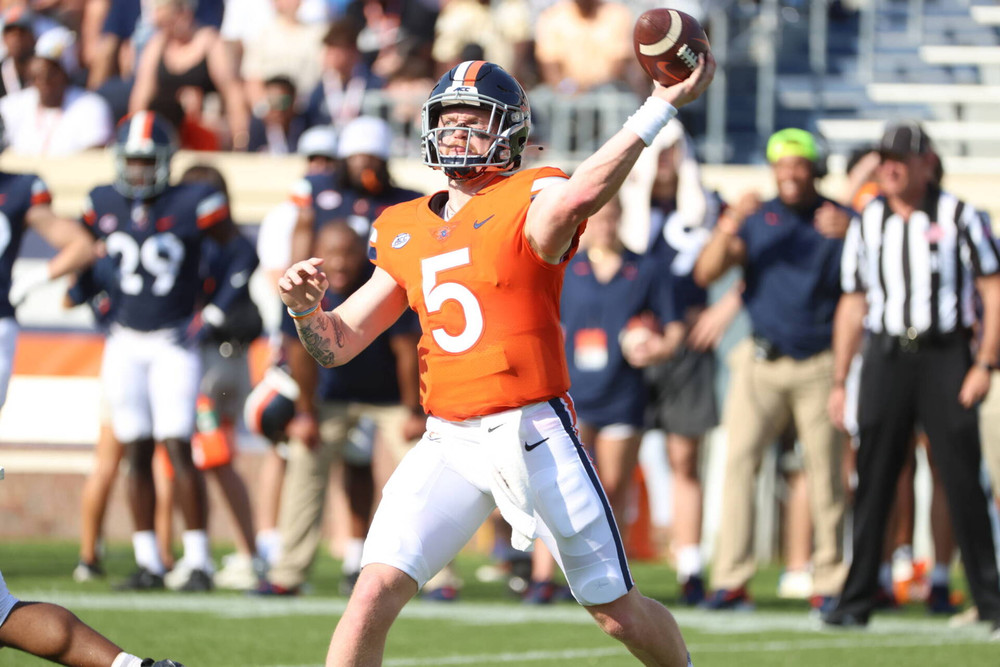 After Elliott concluded his question-and-answer session Tuesday, two players followed him at JPJ: Armstrong, who's in his fifth year at UVA, and defensive back Darrius Bratton, who's in his sixth year.
Armstrong, a three-year starter who's coming off a record-breaking season, said his grasp of Kitchings' offense has improved dramatically over the past eight months. Not only is some of the terminology different than what the Hoos used last year, there's a new emphasis on establishing the running game.
'It's been night and day, honestly," Armstrong said. "At first it was just trying to understand everything. It wasn't any on-the-field stuff. It was just trying to get the formations down, work on the run game and then work on here and there a little bit of passing game. Now we've got intermediate throws, our short game, our quick game, now we've got our shots down the field. From the start to now, it's a totally different feeling for me, at least, running the offense. I think it's just gonna be exciting to finally go out there and play a game not against our defense."
Likewise, the Cavaliers' defense is ready for something new too, Bratton said, "but iron sharpens iron, so you never can waste a day with our receivers and Brennan throwing the ball. It's great experience, it's great reps. So we cherish those reps."
Armstrong is working behind a rebuilt line that lost its top six players from 2021. The Cavaliers' most experienced returning offensive lineman, tackle Jonathan Leech, is recovering from an injury and won't play against UR. That's created an opportunity for McKale Boley, who's expected to become the first true freshman to start a season-opener at offensive tackle for UVA since D'Brickashaw Ferguson in 2002.
"You're a freshman, but you can't be a freshman," Elliott told Boley after practice Monday.
Asked Tuesday about the 6-foot-4, 331-pound Boley, whose father, Michael, played in the NFL, Elliott said, "I'm trying to get him to calm down, not to put any pressure on him. But he loves football. It's important to him, and you can tell that he put in the work to be able to understand the concepts we're asking him to understand and then be able to physically go out and play."
Elliott acknowledged heading into spring practice that the offensive line was the team's biggest question mark. But the group has progressed faster than he thought it would.
The linemen have "really started to gel," Elliott said. "So I'm excited to see those guys [Saturday], because the progress that I've seen them make over the last couple of weeks has been impressive. That's a positive for us, because I believe with their progression, we're also going to get more leadership out of that group.
"I'm pleasantly surprised with where they are. The receivers are the receivers. We know those guys can make plays. Brennan has looked sharp. So I think offensively those guys are starting to develop a chemistry and kind of hit their rhythm. Now we've just got to put it into practice on the game setting and make sure that we have it."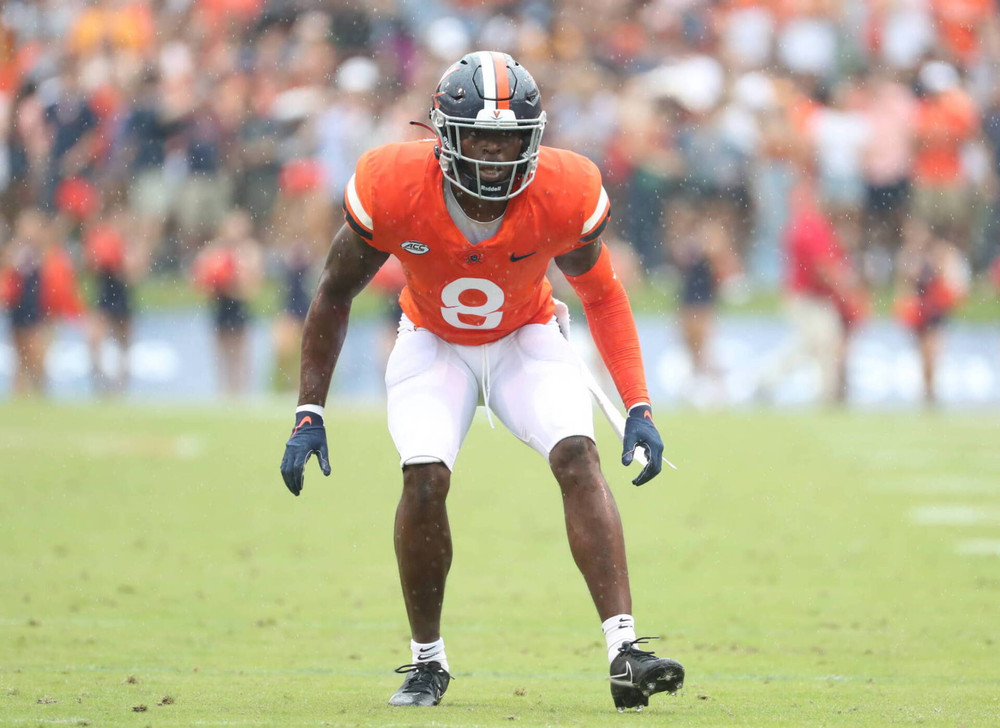 Among ACC teams, UVA ranked 11th in scoring defense and 13th total defense last season. The Cavaliers' returning players on that side of the ball include Bratton, linemen Jahmeer Carter, Aaron Faumui, Ben Smiley III and Olasunkonmi Agunloye, linebackers Nick Jackson, Josh Ahern, James Jackson and Hunter Stewart, cornerbacks Anthony Johnson and Fentrell Cypress II, and safeties Antonio Clary, Lex Long and Jonas Sanker.
Rudzinski, who came to UVA from Air Force, has installed a scheme that features three safeties and two cornerbacks, and the Hoos look much stronger up front, thanks to the addition of transfers Kam Butler (Miami-Ohio), Paul Akere (Columbia), Jack Camper (Michigan State) and Devontae Davis (South Carolina). Another newcomer on defense is Chico Bennett Jr., who transferred from Georgia Tech to Virginia in January 2021 but missed last season with an injury.
"We've got a chip on our shoulder, big time," said Bratton, who's moved from cornerback to safety, "and we've got something that we want to prove. We just want to go out there and play together and play confident with each other. But at the end of the day, we know where we stand, and we still want to go out there and be a good defense, which we know we can do."
Overall, Elliott said, the Hoos are "probably a little bit ahead of what I was expecting, but now they've got to turn it into performance. That's what I told them earlier this week, that this game is not about potential, it's about performance, so we've got to go out and we've got to perform on Saturday."
Elliott understands why he's in the spotlight this week. His goal, though, is to "make it about these players, because at the end of the day on Saturday, I can't step on the field. All I can do is be there to support them and guide them and help them if they need to be helped."
The Hoos haven't played since Nov. 27, when they closed a disappointing regular season with a loss to Virginia Tech at Scott Stadium. Virginia was supposed to play in the Wasabi Fenway Bowl in late December but had to withdraw because of COVID-19 issues in the program.
"It's been a long time," Armstrong said. "We had a sour taste in our mouth last season, and we're just excited to go out there and give it a go again and start this season off right."
Several of the Cavaliers' seniors met recently to talk about the team's goals, Armstrong said. "Bottom line: first game, win. We have multiple goals throughout, but our first goal as a team [is to] focus on this first game, win it. That's a great start to the season, great start to Coach Elliot's career here. There's no other option besides winning the game."
To receive Jeff White's articles by email, click the appropriate box in this link to subscribe.