By Jeff White (jwhite@virginia.edu)
VirginiaSports.com
CHARLOTTESVILLE — When the University of Virginia football team wrapped up spring practice in late April, Jestus Johnson stood atop the depth chart at center. Head coach Tony Elliott didn't expect that to change over the summer.
"For us coming out of spring, just being transparent, we were pushing Jestus to be the guy," Elliott said this week.
Ty Furnish had other plans. A 6-foot-3, 279-pound sophomore from Woodstock, Ga., outside Atlanta, Furnish will be the one snapping the ball to quarterback Brennan Armstrong in the Cavaliers' season-opener Saturday at Scott Stadium. UVA hosts Richmond at 12:30 p.m.
During training camp last month, Furnish asserted himself and won the starting job. "Not that Jestus didn't do what he was supposed to do," Elliott said Tuesday, "but Jestus feels a little bit more comfortable at guard."
Furnish takes over for Olusegun Oluwatimi, a three-year starter who transferred to Michigan after graduating from UVA. Oluwatimi isn't surprised Furnish won the job.
"Not at all," Oluwatimi said in a text message. "Ty is a very diligent individual. He may be a little light in the backside, but he's scrappy. I'm happy for him, and he has all he needs to go out and be a guy!"
Furnish remains undersized for a Power Five center. Still, he's made significant progress on that front since enrolling at UVA last summer. When he signed with Virginia in December 2020, Furnish was listed at 250 pounds, but he was closer to 240 when he arrived on Grounds last year.
"We reported in June, and in May I had minor knee surgery," Furnish said after a recent practice. "So I was a little bit lighter because of that, a little bit weaker."
By the end of last season, during which Furnish appeared in three games, he was up to about 255 pounds. Working with nutritionist Enza Ranallo and the team's strength and conditioning staff, Furnish has continued to add solid weight this year.
"It's been a slow process," he said. "At first it took a while just to learn what I need, what the body needs, what amount of protein, what amount of carbs, all that stuff. And then after that, it was just doing it every day, a slow build until I got up here."
Ranallo said Furnish "took a lot of initiative and was like, 'Hey, I really want to make these improvements to put on good weight, good muscle mass,' and he committed to it. We came up with a really specifically designed plan and made sure he was meeting his protein minimums, made sure he was getting in the right kinds of carbs and eating the right amounts."
For a football player looking to bulk up, Ranallo said, the goal is "for about half a pound to a pound of weight per week. So that means increasing your calories with really protein-specific calories, to get that additional surplus of calories throughout the day. And we did a whole breakdown with him, and he was meeting his numbers that he needed with protein every single day."
During camp, it's often challenging for players to maintain their weight, let alone add pounds.
"You have to be so intentional with your nutrition," Ranallo said. "It's not just, 'Hey, I'm going to eat three meals when I feel like it.' It's like, 'OK, I'm eating four to five meals, plus nutrition before my workout, nutrition during my workout, and being intentional with nutrition after my workout.' And Ty has been working towards all those things. When he first got here he was like, 'Oh, I'll have two meals a day.' And now he's four meals a day, with snacks in between."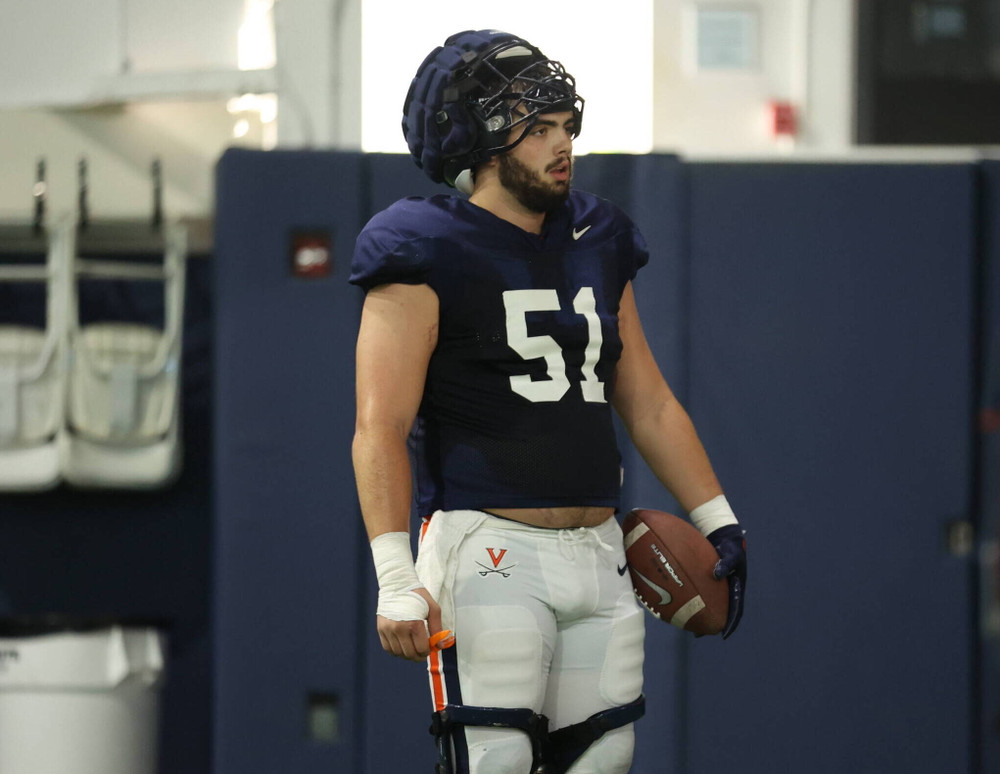 Furnish came to UVA from Blessed Trinity Catholic High, a football power that in 2019 won its third straight Class AAAA state title in Georgia. The Wahoos' roster includes about a dozen players from the Peach State, including Furnish's roommates: linebacker Ryan Attaway (Milton), who's also a Blessed Trinity graduate; and offensive lineman Hugh Laughlin (Athens).
"It's definitely cool," Furnish said of having such a large continent from Georgia. "It's nice to be able to talk trash to the other guys."
He played both ways for Blessed Trinity but lined up at tackle, not center, on offense. And so when he joined the team at UVA, it "was a little scary when I was moved to center, because I never snapped before," Furnish said, "I never knew how to do that. That was the biggest part."
Oluwatimi proved to be a good mentor, and Furnish put in extra work.
"Shotgun was hard to learn," Furnish said. "The first month and a half, maybe two months, I would go with a [graduate assistant] and I'd snap to him probably 25 or 30 times before practice. And then, [depending on] how many I messed up, I'd have to snap after practice, too. I probably got like 500 reps a week snapping, the first couple of months I was here."
Bronco Mendenhall stepped down as Virginia's head coach after the 2021 season, and Elliott took over. He hired seven new assistant coaches but retained three from Mendenhall's staff, include Garett Tujague, who oversees the offensive line.
Tujague said he was confident Furnish could add the weight necessary to be an effective college center.
"Just watching him in high school, his high school tape, and then just knowing the nutrition [program] that we have here, and our strength staff, there's no question that he was going to be at that game-ready weight," Tujague said. "And he still has a little bit to go."
Furnish believes he can carry more weight without sacrificing mobility. He'd like to get to 285 by the end of the season.
"I feel like I move the same as I did when I was lighter," he said. "The biggest thing is I didn't lose weight any in camp, which is good. I maintained."
For now, Furnish makes up for his lack of size with superior footwork and quickness.
"He's a twitchy cat," Tujague said. "The things we're asking our center to do right now, he's got a handle on that. He's able to recover, because he's much quicker than, or as quick as, a D-lineman. So it's enabling him to get to leverage and angles a lot quicker."
Of the Wahoos' starting offensive linemen in 2021, only guard Chris Glaser was in his final year of eligibility. But the other four opted to move on, and three of them transferred to other schools, including Oluwatimi.
"I was at first disappointed because of all those guys leaving," Furnish said. "But after that, I thought I had my chance at an opportunity."
Armstrong, who's heading into this third season as a starter, developed a strong chemistry with Oluwatimi, who was a second-team All-ACC selection last year. The connection he's forming with Furnish has been good, too, Armstrong said Tuesday.
"It's been smooth. The O-Line has made tremendous jumps compared to what we actually thought and how we expected things to go, especially with Ty," Armstrong said.
"Ty is a smart player, and you've got to have your center be smart. Me and him have started developing a really good communication with protection calls and things like that, with what he's seeing, what I'm seeing and just the cadence. We're able to do different things with our cadences. He's a smart dude, and he's actually come a long way. I'm excited."
So is Furnish's position coach.
"I think the most important thing to Ty is he's realized the impact he has on this team, and how much his teammates are counting on him to be that guy," Tujague said. "And his desire internally to be great is exceptional, so I don't think he's gonna let his guys down. I feel very confident with where he is."
The most experienced of the Cavaliers' returning offensive linemen, tackle Jonathan Leech, is recovering from a hand injury and isn't expected to play against Richmond. Of UVA's projected starters for the opener, only left guard John Paul Flores, a graduate transfer from Dartmouth, has significant college experience.
Nonetheless, UVA's coaches and players say the line is jelling faster than expected.
"It's just been a lot of work," Furnish said. "It's a lot of repetitive stuff, the same stuff every day till we get it down. Especially with our inexperience on the line, we just have to keep repeating stuff until we have it right. It's been a long process, and I think we've come a long way from where we started back in [spring practice]."
To receive Jeff White's articles by email, click the appropriate box in this link to subscribe.