By Jeff White (jwhite@virginia.edu)
VirginiaSports.com
CHARLOTTESVILLE — Saturday at Scott Stadium, head coach Tony Elliott won't be the only one representing the University of Virginia in a football game for the first time.
Others include the Cavaliers' coordinators—Des Kitchings (offense), John Rudzinski (defense) and Keith Gaither (special teams)—and transfers Kam Butler, Paul Akere, Jack Camper, Devontae Davis, John Paul Flores, Chico Bennett Jr. and Daniel Sparks. Assistant coaches Curome Cox, Kevin Downing and Taylor Lamb are new too. And then there's true freshman McKale Boley, who's expected to start at offensive tackle for UVA in its 12:30 p.m. clash with Richmond.
Safety Darrius Bratton is at the other extreme. He's in his sixth year with the Wahoos. But like those who are new to the program, he's focused on "just going out and winning the first game, just setting that foundation and setting that tone," Bratton said.
For Elliott, who came to UVA in December after 11 seasons on Dabo Swinney's staff at Clemson, this will also be his debut as a head coach. Elliott put the Cavaliers through a scripted dress rehearsal at Scott Stadium last week. He was looking "to put myself in that mindset of transitioning between all of the different things that happen, and also preparing the players for those things," Elliott said.
"But more it's just reviewing situations, going back through my mind and thinking about situations that I've been a part of, starting to think about in-game situations … I've got a little checklist of things that I'm just running through in my mind to make sure that I've at least processed those things, so that in that moment it's not something I'm thinking about for the first time."
Virginia will play seven games at Scott Stadium this season. These are precious opportunities for his team, Elliott said.
"Before you can go on the road and consider yourself a road warrior, you've got to defend your home turf, and you've got to take pride in that, and that's where it starts," Elliott said. "Then also you have a responsibility to those that came before you to defend the home turf, so that's where it starts."
Richmond, a Football Championship Subdivision program, finished 6-5 last season.  The Wahoos, who compete in the Football Bowl Subdivision, posted a 6-6 record in 2021, their final season under head coach Bronco Mendenhall.
Like Virginia, UR has had significant turnover since the end of last season. The Spiders' offensive coordinator, Billy Cosh, held that position at Virginia Military Institute in 2021. VMI averaged 29.2 points per game last season, in part because of quarterback Reece Udinski and wide receiver Jakob Herres, both of whom followed Cosh to Richmond this year.
The former Keydets "have a big background [together]," Rudzinski said, "so it'll be tough to stop, but we'll have to find a way."
The Cavaliers missed countless tackles last season, a major reason they ranked 13th among ACC teams in total defense. The new coaching staff has devoted considerable practice time to teaching the fundamentals of tackling, but the real tests come on game day.
"We'll see," Rudzinski said when asked how much the Cavaliers' tackling has improved. "Saturday will show us."
There are fewer unknowns with Virginia's offense, especially the passing game. Brennan Armstrong is an All-America candidate at quarterback, and his targets include wideouts Dontayvion Wicks, Keytaon Thompson, Lavel Davis Jr. and Billy Kemp IV, each of whom has had breakout games.
The offensive line, far and away the least experienced position group on the team, improved steadily during training camp, UVA's players and coaches say. The O-linemen know there are "question marks" about their ability to protect Armstrong and open holes in the running game, Kitchings said, so "there's a lot of pride in that group to come out and play together and play well together."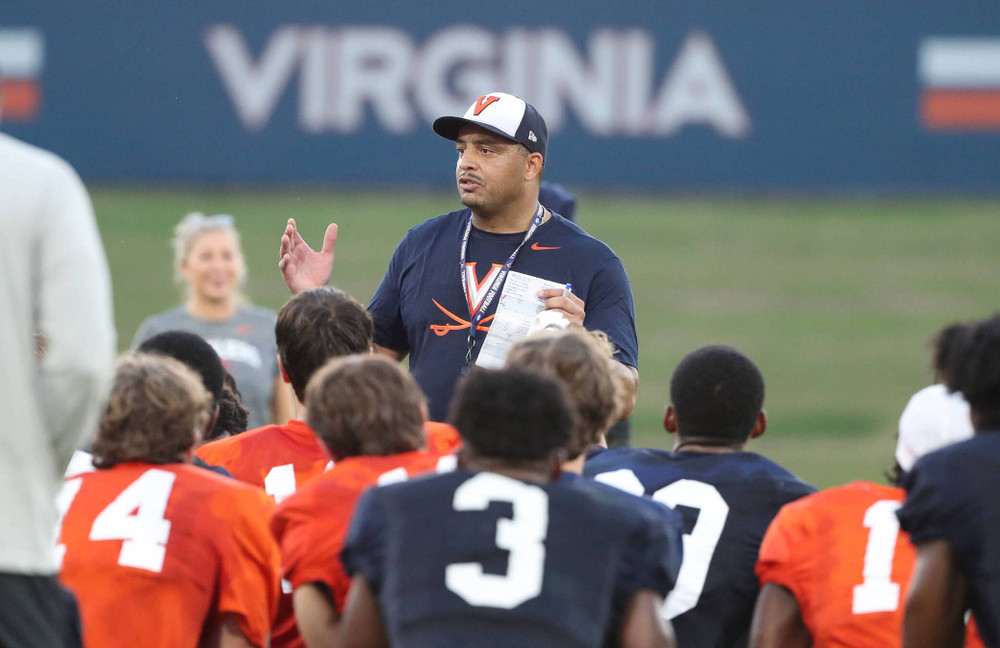 At Elliott's introductory press conference in December, when he laid out his vision for the program, he stressed the importance of having a balanced offense. Armstrong, who threw 500 passes last season, has embraced the new philosophy.
"When you're able to run the ball, you can determine a lot of things," Armstrong said. "You can keep a defense honest. And then everyone talks about our receivers, [and] they're great, but when we're able to run the ball, keep people honest and tuck those 'backers in a little more, it'll give those [receivers] more space.
"It's the small things, like alignment. If they think we're going to be passing it all the time, they can easily play that. Us being able to run the ball will open the pass game easier."
Armstrong broke several program records in 2021, and Elliott hopes the fifth-year senior will break more this season.
"But as I told him," Elliott said, " 'We're installing a Virginia offense, and there's things that are going to help you for the future. Things are going to be different than what you've done in the past, so we're going to work really, really hard to be a balanced team and establish the run, and then allow you to benefit with all the things that come off of it, but play in the system and not put that pressure on you to always come up with a play and be the guy that's got to make a play. Use your playmakers.'
'I think if we can establish the run, then he'll have his opportunities to deliver the ball down the field, intermediate and in the quick game and in our … screen game, which is our outlet run game. I think he's got a chance to do anything he wants to do, but my expectation for him is to lead, improve in the areas that he's identified he wants to improve, and then have fun and go win a bunch of games."
Perris Jones won the starting job at tailback, and he'll "be out there first," Kitchings said. But Mike Hollins figures to play a prominent role in the running game, too.
"I love Mike and challenging Mike," Elliott said. "I just believe Mike has got another gear that we can get him to go to, and if he'll push to that gear, then he has a chance to be really good and reach his potential."
Kitchings revealed little this week when asked about his game plan, other than that five linemen and a quarterback will be on the field when the Hoos have the ball. The other five players "could be a mixture," Kitchings said. "It could be two tight ends, it could be three tight ends, it could be five wide receivers—whatever it takes to move the ball to score points."
In the 2016 season-opener, the Spiders won 37-20 to spoil Mendenhall's debut at UVA, and they're excited about the opportunity to prevail at Scott Stadium again.
"We know there's a really, really good football team that's well-coached and that's probably got a chip on their shoulder, because they want what you've got," Elliott said.
His message to his players: "Let's embrace that and let's go, but let's not make it about them, let's make it about us, and if we do that each week and treat every week like it's the biggest game of the year, then you'll develop that consistency because now you're working to a standard and not an opponent."
He came to UVA from a program that's established such a standard. "This group right here, which is so awesome, they get to start a legacy," Elliott said. "They get to be the ones that set the expectations and the standard of performance for Virginia football … They get a chance to set the legacy and the standards and the expectations for what Virginia football looks like this year and moving forward."
Since the calendar flipped to 2022, UVA's players have gone through spring practice, training camp and an offseason strength and conditioning program. At long last, it's time for the games to begin.
"I'm ready," Wicks said.
So is Armstrong. "I'm excited. That's just honestly the word for it. I think the people are excited, the fans are excited, the players are excited. We've been going against our defense. It's finally time to go against another team and just kind of get into that game feel, game rhythm. scoring touchdowns, hearing the crowd, just getting back into it all."
To receive Jeff White's articles by email, click the appropriate box in this link to subscribe.