By Jeff White (jwhite@virginia.edu)
VirginiaSports.com
CHARLOTTESVILLE — In 1996, as a fifth-year senior at the University of Virginia, Jeremy Raley was named first-team All-ACC and started his fourth straight bowl game. He'd become a mainstay in a perennially successfully program and was in no hurry to put away his helmet and shoulder pads.
"I had an agent and went through all the workouts and had a desire to continue to play football, but it just did not work out like I thought it was going to," Raley recalled. "On the second day of the draft, the agent called me and said, 'Jeremy, don't worry. You didn't get drafted, but we're going to get you into free agency somewhere.' "
Raley laughed. "He still hasn't called me back. So I probably didn't make the best choice of an agent, but things happen for a reason. And I'm here where I'm supposed to be right now."
The 48-year-old Raley in his seventh year as superintendent of public schools in Goochland County, which is located between Richmond and Charlottesville. He and his wife, the former Cindy Stotler, were married in July 1992, before Raley's second year at UVA. They have two children: a daughter who's a sophomore at Virginia Tech; and a son who's a senior at Goochland High School.
"I'm a very lucky man," Raley said. "I'm truly blessed, there's no doubt about it."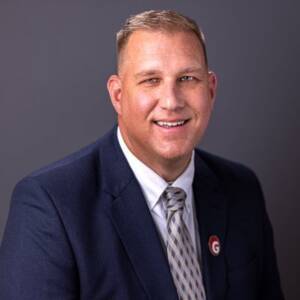 He grew up in Cumberland, Md., where he starred at Fort Hill High School. Most people in his hometown pulled for Maryland or West Virginia in football. Raley rooted for Penn State. Until one of Welsh's assistant coaches, Bob Petchel, began recruiting him, Raley said, "I didn't know that there was a University of Virginia. It was just another school to me until I had the opportunity to come down and visit. It was a really great match, because I had the opportunity to get an amazing education, and at the time the depth chart was a little thin and I had the opportunity to potentially play early. It all worked out."
When he enrolled at UVA, Raley thought he might become a physical therapist. But Welsh periodically brought in guest speakers to talk to his team about different majors at UVA, and at one meeting Raley heard from a representative of what was then known as the Curry School of Education. Raley had redshirted in 1992, and he liked the idea of leaving UVA after five years with a master's degree.
"It was just something that clicked," he said.
Asked what attracted him to education, Raley said, "I think it's a desire to give back and know that you're part of the greater good. This is now year 26 for me in public education. And I've said this publicly many times: What makes me proud to be a public educator is that we welcome students from all backgrounds and all experiences into our schools, and ultimately we maximize their potential and prepare them for life after school. And so it's a real honor to serve the public and to be a part of something that's bigger than myself."
His schedule at UVA provided few breaks. Raley juggled football, married life and schoolwork and usually was exhausted by the end of the day.
"My last year of football, the fall of 1996, was when I did my student teaching [at Jackson Via Elementary and Albemarle High]," Raley said, "and I can remember getting up early in the morning to watch film with [assistant coach] Tom O'Brien. So he and I had a date about 6:30 in the morning. We'd watch practice film and game film for about an hour and then I'd go teach. And then right after that, I went to the practice field, and sometimes I'd be a little late to practice, but I practiced and then lifted weights afterwards and planned lessons for the next day in the evenings. So it was a pretty crazy fall."
He played for two offensive line coaches at Virginia: first Jim Bollman and then O'Brien. "Just great experiences, and lessons learned that will stay with me for a long time," Raley said.
And then there was Welsh, a Hall of Fame coach who died in 2019, "I owe my current success to him," Raley said, "because he gave me an opportunity to earn an education from the University. Without him taking the chance on me, I wouldn't be where I am now. Coach Welsh was certainly a man of few words, but when he spoke, we listened and respected the man greatly. And he took great care of me and my wife during the time. I owe a debt of gratitude for what he has done for me and the opportunities he's afforded me in my life."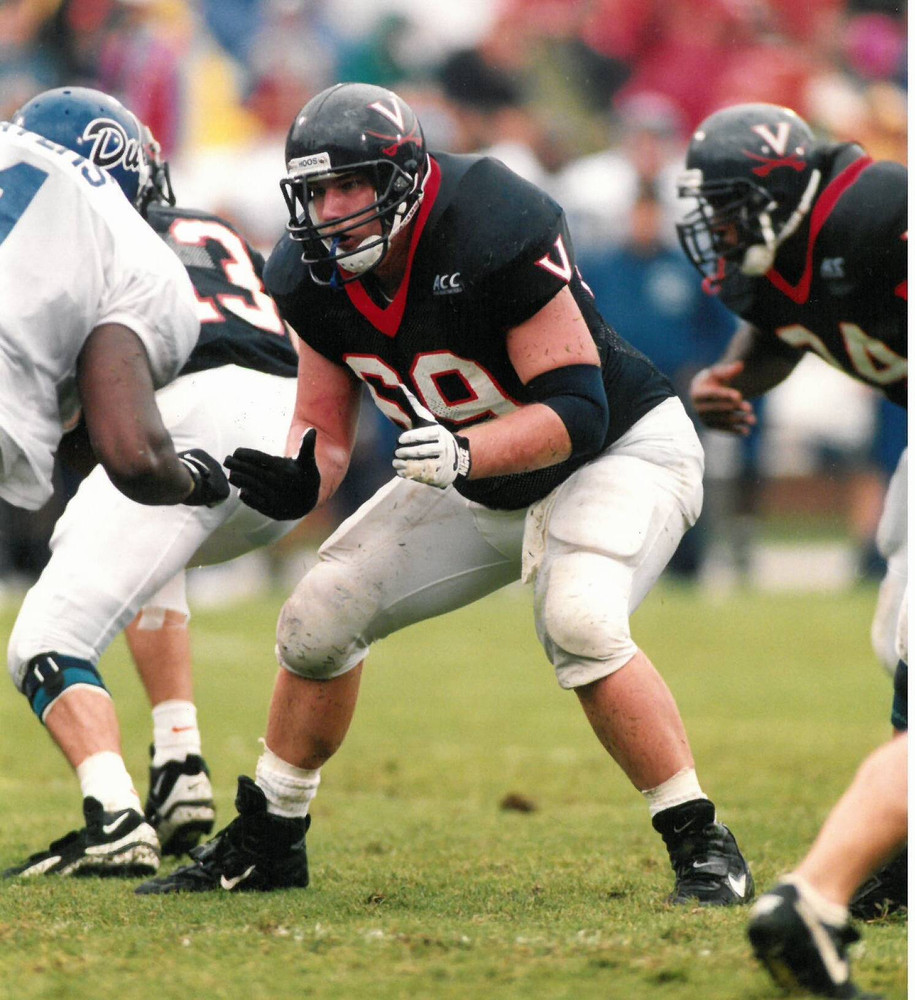 Raley played at UVA during one of the most successful stretches in program history. The Wahoos won seven games in 1992, seven in 1993, nine in 1994, nine in 1995, and seven in 1996.
"Coming from Cumberland, Maryland, I had limited experiences prior to going to the University," Raley said, "and I had the opportunity to play in some of the largest stadiums in the nation and play against high-profile football teams and gain experiences that will last with me forever. I was blessed to be able to start in four bowl games, which prior to now was a record that could only be tied.
"It changes a little bit now with some of the changes with eligibility, but prior to that, that was something I was really proud of, and I got to spend time with a lot of wonderful men and coaches that influenced my life and [develop] friendships that I still have to this day."
His teammates at UVA included Wayne Lineburg, now an assistant at Wake Forest. "Wayne was here at [Goochland's] football game on Friday night," Raley said, "so I got a chance to catch up with him. I just have some really great memories."
After earning his master's degree from UVA in the spring of 1997, Raley took a job teaching health and physical education at Warren County High School in Front Royal, about 75 miles north of Charlottesville.
In the year he spent at Warren County, Raley also coached football and started the JV baseball program, "so that was a really amazing experience," he said.
Then he moved to Shenandoah County Public Schools, which would employ Raley for 18 years. He started in the classroom as a teacher but, after earning a master's degree in administration, became an assistant principal and then a principal. Then he transitioned to the central office, working first as director of finance, then as assistant superintendent for administration and finance, and, finally, as superintendent.
Raley said he transitioned into administration in part because "there was an opportunity to earn a little more money, quite honestly, and then to be part of something bigger. I understood that I could have an impact not only on the students that I taught in my classroom, but also on the school as a whole. So it was an opportunity to have greater influence, make a more positive impact in a larger setting."
Still, he said, "I never in a million years thought that I'd end up being a superintendent, let alone being a superintendent now going on year 10. I think a lot of the lessons that I've learned through my background in athletics have served me well, in how to work with a variety of individuals and how to overcome adversity. Certainly, there are a lot of things that I learned on the on the football field that I rely on now as I'm making decisions and working through challenging situations."
He received a doctorate in organizational leadership from Shenandoah University. That gives him four degrees: one bachelor's, two master's and a Ph.D.
"I don't plan on any more," Raley said, laughing. "I'm done."
He came to Goochland in June 2016. The county has only one high school, and he's reminded of some of his experiences growing up.
"In Cumberland, homecoming is huge," Raley said. "The two rival city schools play, and there are nearly 8,000 or 9,000 fans in the stands for that. And so there are traditions with decorating the school and pep rallies and experiences that students have that I don't think happen in a lot of high schools in 2022. But in Goochland, there's still a lot of traditions like that. When we decorate the school here, we decorate the entire school. We have a pep rally, we have a homecoming parade, and our football players have their lockers decorated, which is a tradition that we had back then. So in many ways, it feels like playing back at home."
That school spirit is evident at the Bulldogs' home football games. "It's the only thing to do in Goochland on a Friday night, so the entire community is here," Raley said. "You see friends and family and folks that you work with. In 2022, it feels pretty amazing to have those experiences still taking place in public schools."
Goochland has one high school, one middle school and three elementary schools.
"There really is no typical day as a superintendent," Raley said, "because ultimately I'm responsible for 2,600 students and 500 staff and the overall operations of the division. So you never know what may happen at any one given moment."
He spends part of most days in meetings, but what Raley enjoys most of all is being out at the county's schools. "I tell people often, you can't run a school division from behind the desk," he said. "There are some things you have to do from behind the desk, paperwork and computer work, but ultimately I enjoy being out and about with the students and the staff and celebrating the great work that our teachers are doing and getting to know our children.
"I feel rewarded in many ways when I go into a school and I go into a classroom and kids say, 'Hey, Dr. Raley, how are you?' If we think back to our own experiences in school, we probably didn't know who in the heck the superintendent was. But I'm not just this guy in a suit walking in. Kids know who I am, staff know who I am, and that's the relationship that I want to have with our community."
To receive Jeff White's articles by email, click the appropriate box in this link to subscribe.