By Jeff White (jwhite@virginia.edu)
VirginiaSports.com
ATLANTA — There were flights to Champaign, Ill., and Syracuse, N.Y., and a bus ride to Durham, N.C., road trips which included games that tested the University of Virginia football team.
The Cavaliers failed those exams, but their visit to Georgia's capital city produced a better result Thursday night. Behind an unyielding defense that recorded eight sacks, a total surpassed only once in program history, UVA held off Georgia Tech 16-9 before an ESPN audience and a crowd of 29,362 at Bobby Dodd Stadium.
The victory was the Wahoos' first over the Yellow Jackets in Atlanta since 2008 and their first ACC win under first-year head coach Tony Elliott. It was past 2:30 a.m. by the time the Hoos landed in Charlottesville on Friday, but they won't have to travel again for more than a month, and that's no small thing for a team that's been on the road for three of its past four games.
Virginia (3-4 overall, 1-3 ACC) has five regular-season games remaining, and the next four are at Scott Stadium.
"We know at all costs we want to protect Scott," senior linebacker Nick Jackson said. "We have a bad taste in our mouth from last time we stepped out on Scott"—a 34-17 loss to Louisville on Oct. 8—"so we know we have a great opportunity to keep pushing. Four games at Scott gives us a great advantage, but we want to look at it as one game at a time, so 1-0 each week."
In the locker room late Thursday night, record-setting quarterback Brennan Armstrong presented the game ball to Elliott. The Hoos were far from perfect against Georgia Tech (3-4, 2-2), but this was a game they desperately needed to win, and they found a way to do so, however flawed their overall performance.
"In the past, in the short past that I've been here, we've found ways to give that game away," Elliott said. "But at least we came out with the win, so it's an opportunity to build going into this home stretch that we have in Scott Stadium."
Armstrong said: "Hopefully it catapults us into the rest of the season."
A textbook example of complementary football, this was not. Special teams mistakes plagued the Hoos on Thursday night. Will Bettridge missed two field-goal attempts and an extra point, and Tech blocked one of Daniel Sparks' punts. Moreover, Lavel Davis Jr., a 6-foot-7 wide receiver, committed a costly penalty on a fourth-quarter punt by the Jackets, who were backed up near their goal line.
The offense fared better, totaling 411 yards, but struggled to turn those yards into points. The Cavaliers had three turnovers, one of which was a first-quarter interception that Tech returned for a touchdown, and Davis, open in the end zone, dropped a pass from Armstrong with the score 13-9 in the third quarter.
"This game could have been solid in the end of the third quarter, and it wasn't," Armstrong said, "because of our offense not putting the ball in and putting points on the board."
Fortunately for the Cavaliers, their defense dominated throughout. Virginia came up with two takeaways, made 10 tackles for loss, and held the Jackets to 202 yards.
"Our defense played their tails off," Armstrong said. "They kept us in the game."
Elliott said: "We talk a lot about playing complementary football, but at times as a team, there's going to be certain occasions where [one unit has] got to compensate [for the other two]."
The defense, which is in its first season under coordinator John Rudzinski, did that and more Thursday night. Jackson, playing in his hometown, led the Hoos with eight tackles, including two sacks, and recovered a fumble. Not bad for a guy playing on an injured knee.
"He's the epitome of what you want in a student-athlete," Elliott said of Jackson. "He's serious about his business in everything that he does. He's all about the team. There's not a selfish bone in his body, and there was no way he wasn't gonna play in this game."
Jackson's second sack, with less than two minutes remaining, pushed the Jackets back nine yards to their 48, and they turned the ball over on downs on the next play.
It was a homecoming of sorts for Chico Bennett Jr., too. Bennett, who began his college career at Georgia Tech, plays the Bandit, a hybrid position that's part defensive end and part linebacker. He made seven stops Thursday night, two of which were sacks. Bennett went down late in the second quarter after colliding with safety Jonas Sanker, but he soon returned to the game and resumed punishing his former team.
"I'm happy for him, happy for him to be back," Elliott said, "and told him before the game, "I know you're excited, but stay locked in it and just go play a heck of a game. Don't get caught up in all the all the hoopla, just go play a game.' It was a little scary there when he went down … but he popped right up and he was kind of fighting the trainers to get off the ground. That's how much he wanted to be successful and play in this game and finish it."
Defensive end Paul Akere, a graduate transfer from Columbia, also had two sacks for Virginia. In the secondary, Sanker and cornerbacks Anthony Johnson and Fentrell Cypress II each had two pass break-ups, and safety Coen King made a diving interception of a pass deflected by Cypress in the end zone, thwarting Georgia Tech's second possession.
It seemed only fitting that the game ended with one last stop by UVA's defense, which forced quarterback Zach Gibson out of bounds at the Jackets' 37-yard line as time expired.
"Just really, really proud of how inspired those guys played throughout the course of the game," Elliott said of his defense. "I wish offensively we would find a way to get out of our own way at times and just go finish drives as opposed to allowing penalties or drops to stop drives."
The offense's performance evoked memories of UVA's 16-14 win over Old Dominion on Sept. 17. In that game, Virginia piled up 513 yards but needed a last-second field goal by Brendan Farrell to prevail.
Against Georgia Tech, the Cavaliers had numerous big plays in the passing game, and Armstrong rushed 13 times for 91 yards and one TD. But penalties, dropped passes and turnovers continued to hinder Virginia's offense. The Hoos were 2 for 14 on third down and 1 for 3 on fourth down.
Breakdowns happen, Armstrong said, "but those are things we've got to clean up. We've got to put the ball in the end zone. We've got to make our field goals, and that's bottom line. I've got to play better, the offense has got to play better, but we need points there, and that's just how it is."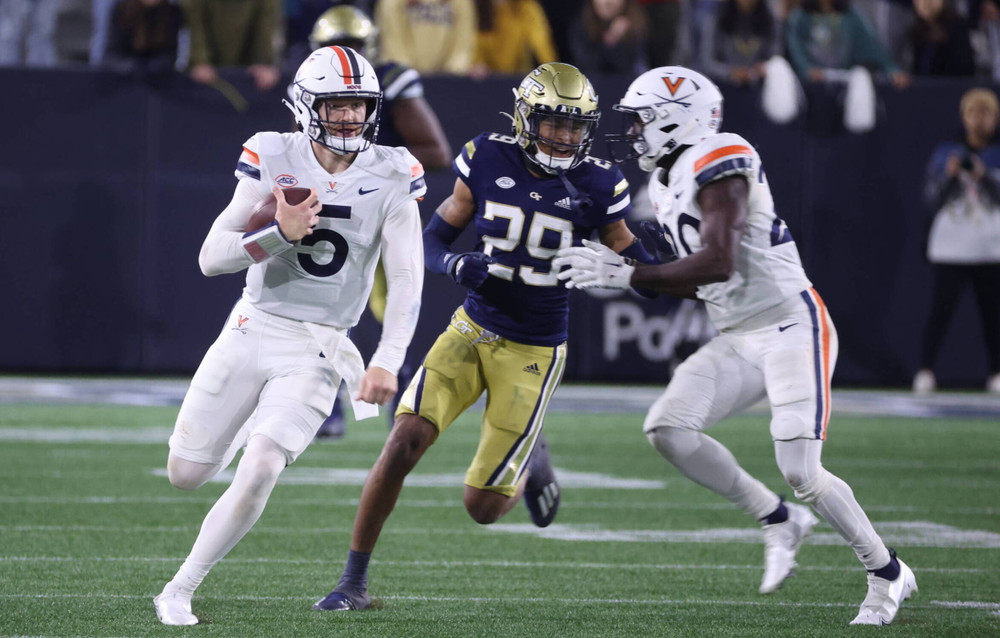 ONE FOR THE RECORD BOOK: Armstrong, a fifth-year senior who's in this third season as the Cavaliers' starter, completed 20 of 35 passes for 255 yards and one TD, with two interceptions. His touchdown pass went to Dontayvion Wicks, a gifted wide receiver who's had an uneven season.
Wicks caught the ball at the Tech 28, started down the left sideline, where he broke a tackle, and then cut back to the middle of the field. Moments later, he crossed the goal line to complete a 44-yard scoring play.
"It looked like vintage Wicks," Armstrong said. "I haven't seen him in a long time. I went over to the sideline and was like, 'That's vintage right there, buddy. I haven't seen that in a year.' So hopefully we can get him back on track and we can see more of that."
The TD pass was the 57th of Armstrong's UVA career. That broke the program record he shared with Matt Schaub, who went on to have a long and productive NFL career.
"To me, it's not like a big deal," Armstrong said. "I think it'll be a big deal later on in my life … It has to do with my teammates. I can't play the game by myself, because I've had a lot of great teammates along the way in my five years here, and they've played a huge part in those records happening. So it's pretty cool. I'm proud of myself in a sense, from where I started to where I'm at now, but I'm just happy we got to win tonight on the road."
UP NEXT: The Cavaliers host the Miami Hurricanes next Saturday (Oct. 29) at 12:30 p.m. at Scott Stadium.
Miami (3-3, 1-1), which is in its first season under head coach Mario Cristobal, hosts Duke (4-3, 1-2) this Saturday afternoon.
The Cavaliers trail 11-8 in their series with the Canes. UVA won 30-28 last season at Hard Rock Stadium, where Miami missed a field-goal attempt on the game's final play.
UVA's upcoming homestand also includes visits from North Carolina (Nov. 5), Pitt (Nov. 12) and Coastal Carolina (Nov. 19). The Hoos close the regular season Nov. 26 against Virginia Tech in Blacksburg.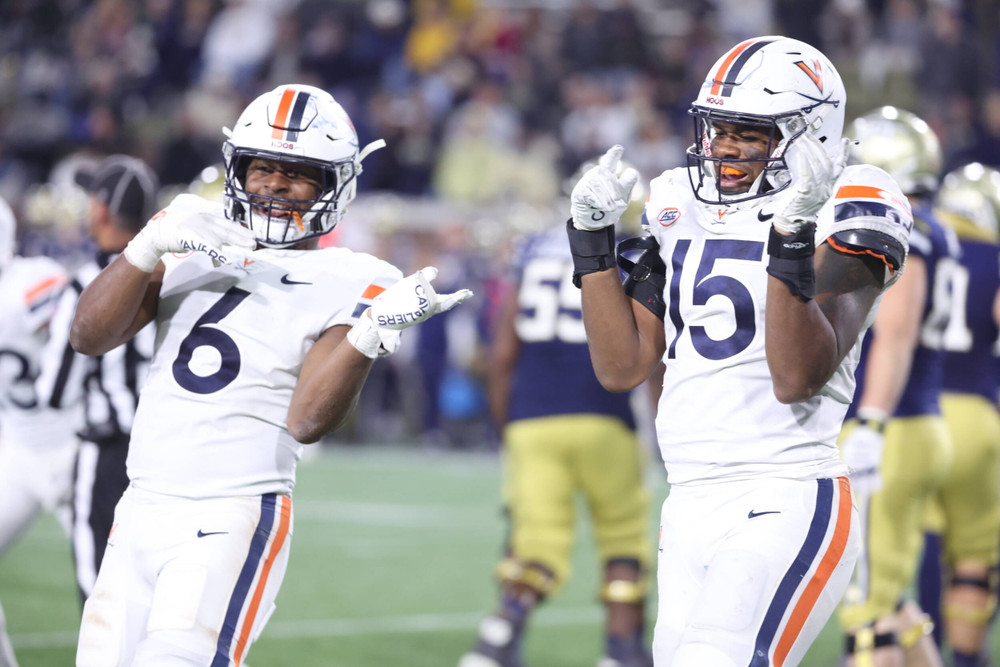 SOUND BITES: The victory gives Virginia a 22-21-1 series lead on Coastal Division rival Georgia Tech. Among the postgame comments Thursday night:
* Elliott on UVA's response to its disheartening loss to Louisville: "We had a chance to kind of really jump out on [the Cardinals] and we didn't, and then we ended up self-destructing. But here, even though we had some moments where we were kind of beating ourselves, we still found ways to make enough plays to keep the momentum to where it completely didn't flip, so the defense could go out there and get stops and give us more opportunities to try and move the ball and play field position."
* Elliott on Virginia's eight sacks: "That's not just the pass rush. That's the coverage on the back end."
* Armstrong on the play of Nick Jackson and Bennett: "Those guys played their tails off tonight. The defense literally kept us in the game, bottom line. I'm happy for those guys, to come back to your hometown. I wish we could all go back to Shelby, Ohio … There's just something else about the game when you step foot on that field and you maybe know some of the guys on the other side and you're with your team."
* Bennett on the lessons UVA learned from the Louisville loss: "Don't get comfortable with winning, just keep on pushing the envelope. Never get complacent. And I think we fell short of that obviously [against the Cards]. But tonight we had a different energy, and that's going to obviously roll over."
* Jackson on the defense's mentality when Georgia Tech had the ball late in the game: "It's another opportunity to get back on the field, and we were excited for that. We knew we could close the game if we just got a stop."
* Jackson on winning in Atlanta: "I would say it was a big deal that I was back home, but at the end of the day it was just a bigger deal to play with my brothers. You only have so many opportunities to come out and play. You're only guaranteed 12 a year, so I wasn't gonna miss one."
* Jackson on holding Georgia Tech's offense to three points: "Any time you step out there and you don't give up a touchdown, that's a big deal. So proud of ourselves the way we responded to coming off the bye week, but now it's time to move on to the next game."
* Rudzinski on the play of Jackson and Bennett: "I think there's a great responsibility they have for representing the V-Sabre, and they do that to the highest level. So we're fortunate to be able to work with those guys. They'll be great representatives for the University of Virginia, and frankly they've got a lot of good ball in front of them for the rest of the season."
* Rudzinski on keeping Tech's offense out of the end zone: "That's the ultimate goal. You can throw all the other stats away. That's what defense is in the game of football: minimizing the points that are on the board."
To receive Jeff White's articles by email, click the appropriate box in this link to subscribe.