By Jeff White (jwhite@virginia.edu)
VirginiaSports.com
CHARLOTTESVILLE — The University of Virginia football team has yet to win back-to-back games this season, its first under head coach Tony Elliott. Another chance for the Cavaliers to do so comes Saturday at Scott Stadium.
At 12:30 p.m., Virginia (3-4 overall, 1-3 ACC) hosts Coastal Division rival Miami (3-4, 1-2). The Wahoos have won 23 of their past 29 home games, and to "get an opportunity to defend Scott Stadium is very exciting for all of us," defensive end Paul Akere said after practice Tuesday.
"Protect Scott Stadium, that's the mindset that we have," cornerback Anthony Johnson said. "I can't remember the record, but I know we have a pretty good record at home, and we want to defend that record and defend our home territory."
The Hoos are coming off a 16-9 victory over Georgia Tech. That game was played Thursday night in Atlanta. Two days later, at Hard Rock Stadium in South Florida, Miami committed eight turnovers and lost 45-21 to Duke.
Like Elliott at UVA, Mario Cristobal is in his first year as head coach at Miami, and both teams have had uneven seasons. The Hurricanes' other defeats include a 45-31 loss to Middle Tennessee at Hard Rock Stadium.
With a new offensive system, it "takes time," Elliott told reporters Tuesday at John Paul Jones Arena. "It's a whole new chemistry that you have to develop. And the same thing defensively. You see those [Miami players] flying around at times, but then you see times where you'd like to see a little bit better … It's just a transition. It's just a process, and obviously all of us hope and wish that it would happen faster than it does."
At his weekly press conference in Coral Gables, Fla., Cristobal said Monday that the Canes "are doing everything we need to in order to lay the foundation and build upon that foundation to get to where we need to get to."
Miami's No. 1 quarterback, Tyler Van Dyke, suffered a shoulder injury against Duke, and his status for this weekend is uncertain. But even if Van Dyke is unavailable, the Canes are "still talented. Lord, they're still talented," Elliott said. "Dudes running around everywhere."
One of Elliott's challenges this week is making sure his players don't get fooled by Miami's mediocre record. "You better not be falling for the bait," he said. "This is a very, very good football team and very talented football team that is close to having a completely different record … This is going to be a good test for our guys and I'm excited to see how they're going to respond to a challenge like this, because by far this is the most talented team that we'll play, that we played all year."
Miami's visit kicks off a four-game homestand for Virginia, which hosts North Carolina on Nov. 5, Pitt on Nov. 12, and Coastal Carolina on Nov. 19. UVA closes the regular season Nov. 26 against Virginia Tech in Blacksburg.
"Just excited to have a normal routine," said Elliott, whose team was on the road for three of its past four games. One of those away games (Syracuse) was played on a Friday night, and another (Georgia Tech) took place on a Thursday night.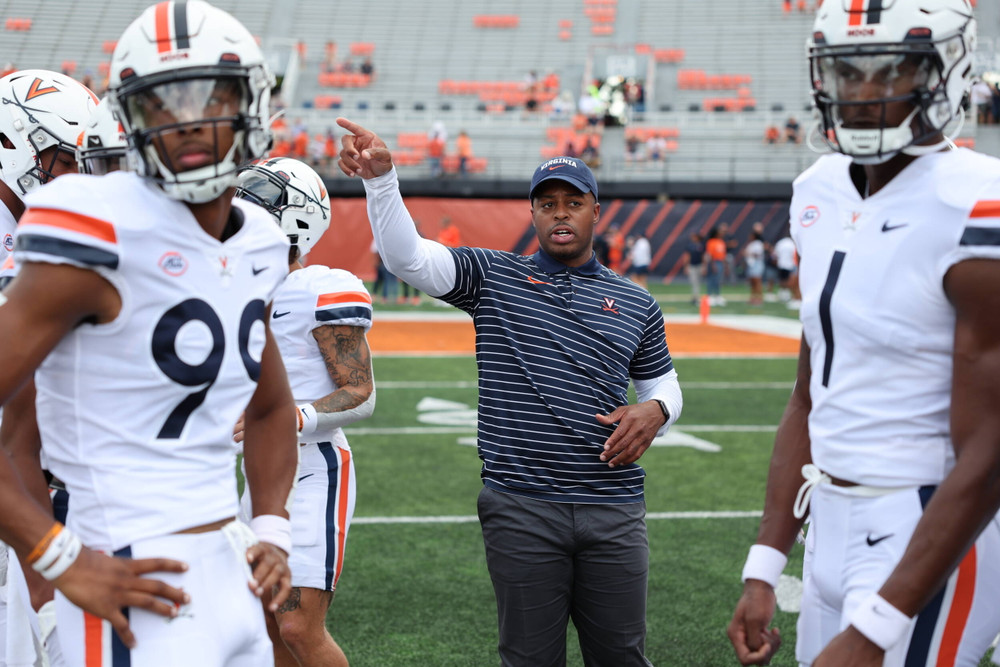 PRESS ON: This has been a frustrating season for the Cavaliers' corps of wide receivers, a group that sparkled in 2021. Injuries have slowed Billy Kemp IV, who has only five catches (for 33 yards), and drops have been an issue for Keytaon Thompson, Dontayvion Wicks and Lavel Davis Jr., all of whom aspire to play in the NFL. Still, wide receivers coach Marques Hagans said Tuesday, they haven't lost hope.
"I think you have to be around them every day to see that they're continuously working and not giving up," said Hagans, a former UVA great.
"We're all obviously frustrated and disappointed with the performance, or lack of performance, that we've had thus far. However, you can dwell on the negative in the past or be determined to fix the present so it produces a better future, and that's what the guys are showing up willing to do every single day, and I'm willing to do the same. And I'm confident that this will eventually turn, and I appreciate the fact that they haven't given up, that they're still fighting, they're still working. We've just got to keep pressing through. I don't think anyone thought at this point we would be where we are, but we are where we are and we've got to continue to work to change that. So there's no giving up in this group, there's no giving up in this team, and we're gonna continue to keep fighting until we get it where it's supposed to be."
Against Georgia Tech, Wicks caught a 44-yard touchdown pass from quarterback Brennan Armstrong. They teamed up on a 40-yard TD pass Oct. 8 in UVA's loss to Louisville at Scott Stadium.
Armstrong, one of his closest friends, continues to encourage him, Wicks said, urging him to "just stay up. I know he really believes in me. I know my whole team. My whole team believes in me. So I just gotta play my best for them."
CLEAN SLATE: The Cavaliers had the weekend to celebrate their win over the Yellow Jackets. Come Monday, though, it was "time to get back to work and understand that the plays that you made last week, they don't carry over," Elliott said.
"Now you have to start all the way over. You've got to reset every single day and understand that you must respect the process at all times and challenge yourself now. You're [heading] into Game 8 … As coaches we have to do a good job applying the pressure [so the players] respond the right way go to work and understand that if you want to enjoy the feeling that you felt on Thursday night, then you've got to pay the price."
Special teams is a particular point of emphasis this week. Against the Yellow Jackets, Virginia's Will Bettridge missed two field-goal attempts and an extra point, and one of Daniel Sparks' punts was blocked.
"I told the team that we should have lost the game based off how we played on special teams," Elliott said Tuesday.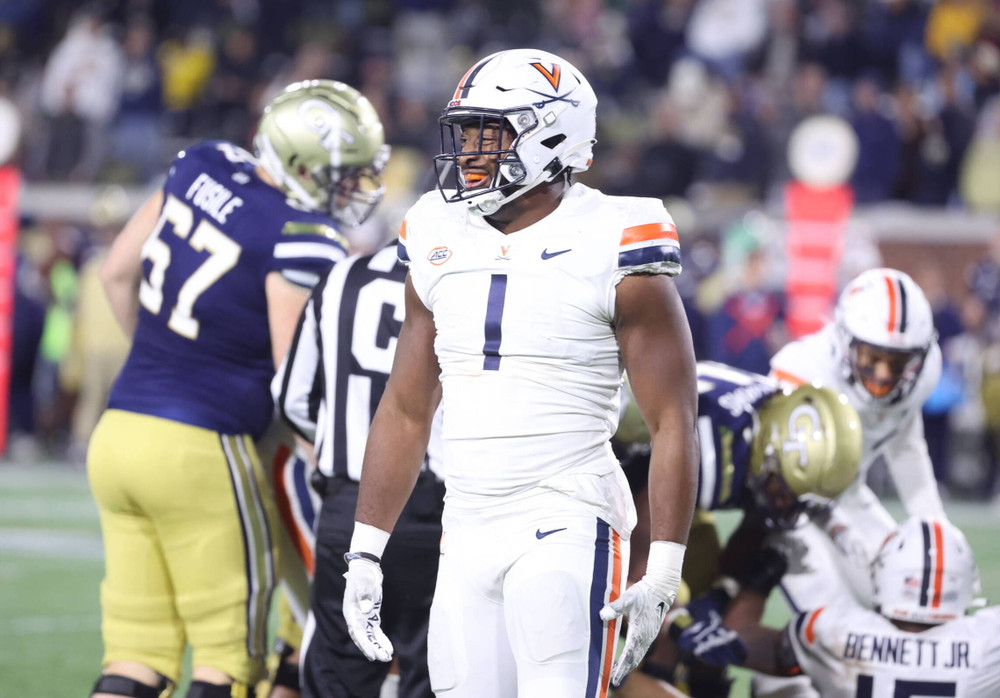 REINFORCEMENTS: Arrmstrong's backup, Jay Woolfolk, and reserve tailback Mike Hollins missed the Georgia Tech game for medical reasons, but each is back at practice this week.
In UVA's 30-28 win over Miami at Hard Rock Stadium last season, Hollins carried 10 times for 38 yards and one touchdown. He also had five receptions.
NIGHT AND DAY: In its first season under coordinator John Rudzinski, who came to UVA from Air Force, the defense has dramatically improved.
"It starts with Coach Rud," Elliott said. "He runs a tight ship over there. He's a military guy. He's got everything very organized, very efficient. The staff has really, really gelled and I think it's a reflection of how those guys are playing."
Against Georgia Tech, the Hoos allowed only 202 yards.
"Those guys are playing with tremendous effort," Elliott said. "I think it starts up front. Just the influx of guys up front has raised the competition level, which has elevated the performance level."
On the line, Virginia is rotating tackles Jahmeer Carter, Ben Smiley, Aaron Faumi, Michael Diatta, Olasunkonmi Agunloye and Devontae Davis, ends Kam Butler and Paul Akere, and Bandits (hybrid ends/linebackers) Chico Bennett Jr. and Jack Camper.
"I think we have some competitive depth, which is an advantage," Elliott said.
He also singled out the contributions of senior linebacker Nick Jackson, Virginia's leading tackler. "I haven't been around a better leader all the way around," Elliott said, "and he's a really good football player on top of that."
Akere is a graduate transfer from Columbia, where he made the All-Ivy League second team in 2021. He's recorded 16 tackles, including three sacks, for the Cavaliers and says he's steadily grown more comfortable playing in the Football Bowl Subdivision.
"Coming into camp, I was definitely eager to see what adjustments I was going to have to make to my game specifically," Akere said Tuesday. "And the game is definitely faster, but I think just over the course of a few games, a lot of practice, that I've adjusted pretty well. I spend a lot of time with my coaches watching all the film, and the game definitely slows down."
To receive Jeff White's articles by email, click the appropriate box in this link to subscribe.